Announcement: Please do this before the upcoming Google update
Google recently announced that they have delayed the release of the Google Page Experience update.
In mid-June they are going to release the update as well as some new tools to help you out.
But as you know, you don't want to wait for Google to release their algorithm update and then fix the issues as then you can potentially lose traffic if something is wrong.
But don't worry, I have 3 steps to prepare you.
Step 1: Read this…
I've already blogged about the Page Experience update. Make sure you follow everything in that blog post.
Even though they are focusing on mobile, you can eventually expect them to ensure that websites are providing the best experience to searchers whether they are using a mobile, desktop, or even tablet device.
So I would recommend that you again, read my article on Page Experience and follow the steps.
Step 2: Fix these errors in Search Console
If you haven't, go and create a Google Search Console account.
Once you create your account, it may take some time for data to populate.
And once data populates, you'll see a report that looks something like this: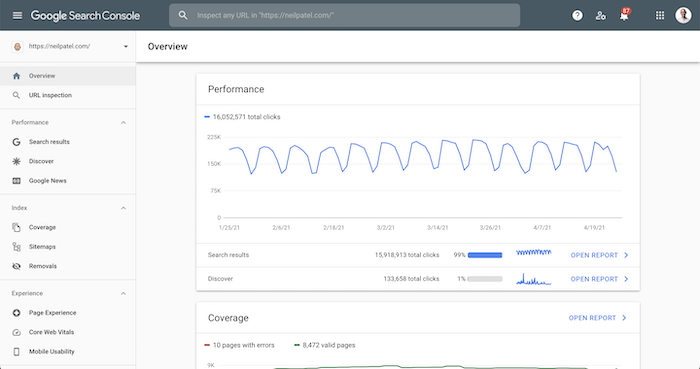 In the left hand navigation I want you to click on "Core Web Vitals".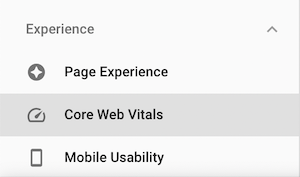 And then you will get an overview of any URLs on your site that have issues on both mobile and desktop devices.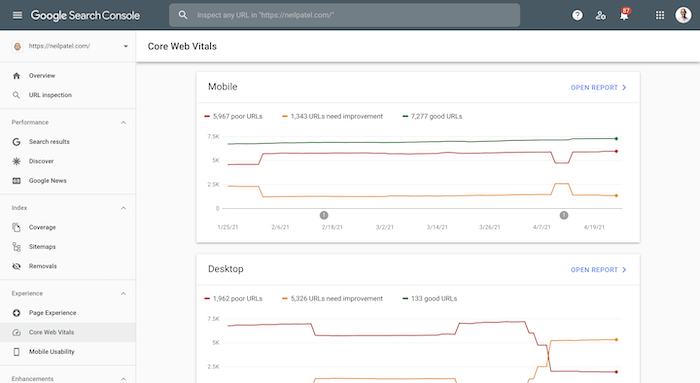 I want you to click on "open report" next to the mobile heading.
You'll want to fix all of the errors.
You'll also want to do the same for desktop errors and fix them as well.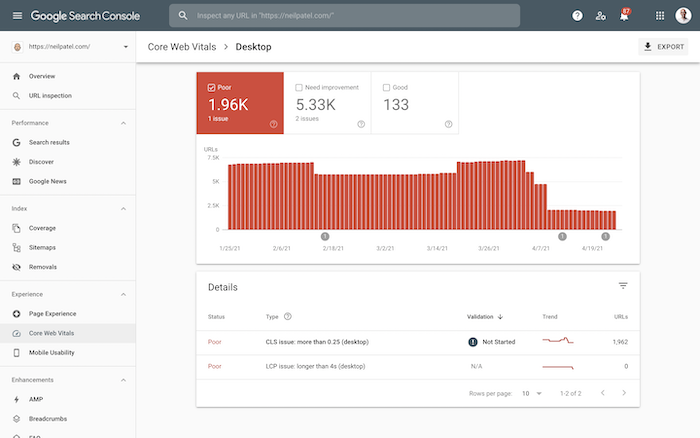 Now if you don't know what words like "LCP" or "CLS" mean, no worries. You can get an explanation from Google themself, so that way you can fix them.
Step #3: Don't forget to run a site audit
In the article I linked to in step 1, I did mention running a site audit. But in case you didn't fully read it, go here and put in your URL.
Once you put in your URL and click "Analyze Website" it may take a few minutes to load. But once it does, you'll see an overview of your site that looks like this: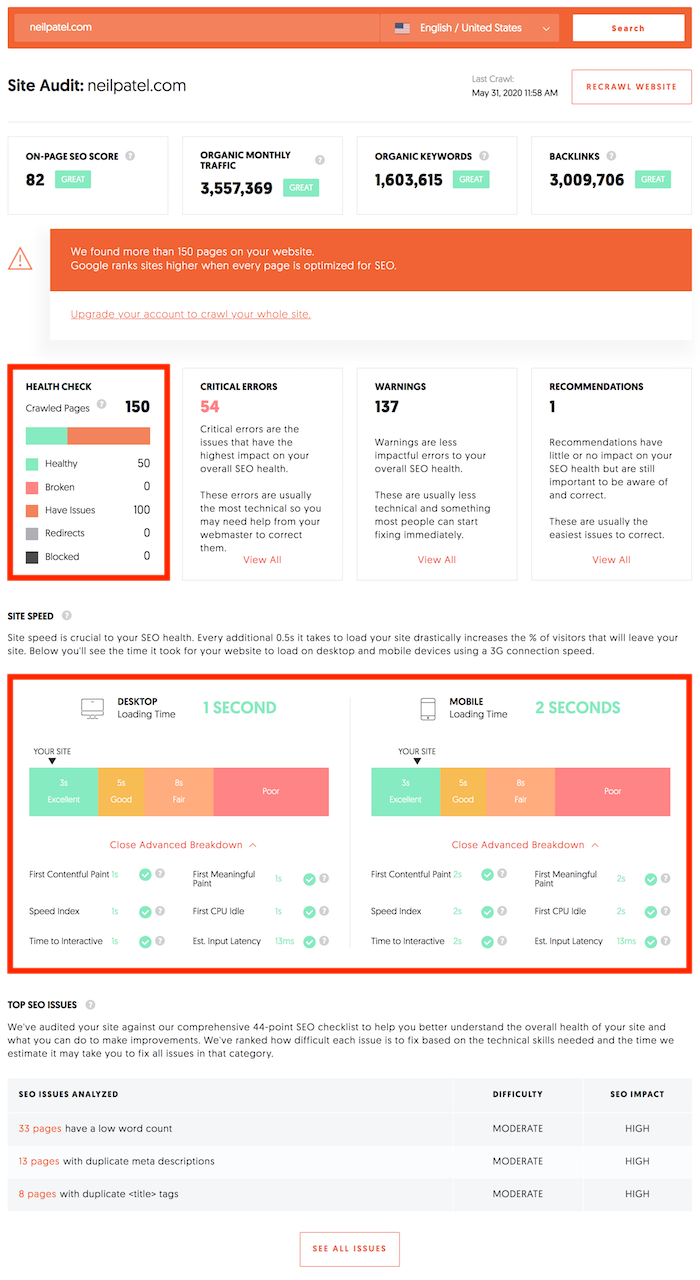 You'll want to fix your "critical errors" which are towards the top of the report, as well as go over your "top SEO issues" which are at the bottom of your report.
Make sure you try and fix each and every single one. SEO has changed over the years where it's turned into a game of every little thing really adds up.
Conclusion
Don't wait for Google to roll out their update to see what happens to your website.
Unlike most updates, Google is giving you a chance to fix your issues BEFORE they roll out the algorithm.
So, do yourself a favor and fix them.
This way you won't have to worry about your traffic declining.
Are you ready for the update?
PS: If you want my team to help you with your SEO and handle dealing with Google's ongoing algorithm changes, go here.
See How My Agency Can Drive Massive Amounts of Traffic to Your Website
SEO – unlock massive amounts of SEO traffic. See real results.
Content Marketing – our team creates epic content that will get shared, get links, and attract traffic.
Paid Media – effective paid strategies with clear ROI.
Google Brings Bard Students Math and Coding Education in the Summer
Google is stepping up its AI efforts this summer by sending Bard, its high-profile chatbot, to summer school. The aim? To boost the bot's math and coding smarts. These developments are excellent news— when Bard first debuted, it was admittedly not a finished product. But Google is steadily plugging away at it, and have now implemented implicit code execution for logical prompts, and handy Google Sheets' integration to take it to the next level.
Thanks to implicit code execution, Bard can respond to inquiries requiring calculation or computation with Python code snippets running in the background. What's even more amazing is that coders can take this generated code and modify it for their projects. Though Google is still apprehensive about guaranteeing the accuracy of Bard's answers, this feature is said to improve the accuracy of math and word problems by an impressive 30%.
In addition to this, Bard can now export directly to Sheets when asked about tables. So, you don't need to worry about copying and pasting, which comes with the risk of losing formatting or data.
From the company's I/O keynote address, it is clear that they are focused on making the most of what Bard can offer. As they continue to speak highly of the chatbot, we're sure to expect more features and capabilities when the summer comes around.
Google Bard vs. ChatGPT: which is the better AI chatbot?
Google Bard and ChatGPT are two of the most prominent artificial intelligence (AI) chatbots available in 2023. But which is better? Both offer natural language responses to natural language inputs, using machine learning and millions of data points to craft useful, informative responses. Most of the time. These AI tools aren't perfect yet, but they point to an exciting future of AI assistant search and learning tools that will make information all the more readily available.
As similar as these chatbots are, they also have some distinct differences. Here's how ChatGPT and Google Bard measure up against one another.
Which is better, Google Bard or ChatGPT?
This is a tricky question to answer, as at the time of writing, you can only use Google Bard if you're part of a select group of early beta testers. As for its competition, you can use ChatGPT right now, completely for free. You may have to contend with a waitlist, but if you want to skip that, there's a paid-for Plus version offering those interested in a more complete tool the option of paying for the privilege.
Still, when Google Bard becomes more widely available, it should offer credible competition for ChatGPT. Both use natural language models — Google Bard uses Google's internal LaMDA (Language Model for Dialogue Applications), whereas ChatGPT uses an older GPT-3 language model. Google Bard bases its responses to questions on more recent data, with ChatGPT mainly trained on data that was available prior to 2021. This is similar to how Microsoft's Bing Chat works.
We'll have to reserve judgment on which is the more capable AI chatbot until we get time to play with Google Bard ourselves, but it looks set to be a close contest when it is more readily available.
Are Google Bard and ChatGPT available yet?
As mentioned, ChatGPT is available in free and paid-for tiers. You might have to sit in a queue for the free version for a while, but anyone can play around with its capabilities.
Google Bard is currently only available to limited beta testers and is not available to the wider public.
What's the difference between Google Bard and ChatGPT?
ChatGPT and Google Bard are very similar natural language AI chatbots, but they have some differences, and are designed to be used in slightly different ways — at least for now. ChatGPT has been used for answering direct questions with direct answers, mostly correctly, but it's caused a lot of consternation among white collar workers, like writers, SEO advisors, and copy editors, since it has also demonstrated an impressive ability to write creatively — even if it has faced a few problems with accuracy and plagiarism.
Still, Microsoft has integrated ChatGPT into its Bing search engine to give users the ability to ask direct questions of the search engine, rather than searching for terms of keywords to find the best results. It has also built it into its Teams communications tool, and it's coming to the Edge browser in a limited form. The Opera browser has also pledged to integrate ChatGPT in the future.
| | |
| --- | --- |
| ChatGPT | Google Bard |
| Accessible through ChatGPT site. Only text responses are returned via queries. | Integrated with Google Search. You only need to change a Google setting to get your regular search results when using Google Bard AI, and vice versa. |
| ChatGPT produces answers from its trained database from 2021 and before. | Google Apprentice Bard AI will be able to answer real-time questions. |
| Based on GPT (Generative Pre-trained Transformer). | Based on LaMDA (Language Model for Dialogue Applications). |
| Service has a free and paid plan option (called ChatGPT Plus). | Service is free. |
| Has built-in plagiarism tool called GPT-2 Output Detector. | No built-in plagiarism detection tool. |
| Available now | Still in beta test phase |
Google Bard was mainly designed around augmenting Google's own search tool, however it is also destined to become an automated support tool for businesses without the funds to pay for human support teams. It will be offered to customers through a trained AI responder. It is likely to be integrated into the Chrome browser and its Chromium derivatives before long. Google is also expected to open up Google Bard to third-party developers in the future.
Under the hood, Google Bard uses Google's LaMDA language model, while ChatGPT uses its own GPT3 model. ChatGPT is based on slightly older data, restricted in its current GPT3 model to data collected prior to 2022, while Google Bard is built on data provided on recent years too. However, that doesn't necessarily make it more accurate, as Google Bard has faced problems with incorrect answers to questions, even in its initial unveiling.
ChatGPT also has a built-in plagiarism checker, while Google Bard does not, but Google Bard doesn't have the creative applications of ChatGPT just yet.
Google to pay $391.5 million settlement over location tracking, state AGs say
Google has agreed to pay a $391.5 million settlement to 40 states to resolve accusations that it tracked people's locations in violation of state laws, including snooping on consumers' whereabouts even after they told the tech behemoth to bug off.
Louisiana Attorney General Jeff Landry said it is time for Big Tech to recognize state laws that limit data collection efforts.
"I have been ringing the alarm bell on big tech for years, and this is why," Mr. Landry, a Republican, said in a statement Monday. "Citizens must be able to make informed decisions about what information they release to big tech."
The attorneys general said the investigation resulted in the largest-ever multistate privacy settlement. Connecticut Attorney General William Tong, a Democrat, said Google's penalty is a "historic win for consumers."
"Location data is among the most sensitive and valuable personal information Google collects, and there are so many reasons why a consumer may opt out of tracking," Mr. Tong said. "Our investigation found that Google continued to collect this personal information even after consumers told them not to. That is an unacceptable invasion of consumer privacy, and a violation of state law."
Location tracking can help tech companies sell digital ads to marketers looking to connect with consumers within their vicinity. It's another tool in a data-gathering toolkit that generates more than $200 billion in annual ad revenue for Google, accounting for most of the profits pouring into the coffers of its corporate parent, Alphabet, which has a market value of $1.2 trillion.
The settlement is part of a series of legal challenges to Big Tech in the U.S. and around the world, which include consumer protection and antitrust lawsuits.
Though Google, based in Mountain View, California, said it fixed the problems several years ago, the company's critics remained skeptical. State attorneys general who also have tussled with Google have questioned whether the tech company will follow through on its commitments.
The states aren't dialing back their scrutiny of Google's empire.
Last month, Texas Attorney General Ken Paxton said he was filing a lawsuit over reports that Google unlawfully collected millions of Texans' biometric data such as "voiceprints and records of face geometry."
The states began investigating Google's location tracking after The Associated Press reported in 2018 that Android devices and iPhones were storing location data despite the activation of privacy settings intended to prevent the company from following along.
Arizona Attorney General Mark Brnovich went after the company in May 2020. The state's lawsuit charged that the company had defrauded its users by misleading them into believing they could keep their whereabouts private by turning off location tracking in the settings of their software.
Arizona settled its case with Google for $85 million last month. By then, attorneys general in several other states and the District of Columbia had pounced with their own lawsuits seeking to hold Google accountable.
Along with the hefty penalty, the state attorneys general said, Google must not hide key information about location tracking, must give users detailed information about the types of location tracking information Google collects, and must show additional information to people when users turn location-related account settings to "off."
States will receive differing sums from the settlement. Mr. Landry's office said Louisiana would receive more than $12.7 million, and Mr. Tong's office said Connecticut would collect more than $6.5 million.
The financial penalty will not cripple Google's business. The company raked in $69 billion in revenue for the third quarter of 2022, according to reports, yielding about $13.9 billion in profit.
Google downplayed its location-tracking tools Monday and said it changed the products at issue long ago.
"Consistent with improvements we've made in recent years, we have settled this investigation which was based on outdated product policies that we changed years ago," Google spokesman Jose Castaneda said in a statement.
Google product managers Marlo McGriff and David Monsees defended their company's Search and Maps products' usage of location information.
"Location information lets us offer you a more helpful experience when you use our products," the two men wrote on Google's blog. "From Google Maps' driving directions that show you how to avoid traffic to Google Search surfacing local restaurants and letting you know how busy they are, location information helps connect experiences across Google to what's most relevant and useful."
The blog post touted transparency tools and auto-delete controls that Google has developed in recent years and said the private browsing Incognito mode prevents Google Maps from saving an account's search history.
Mr. McGriff and Mr. Monsees said Google would make changes to its products as part of the settlement. The changes include simplifying the process for deleting location data, updating the method to set up an account and revamping information hubs.
"We'll provide a new control that allows users to easily turn off their Location History and Web & App Activity settings and delete their past data in one simple flow," Mr. McGriff and Mr. Monsees wrote. "We'll also continue deleting Location History data for users who have not recently contributed new Location History data to their account."
• This article is based in part on wire service reports.