12 Niche Marketplaces to List Your B2B Services
E-commerce is the future, but it isn't just for B2C.
B2B brands are finding huge success in the digital marketplace industry and everyone wants a piece of the pie.
Globally, B2B marketplaces make up a $31 billion market.
Amazon Business, arguably the biggest player in the B2B marketplace scene, grew from $1 billion to $10 billion in sales in only three years.
While competition is intense in the mainstream, niche B2B marketplaces are showing real promise.
Niche marketplaces are unique marketplaces for businesses that want to sell their products and services. These marketplaces can be niche in terms of the industry, region, or size of business.
For B2B marketers looking to carve out spots in the B2B marketplace world, niche marketplaces offer ways to speak to new customers.
In this blog, we'll explore some of the best niche marketplaces for B2B brands and share insights into how you can increase conversions on these platforms.
What Are the Benefits of B2B Niche Marketplaces?
Niche B2B marketplaces allow you to speak directly to your niche, which saves time and resources in your sales process. They also open you up to new audiences, improve your data capabilities, and more.
Not to mention, being present in a single platform full of other businesses just like you opens up a lot of room for innovation and growth.
Here are a few benefits of niche marketplaces B2B.
Speak to More Customers
It can be easy for many to think of Millennials as "kids," but the youngest were born in the mid-90's—meaning 100 percent of Millennials are adults. Because of this, studies from Google have found B2B buyers are increasingly of that generation. This is changing the B2B business sales process completely.
Thankfully, B2B legacy brands can easily reach the Millennial market without completely revamping their sales strategies. They just have to know where to find them.
​​Plus, by listing your business on a niche B2B marketplace, you can speak to more qualified buyers at a regional or global level, depending on the marketplace.
Cater to Niche Audiences
In niche B2B marketplaces, the people you're talking to are already working within your niche, making them more likely to be qualified and interested from the start.
Being part of a niche marketplace puts you in front of people who already know and want your products, cutting down your sales cycle and improving revenue streams.
Streamlined Processes
Niche B2B marketplaces also offer streamlined processes for businesses that use them.
Unnecessary costs, such as having separate portals for suppliers, customers, and leads, are eliminated in the niche B2B marketplaces.
In short, time-consuming sales processes can be avoided.
Data Capabilities
In addition, e-commerce capabilities open up new ways of collecting, managing, and utilizing data.
In a B2B marketplace, you can easily see stock movements, cash flow, customer engagement, and even spending patterns.
All this data can be used to better inform your marketing efforts and improve your customer acquisition process.
Increase Conversions and Revenue
Many niche marketplaces offer additional features such as lead generation tools you can use to help boost sales conversions, ultimately increasing revenue for your business.
Listing your products or services on a global channel has the potential to double your sales possibilities, too.
Bulk Pricing
Listing your products, services, and equipment on B2B niche marketplaces allows you and your customers to benefit from bulk pricing.
On the business side, you can sell more products more efficiently. Meanwhile, customers save money by buying in bulk. Everyone wins.
Build Better Client Relationships
Niche B2B marketplaces connect you to suppliers and manufacturers across the globe.
By increasing the scope of your business, you have the chance to build strong client relationships around the world.
Plus, the efficiency and simplicity that niche B2B marketplaces bring could make your clients happy. The less time they spend going through complicated supply processes, the better they will feel about working with you.
12 Top Niche Marketplaces B2B
Ready to take your business into the niche B2B marketplace? Below are 12 of the top niche marketplaces you can list your business on today.
1. Flexport – Freight Forwarding
Flexport helps global trade partners simplify their supply chains through a digital platform.
The system works best for businesses involved in global trade that need to manage large inventory quantities worldwide.
By putting all shipment tracking, collaboration, insights, analytics, and inventory knowledge onto a simple digital tool, Flexport helps businesses take control of their supply chains.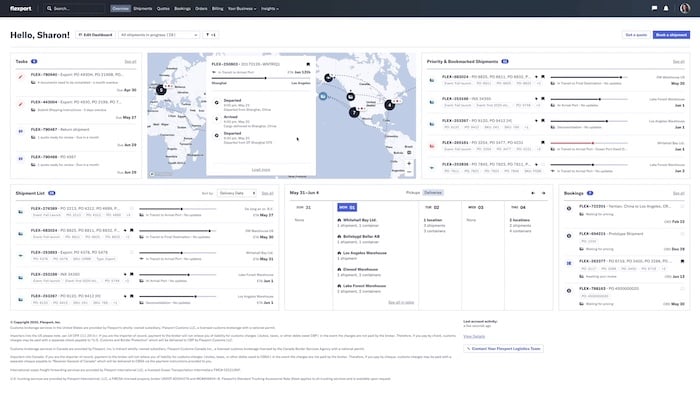 2. uShip – Shipping
uShip helps customers ship large items by connecting them with carriers with extra truck space.
This simple transport marketplace connects shippers with thousands of qualified transporters so items can get to their destination more effectively.
uShip is an excellent niche B2B marketplace for businesses who need to ship large items, such as cars, machinery, freight, and household items.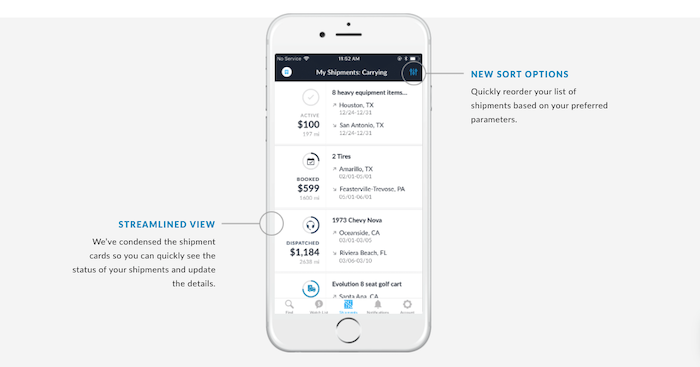 3. Kitmondo – Machinery
Kitmondo allows brands to buy and sell used machinery online.
With over 8,000 sellers worldwide, Kitmondo is the place for businesses to buy and sell machinery without taking a significant loss.
Kitmondo features a range of machinery types, from broadcast and film equipment to construction and mining tools.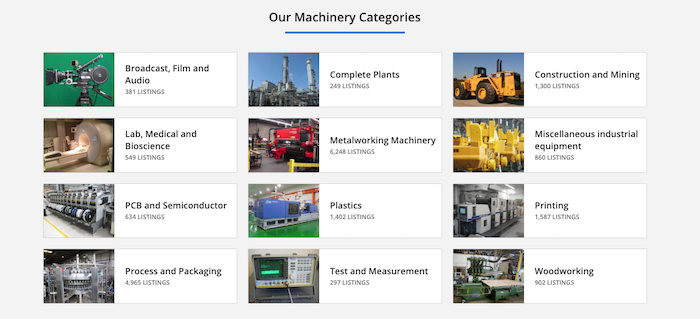 4. Alibaba – Wholesale & Distributors
Alibaba is the leading e-commerce platform helping SMEs go global.
Alibaba allows merchants to set up a custom e-commerce storefront that sells products across the globe.
This niche B2B marketplace also offers advertising tools, data and analytics, and customer support, so your business is always set up for growth.
This marketplace is perfect for wholesale brands looking to open up their product sales and get competitive on a global market.
According to Statista, 36.5 percent of corporate buyers report using Alibaba.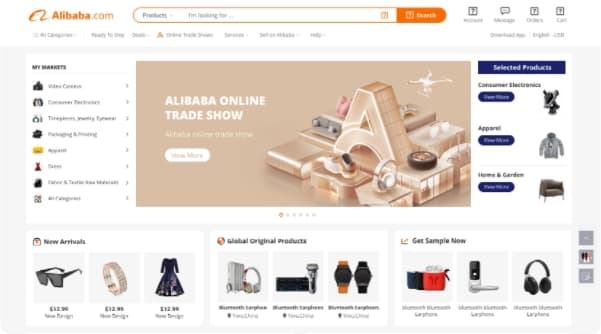 5. Mable – Food & Beverage
Mable is a wholesale platform specializing in food and beverage.
Founded by a grocer, Mable focuses on local, emerging brands committed to health and wellness.
Independent grocery stores, farmers, and makers can all find their stride on Mable's easy-to-use niche B2B marketplace platform.

6. Mediatask – Architecture
Mediatask is a niche B2B marketplace for drafters and architects.
They create customized visuals for real estate businesses in both 2D and 3D models.
Mediatask uses technology automation to increase the capacity of their team. Through this, they have found unmatched scalability that benefits B2B brands.
If you're a real estate developer or architect, it's worth checking these guys out.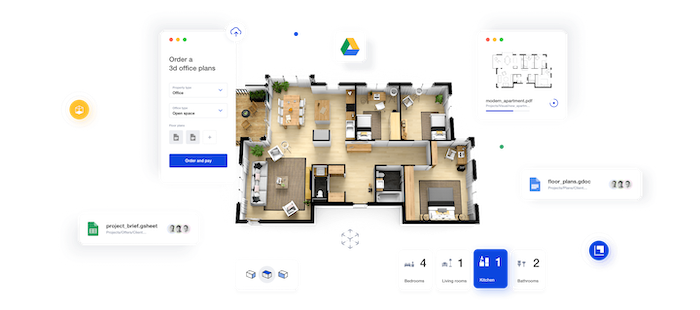 7. BuildingConnected – Construction
BuildingConnected is a real-time construction network that helps builders and owners streamline bid tasks and risk management processes.
Their centralized software makes it easy for construction networks to invite subcontractors, manage proposals, and even award bids.
BuildingConnected is a great choice for anyone involved in preconstruction or construction industries.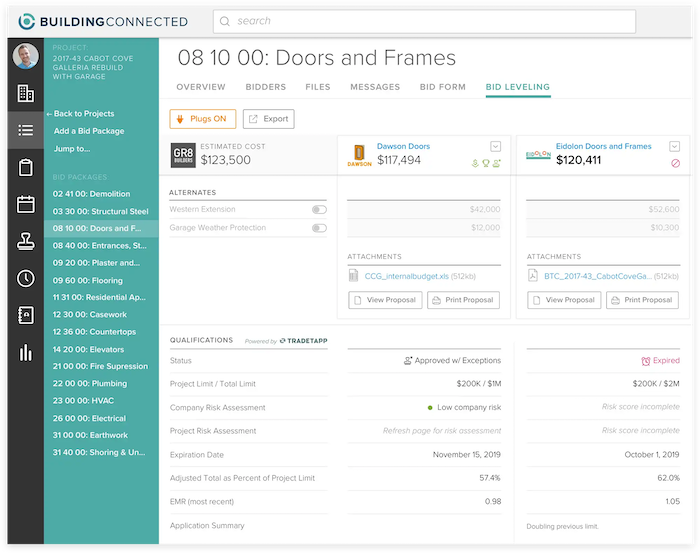 8. Clora – Science & Medicine
Clora is a staffing platform for those in the pharmaceutical, biotechnology, and medical device industries.
Their simple platform allows job seekers and consultants to be matched with the right opportunities or staff.
This niche marketplace B2B is the perfect example of a technology solution for a complex industry.
With Clora, scientists and researchers can easily be matched with qualified work and companies, helping drive innovation across the country.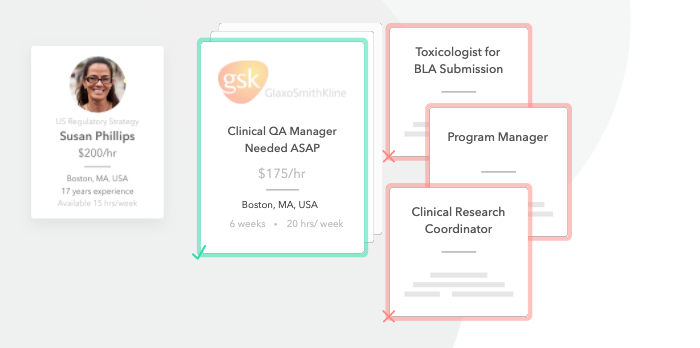 9. Globality – Sourcing
Globality allows businesses to source global services within a simple and convenient platform.
Globality uses an AI-powered platform to automate and eliminate the traditional request for proposal (RFP) process.
Now, businesses can quickly scope, manage, and negotiate projects within one simple tool.

10. Arrow – Technology
Arrow is the leading manufacturer of electronic technology for use in the home, business, and daily life.
They facilitate purchasing online and are present in more than 300 locations worldwide.
With Arrow, global manufacturers can sell technology products in a streamlined and effective manner.
11. ePlane – Aerospace
ePlane is an aerospace marketplace that allows users to trade and repair aerospace parts.
Their platform features millions of parts in a real-time database that is available through merchants across the globe.
With ePlane, aerospace professionals can reduce costs, track activity, access insightful data, and save time in their inventory procurement.
12. SupplyHog – Hardware & Building
SupplyHog is a niche B2B marketplace that allows local and nationwide partners to buy hardware and building supplies.
Merchants can list various products, from plumbing equipment to housewares, and easily sell products across the United States.
By generating quick e-commerce sales from products they already have, B2B businesses can expand their local markets and increase conversions on the whole.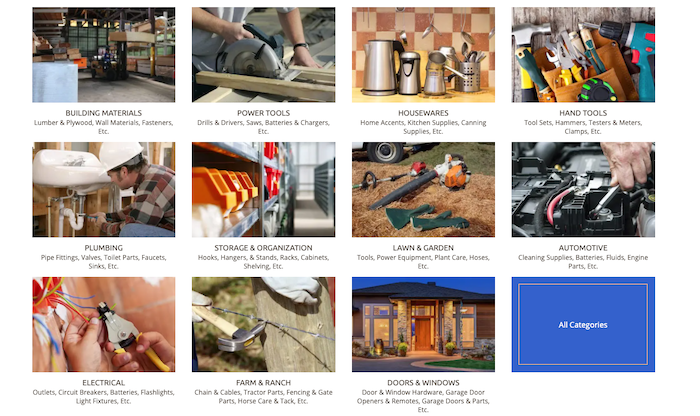 B2B Niche Marketplaces Frequently Asked Questions (WP EDITOR: ADD SCHEMA) 
What Is the Difference Between B2B and B2C Niche Marketplaces?
B2B niche marketplaces work between businesses, while B2C works between businesses and consumers.
How Do I Find a B2B Marketplace in My Niche?
There are so many niche B2B marketplaces out there; you just need to do your research. Start by simply Googling your industry and seeing where your competitors list their wares.
What Are the Advantages of using B2B Marketplaces?
Niche B2B marketplaces attract niche suppliers from around the world.
What Niche B2B Marketplace Should I Use?
The niche B2B marketplace you use depends on your business and the suppliers or leads you want to attract.
Who Should Use a Niche B2B Marketplace?
Any business that operates within a niche can benefit from connecting to more like-minded businesses.
B2B Niche Marketplaces: Conclusion
Getting involved in a niche marketplace for B2B businesses can be a great way to expand your business across the globe.
Niche B2B marketplaces also offer enhanced data and analytics tracking, plus streamlined services for those involved.
If you've ever thought to yourself, "I wish this was easier," it's worth looking around to see if anyone has created a tool to alleviate your problem.
What is your favorite niche B2B marketplace?
See How My Agency Can Drive Massive Amounts of Traffic to Your Website
SEO – unlock massive amounts of SEO traffic. See real results.
Content Marketing – our team creates epic content that will get shared, get links, and attract traffic.
Paid Media – effective paid strategies with clear ROI.
How data clean rooms might help keep the internet open
Are data clean rooms the solution to what IAB CEO David Cohen has called the "slow-motion train wreck" of addressability? Voices at the IAB will tell you that they have a big role to play.
"The issue with addressability is that once cookies go away, and with the loss of identifiers, about 80% of the addressable market will become unknown audiences which is why there is a need for privacy-centric consent and a better consent-value exchange," said Jeffrey Bustos, VP, measurement, addressability and data at the IAB.
"Everyone's talking about first-party data, and it is very valuable," he explained, "but most publishers who don't have sign-on, they have about 3 to 10% of their readership's first-party data." First-party data, from the perspective of advertisers who want to reach relevant and audiences, and publishers who want to offer valuable inventory, just isn't enough.
Why we care. Two years ago, who was talking about data clean rooms? The surge of interest is recent and significant, according to the IAB. DCRs have the potential, at least, to keep brands in touch with their audiences on the open internet; to maintain viability for publishers' inventories; and to provide sophisticated measurement capabilities.
How data clean rooms can help. DCRs are a type of privacy-enhancing technology that allows data owners (including brands and publishers) to share customer first-party data in a privacy-compliant way. Clean rooms are secure spaces where first-party data from a number of sources can be resolved to the same customer's profile while that profile remains anonymized.
In other words, a DCR is a kind of Switzerland — a space where a truce is called on competition while first-party data is enriched without compromising privacy.
"The value of a data clean room is that a publisher is able to collaborate with a brand across both their data sources and the brand is able to understand audience behavior," said Bestos. For example, a brand selling eye-glasses might know nothing about their customers except basic transactional data — and that they wear glasses. Matching profiles with a publisher's behavioral data provides enrichment.
"If you're able to understand behavioral context, you're able to understand what your customers are reading, what they're interested in, what their hobbies are," said Bustos. Armed with those insights, a brand has a better idea of what kind of content they want to advertise against.
The publisher does need to have a certain level of first-party data for the matching to take place, even if it doesn't have a universal requirement for sign-ins like The New York Times. A publisher may be able to match only a small percentage of the eye-glass vendor's customers, but if they like reading the sports and arts sections, at least that gives some directional guidance as to what audience the vendor should target.
Dig deeper: Why we care about data clean rooms
What counts as good matching? In its "State of Data 2023" report, which focuses almost exclusively on data clean rooms, concern is expressed that DCR efficacy might be threatened by poor match rates. Average match rates hover around 50% (less for some types of DCR).
Bustos is keen to put this into context. "When you are matching data from a cookie perspective, match rates are usually about 70-ish percent," he said, so 50% isn't terrible, although there's room for improvement.
One obstacle is a persistent lack of interoperability between identity solutions — although it does exist; LiveRamp's RampID is interoperable, for example, with The Trade Desk's UID2.
Nevertheless, said Bustos, "it's incredibly difficult for publishers. They have a bunch of identity pixels firing for all these different things. You don't know which identity provider to use. Definitely a long road ahead to make sure there's interoperability."
Maintaining an open internet. If DCRs can contribute to solving the addressability problem they will also contribute to the challenge of keeping the internet open. Walled gardens like Facebook do have rich troves of first-party and behavioral data; brands can access those audiences, but with very limited visibility into them.
"The reason CTV is a really valuable proposition for advertisers is that you are able to identify the user 1:1 which is really powerful," Bustos said. "Your standard news or editorial publisher doesn't have that. I mean, the New York Times has moved to that and it's been incredibly successful for them." In order to compete with the walled gardens and streaming services, publishers need to offer some degree of addressability — and without relying on cookies.
But DCRs are a heavy lift. Data maturity is an important qualification for getting the most out of a DCR. The IAB report shows that, of the brands evaluating or using DCRs, over 70% have other data-related technologies like CDPs and DMPs.
"If you want a data clean room," Bustos explained, "there are a lot of other technological solutions you have to have in place before. You need to make sure you have strong data assets." He also recommends starting out by asking what you want to achieve, not what technology would be nice to have. "The first question is, what do you want to accomplish? You may not need a DCR. 'I want to do this,' then see what tools would get you to that."
Understand also that implementation is going to require talent. "It is a demanding project in terms of the set-up," said Bustos, "and there's been significant growth in consulting companies and agencies helping set up these data clean rooms. You do need a lot of people, so it's more efficient to hire outside help for the set up, and then just have a maintenance crew in-house."
Underuse of measurement capabilities. One key finding in the IAB's research is that DCR users are exploiting the audience matching capabilities much more than realizing the potential for measurement and attribution. "You need very strong data scientists and engineers to build advanced models," Bustos said.
"A lot of brands that look into this say, 'I want to be able to do a predictive analysis of my high lifetime value customers that are going to buy in the next 90 days.' Or 'I want to be able to measure which channels are driving the most incremental lift.' It's very complex analyses they want to do; but they don't really have a reason as to why. What is the point? Understand your outcome and develop a sequential data strategy."
Trying to understand incremental lift from your marketing can take a long time, he warned. "But you can easily do a reach and frequency and overlap analysis." That will identify wasted investment in channels and as a by-product suggest where incremental lift is occurring. "There's a need for companies to know what they want, identify what the outcome is, and then there are steps that are going to get you there. That's also going to help to prove out ROI."
Dig deeper: Failure to get the most out of data clean rooms is costing marketers money
---
Get MarTech! Daily. Free. In your inbox.
---
At this stage, your goal is to generate repeat buys and real profits. While your entry-point offer was designed for conversions, your ascension offers should be geared for profits—because if you're serving your customers well, they'll want to buy again and again.
Ascension offers may be simple upsells made after that initial purchase… bigger, better solutions… or "done for you" add-ons.
So now we must ask ourselves, what is our core flagship offer and how do we continue to deliver value after the first sale is made? What is the thing that we are selling? 
How we continue to deliver value after the first sale is really important, because having upsells and cross sales gives you the ability to sell to customers you already have. It will give you higher Average Customer values, which is going to give you higher margins. Which means you can spend more to acquire new customers. 
Why does this matter? It matters because of this universal law of marketing and customer acquisition, he or she who is able and willing to spend the most to acquire a customer wins.
Very often the business with the best product messaging very often is the business that can throw the most into customer acquisition. Now there are two ways to do that.
The first way is to just raise a lot of money. The problem is if you have a lot of money, that doesn't last forever. At some point you need economics. 
The second way, and the most timeless and predictable approach, is to simply have the highest value customers of anyone in your market. If your customers are worth more to you than they are to your competitors, you can spend more to acquire them at the same margin. 
If a customer is worth twice as much to you than it is to your competitor, you can spend twice as much trying to acquire them to make the same margin. You can invest in your customer acquisition, because your customers are investing in your business. You can invest in your customer experiences, and when we invest more into the customer we build brands that have greater value. Meaning, people are more likely to choose you over someone else, which can actually lower acquisition costs. 
Happy customers refer others to us, which is called zero dollar customer acquisition, and generally just ensures you're making a bigger impact. You can invest more in the customer experience and customer acquisition process if you don't have high margins. 
If you deliver a preview experience, you can utilize revenue maximizers like up sells, cross sales, and bundles. These are things that would follow up the initial sale or are combined with the initial sale to increase the Average Customer Value.
The best example of an immediate upsell is the classic McDonalds, "would you like fries with that?" You got just a burger, do you also want fries with that? 
What distinguishes an upsell from other types of follow up offers is the upsell promise, the same end result for a bigger and better end result. 
What's your desired result when you go to McDonalds? It's not to eat healthy food, and it's not even to eat a small amount of food. When you go to McDonalds your job is to have a tasty, greasy, predictable inexpensive meal. No one is going there because it's healthy, you're going there because you want to eat good. 
It's predictable. It's not going to break the bank for a hamburger, neither will adding fries or a Coke. It's the same experience, but it's BIGGER and BETTER. 
Amazon does this all of the time with their "Customers Who Bought This Also Bought …" But this one is algorithmic. The point of a cross sell is that it is relevant to the consumer, but it doesn't necessarily have to be aligned with the original purchase. What you don't want to do is start someone down one path and confuse them.
You can make this process easy with Bundles and Kits. With a bundle or a kit you're essentially saying to someone, "you can buy just one piece, or you can get this bundle that does all of these other things for a little bit more. And it's a higher value."
The idea behind bundles and kits is that we are adding to the primary offer, not offering them something different. We're simply promising to get them this desired result in higher definition. 
The Elements of High-Converting Revenue Maximizers (like our bundles and kits) are:
Speed
If you're an e-Commerce business, selling a physical product, this can look like: offering free shipping for orders $X or more. We're looking to get your customers the same desired result, but with less work for them.
Automation
If you're a furniture business, and you want to add a Revenue Maximizer, this can look like: Right now for an extra $X our highly trained employees will come and put this together for you. 
Access 
People will pay for speed, they'll pay for less work, but they will also pay for a look behind the curtain. Think about the people who pay for Backstage Passes. Your customers will pay for a VIP experience just so they can kind of see how everything works. 
Remember, the ascension stage doesn't have to stop. Once you have a customer, you should do your best to make them a customer for life. You should continue serving them. Continue asking them, "what needs are we still not meeting" and seek to meet those needs. 
It is your job as a marketer to seek out to discover these needs, to bring these back to the product team, because that's what's going to enable you to fully maximize the average customer value. Which is going to enable you to have a whole lot more to spend to acquire those customers and make your job a whole lot easier. 
Now that you understand the importance of the ascend stage, let's apply it to our examples.
Hazel & Hem could have free priority shipping over $150, a "Boutique Points" reward program with exclusive "double point" days to encourage spending, and an exclusive "Stylist Package" that includes a full outfit custom selected for the customer. 
Cyrus & Clark can retain current clients by offering an annual strategic plan, "Done for You" Marketing services that execute on the strategic plan, and the top tier would allow customers to be the exclusive company that Cyrus & Clark services in specific geographical territories.
2023 Facebook Algorithm Guide: Overview & Best Practices
Every month, 2.7 billion people use Facebook, Meta's globe-dominating social network. For marketers, this is an un-ignorable audience. However, reaching that audience isn't always easy – to get content in front of a relevant user, they need to make the Facebook algorithm work in their favor.
Unfortunately, the algorithm can feel very mysterious. Why do some posts go viral with engagement while others wither and disappear without so much as a few courtesy likes?
The good news is that while the technical rules governing Facebook's algorithm may be in a black box, there are plenty of guidelines and common-sense tips that can help ensure your content gets prioritized and seen. Facebook has published many explainers and tutorials over the past few years to break down how its algorithm ranks and distributes content to users' Feeds.
Here's how Facebook's algorithm works in 2023 with ten expert tips on increasing the impact, performance and lifecycle of your Facebook content.
 
Table of Contents
What is the Facebook Algorithm?

A Recent History of the Facebook Algorithm 

How the Facebook Algorithm Works in 2023

10 Best Practices for Working with Facebook's Algorithm

Final Takeaway
What is the Facebook Algorithm?
 
The Facebook algorithm is the set of rules and formulas that determine what content users see in their Feeds. Its goal is to make the posts that "matter most to the user" highly visible to that user. To do this, it analyzes each piece of content eligible to be displayed and ranks them according to a set of criteria.
As Facebook explains, the algorithm is actually "not just one single algorithm; it's multiple layers of [machine learning] models and rankings that we apply to predict the most relevant and meaningful content for each user."
If that sounds complex, that's because of the sheer volume of content on the Facebook platform. There are over 2 billion Facebook users and trillions of posts they can see; the algorithm needs to be sophisticated to sort through all that content in an instant between launching the Facebook application and the population of each user's Feed. 
A Recent History of the Facebook Algorithm
Since 2017, Facebook has been increasingly transparent about significant changes in how it ranks and distributes content. That also means the algorithm is constantly evolving. In general, those updates have favored user input, posts friends and family over publishers, and content personalized to a user's interests… all geared toward generating more "meaningful interactions."  These updates include:
Meaningful Interactions Update (

2018

) –

This update signaled that the algorithm would predict which posts a user might want to interact with their friends about and show these posts higher in Feed. These posts inspire discussion in the comments and posts that users might want to share and react to. 

Updates to Video Rankings (

2019

) –

This update boosted the rankings of video posts that users sought out and returned to, watched for more than one minute at a time, and were original creations and not repurposed content. 

Addressing Sensational Health Claims (

2019

) –

This update applied some of the existing "clickbait" rules specifically to posts making medical or health claims in an effort to reduce misinformation. Exaggerated or sensational claims were deprioritized, as were posts promoting products that advertised "miracle" cures.
The past three years have seen additional updates, and since they're more recent, they deserve closer examination.
2020: Key takeaway from 2020
In 2020, Facebook modified its algorithm again to give more weight to original, credible news sources and create more personalized advertising encounters for users based on their interactions. Additional updates this year included changes designed to comply with Apple's iOS 14's privacy guidelines. 
Prioritizing Original Sources:

 In response to users continually reporting a preference for "

news stories that are credible and informative

," Facebook announced that it would make ongoing updates that "prioritize articles in News Feed that we identify as original reporting on a developing story or topic."

Personalized Ads:

The Facebook algorithm serves advertisements to a user's Feed based on the posts and pages they have engaged with previously. Businesses are also given the option to share information about the actions that users take on their websites and apps so they can show the most relevant content in users' Facebook Feeds. To balance this process of information gathering and sharing, which also lays

the foundation for personalized advertising

on the platform, Facebook instituted the "Why am I seeing this ad" feature and the "Ad Preferences" dashboard for users (and to address privacy concerns).

Retargeting Limitations:

 Even with expanded personalization, Facebook had to respond to the significant privacy and permissioning guidelines i=within the Apple iOS 14 update released in 2020 (Tinuiti's Liz Emery takes a more detailed look at this topic

here

). When Apple users install or update to iOS 14, they will be prompted to opt-in or opt out of data sharing. While Facebook has other variables that can be used to identify devices, such as the associated email address and phone number, targeting that depends on users sharing their data at the device level is restricted based on this update.
2021: Machine Learning and User Control
In 2021, Facebook released new details about how the algorithm governing users' Feeds works and increased the amount of control users have over what they see. 
Favorites:

A new tool where users can control and prioritize posts in their Feeds from the friends and Pages they choose. By selecting up to 30 friends and Pages to include in Favorites, their posts will appear higher in ranked and can also be viewed as a separate filter.

Revealing the algorithm's machine learning mechanics:

In 2021, Facebook published an

in-depth post

explaining how the Feed predicts what users want to see. For the first time, it detailed the machine learning processes behind predicting what users see in their Feeds based on various factors, including what and whom they've followed, liked, or engaged with recently. These mechanics are largely still in place today.
2022: From ML to AI
Last year, the Facebook algorithm evolved further in the direction of user control and augmented its use of machine learning tools with more sophisticated artificial intelligence systems. These two updates went hand-in-hand. Users were given a new function on each post they saw, the "Show More/Show Less" feature. Selecting "Show More" would increase the ranking score for that post, increasing the likelihood of a similar post or a similar user appearing in the user's Feed. The inverse would happen when "Show Less" is selected.
These per-post user inputs are simultaneously helping the AI system generalize how relevant future content will be for that user. Or as Facebook puts it, "by offering more ways to incorporate direct feedback into Feed ranking, we're making our artificial intelligence systems smarter and more responsive."
Facebook's AI model generates what the company calls user and content embeddings, which help predict the types of content a person wants to see more of or less of in their Feed. Another Facebook blog post from 2022 explains that a "user embedding captures a person's tastes, while the content embedding captures the essence of what a post is about." 
One last update from 2022 – what was once called the Facebook News Feed is now just the "Feed." That's how we refer to it throughout this article, except where relevant due to historical discussion.
How the Facebook Algorithm Works in 2023
 
That's the state of the Facebook algorithm in 2023 – it has evolved to become an AI-powered, user-centric model designed to present users with relevant, welcome content in their Feeds. Even though Meta will admit that the algorithm isn't perfect (and may never be), Facebook has demonstrated a willingness to modify its processes to give users what they want.
Despite the Facebook algorithm's complexity and integration of new technologies like AI and machine learning, understanding its core functionality boils down to four ranking factors.
The Four Ranking Factors Fueling the Facebook Feed Algorithm
 
Prioritizing what "matters" to users has been one of the most consistent purposes of the Feed and all of its previous iterations. The goal of Facebook's algorithm is to "show stories that matter to users," according to Adam Mosseri, VP of Facebook's News Feed Management. That aim is reflected across the platform's many updates and tweaks to its algorithm, from more user control to increased personalization on advertisements. 
With that in mind, you should know how Facebook's different algorithm factors work together to determine which stories "matter" to a user. And Facebook made these factors easy to understand in its published help center post.  
 
1. Inventory
 
Inventory represents the stock of all content that can display to a user on Facebook's News Feed, which fluctuates based on user activity once scrolling has begun. This includes everything posted by friends and publishers.
 
2. Signals
 
Signals represent the information that Facebook can gather about a piece of content. Signals are the single factor that you have control over.
These are your inputs that Facebook interprets; type of content, the publisher, its age, purpose, and more.
You want your content to signal to Facebook that it's meaningful and relevant to your target audience.
 
3. Predictions
 
Predictions represent a user's behavior and how likely they are to engage with a content piece. Will a user watch a video to completion? Will they select the "Show More" feature on the post?
Predictions take authentic engagement like comments, likes, and shares from real profiles into account.
 
4. Relevancy Score
 
Relevancy Score is the final number assigned to a piece of content based on the likelihood that the user will respond positively to it. It also accounts for whether a post is "clickbait," whether it links to a low-quality webpage, or if it's misinformative in some way.
 
10 Best Practices for Working with Facebook's Algorithm
 
So how can you tailor your content to ensure a high Relevancy Score and a strong enough ranking to appear in your target audience's Feeds? Most of the following tips will be common sense if you currently produce content for social audiences, but many are specific to the sophisticated Facebook algorithm. 
Here are some guidelines and best practices for keeping your content meaningful in Facebook's eyes, based on our research, Facebook's recommendations, and Matt Navara and Paul Armstrong's coverage of Facebook's News Feed webinar. 
 
1. Keep posts relevant to your audience
 
Your content should always be relevant to your core audience — the people you want to build a community around. If your content is relevant to a user, the Facebook algorithm is likely to interpret that content as "meaningful," a key consideration in ranking. 
Stories should be compelling enough for a user to want to share with family and friends. Content should be informative and interesting… and, of course, accurate. 
Products, education and lifestyle imagery, should reinforce your post's meaningful and informative nature and build on your identity as a brand answering to a specific audience.
2. Engage readers and encourage interaction
 
Facebook's News Feed algorithm favors content that fosters positive interactions between your followers and others.
Any piece of content, from products to education to entertainment — should provoke conversation. Remember that conversations can't be one-sided; you want your audience to respond, but you must also respond to them when possible. 
You want your content to prompt people to stop their scroll, interact, and share. Interaction is a crucial weighting factor for the Facebook algorithm, so all your content should be tailored to maximize engagement.
 
3. But don't use clickbait or engagement bait
 
 
Remember all those "like if…" and "share if you are…" posts?
This is considered engagement baiting; it doesn't add value or interaction for users. It may not entirely be clickbait, but the Facebook algorithm will penalize it as though it were. 
Avoid asking people to "please comment, like, and share." Your content should inspire them to engage without having to ask.
Facebook penalizes brands that encourage comments, likes, and shares on organic and ad posts. Keep this in mind when developing content for Instagram and Facebook.
4. Expand your post reach with employees and brand advocates
Because the Facebook algorithm gives preference to posts from users' friends, families and the pages they interact with, your company's Facebook page will have naturally limited reach. This is where enlisting employees and brand advocates can have a real impact. 
Facebook represents your widest audience, but to reach them, you need to engage the audience closest to home. Encouraging your work team to share your brand's content with their networks broadens the reach of the post or piece of content and your brand. Directly engaging with Facebook users who are already devotees of your brand and asking them to share content with their friends and family can have a similar effect.,
 
5. Or put ad dollars behind content with organic momentum
 
 
The new Facebook algorithm values content that performs well organically, and you can build off that momentum by boosting or promoting that content with ad dollars.
Content that already has strong organic traction means lower CPCs which, combined with ad dollars, can act as a snowball effect for your content.
Identify opportunities for ads based on organic post engagement and tap into Facebook Ads Manager tools by leveraging these posts in ads.
Conversely, don't waste ad dollars on poor-performing organic content. It will have higher CPCs and cost you more while offering less in return.
"If a post performs well with engagement, likes, and shares, there's an opportunity to place additional ad dollars to drive that performance even further."
— Nii Ahene, Chief Strategy Officer at Tinuiti
 

6. Create compelling, original video content
 
 
2019 was the year that Facebook began leaning into its video offering in earnest, and it hasn't stopped since. Today, the video formats available on Facebook have expanded to include Reels and Stories (shorter clips), Video on Demand and Live video. Reels, in particular, is Facebook's fastest-growing content format "by far." s video continues to be the top-performing content type across all social media networks, focusing on video should be a central part of your Facebook marketing strategy.
For your video content to perform best in the Feed, Facebook recommends that it be original, capture the audience's attention, spark engagement, and inspire users to seek additional video content from the same source. 
To create original and authentic Reels, Stories and full-length videos, make sure they capture your brand's voice and avoid duplicating content. To retain attention, ensure your creative and copy is optimized towards mobile viewing (i.e., shortened copy, readable overlays, shortened headlines). And to generate engagement, encourage discussion and genuine interactions (but like always, avoid engagement bait).
7. Inspire audiences and evoke emotion with storytelling
Just as videos should be original, engaging and attention-grabbing, so should any content you post on Facebook. Understand the kinds of stories that resonate with your audience and craft your posts to tell those stories in an exciting way.
You can create connections with your audience through authenticity, interactivity and accuracy. But the surest way is by listening. Ask for feedback. Learn their interests. Take cues from their activity on other platforms. When you know what your audience cares about, you have a better chance of inspiring them… and a better chance of rising to the top of their Feeds.
8. Post authentic and truthful content
Facebook says that "authentic stories are the ones that resonate most" and that users want to see accurate information. After the controversies surrounding "fake news" and the spread of dis- and misinformation on the platform in recent years, the company has made promoting truthful content central to the Facebook algorithm's function. 
To signal that your content is genuine and accurate, write clear headlines free from exaggeration or sensationalism. Use well-sourced, reliable information, and avoid sharing content from sources you need clarification on. And above all, don't lie or try to mislead with your content.
9. Schedule content when readers are likely to engage
The Facebook Feed is no longer chronological, but timing can still impact post performance within the algorithm. You want to post content when your audience is likely to engage with it, which is likely in the evening or overnight, but it can vary widely by the user. There is some research exploring the objectively ideal time for posting, but the ultimate best practice is understanding your audience and when they are most likely to be on the platform. 
10. Learn what works by tracking content performance
After you've published your content, remember to use Facebook Insights to track the performance of your content. This will help you understand how your different content pieces are performing in terms of engagement, which is the key ranking metric. 
Facebook also offers a variety of tools designed to help you measure both organic content and paid ads. Choose the best tools for your brand, and track performance regularly. Learn from your own Insights data and the tools you use, and optimize your content from there.
Final Takeaway
 
The Facebook algorithm is sophisticated and constantly evolving. There are few shortcuts and no way to "hack" it. But the steps outlined in this article can help make the algorithm work for you and help you get your content in front of the Facebook users who need to see it.
Want to work with our team of Facebook experts? Reach out today!
Editor's Note: This post was originally published by Greg Swan in April 2020 and has been updated for freshness, accuracy, and comprehensiveness.