12 Niche Marketplaces to List Your B2B Services
E-commerce is the future, but it isn't just for B2C.
B2B brands are finding huge success in the digital marketplace industry and everyone wants a piece of the pie.
Globally, B2B marketplaces make up a $31 billion market.
Amazon Business, arguably the biggest player in the B2B marketplace scene, grew from $1 billion to $10 billion in sales in only three years.
While competition is intense in the mainstream, niche B2B marketplaces are showing real promise.
Niche marketplaces are unique marketplaces for businesses that want to sell their products and services. These marketplaces can be niche in terms of the industry, region, or size of business.
For B2B marketers looking to carve out spots in the B2B marketplace world, niche marketplaces offer ways to speak to new customers.
In this blog, we'll explore some of the best niche marketplaces for B2B brands and share insights into how you can increase conversions on these platforms.
What Are the Benefits of B2B Niche Marketplaces?
Niche B2B marketplaces allow you to speak directly to your niche, which saves time and resources in your sales process. They also open you up to new audiences, improve your data capabilities, and more.
Not to mention, being present in a single platform full of other businesses just like you opens up a lot of room for innovation and growth.
Here are a few benefits of niche marketplaces B2B.
Speak to More Customers
It can be easy for many to think of Millennials as "kids," but the youngest were born in the mid-90's—meaning 100 percent of Millennials are adults. Because of this, studies from Google have found B2B buyers are increasingly of that generation. This is changing the B2B business sales process completely.
Thankfully, B2B legacy brands can easily reach the Millennial market without completely revamping their sales strategies. They just have to know where to find them.
​​Plus, by listing your business on a niche B2B marketplace, you can speak to more qualified buyers at a regional or global level, depending on the marketplace.
Cater to Niche Audiences
In niche B2B marketplaces, the people you're talking to are already working within your niche, making them more likely to be qualified and interested from the start.
Being part of a niche marketplace puts you in front of people who already know and want your products, cutting down your sales cycle and improving revenue streams.
Streamlined Processes
Niche B2B marketplaces also offer streamlined processes for businesses that use them.
Unnecessary costs, such as having separate portals for suppliers, customers, and leads, are eliminated in the niche B2B marketplaces.
In short, time-consuming sales processes can be avoided.
Data Capabilities
In addition, e-commerce capabilities open up new ways of collecting, managing, and utilizing data.
In a B2B marketplace, you can easily see stock movements, cash flow, customer engagement, and even spending patterns.
All this data can be used to better inform your marketing efforts and improve your customer acquisition process.
Increase Conversions and Revenue
Many niche marketplaces offer additional features such as lead generation tools you can use to help boost sales conversions, ultimately increasing revenue for your business.
Listing your products or services on a global channel has the potential to double your sales possibilities, too.
Bulk Pricing
Listing your products, services, and equipment on B2B niche marketplaces allows you and your customers to benefit from bulk pricing.
On the business side, you can sell more products more efficiently. Meanwhile, customers save money by buying in bulk. Everyone wins.
Build Better Client Relationships
Niche B2B marketplaces connect you to suppliers and manufacturers across the globe.
By increasing the scope of your business, you have the chance to build strong client relationships around the world.
Plus, the efficiency and simplicity that niche B2B marketplaces bring could make your clients happy. The less time they spend going through complicated supply processes, the better they will feel about working with you.
12 Top Niche Marketplaces B2B
Ready to take your business into the niche B2B marketplace? Below are 12 of the top niche marketplaces you can list your business on today.
1. Flexport – Freight Forwarding
Flexport helps global trade partners simplify their supply chains through a digital platform.
The system works best for businesses involved in global trade that need to manage large inventory quantities worldwide.
By putting all shipment tracking, collaboration, insights, analytics, and inventory knowledge onto a simple digital tool, Flexport helps businesses take control of their supply chains.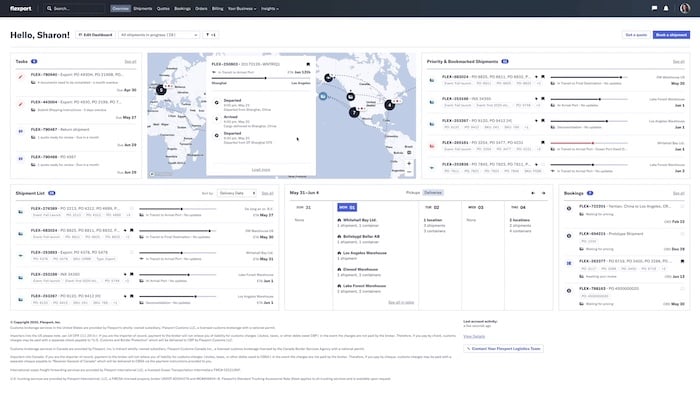 2. uShip – Shipping
uShip helps customers ship large items by connecting them with carriers with extra truck space.
This simple transport marketplace connects shippers with thousands of qualified transporters so items can get to their destination more effectively.
uShip is an excellent niche B2B marketplace for businesses who need to ship large items, such as cars, machinery, freight, and household items.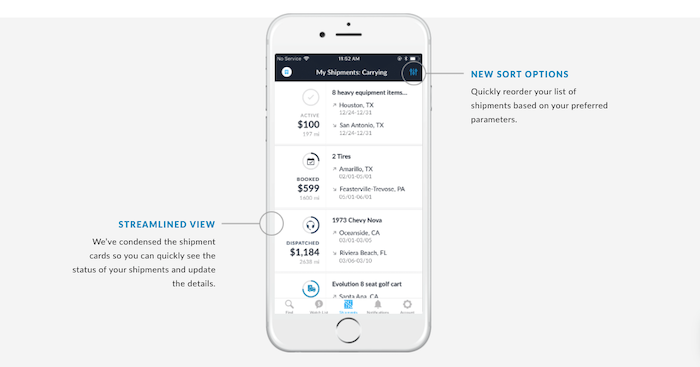 3. Kitmondo – Machinery
Kitmondo allows brands to buy and sell used machinery online.
With over 8,000 sellers worldwide, Kitmondo is the place for businesses to buy and sell machinery without taking a significant loss.
Kitmondo features a range of machinery types, from broadcast and film equipment to construction and mining tools.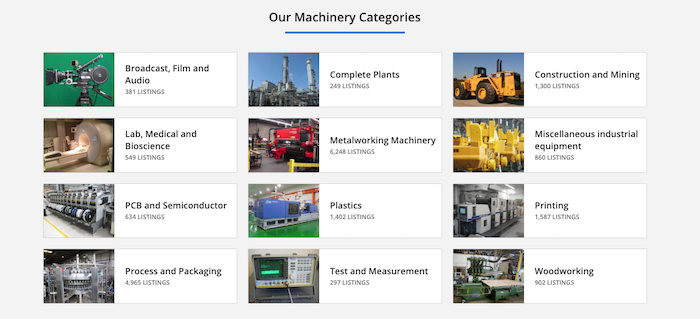 4. Alibaba – Wholesale & Distributors
Alibaba is the leading e-commerce platform helping SMEs go global.
Alibaba allows merchants to set up a custom e-commerce storefront that sells products across the globe.
This niche B2B marketplace also offers advertising tools, data and analytics, and customer support, so your business is always set up for growth.
This marketplace is perfect for wholesale brands looking to open up their product sales and get competitive on a global market.
According to Statista, 36.5 percent of corporate buyers report using Alibaba.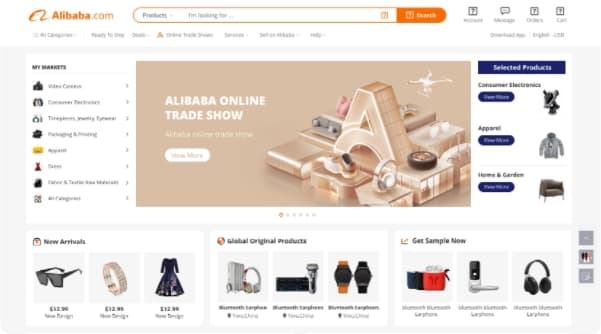 5. Mable – Food & Beverage
Mable is a wholesale platform specializing in food and beverage.
Founded by a grocer, Mable focuses on local, emerging brands committed to health and wellness.
Independent grocery stores, farmers, and makers can all find their stride on Mable's easy-to-use niche B2B marketplace platform.

6. Mediatask – Architecture
Mediatask is a niche B2B marketplace for drafters and architects.
They create customized visuals for real estate businesses in both 2D and 3D models.
Mediatask uses technology automation to increase the capacity of their team. Through this, they have found unmatched scalability that benefits B2B brands.
If you're a real estate developer or architect, it's worth checking these guys out.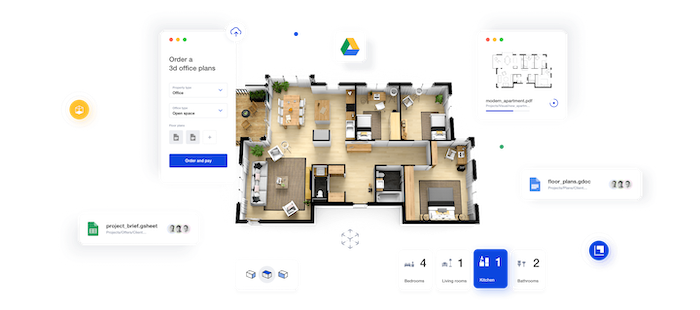 7. BuildingConnected – Construction
BuildingConnected is a real-time construction network that helps builders and owners streamline bid tasks and risk management processes.
Their centralized software makes it easy for construction networks to invite subcontractors, manage proposals, and even award bids.
BuildingConnected is a great choice for anyone involved in preconstruction or construction industries.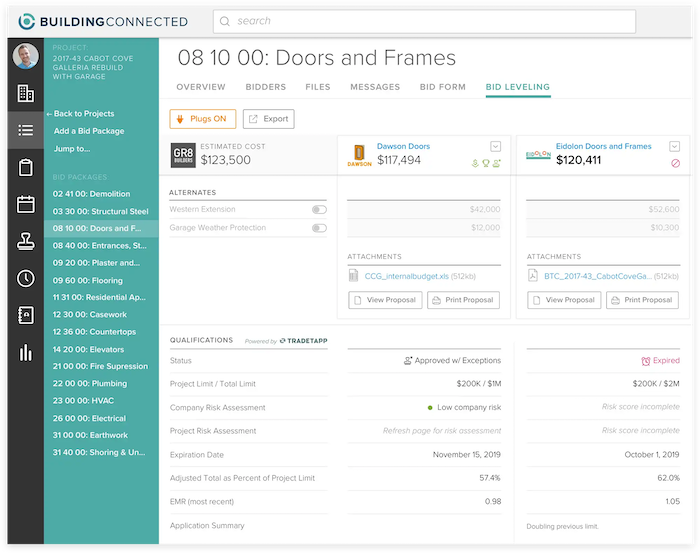 8. Clora – Science & Medicine
Clora is a staffing platform for those in the pharmaceutical, biotechnology, and medical device industries.
Their simple platform allows job seekers and consultants to be matched with the right opportunities or staff.
This niche marketplace B2B is the perfect example of a technology solution for a complex industry.
With Clora, scientists and researchers can easily be matched with qualified work and companies, helping drive innovation across the country.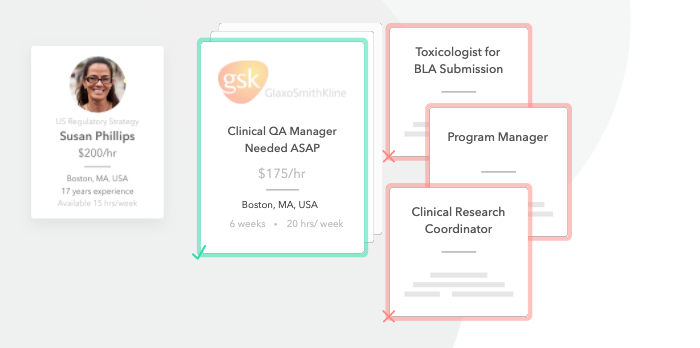 9. Globality – Sourcing
Globality allows businesses to source global services within a simple and convenient platform.
Globality uses an AI-powered platform to automate and eliminate the traditional request for proposal (RFP) process.
Now, businesses can quickly scope, manage, and negotiate projects within one simple tool.

10. Arrow – Technology
Arrow is the leading manufacturer of electronic technology for use in the home, business, and daily life.
They facilitate purchasing online and are present in more than 300 locations worldwide.
With Arrow, global manufacturers can sell technology products in a streamlined and effective manner.
11. ePlane – Aerospace
ePlane is an aerospace marketplace that allows users to trade and repair aerospace parts.
Their platform features millions of parts in a real-time database that is available through merchants across the globe.
With ePlane, aerospace professionals can reduce costs, track activity, access insightful data, and save time in their inventory procurement.
12. SupplyHog – Hardware & Building
SupplyHog is a niche B2B marketplace that allows local and nationwide partners to buy hardware and building supplies.
Merchants can list various products, from plumbing equipment to housewares, and easily sell products across the United States.
By generating quick e-commerce sales from products they already have, B2B businesses can expand their local markets and increase conversions on the whole.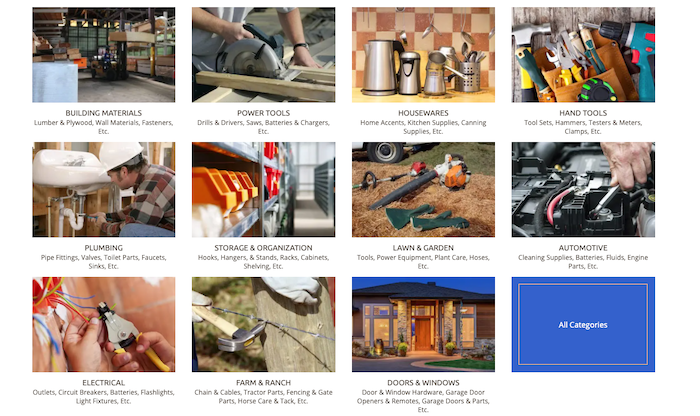 B2B Niche Marketplaces Frequently Asked Questions (WP EDITOR: ADD SCHEMA) 
What Is the Difference Between B2B and B2C Niche Marketplaces?
B2B niche marketplaces work between businesses, while B2C works between businesses and consumers.
How Do I Find a B2B Marketplace in My Niche?
There are so many niche B2B marketplaces out there; you just need to do your research. Start by simply Googling your industry and seeing where your competitors list their wares.
What Are the Advantages of using B2B Marketplaces?
Niche B2B marketplaces attract niche suppliers from around the world.
What Niche B2B Marketplace Should I Use?
The niche B2B marketplace you use depends on your business and the suppliers or leads you want to attract.
Who Should Use a Niche B2B Marketplace?
Any business that operates within a niche can benefit from connecting to more like-minded businesses.
B2B Niche Marketplaces: Conclusion
Getting involved in a niche marketplace for B2B businesses can be a great way to expand your business across the globe.
Niche B2B marketplaces also offer enhanced data and analytics tracking, plus streamlined services for those involved.
If you've ever thought to yourself, "I wish this was easier," it's worth looking around to see if anyone has created a tool to alleviate your problem.
What is your favorite niche B2B marketplace?
See How My Agency Can Drive Massive Amounts of Traffic to Your Website
Content Marketing – our team creates epic content that will get shared, get links, and attract traffic.
Paid Media – effective paid strategies with clear ROI.
7 Elements To Cultivate a Prosperous Content Culture
Updated July 7, 2022
As the vehicle driving all public-facing messaging for the organization, content is essential to the success of every department. With all the different goals to achieve, it's no wonder tension builds when it comes to content production and distribution.
Seemingly competing priorities and a lack of a cohesive workflow can leave your company's content disjointed and confused. And that's definitely not the impression you want to make on audiences, including your prospects, brand fans, and loyal customers.
The larger your organization, the more complex content operations are. In most companies, no one team "owns" all content. All stakeholders are likely involved, each with their own content objectives and goals:
Customer service uses content to educate customers and provide self-serve options to enhance their support programs.
The SEO team needs content to rank highly in Google and other search engine results to drive highly motivated organic traffic around relevant keyword phrases.
Demand generation professionals want to see eye-catching content promoted in all channels to increase interest in the brand and its offerings.
PR is looking for thought leadership pieces, the visibility that drives brand recognition, and authority-building content that helps them land interviews and placements.
The product team is eager to showcase the features and benefits of this amazing solution they've created.
Sales wants case studies, product sheets, and other collateral content that can help them seal the deal.
HR and recruitment expect the organization to produce content around company culture, employee satisfaction, and new opportunities to support their pursuit of new talent.
Building a content marketing culture requires everyone to pull in the same direction. In an ideal content culture driven by a unified process, the following things should be agreed on and documented:
Messaging
Content objectives
Content marketing roles
Content workflow
Content guidance
Content approvals
Content results
Building a #ContentMarketing culture requires everyone pulling in the same direction. That requires a unified process, says @andybetts1 via @CMIContent. Click To Tweet
Read on for suggestions related to each element.
1. Build a message 'house'
Unify content efforts across multiple digital channels by building a message architecture, which acts as a guide for aligning content with both customer needs and business objectives. You might find it helpful to create your message architecture in the form of a house:
At the top of the house is the umbrella message. It aligns content with core business objectives and company vision
The middle of the house is made up of core message building blocks, including audience profiling, persona targeting, and content and product marketing messages
The bottom of the house is the foundational support – proof points and message validation
HANDPICKED RELATED CONTENT:
2. Establish content objectives
Keeping the message architecture in mind, marketing leaders must associate every piece of content with at least one objective. A content objective, as content strategist Meghan Casey explains, is simply "the thing you want a piece of content to accomplish." Examples:
Amplify a specific message
Reach a certain target audience and promote a branded initiative
Influence an outcome for a specific business unit or decision
Promote an event
Build registrations for a webinar
Drive sales
Content objectives, of course, must tie to both business objectives and audience objectives.
Business objectives: Know what value the content to be created brings to the business' overall goals and key performance indicators (KPIs). For example, if the goal is to increase sales by X percent, how many leads do you need? And how can you generate X number of leads through content?
Audience objectives: Your content must serve a purpose for the intended audience. If you don't know what your audience wants to accomplish, content results will fall flat. Create content that is useful and helps them take action relevant to their objectives.
All #content assets should address a business objective and an audience objective, says @andybetts1 via @CMIContent. Click To Tweet
Content objectives provide a basis for suggesting the content types that each team should create. For example, to build brand awareness, your best content types could be videos and infographics. To drive demand, you need to use SEO insights to understand content preferences to create webinars, emails, and white papers. If you aim to influence a wider audience, you might go for contributed bylines and thought leadership pieces in industry publications.
As this chart illustrates, content preferences vary by industry based on 65% of results across billions of keywords. For example, health care has a higher percentage of "quick" answers than education, home improvement, finance, travel, and ecommerce. At the same time, regular web listings represent almost 80% of finance industry results. In the ecommerce industry, local three packs are more popular than in any other industry listed.
HANDPICKED RELATED CONTENT:
3. Define roles and build a culture
Only after you've built your message architecture and established content objectives accordingly can you define content marketing roles. Many companies detail the roles prematurely, creating overlap, inefficiency, and turnover.
Roles must be defined by marketing and business leaders if there's to be a unified culture in which multiple stakeholders own content. Content Marketing Institute founder Joe Pulizzi identifies possible roles:
Chief content officer
Managing editors
Content creators
Content producers
Chief listening officer
As illustrated in this image, when scaling content within your business, culture is at the center, surrounded by the four-step process attributes – from audience-centric to objectively driven and process orientated to built to measure.
When you define your roles – whatever names you may give them – establish one high-level role (chief content officer or equivalent) that drives content strategy. This role sets, upholds, and refines the processes across the content teams even when content owners are decentralized (not all reporting to the same person).
This high-level role is important because a content marketing culture that works requires common processes and a shared messaging system. It demands cross-functional "standards and mechanisms" of governance, as Lisa Welchman refers to them. And someone needs to be in charge of those things. If that role doesn't have all the content teams officially reporting to them, that person needs to find ways to "matrix manage" across those teams.
A #ContentMarketing culture that works requires common processes and a shared messaging system, says @andybetts1 via @CMIContent. Click To Tweet
Within each team, then, content stars can emerge – those who are most likely to contribute, within their area of expertise, to the success of the content marketing strategy. Define all roles according to the unique skillsets of your people, including any number of hybrid skillsets growing out of disciplines like public relations, thought leadership content, and SEO.
HANDPICKED RELATED CONTENT:
4. Define comprehensive content workflows
Each team should have a designated person (or people) accountable for understanding and documenting that team's content workflow. The person should cover not only what it takes to create the content but also the post-production tasks – everything that happens after the content is complete.
Ideally, all those designated people from various teams come together to help each other understand the workflow for each type of content. A sense of the separate workflows helps solidify an understanding of the overall company processes.
HANDPICKED RELATED CONTENT:
5. Develop guidance for creating key types of content
Designate an accessible place where teams can get familiar with the types of content your organization repeatedly creates: webinars, case studies, white papers, videos, research reports, newsletters, blog posts, infographics, presentations, etc.
For each frequently created content type, offer the following kinds of guidance to all teams:
Short description (one or two sentences)
Specifications (a content brief)
Samples of finished pieces
A fill-in-the-blank template that walks people through each element of that content type
6. Set up a content approval system
Content teams, over time, may gain authority to create content without the need for approval when the process is strategic. This is the goal of creating a content culture that works. The message house outlined in the first step, for example, helps you avoid approval objections.
If you're not there yet, make sure that the right people approve your content. Without an adequate approval system, you can end up pumping out content waste – content that's vapid or wildly off-message, content for the sake of content, or content that does not reflect the brand and that has no real impact on your target personas. In that case, you might as well not bother.
HANDPICKED RELATED CONTENT:
7. Measure and track results
Someone must measure and track results for your organization to learn whether what you're doing is effective. What you measure must tie back to your content objectives (as described above).
You need to find ways to measure what your audience does in response to consuming your content. Maybe people give feedback. Maybe they sign up for a demo. Maybe they do something else.
Ideally, track behaviors and use SEO tools and platforms that power performance aligned to your business KPIs.
Content measurement may be part art and part science, but to justify continued investment, marketers need to start being more scientific in their analysis of performance and monetary value – as difficult as that can be to pull off.
HANDPICKED RELATED CONTENT:
Create the culture and success follows
In a content marketing culture that works, the right people with the right experience produce the right content that resonates with the right audience. Departments align their content efforts (even as they work independently), customers accomplish more of their goals, and the business is more successful in delivering on its KPIs.
If you take these seven actions, your organization is on its way to building a content marketing culture that works.
Which of these actions has made the most difference for you? What else have you found contributes to a content marketing culture that works? Please let us know in a comment.
HANDPICKED RELATED CONTENT:
 Register to attend Content Marketing World in Cleveland, Ohio. Use the code BLOG100 to save $100.
Cover image by Joseph Kalinowski/Content Marketing Institute