How to Use Amazon Posts to Promote Your Products
If you're serious about digital marketing, you've likely spent thousands of dollars on testing, experimenting, and workshopping only to find that you simply aren't reaching your target audience.
That's where Amazon Posts comes in.
Amazon is doing more than just integrating social with online retail. Their Posts initiative reimagines what social media marketing could be, and it might just be the answer to some e-commerce sellers' problems.
What Are Amazon Posts?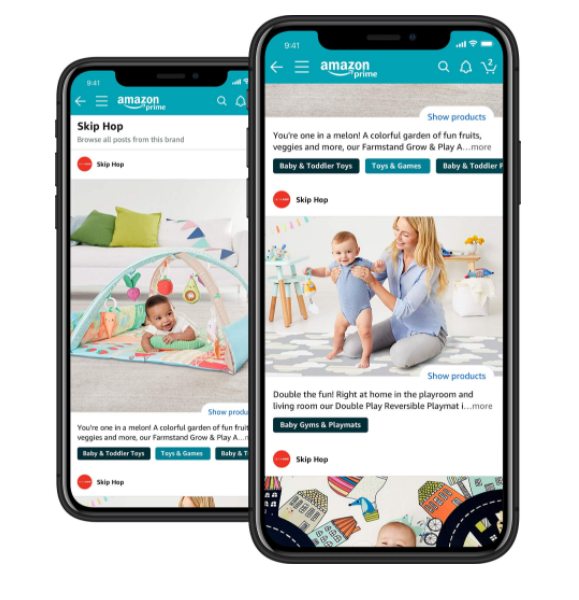 Amazon Posts is Amazon's social media initiative designed to help shoppers find new products and engage with their favorite brands.
Essentially, this is Amazon's version of Instagram. Posts allow brands to create and promote product-related content, directly linking to specific product listings. All your posts will appear on your brand's feed.
Your content is visible to shoppers on product detail pages, related product feeds, and category-based feeds. Amazon is presenting brands and businesses with an opportunity to market directly to their audience, within Amazon itself.
As a business owner or marketer looking to expand their social media marketing (SMM) strategy, Amazon Posts offer a unique approach to content. Instead of creating content on the latest social media site and linking to an Amazon account, brands can engage with users already on the Amazon platform, driving sales and engagement.
Access to shoppers that are already engaging with Amazon is part of what makes Amazon Posts such an interesting marketing tool. That access can reduce friction, one of the most frustrating hurdles for marketers to overcome.
Why You Should Use Amazon Posts to Promote Your Products
Platforms like Amazon and social media release new features constantly. So, what are the benefits of investing in this new feature? Let's look at why Amazon Posts matters for e-commerce brands.
Reach a Wider Audience
Amazon is the most popular buying app in the United States, reaching more than 150 million buyers every month. Amazon Posts helps your brand connect (and convert!) those buyers. Plus, unlike ads on platforms like Facebook and Instagram, Posts let you reach more buyers for free.
A wider reach for free? It's hard to argue with that.
Reduce Buyer Friction
When we discuss friction in marketing and sales, we're typically referencing potential sticking points and objections customers encounter in their journey from a potential sale to conversion.
That friction can become a tricky issue because just about every decision a customer makes can lead them to friction.
From a marketing standpoint, your job has two layers. The first layer involves removing as much friction from the customer journey as humanly possible. However, your business can't remove every single friction point. Eventually, the customer is going to encounter a "yes/no" situation.
That's why the second layer of marketing involves creating marketing experiences and content compelling enough to keep shoppers moving past the friction points you can't eliminate.
Every form of marketing has its friction points, but Amazon Posts aims to address two of the biggest issues in marketing.
When your brand promotes its content on Amazon, you don't have to ask shoppers to follow you to another site. They're already where they need to be! Plus, with Amazon's streamlined, high-level approach to the shopper experience, your brand can leverage its expertise and create compelling customer journeys.
Competitive Product Visibility
The term 'competitor analysis' is referenced frequently in digital marketing, and with good reason.
Your brand is probably not the only option for product X or service Y. Whether your brand has 10 competitors or 50, your brand's priority is standing out and connecting with potential shoppers.
Savvy brands and business owners analyze the advertising channels their competitors use. How are they writing their copy? How often are they producing content? Where are their ads appearing? What keywords are on their landing page? These are the questions that drive critical analysis.
Brands ask themselves these questions for one simple reason. When you understand how your competitors think, operate, and promote themselves, hijacking their audience becomes much easier.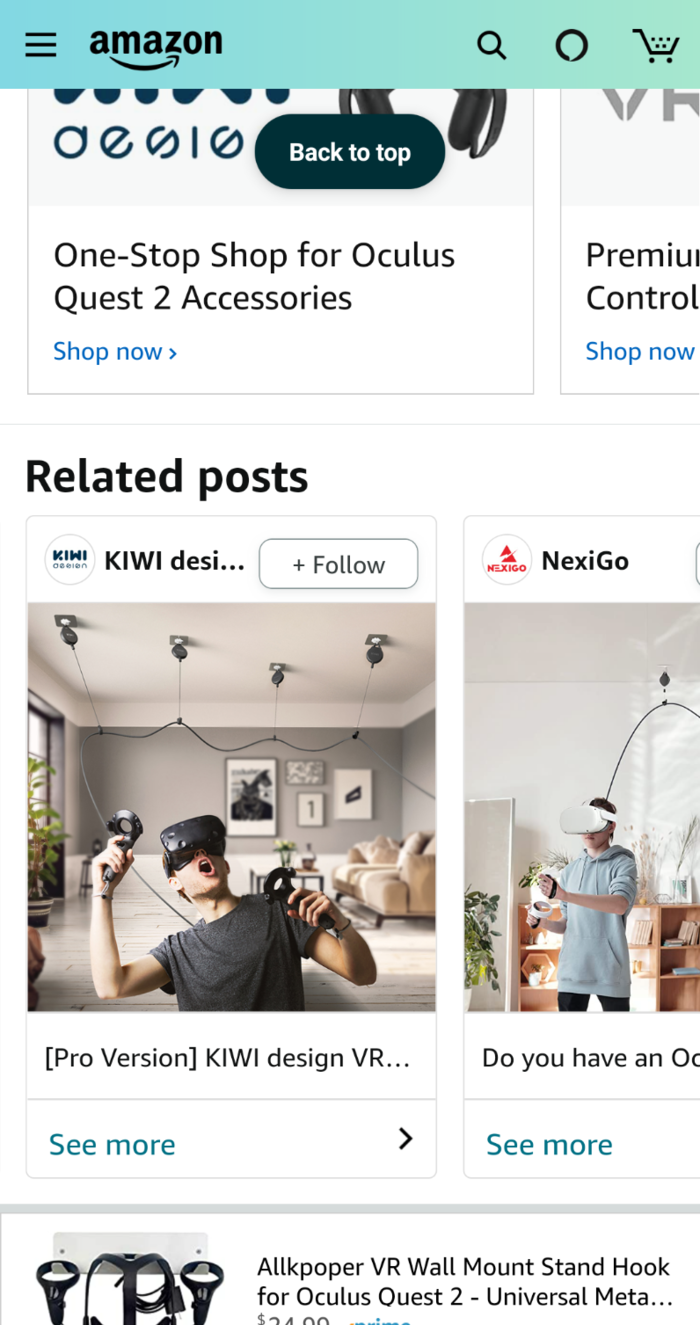 Promoting your content through Amazon Posts means your products can land on 'related product' feeds so you can directly advertise to your competitor's audience when the shopper is primed to make a purchase!
With access to over 150M monthly users, your brand can't afford to sit on the sidelines and let your competitors dominate the Amazon Posts space.
Who Should Use Amazon Posts to Promote Their Products?
Clearly, there are quite a few perks to using Amazon Posts, but that still leaves us with one question. How can you know if Amazon Posts is a good fit for your brand?
You wouldn't promote exercise equipment on LinkedIn or professional SaaS business solutions on Snapchat. Every audience has a unique social media experience, and understanding how your shoppers see the world is part of building an effective marketing strategy.
Fashion brands are in a fantastic position with this platform. Promoting high-quality images of your products right next to your competitors? It's a dream come true for most fashion brands.
Still, there are plenty of other brands that can leverage the Amazon Posts space. If your brand has tons of relevant social media content, you'll be able to repurpose that and promote it directly to Amazon shoppers.
However, there are a few things that your brand should keep in mind before diving into the Amazon Posts ecosystem.
Your brand must actively sell products on Amazon to qualify for this initiative. Fortunately, Amazon Posts is a free platform, which means you can legitimately compete with larger brands.
If your brand has taken the time to create high-quality images, this is a perfect way to not only maximize their value but explore a unique form of consumer marketing.
How to Create Amazon Posts
Now that you've decided to get started, it's time to start creating posts. This process is relatively straightforward. Start by visiting the official Amazon Posts website and signing in using your advertising console or Seller Central credentials.
Once you've done that, you'll create a profile by verifying your brand name, uploading an image of your brand's logo, and just like that, you can start creating posts on Amazon.
Each Post has five key elements: a brand name and logo, the promoted image, a 'show product' button, a caption, and tags. Most of those elements will sound familiar if you've spent time promoting on Instagram, but the implementation of tags is a bit different on Amazon.
Instead of hashtags on Instagram, which let you control where your post appears and what it's related to, Amazon auto-tags your post and automatically determines which feeds it will display on.
Tips to Create Amazon Posts That Successfully Promote Your Products
Now that you know what Amazon Posts are, let's talk about how to make them work for your brand. Here are three tips to make the most of this new feature.
Post Often
This is where SMM shines. Creating a post on Amazon is entirely free! Instead of having to manage an ad budget, your brand can focus on creating and sharing as much relevant content as possible.
Developing a relationship with shoppers takes time, so the sooner you get started, the better. To ensure regular content updates, schedule your posts through the platform. With scheduled posts, you can simplify your marketing efforts and consistently engage with your audience.
Daily posting is a good place to start, but if you have an extensive backlog of content, feel free to schedule more. Remember to experiment here, to make sure you aren't overwhelming your audience!
Content Is Still King
We've tackled the "quantity" component, but it's important we address the "quality" component as well.
No one, and I do mean no one, enjoys spam. Instead of overloading your audience with every single possible image, think like an art curator. Your brand is made up of dozens, maybe even hundreds of unique content pieces. Which pieces are exceptional? What kind of customer will want to engage with a particular piece of content?
Crafting remarkable pieces of content is great, but crafting memorable marketing experiences is what drives conversions. Use this platform as an opportunity to explore exactly what your brand and your content is capable of.
Monitor Campaigns and Metrics
Some brands view marketing campaigns as a mad dash for awareness. Don't get me wrong, traffic is definitely important, but truly effective marketing is about more than just visibility.
As a marketer, I don't just want to be seen. I demand to be heard, and when my content doesn't drive conversions, something needs to change.
This is what makes monitoring your campaigns and metrics crucial. If you're new to Amazon Posts, it's not enough to simply start posting. You need to determine clear marketing objectives, campaign strategies, and content initiatives.
Social media platforms change constantly and understanding how those changes affect your campaigns makes it much easier to adapt and evolve.
Examples of Successful Promotional Amazon Posts
If you're worried about what kind of content to create, or how to define your visual branding, take a page from an e-commerce store and just let the product speak for itself.
VIKICON offers a relatively small caption, a decent product offering, and some saturated tags. The image itself demands attention.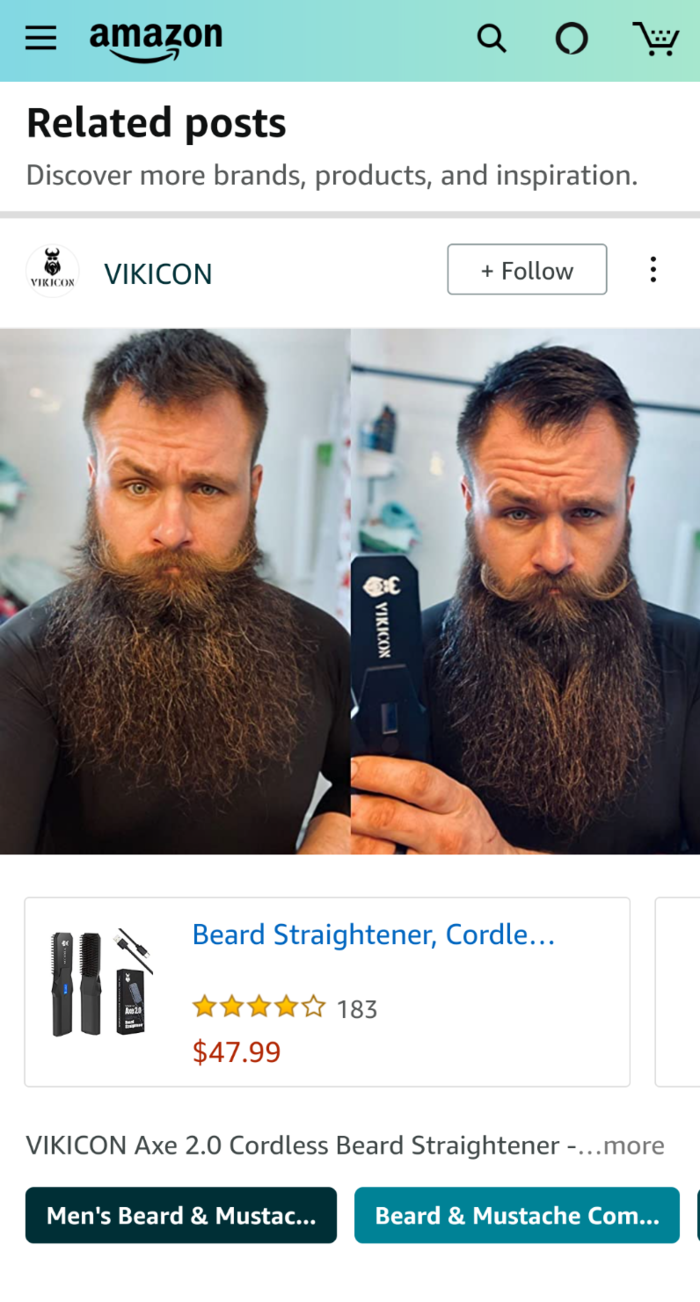 Bold, eye-catching visuals are a powerful way to tell your entire brand story without saying anything at all. Sometimes, less truly is more.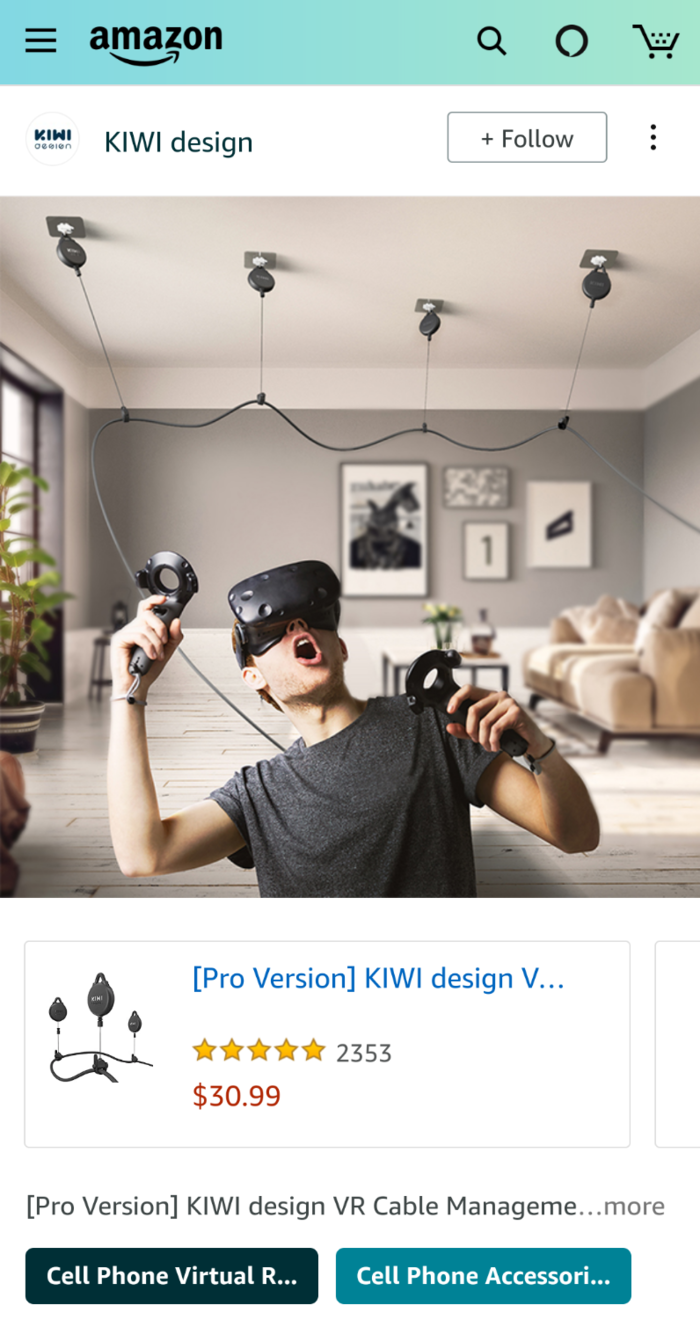 Likewise, KIWI Design understands the appeal of its product. Getting lost in a virtual reality world is about more than just computational capacity and frame rates. It's about the shock and awe of diving into an immersive digital experience.
My favorite part about this image? It also sells you on the value of the ceiling pulley system! If you want to get lost in a digital experience, the last thing you want to deal with is tripping over cables.
Conclusion
Social media marketing is crucial to building a relationship between consumers and sellers. Our capacity to connect in honest, meaningful ways directly impacts how well our business does. Amazon Posts serves as a bridge between social media marketing and a straight e-commerce experience.
Amazon Posts is interesting mostly because it reduces friction and integrates so well with the Amazon platform. That being said, there are brands with dynamic visual content that are perfectly suited for this environment.
If your brand falls into that category, don't waste any more time. Get to strategizing and see how well you can connect with shoppers on Amazon Posts.
If you want to learn about other innovative ways to promote your e-commerce company, let our agency know. We can keep you in the loop and partner with you to integrate custom digital marketing strategies.
Are you planning to leverage Amazon Posts? What results are you hoping to see?
See How My Agency Can Drive Massive Amounts of Traffic to Your Website
SEO – unlock massive amounts of SEO traffic. See real results.
Content Marketing – our team creates epic content that will get shared, get links, and attract traffic.
Paid Media – effective paid strategies with clear ROI.
How Auto-GPT will revolutionize AI chatbots as we know them
Artificial intelligence chatbots such as OpenAI LP's ChatGPT have reached a fever pitch of popularity recently not just for their ability to hold humanlike conversations, but because they can perform knowledge tasks such as research, searches and content generation.
Now there's a new contender taking social media by storm that extends the capabilities of OpenAI's offering by automating its abilities even further: Auto-GPT. It's part of a new class of AI tools called "autonomous AI agents" that take the power of GPT-3.5 and GPT-4, the generative AI technologies behind ChatGPT, to approach a task, build on its own knowledge, and connect apps and services to automate tasks and perform actions on the behalf of users.
ChatGPT might seem magical to users for its ability to answer questions and produce content based on user prompts, such as summarizing large documents or generating poems and stories or writing computer code. However, it's limited in what it can do because it's capable of doing only one task at a time. During a session with ChatGPT, a user can prompt the AI with only one question at a time and refining those prompts or questions can be a slow and tedious journey.
Auto-GPT, created by game developer Toran Bruce Richards, takes away these limitations by allowing users to give the AI an objective and a set of goals to meet. Then it spawns a bot that acts like a person would, using OpenAI's GPT model to perform AI prompts in order to approach that goal. Along the way, it learns to refine its prompts and questions in order to get better results with every iteration.
It also has internet connectivity in order to gather additional information from searches. Moreover, it has short- and long-term memory through database connections so that it can keep track of sub-tasks. And it uses GPT-4 to produce content such as text or code when required. Auto-GPT is also capable of challenging itself when a task is incomplete and filling in the gaps by changing its own prompts to get better results.
According to Richards, although current AI chatbots are extremely powerful, their inability to refine their own prompts on the fly and automate tasks is a bottleneck. "This inspiration led me to develop Auto-GPT, which can apply GPT-4's reasoning to broader, more complex problems that require long-term planning and multiple steps," he told Vice.
Auto-GPT is available as open source on GitHub. It requires an application programming interface key from OpenAI to access GPT-4. And to use it, people will need to install Python and a development environment such as Docker or VS Code with a Dev Container extension. As a result, it might take a little bit of technical knowhow to get going, though there's extensive setup documentation.
How does it work?
In a text interface, Auto-GPT asks the user to give the AI a name, a role, an objective and up to five goals that it should reach. Each of these defines how the AI agents will approach the action the user wants and how it will deliver the final product.
First, the user sets a name for the AI, such as "RestaurantMappingApp-GPT," and then set a role, such as "Develop a web app that will provide interactive maps for nearby restaurants." The user can then set a series of goals, such as "Write a back-end in Python" and "Program a front end in HTML," or "Offer links to menus if available" and "Link to delivery apps."
Once the user hits enter, Auto-GPT will begin launching agents, which will produce prompts for GPT-4, then approach the original role and each of the different goals. Finally, it will then begin refining and recursing through the different prompts that will allow it to connect to Google Maps using Python or JavaScript.
It does this by breaking the overall job into smaller tasks to work on each, and it uses a primary monitoring AI bot that acts as a "manager" to make sure that they coordinate. This particular prompt asks the bot to build a somewhat complex app that could go awry if it doesn't keep track of a number of different moving parts, so it might take a large number of steps to get there.
With each step, each AI instance will "narrate" what it's doing and even criticize itself in order to refine its prompts depending on its approach toward the given goal. Once it reaches a particular goal, each instance will finalize its process and return its answer back to the main management task.
Trying to get ChatGPT or even the more advanced, subscription-based GPT-4 to do this without supervision would take a large number of manual steps that would have to be attended to by a human being. Auto-GPT does them on its own.
The capabilities of Auto-GPT are beneficial for neophyte developers looking to get ahead in the game, Brandon Jung, vice president of ecosystem at AI-code completion tool provider Tabnine Ltd., told SiliconANGLE.
"One benefit is that it's a good introduction for those that are new to coding, and it allows for quick prototyping," Jung said. "For use cases that don't require exactness or have security concerns, it could speed up the creation process without having to be part of a broader system that includes an expert for review."
Being able to build apps rapidly, including all the code all at once, from a simple series of text prompts would bring a lot of new templates for code into the hands of developers. Essentially providing them with rapid solutions and foundations to build on. However, they would have to go through a thorough review first before being put into production.
What kind of applications can Auto-GPT be used for?
That's just one example of Auto-GPT's capabilities. With its capabilities, it has wide-reaching possibilities that are currently being explored by developers, project managers, AI researchers and anyone else who can download its source code.
"There are numerous examples of people using Auto-GPT to do market research, create business plans, create apps, automate complex tasks in pursuit of a goal, such as planning a meal, identifying recipes and ordering all the ingredients, and even execute transactions on behalf of the user," Sheldon Monteiro, chief product officer at the digital business transformation firm Publicis Sapient, told SiliconANGLE.
With its ability to search the internet, Auto-GPT can be tasked with quick market research such as "Find me five gaming keyboards under $200 and list their pros and cons." With its ability to break a task up into multiple subtasks, the autonomous AI could then rapidly search multiple review sites, produce a market research report and come back with a list of gaming keyboards that come in under that amount and supply their prices as well as information about them.
A Twitter user named MOE created an Auto-GPT bot named "Isabella" that can autonomously analyze market data and outsource to other AIs. It does so by using the AI framework Lang-chain to gather data autonomously and do sentiment analysis on different markets.
autogpt was trying to create an app for me, recognized I don't have Node, googled how to install Node, found a stackoverflow article with link, downloaded it, extracted it, and then spawned the server for me.

My contribution? I watched. pic.twitter.com/2QthbTzTGP

— Varun Mayya (@VarunMayya) April 6, 2023
Because Auto-GPT has access to the internet, and it can take actions on behalf of the user, it can also install applications. In the case of Twitter user Varun Mayya, who ask the bot to build some software, it discovered that he did not have Node.js installed – an environment that allows JavaScript to be run locally instead of in a web browser. As a result, it searched the internet, discovered a StackOverflow tutorial and installed it for him so it could proceed with building the app.
Auto-GPT isn't the only autonomous agent AI currently available. Another that has come into vogue is BabyAGI, which was created by Yohei Nakajima, a venture capitalist and artificial intelligence researcher. AGI refers to "artificial general intelligence," a hypothetical type of AI that would have the ability to perform any intellectual task – but no existing AI is anywhere close. BabyAGI is a Python-based task management system that uses the OpenAI API, like Auto-GPT, that prioritizes and builds new tasks toward an objective.
There are also AgentGPT and GodMode, which are much more user-friendly in that they use a web interface instead of needing an installation on a computer, so they can be accessed as a service. These services lower the barrier to entry by making it simple for users because they don't require any technical knowledge to use and will perform similar tasks to Auto-GPT, such as generating code, answering questions and doing research. However, they can't write documents to the computer or install software.
Autonomous agents are powerful but experimental
These tools do have drawbacks, however, Monteiro warned. The examples on the internet are cherry-picked and paint the technology in a glowing light. For all the successes, there are a lot of issues that can happen when using it.
"It can get stuck in task loops and get confused," Monteiro said. "And those task loops can get pretty expensive, very fast with the costs of GPT-4 API calls. Even when it does work as intended, it might take a fairly lengthy sequence of reasoning steps, each of which eats up expensive GPT-4 tokens."
Accessing GPT-4 can cost money that varies depending on how many tokens are used. Tokens are based on words or parts of phrases sent through the chatbot. Charges range from three cents per 1,000 tokens for prompts to six cents per 1,000 tokens for results. That means using Auto-GPT running through a complex project or getting stuck in a loop unattended could end up costing a few dollars.
At the same time, GPT-4 can be prone to errors, known as "hallucinations," which could spell trouble during the process. It could come up with totally incorrect or erroneous actions or, worse, produce insecure or disastrously bad code when asked to create an application.
"[Auto-GPT] has the ability to execute on previous output, even if it gets something wrong it keeps going on," said Bern Elliot, a distinguished vice president analyst at Gartner. "It needs strong controls to avoid it going off the rails and keeping on going. I expect misuse without proper guardrails will cause some damaging unexpected and unintended outcomes."
The software development side could be equally problematic. Even if Auto-GPT doesn't make a mistake that causes it to produce broken code, which would cause the software to simply fail, it could create an application riddled with security issues.
"Auto-GPT is not part of a full software development lifecycle — testing, security, et cetera — nor is it integrated into an IDE," Jung said, warning about the potential issues that could arise from the misuse of the tool. "Abstracting complexity is fine if you are building on a strong foundation. However, these tools are by definition not building strong code and are encouraging bad and insecure code to be pushed into production."
The future of Auto-GPT and other autonomous agents
Tools such as Auto-GPT, BabyAGI, AgentGPT and GodMode are still experimental, but there are broader implications in how they could be used to replace routine tasks such as vacation planning or shopping, explained Monteiro.
Right now, Microsoft has even developed simple examples of a plugin for Bing Chat. It allows users to ask it to offer them dinner suggestions that will have its AI – which is powered by GPT-4 – will roll up a list of ingredients and then launch Instacart to have them prepared for delivery. Although this is a step in the direction of automation, bots such as Auto-GPT are edging toward a potential future of all-out autonomous behaviors.
A user could ask for Auto-GPT to look through local stores, prepare lists of ingredients, compare prices and quality, set up a shopping cart and even complete orders autonomously. At this experimental point, many users may not be willing to allow the bot to go all the way through with using their credit card and deliver orders all on its own, for fear that it could go haywire and send them several hundred bunches of basil.
A similar future where an AI does this for travel agents using Auto-GPT may not be far away. "Give it your parameters — beach, four-hour max travel, hotel class — and your budget, and it will happily do all the web browsing for you, comparing options in quest of your goal," said Monteiro. "When it is done, it will present you with its findings, and you can also see how it got there."
As these tools begin to mature, they have a real chance of providing a way for people to automate away mundane step-by-step tasks that happen on the internet. That could have some interesting implications, especially in e-commerce.
"How will companies adapt when these agents are browsing sites and eliminating your product from the consideration set before a human even sees the brand?" said Monteiro. "From an e-commerce standpoint, if people start using Auto-GPT tools to buy goods and services online, retailers will have to adapt their customer experience."
* Image: Freepik
The Top 10 Benefits of Amazon AWS Lightsail: Why It's a Great Choice for Businesses
Amazon Web Services (AWS) is a popular cloud computing platform that offers a wide range of services to individuals and businesses alike. One of the services offered by AWS is Amazon Lightsail, which is a simplified and user-friendly way to launch and manage virtual private servers (VPS). In this article, we will discuss the benefits of using Amazon Lightsail for your business.
Cost-effective
One of the primary advantages of using Amazon Lightsail is its cost-effectiveness. The service offers a flat monthly fee for each instance, which makes it easy to predict costs and plan for your budget. Moreover, the pricing is transparent, with no hidden costs or surprises.
User-friendly
Amazon Lightsail is designed to be user-friendly, making it easy for even non-technical users to deploy and manage virtual private servers. The platform provides a simplified control panel that includes pre-configured software packages, such as WordPress, LAMP, and more. These packages are preconfigured, making it easy to deploy and set up a web application in minutes.
Scalable
Amazon Lightsail is designed to be scalable, which means you can easily upgrade your resources as your business grows. The platform provides a range of instance sizes to choose from, with varying CPU, RAM, and storage options. You can also scale up or down as needed, making it easy to manage your resources and costs.
Reliable
Amazon Lightsail is built on top of the AWS infrastructure, which means it benefits from AWS's robust and reliable cloud infrastructure. This ensures that your applications and data are always available and accessible, with minimal downtime.
Secure
Amazon Lightsail provides a secure and reliable environment for your applications and data. The platform includes a range of security features, such as built-in firewalls, DDoS protection, and SSL/TLS encryption. Moreover, Lightsail instances are isolated from each other, which provides an additional layer of security.
Integrated with AWS services
Amazon Lightsail is fully integrated with other AWS services, making it easy to use Lightsail with other AWS services such as Amazon S3, Amazon RDS, and more. This integration provides a comprehensive cloud computing platform, enabling you to build and run complex applications.
Quick and easy deployment
Amazon Lightsail provides a quick and easy way to deploy web applications, with pre-configured templates for popular applications such as WordPress, Drupal, Joomla, and more. This makes it easy to deploy a web application in just a few clicks, without the need for technical knowledge.
High-performance
Amazon Lightsail instances are built on top of the latest generation of AWS infrastructure, providing high-performance and low-latency connectivity. This ensures that your applications and data are always accessible and responsive, with fast and efficient data transfer.
Easy to manage
Amazon Lightsail provides a simplified management interface, making it easy to manage your virtual private servers. The platform includes tools for monitoring your instances, configuring backups, managing DNS records, and more. Moreover, the platform provides a range of APIs and CLI tools, making it easy to automate management tasks.
Flexible
Amazon Lightsail is flexible, allowing you to choose the operating system and software stack that best suits your needs. The platform supports a range of operating systems, including Ubuntu, Debian, CentOS, and more. Moreover, you can install and configure any software stack that you need, giving you complete control over your environment.
In conclusion, Amazon Lightsail is a cost-effective, user-friendly, scalable, reliable, secure, integrated, quick, high-performance, easy-to-manage, and flexible platform for deploying and managing virtual private servers. If you're looking for a simplified and efficient way to manage your cloud computing resources, Amazon Lightsail is definitely worth considering.
Get started today with Amazon Lightsail
Binance's BNB Chain to Offer New Decentralized Storage System
The release of the decentralized storage system's white paper was having a modest effect on the price of other storage tokens on Wednesday. Filecoin (FIL), storj (STORJ), and arweave (AR) are now trading 2%, 5% and 6%, respectively, above their pre-announcement prices.