The Ultimate Guide to Social Media for E-Commerce
Social media for e-commerce has become a critical element in sales growth for many businesses. Using social media to boost your marketing offers many benefits to help build your business, so don't wait to explore these valuable channels.
Sprout Social reports that after following a brand on social media, consumers continue to engage in other ways. Ninety-one percent check out the brand's website or app, 89 percent make a purchase, and 85 percent recommend the brand to someone they know.
Let's look at what you can do to promote your e-commerce business with social media and which tools and best practices you should use.
14 Steps for E-Commerce Companies to Find Success Using Social Media
The more people integrate social media platforms into their daily routines, the more it makes sense to market to them here. Consumers spend almost two and a half hours per day on social media channels.
Why not reach them with social posts where you know they spend a significant amount of time? For example, eye-catching posts with appealing visuals like these posts from Sephora are a great way to market products on Instagram.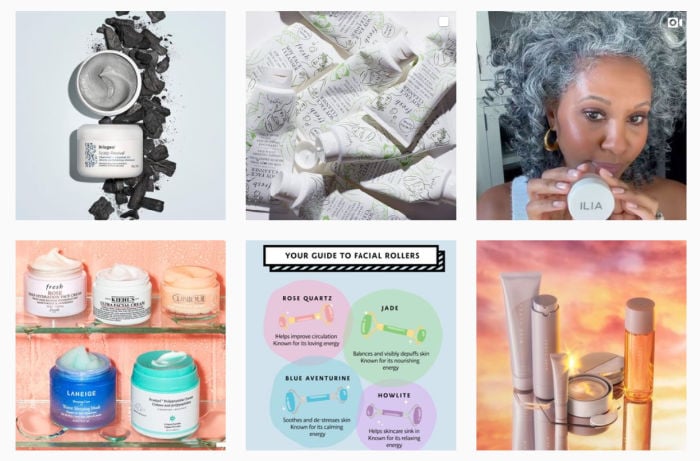 How can you stay on top of new developments and know what you should be doing to serve your customers best? Follow industry leaders in your feeds and keep tabs on trending topics in your industry. You can also discreetly watch what other companies are doing that seems to gain traction.
While social commerce is still relatively new, it's making a significant impact on e-commerce businesses and how they market to customers. As each platform improves its features to help users sell, opportunities grow for businesses to tap into these audiences to boost their marketing.
The steps below can help you develop best practices in your business to optimize your social media for e-commerce.
1. Define Your E-Commerce Company's Social Media Goals
There are two main ways to use social media for e-commerce: to drive traffic to your company website or drive sales. While each can be important in its way, it's essential to identify which you value most so you can effectively plan how to use your resources.
It's essential to establish your goals before investing time into strategy and implementation to ensure you're taking action to move you closer to your goals.
If you don't set goals, you can't measure your success or repeat what works.
2. Decide If You Want to Become a Social Commerce Company
Social commerce is selling directly to your customers on social media platforms. Everything from discovering your product or service, to a buying decision, to the checkout process happens in the app or platform they are already using.
Target's Facebook page, for example, has a shop built right into it where customers can browse and purchase products.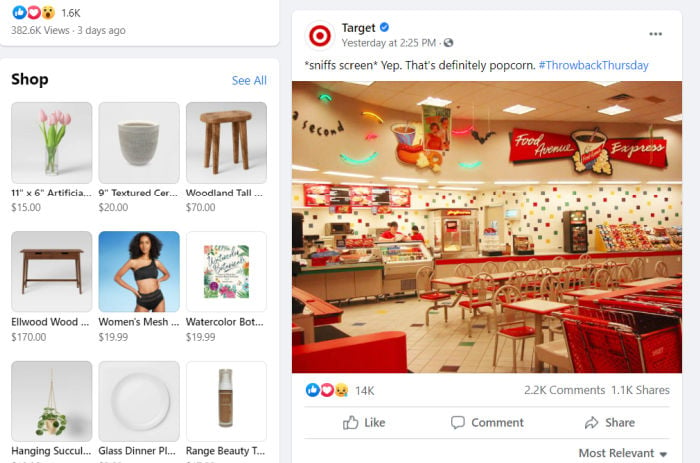 You might find success with social commerce if you sell products that a potential customer can quickly evaluate online from a photo and might buy on impulse. Think lower price points and items that aren't likely to need returning.
An apparel company might successfully sell their clothing and accessories on social media as the process suits how people tend to buy these products.
When is social commerce perhaps not a great fit? If your products or services are higher ticket items where customers want to discern quality in-person. A customer buying an engagement ring will want to spend more time evaluating options and vetting sellers than social commerce might allow.
Start by focusing on the networks your ideal customer and target audience uses the most. Take time to engage your audiences and respond to their comments and questions.
Whether or not you want to pursue social commerce for your business, you should still be investing in social media marketing. Social channels can help boost your visibility, increase website traffic, generate leads, and help you engage with your customers.
3. Create a Social Media Strategy for Your E-Commerce Company
You'll need a social media strategy for your e-commerce company that considers your goals, your resources, and the best platforms that will help you reach your customers. Once you clarify these parts of your strategy, you can expand on each element to create effective campaigns that fit your goals.
When you work from a social media strategy, you're also more likely to use best practices to help you be more effective overall. Get a clear idea of your target audience, where they spend time, and their worries. From here, do some research to check which platforms are most popular with your target demographic.
With this information, you'll be better able to plan where your time and effort will pay off.
4. Determine Which Social Media Channels Your E-Commerce Company Should Target
First, look for established platforms that offer a range of features, different ways to advertise and sell products, and focused targeting. Some may appeal to you because they are an excellent fit for your products.
The apparel brand we mentioned earlier would likely want to use Instagram because it is image-focused, and consumers are already used to discovering and purchasing apparel on the app.
Next, consider which platforms attract your target demographic. You'll want to go where your ideal customers spend time.
What kind of data might inform your decision? With some research, you might discover 60 percent of Pinterest users are women, and 98 percent of Facebook users access the site via mobile devices. From these and other data points, you'll be able to pinpoint which platforms might be best for your business.
5. Optimize Your Social Media Accounts for E-Commerce
One of the first steps you'll need to take is to optimize your social media accounts. Fill out your profiles completely, adding helpful information wherever you can.
Make it easy for people to find the information they need at a glance to understand your business and buy from you. Perform research to identify relevant keywords and hashtags to use so you show up in search results. Make your location obvious.
Be sure to link to pages where customers can find the products they clicked through to see. Use clear CTAs so people know what to do to buy from you.
6. Run Social Media Paid Campaigns Optimized for E-Commerce Companies
Nearly every social platform has a version of paid advertising that can allow you to raise visibility even as organic reach becomes more challenging to achieve.
There are also different ad types on each, so it can be valuable to explore the various options. You may try different types of ads on each platform. You might try retargeting ads on Facebook, but use Shoppable posts on Instagram. Take advantage of audience targeting capabilities on each.
7. Use Automation Tools
If social media is a part of your sales strategy, you'll need to explore automation tools and use what you can. Why is automation so key to social selling? People expect timely and personal interaction on social media networks. To meet their expectations, you're going to need help.
It's simply not possible to run a successful business and spend every waking moment online replying to comments and answering questions. Social media is like a storefront that is open 24 hours a day, seven days a week (plus holidays!), so don't take the chance of turning people away or missing crucial requests or concerns.
8. Consider the Mobile Experience
More people are accessing social media networks and websites via their phones than ever before. When it comes to social media for e-commerce, however, mobile design is just the first step. The whole purchase journey needs to be seamless.
Payment options should be mobile-friendly. Apple Pay, for example, allows you to let users make purchases from their phones. We'll look at more payment options further down the page.
Consider content formats as well. With more than 100 million hours of video consumed on Facebook every day, you'll want to offer videos in vertical format for mobile users. People like convenience, a personalized experience, and to feel like they can easily navigate and engage with your site.
9. Optimize Landing Pages for E-Commerce
Optimizing your landing pages for e-commerce helps create a better user experience by providing people with all the information they need to make a buying decision.
If they click through to your site, you want them to understand quickly they're in the right place. They should be able to move seamlessly to purchasing the item they wanted.
Ensure you have high-quality product images and videos, if appropriate, with well-written product copy outlining features and benefits. Include sizing or specifications on the product page and clear calls to action (CTAs) to help them convert.
10. Create Clear CTAs on Social Media Optimized for E-Commerce
CTAs are what motivate your user to convert to a customer. Take the time to craft these carefully and include them in each interaction you have with potential customers.
You can use different CTAs, like asking questions, including hyperlinks, or simply adding clickable buttons. Your page design might include banners with clear offers, sidebar clickable buttons, or pop-up ads to help customers convert.
11. Ensure Easy Website Navigation
User experience (UX) should be your priority when you launch your e-commerce site. You want shoppers to find products quickly and understand how to move from browsing to purchasing without confusion.
The easier you make it for people to buy from you, the better the chance they'll convert from visitor to customer. Keep your navigation simple to understand and avoid design elements that are too unusual for people to use easily.
Organize your site information with clear labels for product categories and avoid tricky navigation styles that could create confusion.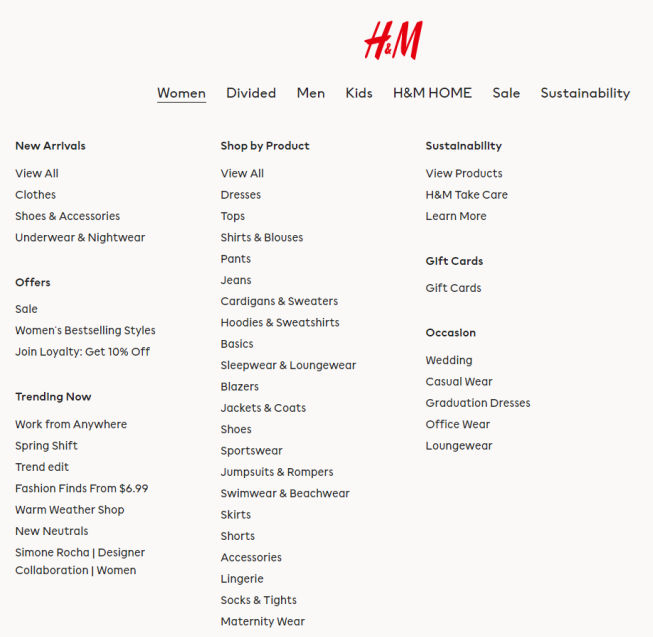 12. Offer Easy Payment Options for Customers
If you're going to run a successful e-commerce site, you need to offer reliable and trustworthy ways for people to pay for your products and services.
You can explore a wide range of payment options for your e-commerce business, each with its features and policies. Options include Square, PayPal, Stripe, Apple Pay, Google Pay, and many others.
Some social media platforms allow customers to purchase directly from the app, depending on what features you choose to use. A few of these options include Facebook (with Facebook stores, Messenger Chatbots, and Ads), Instagram (with Stories, Shopping, Live, IGTV, and Ads), and Pinterest (with Promoted Pins, Rich Pins, and Shop the Look Pins.)
You also can investigate third-party websites as a way to advertise and sell your products. Keep reading to learn more about a few of these that may support your e-commerce business.
13. Advertise and Sell on Third-Party Websites
There are other options for boosting your sales beyond your website. Third-party websites allow you to benefit from established functionality and huge audiences while building your legitimacy and website traffic.
One example of third-party website selling is Amazon. While shoppers on Amazon may realize they're buying from you instead of directly from the retail giant itself, you still benefit from the credibility of their brand and purchasing capabilities. You also get to tap into their vast audience of visitors with a solid intent to buy.
Another option is using sites like Like to Know It, which allows readers to purchase an item or items from an Instagram post by linking the product emailed to them.
RewardStyle is an invitation-only affiliate network focusing on lifestyle, fashion, and beauty products, allowing sellers to earn money through content creation featuring certain products.
14. Track the Success of Your E-Commerce Company's Social Media Strategy
It's essential to track your strategy's results as you implement your ideas, so you can accurately analyze your successes and where you need to improve.
Choose quantifiable metrics representing engagement (such as likes, shares, comments, or retweets). Track your website traffic and how much traffic you are getting from your social media channels. Keep track of sales generated by social media marketing and sales completed online or through your campaigns.
It's not always easy to tie your efforts to your results, but you can try. With specific metrics, you'll be better able to repeat the working tactics and revisit the areas that don't seem to be offering you the same return on investment.
Conclusion
Social media is a big part of everyday life for many people and offers an excellent opportunity to get in front of potential customers and sell your products and services. You can use various platforms to strengthen your brand, increase sales, and develop loyal fans.
If you also sell online, using social media for e-commerce is a natural step for your business as you plan future growth. If you haven't tapped into the benefits of social media marketing yet, start now, so you don't miss out on the opportunity it represents.
With the steps outlined above, you'll be ready to reap the benefits of social media for your e-commerce business. If you haven't explored these options or want some help to make them work for you, reach out for digital marketing support.
Have you invested in social media for e-commerce in your business? Which of the above tips will you try next?
See How My Agency Can Drive Massive Amounts of Traffic to Your Website
SEO – unlock massive amounts of SEO traffic. See real results.
Content Marketing – our team creates epic content that will get shared, get links, and attract traffic.
Paid Media – effective paid strategies with clear ROI.
Advocate | DigitalMarketer
Happy customers love to share their experience, but sometimes they need some encouragement to do so. The cool thing is, once they do, they become even more loyal to your brand.
So, at this stage of the Customer Value Journey, ask people to share their positive experience with your brand by writing a review or sharing a social media post.
Once you get to stage seven, the Customer Value Journey is going to get a whole lot easier for you. This stage is all about learning your customer's experience, and building up your testimonial database. 
The most important part of this step is asking these four questions. 
What Was Your Life Like Before Finding Our Solutions? What Challenges Were You Facing That Caused You to Consider Us? 
These questions are great not only because it gives you some really good stories, but because it gives you some insight on how you can provide similar prospects with that AHA moment. Understanding the average day of your clients is important in reflecting on your Customer Value Journey, and helps you understand what really set you apart from your competitors.
What Key Features Had the Biggest and/or Fastest Impact?
Not only is this going to get you to really specific stories, you will understand the specific things you provided that gave the biggest impact. The answers to these questions will not only give you great insight and testimonials, it will provide you with ideas for new lead magnets. This part is a new Entry Point Offer goldmine! 
What Has Been the Impact or Results in Your Life or Business Since Using Our Product or Service? 
This is a fairly broad question, and that's why we put it after the others. You will have already gotten all of the specifics out of the way with #1 & #2. But when you ask this question, this is where you get the most valuable stories. You can use this part as testimonials, as an order form, as a sales page, this part is testimonial gold. 
If You Were Asked to Justify this Purchase to Your Boss or a Friend, What Would You Say? 
This is our favorite question by far. If you had to go back in time and justify this purchase, what would you say? I promise you what we're going to find is a lot of great ideas for the jobs that your product or service has done. You'll get a lot of great ideas for your core message canvas. This question is about backfilling all of the assets that you may not have. Here you're going directly to the customer who are already happy, and using their justifications to help you sell to new customers. 
Hopefully you now understand just how valuable the Advocate stage could be, as well as the key questions you need to ask to get your customers talking. Here's how it works for our example companies.
When it comes to fashion we all love to show off our outfits. So a good example for Hazel & Hems would be to have customers write reviews for a discount code or points towards their next purchase. 
Better yet, follow up with the customers to ask them to share and tag themselves wearing the items in a social media post and providing them with something valuable as a reward.
For Cyrus & Clark Media, hopping on zoom meetings or a streaming service for live talks about them and their business could generate valuable awareness for them, and a live case study for the agency. They can use the questions Ryan provided during this lesson to conduct the interview.
Drive Conversions and Generate Engagement With Instacart Promotions
Through deals and coupons, Instacart has saved consumers more than $700 million in 2022. As we dive into 2023, the leading grocery technology company in North America has big plans to help consumers save even more while also helping CPGs generate sales. Instacart recently announced an advertising solution that helps both sellers and consumers called Instacart Promotions. This exciting feature is designed to help drive conversions, boost sales, and generate overall engagement on the app.
Interested in this feature and how it can help your business on Instacart? Read on as we dive into everything you need to know about this ad solution including benefits, how to get started, and more.
What are Instacart Promotions?
Instacart Promotions is an advertising feature that's now available to all brand partners, including emerging brands, within their open beta program. Promotions give CPGs the opportunity to offer new deal structures, promotions, and incentives with Instacart Ad campaigns. With this feature in place, consumers will have access to more promotions, coupons, and deals that are tailored to them within the Instacart Marketplace.
"With the launch of our new Instacart Promotions, all of our brand partners now have the ability to set up coupons and promotions that can drive meaningful business results while also passing on more savings opportunities to consumers. We're proud to continue expanding our portfolio with additional self-service capabilities, ad formats that drive results, and measurement that brands need to understand the true impact of their campaigns on Instacart."
– Ali Miller, VP of Ads Product at Instacart
How Do Instacart Promotions Work?
Promotions, now available in Ads Manager, gives consumers the ability to discover more promotions and savings opportunities within the Instacart app. These promotions now show up directly on product item cards before checkout for easy accessibility. Promotions allow advertisers to customize their campaigns to sync with their goals and objectives whether that be driving sales, building baskets, or boosting trials.
Instacart shared a recent example of a brand successfully utilizing Promotions… 
Athletic Brewing, General Mills, Sola Company, and Wells Enterprises (maker of Halo Top) are strengthening campaign performance by pairing Instacart Promotions with ad formats such as Sponsored Product and Display. Instacart Promotions include two new flexible and customizable structures: Coupons ("buy X units, save $Y") and Stock Up & Save ("Spend $X, Save $Y"). 
According to Instacart, in the coming months, the company "will work to further enhance the new offering with new deal structures such as Free Gifts and Buy One, Get One ("BOGO"). The new deal structures will help brand partners run "Free Sample" programs that can win new customers and serve personalized discounts for different customer segments, such as "new to brand" and "new to category."  
Instacart Promotions Benefits
Deliver Value and Savings to Consumers
With Instacart Promotions, you have the opportunity to deliver value and savings that will have consumers coming back for more. With this savings feature, your brand can stand out among the competition and offer a variety of deals to shoppers ie: "Buy X units, Save $Y".
Hot tip: Ensure you are selecting products for your promotion that are well-stocked and widely available.  
Tailor Your Campaigns to Specific Objectives
With a variety of savings options available, your brand can structure deals to fit specific business goals and objectives. 
Hot tip: If you're looking to drive visibility and awareness, try pairing promotions with Sponsored Product campaigns. 
Access Real-Time Performance Insights 
The Promotions beta program is live and can be accessed within Instacart Ads Manager. Within Ads Manager, advertisers can access real-time insights to maximize performance and adjust campaigns as needed.
Hot tip: Make sure your budget matches your discount and objectives.
"As an advertiser, Instacart's unique offering to self-manage promotions is so exciting! Historically, making adjustments to offer values and other promotion parameters was a more manual process, but now we'll be able to easily make optimizations in real-time based on redemption performance."
– Emily Choate, Senior Specialist, Marketplace Search at Tinuiti
Interested in Instacart Promotions?
With Instacart Promotions, you have the opportunity to reach new customers, build bigger baskets, and drive sales. Interested in testing out the beta program or looking to get started with advertising on the app? Drop us a line – we'd love to help elevate your CPG brand on Instacart.
(Re)Introducing your favorite Optimizely products!
It's important to us that you, our valued customers and partners, can identify with the tools you use daily. 
In that pursuit, Optimizely set out to simplify the way we talk about our product suite. That starts, first and foremost, with the words we use to refer to the technology.  
So, we've taken a hard look at everything in our portfolio, and are thrilled to introduce new names we believe are more practical, more consistent, and better representative of the technology we all know and love.  
You may have seen some of these names initially at Opticon 2022 as well as on our website. In the spirit of transparency, the team here at Optimizely wanted to make sure you had full visibility into the complete list of new names, as well as understand the context (and rationale) behind the changes. 
So, without further ado… 
Which names changed? 
Some, but not all. For your ongoing reference, below is a complete list of Optimizely products, with previous terminology you may be familiar with in the first column, and (if applicable) the new name in the second column.  
| | | |
| --- | --- | --- |
| Used to be…  | Is now (or is still)…  | Meaning…  |
| DXP  | | A fully-composable solution designed to support the orchestration, monetization, and experimentation of any type of digital experience — all from a single, open and extensible platform.  |
| Content Cloud  | | A best-in-class system for building dynamic websites and helping digital teams deliver rich, secure and personalized experiences.  |
| Welcome  | | An industry-leading and user-friendly platform helping marketing teams plan campaigns, collaborate on tasks, and author content.  |
| DAM  | | A modern storage tool helping teams of any size manage, track, and repurpose marketing and brand assets (with support for all file types).  |
| Content Recs  | | AI-powered and real-time recommendations to serve the unique interests of each visitor and personalize every experience.  |
| B2B Commerce  | | A templatized and easy-to-deploy platform designed to help manufacturers and distributors drive efficiency, increase revenue and create easy buying experiences that retain customers.  |
| Commerce Cloud  | | A complete platform for digital commerce and content management to build dynamic experiences that accelerate revenue and keep customers coming back for more.  |
| PIM  | | A dedicated tool to help you set up your product inventory and manage catalogs of any size or scale.  |
| Product Recs  | | Machine-learning algorithms optimized for commerce to deliver personalized product recommendations in real-time.  |
| Web  | | An industry-leading experimentation tool allowing you to run A/B and multi-variant tests on any channel or device with an internet connection.  |
| Full Stack  | | A comprehensive experimentation platform allowing you to manage features, deploy safer tests, and roll out new releases – all in one place.  |
| Personalization  | Optimizely Personalization  | An add-on to core experimentation products, allowing teams to create/segment audiences based on past behavior and deliver more relevant experiences.  |
| Program Management  | Optimizely Program Management  | An add-on to core experimentation products, allowing teams to manage the end-to-end lifecycle of an experiment.  |
| ODP  | | A centralized hub to harmonize data across your digital experience tools, providing one-click integrations, AI-assisted guidance for campaigns, and unified customer profiles.  |
So, why the change? 
 It boils down to three guiding principles:  
Uniformity:

Create a naming convention that can be applied across the board, for all products, to drive consistency

 

Simplicity:

Use terms that are both practical and concise, ensuring the names are something that everyone can understand and identify with 

 

Completeness:

Develop a framework that showcases the full and complimentary nature of all the products and solutions within the Optimizely suite

 
 As the Optimizely portfolio comes together as a complete, unified platform, it's important that our names reflect this, as well as support our 3 key solutions (i.e. orchestrate amazing content experiences, monetize every digital experience, and experiment across all touchpoints).  
Other questions? We've got you covered.
Q: Why have you made these product name changes? 
We wanted to simplify how we talk about our portfolio. The renaming applies a naming convention that is both practical and concise.  
Q: Do the new product name changes affect the products I own? 
No, there is no impact to product functionality or capabilities.  
Q: Do the new product name changes affect who is my Customer Success Manager or Account Manager?  
No, there are no changes to your Customer Success Manager or Account Manager. 
Q: Do the new product name changes affect the ownership of the company?  
No, ownership of the company has not changed. We have only made changes to the Product Names. 
Q: Have any contact details changed that I need to be aware of?  
Only contact details for former Welcome customers has changed. These are the new contact details you should be aware of: Optimizely, Inc.| 119 5th Ave | 7th Floor | New York, NY 10003 USA. Phone: +1 603 594 0249 | www.optimizely.com 
Q: Where can I send any follow up questions I might have?  
If you have any questions about the Product Names, please contact your Customer Success Manager or Account Manager.