What is IaaS? How Does it Affect Your e-Commerce Site?
Cloud computing has taken over in recent years, and it offers many opportunities for businesses and users. The terminology can be a little complex though, and like with many IT-related things, there are lots of acronyms that get thrown around.
IaaS is one acronym you might have seen, but what does it mean, and how can it affect your e-commerce store?
Along with PaaS and SaaS, these acronyms describe the different ways businesses can use cloud technology, and choosing the right one for your e-commerce store can make a big difference.
What IaaS Means for Your Website
If you're creating a website today, there's a good chance it's going to be hosted in the cloud. Very few companies maintain their own servers; instead, they rely on third-party companies to take care of many elements of their online presence.
The distinction between IaaS (Infrastructure as a Service), PaaS (Platform as a Service), and SaaS (Software as a Service) is crucial because it dictates what level of control you have over your website.
For some businesses, particularly those with large, complex e-commerce sites, infrastructure as a service will likely be the best option because it allows for greater flexibility and control.
Every day, more and more businesses move their infrastructure to the cloud, and it's important they understand how best to use it to get the best results. IaaS, SaaS, and PaaS are simply ways of describing how you use the cloud—and each business will do this slightly differently.
Today, 90% of businesses use the cloud. According to some estimates, cloud data centers will soon process 94% of workloads.
This means it's vitally crucial for businesses to understand what they're investing in and how they can make the most of cloud computing.
Cloud Computing: IaaS Vs. SaaS Vs. PaaS Vs. Serverless Computing
When it comes to cloud computing, it can seem like you're constantly being bombarded by acronyms. Actually, IaaS, SaaS, and PaaS are useful distinctions that can help you run your e-commerce store more efficiently.
Cloud computing is all about allowing you to take care of the bits you're good at and leaving the rest to professionals. Each business has different skill sets, so they're going to use the cloud in different ways.
For example, in a bootstrapped business, the owner might be building the entire website with limited funds. In this case, they might only want to focus on the basics of creating a functional, appealing store and leave aspects such as runtime, servers, and storage to an external company.
On the other hand, a big multinational business may have a host of developers and IT professionals capable of handling more complex functions.
IaaS, SaaS, PaaS, and Serverless Computing give businesses the flexibility to control different parts of the cloud.
IaaS
IaaS is the cloud-based alternative to maintaining on-site infrastructure. Whereas in the past, businesses would have had their own data centers. Today, it can be much more efficient to utilize the cloud.
Maintaining your own IT infrastructure can be costly, and most businesses don't have the skills to do this without an external company's help. With IaaS, businesses don't need to maintain their infrastructure. Instead, they pay to use a third-party's servers, networking technology, storage, and data center space.
For businesses running e-commerce sites, this means they don't have to worry about the highly technical aspects of running a web application and they don't have to invest in expensive infrastructure. Instead, they pay for access to infrastructure through the cloud through companies like AWS, IBM, and Rackspace.
While things like storage and networking are taken care of by the third party, this option still leaves you in charge of the following aspects:
applications
data
runtime
middleware
O/S
This is important for larger businesses because it gives them much more control over how they run their site, while still offering a scalable, cost-effective solution.
PaaS
Like IaaS, PaaS leaves key components such as physical compute, network, storage, and virtualization to the provider. However, with PaaS, you also outsource runtime, middleware, and O/S.
As the name suggests, PaaS gives you the platform to develop, run, and manage applications without having to take care of the infrastructure behind it.
While this means you have less to worry about, and need fewer technical skills, it also means you have less control over how you run your e-commerce site than with IaaS.
Whichever service you choose, there is a tradeoff between convenience and control. With PaaS, you're getting something of a middle ground between IaaS and SaaS. While much of the service is managed, you're still in control of applications and data, which can be valuable for certain businesses.
This makes PaaS providers such as Magento Commerce Cloud and Bluehost particularly popular with developers, as it provides everything they need to create new applications without having to invest in expensive infrastructure and operating platforms.
Instead, they pay for what they need, allowing them to focus more on building the applications.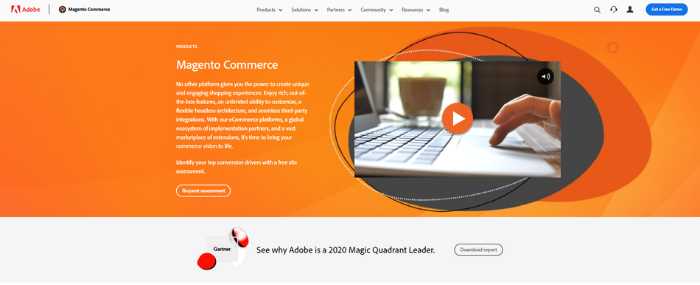 Serverless Computing
Businesses are constantly searching for the most efficient ways to use the cloud, and another option is serverless computing.
Serverless computing is very similar to PaaS, but has a few slight differences.
One of the main differences between serverless computing and PaaS is that serverless is event-driven. You pay only for what you use, whereas with PaaS, you pay a monthly fee and have a limit to what you can use.
Serverless computing automatically scales with your business, but you'll give up some control. It does allow you to be extremely flexible though, saving on costs while still getting excellent performance.
This is an ideal option for fast-growing e-commerce sites or those creating viral content that may cause a massive traffic spike.
SaaS
For many people, SaaS is the quickest and easiest way to set up an e-commerce store. Using providers like Shopify, you use third-party platforms and apps to quickly create a functional store.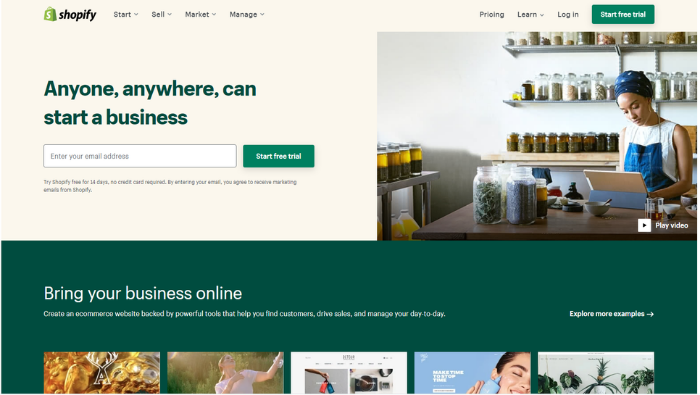 Everything is taken care of for you, and all you need to do is upload your own products and create your marketing content.
The obvious benefit of this is convenience. Not everybody who wants to create an e-commerce store has IT expertise and SaaS means they don't have to. Rather than focusing on networking and hosting, they simply have to focus on building out their website and creating the content that's going to help them sell.
SaaS applications are very common across the internet. Not only are there lots of SaaS applications that help people run their e-commerce stores but software such as Microsoft 365, Google Cloud, and HubSpot are all examples of SaaS.
The downside for e-commerce stores that run on SaaS is that they're limited in what they can do. If you have a Shopify store, then you have to work within the limitations set by that third party. When you run your store through IaaS or PaaS, there are fewer limitations, giving you greater control over your store.
How Can IaaS Affect Your E-commerce Site?
Cloud computing has made it much more accessible to create an e-commerce site. No longer do you have to invest in expensive hardware and instead, you can pay for access to infrastructure as and when you need it.
This has opened up e-commerce to a wide variety of people. With SaaS, it's not necessary to have IT skills to create a competitive store. However, with the ease of creating and managing a store through SaaS comes limitations.
Many businesses possess the skills to handle the more technical aspects of running an e-commerce site, and they want to be able to make the most of those skills without building their infrastructure. IaaS is the perfect option for these businesses as it allows them to strike a profitable balance.
These businesses can use infrastructure as and when they need it, scaling as their business grows and shrinks.
With IaaS, you have maximum control over your e-commerce store, allowing you to make the most of your creative and IT skills without building the infrastructure yourself.
How to Use IaaS for Your E-commerce Company 
One of the most important things when choosing between IaaS, PaaS, and SaaS is understanding the skills and resources available to you. If you don't have people with experience in building and developing web applications, then IaaS isn't going to be the best option for you, and it might be better to look at a SaaS option.
If you're confident you can create and maintain a high-level store through IaaS, then the next step is understanding your needs. There are lots of different IaaS providers out there, and many different packages to choose from.
Each business is different, and will have different requirements. When choosing a provider, consider the following questions:
What level of access and customization do you need?
How flexible can the provider be?
How will the provider deal with changing regulations?
How much is it going to cost you?
What level of security is offered?
The whole idea of "as a service" is that you pay for the parts you need, freeing you up to take care of the bits you can handle. To get the most out of this concept, you need to have a clear picture of where your skills lie, and how your provider can take care of the rest.
IaaS Tools
When choosing an IaaS package, you must take the time to get the one that best fits your business needs. There are lots of different options out there, and choosing the right tools can make all the difference to your business:
Amazon EC2
Google Compute Engine
Digital Ocean Droplets
Hostwinds
Alibaba Elastic Compute Service
IBM Cloud Private
IONOS Cloud
Azure Linux Virtual Machines
Rackspace Technology
Openstack
As you can see, there are lots of different options out there, and this is just a small sample. The important thing is making sure you get the services your business needs without paying for resources you don't.
It might take a little extra research to unlock the true power of IaaS for your business, but it's certainly worth it in the long run.
Conclusion
There are many different ways to run an e-commerce store, and how you use the cloud is a key consideration when setting up or expanding your store.
Maintaining onsite infrastructure can be expensive and time-consuming, and with modern cloud products, there isn't much need for it.
The bigger question is: what do you need from the cloud?
For large-scale e-commerce sites, with tons of resources at their disposal, infrastructure as a service is often the best way to go. This provides greater control over your site than PaaS or SaaS options and is a cost-effective way to scale your business.
When you utilize the cloud well, it can help you maximize your store's profitability, so it's essential to make the right choice.
How does your e-commerce store use the cloud?
See How My Agency Can Drive Massive Amounts of Traffic to Your Website
SEO – unlock massive amounts of SEO traffic. See real results.
Content Marketing – our team creates epic content that will get shared, get links, and attract traffic.
Paid Media – effective paid strategies with clear ROI.
(Re)Introducing your favorite Optimizely products!
It's important to us that you, our valued customers and partners, can identify with the tools you use daily. 
In that pursuit, Optimizely set out to simplify the way we talk about our product suite. That starts, first and foremost, with the words we use to refer to the technology.  
So, we've taken a hard look at everything in our portfolio, and are thrilled to introduce new names we believe are more practical, more consistent, and better representative of the technology we all know and love.  
You may have seen some of these names initially at Opticon 2022 as well as on our website. In the spirit of transparency, the team here at Optimizely wanted to make sure you had full visibility into the complete list of new names, as well as understand the context (and rationale) behind the changes. 
So, without further ado… 
Which names changed? 
Some, but not all. For your ongoing reference, below is a complete list of Optimizely products, with previous terminology you may be familiar with in the first column, and (if applicable) the new name in the second column.  
| | | |
| --- | --- | --- |
| Used to be…  | Is now (or is still)…  | Meaning…  |
| DXP  | | A fully-composable solution designed to support the orchestration, monetization, and experimentation of any type of digital experience — all from a single, open and extensible platform.  |
| Content Cloud  | | A best-in-class system for building dynamic websites and helping digital teams deliver rich, secure and personalized experiences.  |
| Welcome  | | An industry-leading and user-friendly platform helping marketing teams plan campaigns, collaborate on tasks, and author content.  |
| DAM  | | A modern storage tool helping teams of any size manage, track, and repurpose marketing and brand assets (with support for all file types).  |
| Content Recs  | | AI-powered and real-time recommendations to serve the unique interests of each visitor and personalize every experience.  |
| B2B Commerce  | | A templatized and easy-to-deploy platform designed to help manufacturers and distributors drive efficiency, increase revenue and create easy buying experiences that retain customers.  |
| Commerce Cloud  | | A complete platform for digital commerce and content management to build dynamic experiences that accelerate revenue and keep customers coming back for more.  |
| PIM  | | A dedicated tool to help you set up your product inventory and manage catalogs of any size or scale.  |
| Product Recs  | | Machine-learning algorithms optimized for commerce to deliver personalized product recommendations in real-time.  |
| Web  | | An industry-leading experimentation tool allowing you to run A/B and multi-variant tests on any channel or device with an internet connection.  |
| Full Stack  | | A comprehensive experimentation platform allowing you to manage features, deploy safer tests, and roll out new releases – all in one place.  |
| Personalization  | Optimizely Personalization  | An add-on to core experimentation products, allowing teams to create/segment audiences based on past behavior and deliver more relevant experiences.  |
| Program Management  | Optimizely Program Management  | An add-on to core experimentation products, allowing teams to manage the end-to-end lifecycle of an experiment.  |
| ODP  | | A centralized hub to harmonize data across your digital experience tools, providing one-click integrations, AI-assisted guidance for campaigns, and unified customer profiles.  |
So, why the change? 
 It boils down to three guiding principles:  
Uniformity:

Create a naming convention that can be applied across the board, for all products, to drive consistency

 

Simplicity:

Use terms that are both practical and concise, ensuring the names are something that everyone can understand and identify with 

 

Completeness:

Develop a framework that showcases the full and complimentary nature of all the products and solutions within the Optimizely suite

 
 As the Optimizely portfolio comes together as a complete, unified platform, it's important that our names reflect this, as well as support our 3 key solutions (i.e. orchestrate amazing content experiences, monetize every digital experience, and experiment across all touchpoints).  
Other questions? We've got you covered.
Q: Why have you made these product name changes? 
We wanted to simplify how we talk about our portfolio. The renaming applies a naming convention that is both practical and concise.  
Q: Do the new product name changes affect the products I own? 
No, there is no impact to product functionality or capabilities.  
Q: Do the new product name changes affect who is my Customer Success Manager or Account Manager?  
No, there are no changes to your Customer Success Manager or Account Manager. 
Q: Do the new product name changes affect the ownership of the company?  
No, ownership of the company has not changed. We have only made changes to the Product Names. 
Q: Have any contact details changed that I need to be aware of?  
Only contact details for former Welcome customers has changed. These are the new contact details you should be aware of: Optimizely, Inc.| 119 5th Ave | 7th Floor | New York, NY 10003 USA. Phone: +1 603 594 0249 | www.optimizely.com 
Q: Where can I send any follow up questions I might have?  
If you have any questions about the Product Names, please contact your Customer Success Manager or Account Manager.  
Email Marketing Trends 2023: Predictions by the Industry Stalwarts

Every year, we see new trends entering the world of email marketing.

Source link
5 Simple Things You Can Do To Improve the Content Experience for Readers
Who doesn't like to have a good experience consuming content?
I know I do. And isn't that what we – as both a consumer of content and a marketer of content – all want?
What if you create such a good experience that your audience doesn't even realize it's an "experience?" Here's a helpful mish-mash of easy-to-do things to make that possible.
1. Write with an inclusive heart
There's nothing worse than being in a conversation with someone who constantly talks about themselves. Check your text to see how often you write the words – I, me, we, and us. Now, count how often the word "you" is used. If the first-person uses are disproportionate to the second-person uses, edit to delete many first-person references and add more "you" to the text.
You want to let your audience know they are included in the conversation. I like this tip shared in Take Binary Bias Out of Your Content Conversations by Content Marketing World speaker Ruth Carter: Go through your text and replace exclusionary terms such as he/him and she/her with they/them pronouns.
Go through your text and replace exclusionary terms such as he/him and she/her with they/them pronouns, says @rbcarter via @Brandlovellc @CMIContent. #WritingTips Click To Tweet
2. Make your content shine brighter with an AI assist
Content published online should look different than the research papers and essays you wrote in school. While you should adhere to grammar rules and follow a style guide as best as possible, you also should prioritize readability. That requires scannable and easily digestible text – headings, bulleted text, short sentences, brief paragraphs, etc.
Use a text-polishing aid such as Hemingway Editor (free and paid versions) to cut the dead weight from your writing. Here's how its color-coded review system works and the improvements to make:
Yellow – lengthy, complex sentences, and common errors

Fix: Shorten or split sentences.

Red – dense and complicated text

Fix: Remove hurdles and keep your readers on a simpler path.

Pink – lengthy words that could be shortened

Fix: Scroll the mouse over the problematic word to identify potential substitutes.

Blue – adverbs and weakening phrases

Fix: Delete them or find a better way to convey the thought.

Green – passive voice

Fix: Rewrite for active voice.
Grammarly's paid version works well, too. The premium version includes an AI-powered writing assistant, readability reports, a plagiarism checker, citation suggestions, and more than 400 additional grammar checks.
In the image below, Grammarly suggests a way to rephrase the sentence from:
"It is not good enough any longer to simply produce content "like a media company would".
To:
"It is no longer good enough to produce content "as a media company would".
Much cleaner, right?
3. Ask questions
See what I did with the intro (and here)? I posed questions to try to engage with you. When someone asks a question – even in writing – the person hearing (or reading) it is likely to pause for a split second to consider their answer. The reader's role changes from a passive participant to an active one. Using this technique also can encourage your readers to interact with the author, maybe in the form of an answer in the comments.
4. Include links
Many content marketers include internal and external links in their text for their SEO value. But you also should add links to help your readers. Consider including links to help a reader who wants to learn more about the topic. You can do this in a couple of ways:
You can link the descriptive text in the article to content relevant to those words (as I did in this bullet point)
You can list the headlines of related articles as a standalone feature (see the gray box labeled Handpicked Related Content at the end of this article).
Add links to guide readers to more information on a topic – not just for SEO purposes says @Brandlovellc via @CMIContent. #WritingTips Click To Tweet
You also can include on-page links or bookmarks in the beginning (a table of contents, of sorts) in longer pieces to help the reader more quickly access the content they seek to help you learn more about a topic. This helps the reader and keeps visitors on your website longer.
5. Don't forget the 'invisible' text
Alt text is often an afterthought – if you think about it all. Yet, it's essential to have a great content experience for people who use text-to-speech readers. Though it doesn't take too much time, I find that customizing the image description content instead of relying on the default technology works better for audience understanding.
First, ask if a listener would miss something if they didn't have the image explained. If they wouldn't, the image is decorative and probably doesn't need alt text. You publish it for aesthetic reasons, such as to break up a text-heavy page. Or it may repeat information already appearing in the text (like I did in the Hemingway and Grammarly examples above).
If the listener would miss out if the image weren't explained well, it is informative and requires alt text. General guidelines indicate up to 125 characters (including spaces) work best for alt text. That's a short sentence or two to convey the image's message. Don't forget to include punctuation.
General guidelines indicate up to 125 characters (including spaces) work best for alt text, says @Brandlovellc via @CMIContent. Click To Tweet
For both decorative and informative images, include the photo credits, permissions, and copyright information, in the caption section.
For example, if I were writing an article about Best Dogs for Families, I would include an image of a mini Bernedoodle as an example because they make great family pets. Let's use this image of my adorable puppy, Henri, and I'll show you both a good and bad example of alt text.
An almost useless alt-text version: "An image showing a dog."
It wastes valuable characters with the phrase "an image showing."
Use the available characters for a more descriptive alt text: "Author's tri-colored (brown, white, black, grey wavy hair), merle mini Bernedoodle, Henri, lying on green grass."
It's more descriptive, and I only used 112 characters, including spaces.
Want to learn more? Alexa Heinrich, an award-winning social media strategist, has a helpful article on writing effective image descriptions called The Art of Alt Text. @A11yAwareness on Twitter is also a great resource for accessibility tips.
Improve your content and better the experience
Do any of these suggestions feel too hard to execute? I hope not. They don't need a bigger budget to execute. They don't need a lengthy approval process to implement. And they don't demand much more time in production.
They just need you to remember to execute them the next time you write (and the time after that, and the time after that, and the … well, you get the idea.)
If you have an easy-to-implement tip to improve the content experience, please leave it in the comments. I may include it in a future update.
All tools mentioned in the article are identified by the author. If you have a tool to suggest, please feel free to add it in the comments.
If you have an idea for an original article you'd like to share with the CMI audience, you could get it published on the site. First, read our 
blogging guidelines
 and write or adjust your draft accordingly. Then submit the post for consideration following the process outlined in the guidelines.
In appreciation for guest contributors' work, we're offering free registration to one paid 
event
 or free enrollment in 
Content Marketing University
 to anyone who gets two new posts accepted and published on the CMI site in 2023.
HANDPICKED RELATED CONTENT:
Cover image by Joseph Kalinowski/Content Marketing Institute