What Should You Look For When Choosing a Shopify Theme
A recent study found that 70 percent of Americans are shopping online more than ever.
E-commerce is booming, and there's never been a better time to start an online store. One of the best platforms to launch your e-commerce store is Shopify.
Why do so many people love Shopify? In part due to its:
affordability
ease of use
scalability
security
One stand-out reason many e-commerce store owners love Shopify is the flexibility it offers through Shopify themes. With thousands of paid and free themes available, you can create a unique e-commerce store that offers your customers a positive user experience (UX).
That could be why over a million businesses use Shopify to build their e-commerce stores.
What Are Shopify Themes?
Shopify themes are a template that determines the way your website looks and feels to customers who visit your store. Different themes offer different styles and layouts. Also, each theme offers a different UX, depending on how it is designed.
Design plays a massive role in the way your store attracts, engages, and converts. That's why the Shopify theme you choose is critical to your business' success.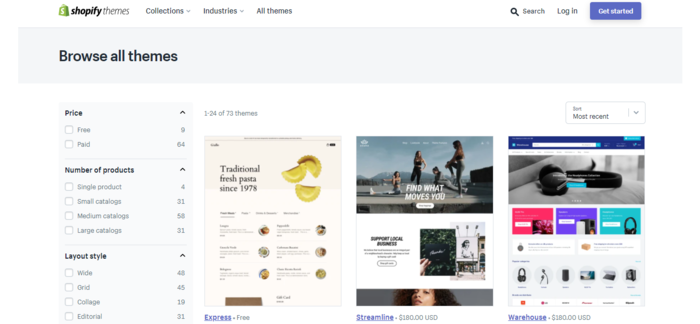 In e-commerce, your theme of choice must reflect your industry and niche. For example, if you're in the health and wellness niche, you'll want a theme that looks professional and feels reassuring.
If, on the other hand, you're into electronics, you'll want a theme that's sleek and energetic.
Will Changing Themes Break Your Store?
One fear that most store owners have when changing themes is that it will break their Shopify store.
That's not true.
Changing your Shopify theme (or editing your current one) doesn't affect your content or other parts of your account.
So feel free to play around with your theme settings or even getting a new Shopify theme that you fancy. Your e-commerce store won't break, and you'll rarely have any downtime if you do it right.
Why Your Shopify Theme Matters
Now that you know what a Shopify theme is, let's briefly look at why your theme choice matters so much.
Helps Project Your Brand Personality
One of your most important assets as a business is your brand.
And no—branding doesn't just mean logo.
An essential aspect of branding is your brand personality. Brand personality is a set of human characteristics that can be attributed to a brand. For example,
sophistication
excitement
fun-loving
sincerity
ruggedness
Your theme plays a critical role in helping you project these characteristics. As a result, your Shopify store will attract customers who share and love your personality.
Determines Your Website's UX
Your theme is a crucial aspect of your store's design because it determines your website's UX. That's because your theme determines essential facets of your e-commerce store like navigation, layout, color schemes and aesthetics, and more.
Your theme determines the experience your customers will have as they navigate your store, consume your content, and search for products. If the experience is positive, they're likely to keep coming back. A negative experience, on the other hand, leads to high bounce rates.
7 Tips to Pick the Perfect Shopify Theme for Your Store
Ready to shop around for the perfect Shopify theme for your store?
Here are a few tips to help you find the perfect one.
1. Decide on Your Budget
Shopify stores come at varying price points. That's why your first step to choosing your Shopify theme is to determine how much you're willing to spend on a theme.
Examples of factors that impact the theme's price include:
The developer: More experienced and well-known developers tend to charge more for their themes.
Flexibility: The level of customization of your theme impacts its price. For example, if it has drag-and-drop functionality, you can expect to pay a bit more.
Level of functionality. Some themes are limited in functionality, while others allow you to turn your e-commerce store into anything you want. Those with extra bells and whistles, like forms or SEO features, tend to cost more.
Like everything else in life, you get what you pay for when it comes to Shopify themes. Make sure to read the fine print and understand what features and functionality a theme has before buying.
2. Prioritize Themes on the Shopify Theme Store
Shopify theme developers are a dime a dozen. You can get a theme for your Shopify store from many theme marketplaces.
However, I highly recommend choosing from the themes on Shopify's theme store.
One of the main reasons is that Shopify carefully screens all themes submitted, so you can be sure to get a quality, secure theme.
Another reason to prioritize themes on Shopify's theme store is that you'll be assured of regular updates and world-class support.
3. List the Main Features and Functions You Want
The key to finding the perfect Shopify theme for your store is to consider the main features and functionality you want for your store.
Do you want a slide-out cart drawer?
Is a video player a priority?
Do you need forms, landing pages, or a blog?
Finding a theme with most of the features you're looking for will help you cut down on development costs. When you find a theme with one of the most important features you're looking for but not the others, move on. The key is finding one that has most of the themes you want. You can always have a developer add the missing feature(s).
To find features included in a theme, check out the theme preview page. However, because not every feature may be listed there, you may want to play around with the theme demo.
You can also use the live store examples to help you get a feel of all the features of a theme you're considering.
4. Consider Your Niche
Most themes are developed for specific industry types. When picking a Shopify theme, you must make sure it was designed for your niche. For example, an e-commerce store that sells various electronics and accessories can't easily use a theme designed for fine art pieces.
That's because the electronic store needs a theme that can handle many categories and advanced search capabilities. The art store, on the other hand, doesn't need as much advanced functionality.
As you hunt for a Shopify theme, make sure to filter your top picks by niche. Fortunately, the Shopify theme store makes it easy to search for themes by niche and number of products.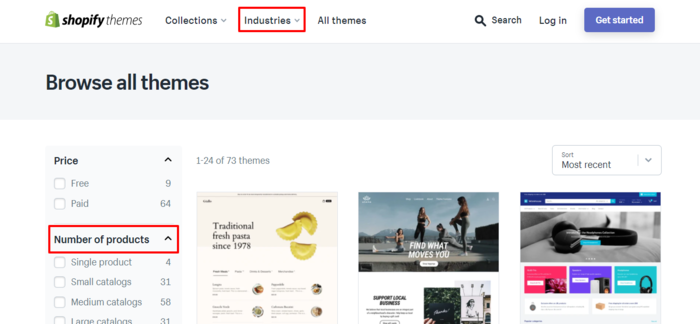 5. Design and Aesthetics
Global e-retail sales is a whopping $4.2 trillion industry.
To get a piece of the global e-commerce action, you must attract and retain customers to your e-commerce store. That's the key to growing a successful Shopify e-commerce store.
Attracting customers can be achieved through search engine optimization (SEO) best practices, like keyword research.
But retaining customers on your site is all about your design and aesthetics. The right Shopify theme makes design simple by providing:
an attractive storefront
color palettes that match your brand
clean and easy-to-understand user interface (UI)
A well-designed Shopify store will not only look amazing, but it will also encourage more conversions.
6. Favor Lightweight Mobile-Friendly Shopify Themes
Website speed is crucial to online success, as it can impact search rankings, conversions, and bounce rate. To offer visitors the fast page speed they want, you need a fast, lightweight theme.
Lightweight themes focus more on performance and tend to avoid busy elements like animations, fancy scrollers, and other unnecessary features that increase the size of the file.
Another advantage of lightweight themes is they're designed to be simple. Their main goal is to help customers navigate around your store and perform the action they came to do.
To deliver a fast, easy-to-use site, you'll want to choose a mobile-friendly theme.
7. Optimized Checkout
Studies show that the average e-commerce store losses about 75 percent of its sales to cart abandonment. The same studies show that one of the leading reasons for cart abandonment is a complicated checkout process.
That's why you must make sure the Shopify theme you choose offers an optimized checkout experience.
The best Shopify themes offer a fast and intuitive checkout process, well-designed add-to-cart buttons, and an easy way to check the total cost.
Making the checkout process easy should be a priority, so ensure the theme you choose makes this as easy as possible.
3 Examples of Great Shopify Themes
Now you know how to pick a suitable Shopify theme for your store. Before you run off to find yours, let's look at a few great Shopify themes and discuss what makes them stand out from the rest. You might just find your perfect match right here!
Brooklyn
Brooklyn is one of the top free Shopify themes out there.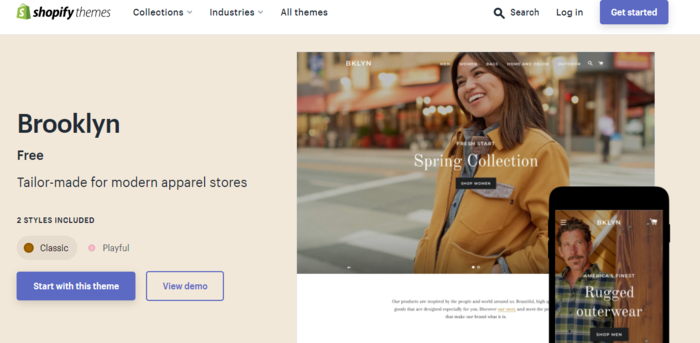 The theme is designed for the apparel and accessories niche. Because of that, it focuses on a brand image by enabling you to show off your inventory with stunning visuals. Some notable features include:
A Slide Out Cart: Helps customers easily add items to their cart without leaving the current page.
Home Page Slideshow: Use the top of your homepage to showcase multiple products or brand images.
Video integration: Grab attention, tell your story, and showcase your best products in action by featuring a YouTube or Vimeo video on your page.
If you're bootstrapping your way to e-commerce success in the apparel niche, Brooklyn is a the Shopify theme to help you get there. (Did I mention it was free?)
Icon
Looking for a lightweight and easy-to-use Shopify theme that will help you set up a stunning store quickly?
The $180 Icon Shopify theme could be what you're looking for.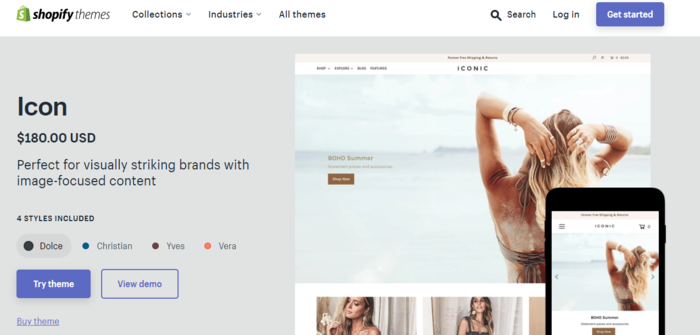 One of Icon's greatest strengths is that it's built to power omnichannel marketing campaigns. That's thanks to seamless social media integration and a blog to power your content marketing. Other features include:
Sticky Navigation: Keeps your menus fixed to the top of your page as customers scroll down.
Product Quick View: Customers can view product details in a popup, so they don't have to leave the current page
Multi-column menu: Helps you feature product images in a large, multi-column drop-down menu.
As the name suggests, Icon is one Shopify theme that will help you build an iconic e-commerce store and generate a lot of revenue.
Expression
Have a large inventory of products?
Then you need a Shopify theme that can help you display them all beautifully. Your theme should also make it easy for your customers to find what they're looking for.
Expression is one of the best Shopify themes that can help you do that and more.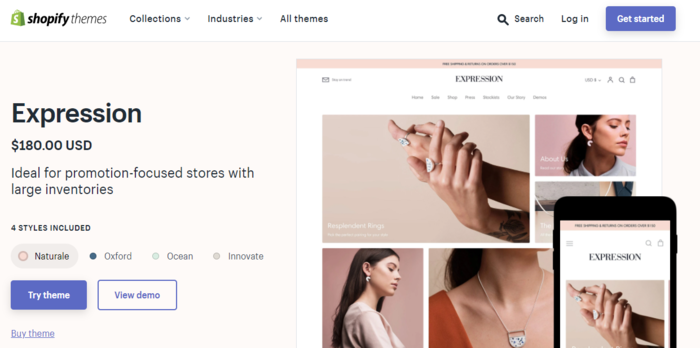 That's because some of the theme's prominent features include drop-down menu bars, advanced search functionality, and a dynamic slideshow.
Other notable features you can expect are:
Versatile Sidebar Area: You can use your sidebar to display blog posts, images, advertisements, and more.
Product Image Rollover: Hovering over products reveals different product images, giving customers a clearer picture before they buy.
Grid-Style Layout: This allows you to feature multiple products or promotions in a grid-style layout throughout your store.
Expression will set you back $180, but it's worth the investment as it helps you create an e-commerce store with attention-grabbing visuals. It's also designed to make your promotions stand out, thereby encouraging more conversions.
Conclusion
The e-commerce space is fast growing as more entrepreneurs are launching e-commerce stores. One of the most trusted platforms to launch a store is Shopify. As you design your store, pay careful attention to the Shopify theme you use.
Remember, your theme affects your store's:
user experience
aesthetics
performance
All three are factors that have a huge impact on your conversion rates.
Which Shopify themes have you had experience with? What do you like about it?
See How My Agency Can Drive Massive Amounts of Traffic to Your Website
SEO – unlock massive amounts of SEO traffic. See real results.
Content Marketing – our team creates epic content that will get shared, get links, and attract traffic.
Paid Media – effective paid strategies with clear ROI.
How to defend against evolving cybersecurity threats
Rik Chorus, Kyndryl's director of security and resiliency & networking and edge, Benelux, discusses how the firm is helping organisation's navigate their way through an ever-changing tech and business landscape.
Can you tell us a little bit about Kyndryl and what you do at the company?
There are a few things that I think are really interesting and that set Kyndryl apart from everything I've seen in the market so far. One of the things is that Kyndryl, as the world's largest IT infrastructure services provider, is really focusing on very complex, large infrastructures. And one of the things that we do really well is, in all that complexity and all the fragmentation that we see in the landscape, we try to build better innovations and more efficiency. We create a lot of simplification, creating systems in a lot of new ways for our clients by drawing on the technologies of partners such as Microsoft, Google Cloud  and Nokia.
That's something we excel at, as well as the people. The people in our organisation, the skills and the knowledge that we can deliver to organisations is absolutely formidable.
We're very strong on the co-create side. We do a lot in co-creation with clients. We're not just enforcing solutions onto any organisation. We're really trying to build and innovate in ways that bring value to the client, and also make sense to them. Through collaborative co-creation with our customers, we support them in unleashing innovations that are essential for their ongoing success.
We have several practices that we build along and two of the practices are in my domain, which is the security and resiliency part, and the network and edge part. But we also do data and AI. We work on the application, the mainframe. We work on various other topics with our clients and one of the really important ones is the digital workspace. So there are several things that we help clients with from various perspectives.
So it sounds like you're involved in a bit of everything. What are the main tech trends that you've seen developing?
Let's start with my own practice. In cybersecurity, we see it is becoming more of a business problem. And it's also being viewed by the business instead of just being seen as an operational problem. We see a shift that is moving from cybersecurity to cyber resilience.
And that has a lot to do with ransomware, for example, because that really changed the way we needed to look at cybersecurity and how we were capable as organisations to overcome those types of threats. It really is key in every industry as it is no longer the question whether a security breach will happen, but when and how big the damage is. A proactive – versus reactive – approach to secure applications and mission-critical systems is a matter of survival. Because of this, we offer a wide range of services that enable our enterprise customers to quickly detect and effectively respond to and recover from cyberattacks.
AI and machine learning, of course, continue to be a huge trend. At Kyndryl, AI plays an important role. We both apply AI in our operations and enable our customers to use AI in their business. AI is also providing us with more opportunities to help customers with their data architectures and manage their infrastructures, all of which can enable them to operate more efficiently.   But also AI ethics, responsible AI solutioning is important. We need to address issues, such as trust, risk and security. We need transparency. When it comes to AI models, we now see a lot of generative AI like ChatGPT. But what are those models based on? What was the trustworthiness of them? What data is being inputted? These models are so significantly large when it comes to the data that's in there, that it's really important to consider the AI ethics that we need to uphold. With the amount of data available, it's more important than ever to ensure it's used correctly with a modernized data architecture.  
You see trends around data and AI, data observability. It will be key for scaling AI in any business. There's definitely a lot going on on the data and AI side.
Cloud, of course, is still a trend. It's been here for a long time already but I still think that the cloud will be able to drive a lot of innovation. We've seen, for example, with the COVID pandemic, that companies were storing a lot of data and doing business in the cloud. We're much faster in adopting the new way of working with all the remote workers etc.
Other trends are around 5G. You see a lot of 5G networks popping up, and we'll see more of that throughout all industries. For example, retail, right where companies want to enhance the customer experience.
You probably speak to a lot of customers or potential customers. What do they tell you are the big challenges they're facing?
They're facing numerous challenges. For me, it's specifically more on the cybersecurity and resiliency side, but they're having to deal with a variety of other challenges. For example, with data silos that you see in organisations. Trying to share data and have that comprehensive view as an organisation tends to be really hard. One of the things we help customers with is data modernisation and trying to remove those barriers and silos inside an organisation, so that you can more easily share and collaborate.
Another one, of course, is legacy systems. We still see a lot of legacy. If you look at it from a security perspective, that's even harder because you don't want to touch legacy systems with new kinds of security solutioning because they probably will end up dying on you.
If you install an antivirus client on the mainframe that's been sitting there for 20 years, it will not be able to process it. But legacy systems tend to be slow, rigid and usually very expensive also to maintain. So it's making it difficult for organisations to integrate them with the newer technologies.
I see a lot of issues on the cybersecurity side, from the advancing threat landscape. If you look at all the IoT, the sensors, OT, all the different things that we're connecting, and the way that the complete attack surface is expanding, it's very significant. That would give a lot of new opportunities to people with malicious intent into organisations because their attack surface is expanding so rapidly. And a lot of organisations have a complete view of all the IoT and OT that they have within their environment. So it's going to be very challenging to make sure that you have the proper security on that.
And, from a cybersecurity perspective, also the regulatory compliance that organisations need to uphold. We have already seen GDPR with regard to privacy in Europe. Now we're also seeing new legislation coming from the European Union around the NIS2 directive, and the DORA, which is the Digital Operation Resiliency Act for financial institutions. So there's a lot of attention coming from governments, and we need to make sure that our cyber security and cyber resiliency is updated.
How do you see the cybersecurity threats evolving? And how do you expect that the change in the future?
The threats are becoming a lot more sophisticated? Just look at phishing. We still see there's a high rate of these types of attempts that are successful, because there's always somebody that didn't see that it wasn't a proper email or that it was something malicious.
There's always the human factor that we need to include when it comes to cybersecurity. So it will still be simple things that will be leveraged to attack organisations, but you also see a lot more sophisticated attacks on organisations. There are well thought out attacks that leverage, for example, AI or leverage machine learning. You cannot make a distinction between if it is real, or if it is not real. There are emails coming in that are so sophisticated, that you think it's the real thing.
I think we will see more deepfake. If you look into deepfakes that we're seeing now, they're very hard to distinguish from reality. And then you see that individuals or the media are being influenced by types of deepfakes. It's really hard to get a clear understanding of what's real and what isn't anymore.
Is there any advice that you could give companies that want to improve their cybersecurity?
One of the best books I've been reading recently is around cybersecurity first principles. It talks about us now having all the solutions, all the fragmented landscapes and all these different frameworks. But what's really important to your organisation? First, you need to define what it is that you're trying to achieve with cybersecurity, because sometimes we really lose sight of the goal, and we're just extinguishing fires that pop up in an organisation and we're putting in new technology. Then something else happens and we're adding more technology, more complexity and more fragmentation to the environment. So really looking at what are my key essentials, what are my risks, then defining a good, proper, solid framework. It's really about doing the fundamentals in cybersecurity.
And then, unfortunately, 'zero trust' has become a buzzword in the industry and I see so many approaches to zero trust. I see some vendors saying if you implement this box then you have zero trust and that's not the case. Zero trust is actually a really good thought. It's a philosophy, it's a thought. It's not a solution. It's not something that you implement. It's really about changing the mindset of your organisation and doing things in a different way.
And if you look at the future with quantum computing, AI etc, having a good and solid zero trust strategy will be key for any organisation. You really want to move away from that defence in depth and perimeter defence, to 'I'm just not trusting anything'. I'm going to decide, based on what I'm seeing from you and how I can identify you, what type of trust I'm going to give you. But we need to push that forward a lot more even, for example, in segmentation. I see a lot of organisations say 'yeah, we do segmentation', and then you drill down and it's just VLAN segmentation. While you should also be looking at, for example, micro segmentation.
If I look at an application, why should somebody sitting at the front desk have access to the financial reports of an organisation? It makes no sense. But usually that happens because there is no segmentation on the application side. There are lots of things that you can actually leverage when it comes to the zero trust strategy. There are some great tactics for zero trust. For example, you do vulnerability assessments, you look at your assets in your organisation, you identify, you do segmentation or micro segmentation, there are many good steps that you can actually take.
The managed security services market has been valued at $47 billion and I heard that's something Kyndryl is focusing on. What are the latest products and services that Kyndryl has introduced in this area?
When you look at the managed security services, it's really about helping organisations solve a few problems. One of the problems is that they might not have the proper skills and resources. As an organisation, it's very hard to get the right security people in your organisation. It's very hard to even find them, because we have a significant lack of security personnel in that area.
Kyndryl has built and set up several Security Operation Centers (SOC's) spread geographically in Spain, Italy, Hungary and Canada.. So we have several security operations centres that you, as a client, might be able to leverage. But the good thing is that we don't just say 'alright, we're going to take over everything, and you're going to get our security operations centre, and that's it.
We're going to be looking at what capabilities you are missing, and that you could leverage from us that we have in our security operations centres. What skills or certain capabilities are missing? How can we help you from that end? It might be that you need incident response capability, it might be that you need monitoring and analytics, it might be that you need threat hunting capability.
And what I'm seeing with a lot of customers is a bit of a shift from completely outsourcing all of those things to feeling that they just need certain capabilities. And that's something Kyndryl is really addressing in a smart way, by co-creating, by leveraging those specific capabilities to an organisation in which we can really help them and perhaps lower the cost for them. But also help them with skills and the resources that they might need.
So there's a lot of things happening on the managed side. We're doing endpoint detection and response, and a lot of other managed capabilities, for example, around identity and access management or vulnerability management. There are tonnes of things that we are capable of already doing, which we have built up in a tremendously swift amount of time. It's incredible how great the steps are that we have made in the past two years.
What plans does Kyndryl have for the year ahead?
We are in the year of acceleration. We will continue to advance and execute on our strategy to drive the growth of our business locally and worldwide. Also, we will continue working on strengthening our alliances and signing hyperscale contracts with local companies that are advancing in their digital transformation. 
In terms of cybersecurity and resiliency, we are pretty far ahead already on the resiliency side, because it's something that organisations are now picking up on.
We have made great steps on really providing a full circle resilience solutioning for our clients, from helping them with consulting, to solutioning, to providing services. And if you look at the future, it's really about the solution that we are building like Kyndryl Bridge, where we seamlessly integrate AI, operational data and our expertise to provide our customers with a new way to operate their systems and deliver improved business outcomes. For the next year, we want to support companies even more to have greater visibility and control over their complex IT operations, resulting in better returns on investment and fewer incidents.
Besides this, we focus on simplifying environments for our clients. We need to make sure that we leverage automation in the best way, so that we reduce the pressure of everything that's coming into those organisations, and they might not be able to respond to them. Why not do it in an automated way? Why not leverage full automation capabilities, leverage, enrich, to integrate applications, to simplify, to innovate, to add a lot more business value and try to be more efficient?
So that's where we're heading. Better innovation, better integration, more simplification, and more automation for your organisation.
Check out the upcoming Cloud Transformation Conference, a free virtual event for business and technology leaders to explore the evolving landscape of cloud transformation. Book your free virtual ticket to deep dive into the practicalities and opportunities surrounding cloud adoption. Learn more here.
Bing Launches Deep Search & Other AI Copilot Enhancements
Microsoft has announced a new search feature to Bing Search named Deep Search. Deep Search is an "enhancement" to Bing Search that provides "deeper and richer exploration of the web," but it is slow. Also, Microsoft announced several improvements to Copilot, formerly known as Bing chat. This is all part of Microsoft's one year celebration of its Bing Chat AI launches.
Deep Search
Deep Search uses Bing's existing web and search index , plus its search ranking system but "enhances them with GPT-4," the company said. With Deep Search, GPT-4 inputs the search query and then expands that query into a "more comprehensive description of what an ideal set of results should include," they added.
Deep Search aims to bring "back relevant results that often don't show up in typical search results." It does this by using "querying techniques" to find pages that might match an "expanded query, rewriting the query on my behalf, and searching for those variations too," they said.
Then when the query is expanded, Deep Search will compile a set of web pages to review, Bing will rank them according to how well they match the comprehensive description. "Deep Search uses a variety of signals to determine the relevance and quality of each result, considering factors like how well the topic matches, whether it's at the appropriate level of detail, how credible and trustworthy the source is, how fresh and popular it is, and so on," Microsoft wrote.
Deep Search was actually named Search Harder but it "didn't test well," according to Rangan Majumder from Microsoft. He said they used GPT-4 to suggest some other names instead of Search Harder. GPT-4 came up with "Deep Search," he added. Essentially, "GPT-4 named this GPT-4," Majumder wrote on X.
Here is that post:
Funny story: The internal name for Deep Search was "Search Harder" but it didn't test well. We asked GPT-4 to suggest some better names and it came up with "Deep Search"! So yeah, GPT-4 named this GPT-4 powered feature.🤯 https://t.co/lgjcBDo8Kn

— Rangan Majumder (@RangThang) December 6, 2023
The example provided was for a query on [how do points systems work in Japan]. Deep Search would respond with:
Provide an explanation of how various loyalty card programs work in Japan, including the benefits, requirements, and limitations of each. Include examples of popular loyalty cards from different categories, such as convenience stores, supermarkets, and restaurants. Show a comparison of the advantages and disadvantages of using loyalty cards versus other payment methods in Japan, including current rewards and benefits. Highlight the most popular services and participating merchants.
So it gives Bing Search more to work with by understand the query better.
Here is a GIF of it in action:
Another example is [how do points systems work in Japan] where Bing might break it out in a new "disambiguation pane" with Deep Search:
Deep Search can be slow, it can take up to thirty seconds to complete, Microsoft said. "Deep Search is not meant for every query or every user. It's designed for those who have complex questions that require more than a simple answer. Bing will always return regular search results in less than a second and Deep Search is an optional feature," they added.
Very slow:
Will be very slow, though – like "do research and ping me in 30 min" slow.

— Mikhail Parakhin (@MParakhin) December 5, 2023
You also probably won't see Deep Search, it is only available to a randomly selected small groups of users on Bing worldwide. But it should be available to all within "weeks."
Available to a percentage of users, should be everywhere in weeks.

— Mikhail Parakhin (@MParakhin) December 5, 2023
Via the VP of core search at Bing:
Deep Search in Microsoft Bing uses GPT-4 to understand and answer complex search queries. It goes deeper into the web to find more relevant and comprehensive results. It's a game-changer for anyone who wants to explore the web in depth and AB testing now.https://t.co/E7IrhvlBTN

— Rangan Majumder (@RangThang) December 5, 2023
Here are some Deep Search screenshots from Microsoft's CEO of Bing:
— Mikhail Parakhin (@MParakhin) December 5, 2023
Other AI Copilot Enhancmeents
Microsoft also announced a set of features coming soon or already launched for Copilot; here is the brief list:
(1) GPT-4 Turbo is coming soon, we knew that. " Soon, Copilot will be able to generate responses using OpenAI's latest model, GPT-4 Turbo, enabling you to tackle more complex and longer tasks such as writing code and more. This model is currently in testing with select users and will be widely integrated into Copilot in the coming weeks," Microsoft wrote.
(2) Multi-Modal with Search Grounding: Microsoft said they are combining GPT-4 with vision with Bing image search and web search data to deliver better image understanding for your queries. This new capability will be available soon, they said.
With that they updated its Prometheus for multi-modal:
Another first: we are using the reverse Image Search to ground Image results for GPT4-V. Flighting already. pic.twitter.com/4cfcqO7ayz

— Mikhail Parakhin (@MParakhin) December 5, 2023
(3) New DALL-E 3 Model: The DALLE-3 image creation is better, they generate higher quality and more accurate to the prompt with an updated DALL-E 3 model. This is live now.
We shipped a new version of DALL-E 3 – lucky internal number PR13. 100% in prod – please try, tell us what you think. pic.twitter.com/C6hL3Pj8OI

— Mikhail Parakhin (@MParakhin) December 5, 2023
(4) Improvements to Code Interpreter:
I know, I've been promising Code Interpreter for a while. We are flighting the first version and the full version (with the file upload) is close now, too. pic.twitter.com/ZjDfiRie0g

— Mikhail Parakhin (@MParakhin) December 5, 2023
(5) Improvements to Video understanding and Q&A using Copilot in Edge.
Adding ability for Edge Copilot to use information in videos – on a flight. pic.twitter.com/OdqlQQnle4

— Mikhail Parakhin (@MParakhin) December 5, 2023
(6) Notebook feature:
One more thing: we are also starting to flight the Notebook interface. Keep changing the prompt on the left, get results on the right. Easier to copy and work on the prompt. It also remembers the previous version, so you can ask to change something. pic.twitter.com/WkfIE4bQmN

— Mikhail Parakhin (@MParakhin) December 5, 2023
Mikhail Parakhin from Microsoft shared this chart of growth but as you see, no axis marks:
https://t.co/jstM2e6nLU
This has been quite a year. I thought I'll share our Daily Active Users graph – thank you for using Bing Chat/Copilot! pic.twitter.com/So0bC35H5t

— Mikhail Parakhin (@MParakhin) December 5, 2023
Agree, but don't want to make lives of our friends in Mountain View easier 🙂

— Mikhail Parakhin (@MParakhin) December 5, 2023
Forum discussion at X.
Can Technology Untangle Supply Chain Crisis?
By leveraging advanced technologies, businesses can gain better visibility and control over their supply chains.
IoT, artificial intelligence (AI), blockchain, and data analytics can help untangle the current supply chain crisis. 
As consumers, we don't often see the "invisible" supply chain – all the people and moving parts behind the simple action of clicking to buy a product and finding it on our doorstep. Yet a healthy supply chain is critical to the global economy. Single points of failure have turned the rate of processing and shipping, normally three to five days, into two weeks and beyond, according to the Wall Street Journal documentary called "Why Global Supply Chains May Never be the Same," I learned, too, that the cost is higher than I ever imagined: $9B of goods stuck for a day, costs $400 million per hour.
In an era where supply chain disruptions are more common than ever, ensuring the smooth flow of life-saving shipments becomes paramount. Imagine being tasked with delivering critical medications from afar, only to face unexpected hurdles delaying their transit for weeks. What steps would you take?
In a recent Washington Post feature, two seasoned supply chain experts, Jayashankar M. Swaminathan and Kay Irwin, shed light on their experiences navigating such crises and their strategies to fortify supply chains for a more resilient global economy.
Dr. Swaminathan, a professor at UNC-Chapel Hill, emphasizes the crucial role of supply chain visibility. Quick pivoting during crises demands real-time data on available supplies, their locations, and how to bridge gaps efficiently. On the other hand, Kay Irwin, leading the supply chain and asset tracking practice at AT&T Business, emphasizes the role of purpose-built IoT sensors. These sensors not only track shipments but also ensure proper handling and conditions throughout the journey.
Discover their insights on leveraging technology, particularly IoT sensors and robust connectivity networks, to secure supply chains. Learn how these innovations empower businesses to track shipments meticulously, maintain ideal conditions, and guarantee timely deliveries of critical items like medications and election ballots. Click here for more insights.
Artificial intelligence plays a crucial role in predictive analytics, helping companies forecast demand, optimize inventory, and identify potential disruptions. Machine learning algorithms can analyze historical data and patterns to make accurate predictions, enabling more informed decision-making.
Blockchain technology brings transparency and traceability to the supply chain. By creating an immutable ledger of transactions, it becomes easier to track the movement of goods, verify authenticity, and ensure compliance across the entire supply network.
Data analytics, powered by real-time data streams, allows companies to monitor the entire supply chain in real-time. This proactive approach enables quick identification of bottlenecks, inefficiencies, or disruptions, facilitating rapid response and resolution.
IoT devices and sensors provide real-time monitoring of shipments, ensuring that companies can track the location, condition, and status of goods throughout the supply chain journey. This data-driven approach enhances visibility and helps in making timely interventions.
Automation technologies, including robotics and autonomous vehicles, streamline various aspects of the supply chain, reducing manual errors and enhancing efficiency. Automated warehouses, smart logistics, and autonomous delivery vehicles contribute to smoother operations.
While the supply chain crisis presents significant challenges, technology offers a range of solutions to mitigate these issues. The integration of artificial intelligence, blockchain, data analytics, IoT, and automation can collectively empower businesses to navigate the complexities of the supply chain, improving resilience and responsiveness in the face of disruptions.