How to Create a Wikipedia Page
Wikipedia is an ever-evolving, user-generated encyclopedia that allows users to add content, including pages, articles, and general knowledge. Topics span from pinball to Prometheus and everything in between.
If you're interested in creating a Wikipedia page for your business or marketing endeavors, you should know upfront that getting a page added to the encyclopedia is notoriously challenging.
With a slew of rules that determine what content can be added to the site and the sheer effort of writing a highly-researched page about your business, creating a Wikipedia page is no easy feat.
To help guide what content does end up on the platform, Wikipedia has five pillars to guide creators as they build content for the platform:
Wikipedia is an encyclopedia.
Wikipedia is written from a neutral perspective.
Wikipedia is free, editable, usable, and distributable by all.
Respect and civility must guide interactions among Wikipedia editors.
The platform has no firm rules, only guidelines and policies.
After a page is published, volunteer editors are deputized to edit and add to the page for the duration of its existence.
Although those guidelines may seem daunting, there are big benefits for marketers and business owners who manage to make the encyclopedia work in their favor.
The largest benefit of Wikipedia is its sheer size and reach. The encyclopedia averages over 2.5 billion unique visitors per month, earning it the title of one of the most visited sites in the world.
In addition to the sheer magnitude of users, the platform offers other benefits to marketers and business owners:
Earn traffic and drive backlinks to your site: When you become an active contributor on Wikipedia and start optimizing content, you can identify pages that are relevant to your audience. Search for relevant articles with broken links and those with missing citations, then use links to your site to update those pages. When you add appropriate links in the right spot, you'll score backlinks and drive traffic to your website.
Guide to your services and offerings: Given the structure of a Wikipedia page, you can provide readers with basic information like your brand story, location, and executive list. You can also include numbered lists of your services and offerings that allow interested parties a top-of-funnel interaction with your products. Through direct linking, you can then drive to the respective pages on your website.
Build credibility: While Wikipedia is not a valid source for scholarly research given its user-generated nature, there's no denying that people flock to the platform for information. By building a page for your organization on the site, you can further develop your credibility as an established company.
As we've discussed, publishing your page on Wikipedia can be a complex process. However, the benefits far outweigh the challenges.
In this post, we break down the ten steps on how to create a Wikipedia page.
1. Create an Account 
The first step in your journey to creating a Wikipedia page is registering an account on the platform.
While starting an account enables you to create pages, it has other benefits, including:
access a permanent user page where you can share a brief bio and a few photos
access a talk page where you can interact with other users
build your reputation as a Wikipedia author
customize the ways your pages appear
To register an account, complete this form.
After you've completed this step, you're on your way to your first Wikipedia page.
2. Contribute to Existing Accounts
While Wikipedia is home to exclusively user-generated content, to build credibility on the site, you should contribute to existing accounts and pages.
You can do this by editing existing entries regularly for clarity, factuality, and reliability. To do so, you need to first create a user page.
As you engage more with improving content, you can boost your credibility on the site, increasing the likelihood that, when the time comes, your page will stand a fighting chance of getting published.
3. Verify a Page Doesn't Already Exist
Perhaps you're an expert on a particularly niche topic that you're certain no one has tackled in the expansive landscape that is Wikipedia.
Regardless of how unique you perceive your topic to be, you should still dig to determine whether someone has already staked their flag in your topic.
Use the search bar to explore any pages that may be related to your intended topic.
4. Check Your Topic's Notability 
Unique to Wikipedia, notability is a test editors use to determine whether a topic is substantial or relevant enough to need a unique article.
To earn this title of notable, the information on your page must use reliable, independent sources. In general, a topic needs to meet two specific qualifications to be deemed worthy of a stand-alone page: general notability and subject-specific notability.
If your topic meets these two guidelines, you're a step closer to actually getting your Wikipedia page published. However, editors can still opt to merge related topics, eliminating the need for a stand-alone page.
5. Research Your Topic and Gather Resources 
Before diving into writing your Wikipedia page, be sure to fully research your topic. Whether you're building a page for your business or developing an adjacent industry topic, be sure to include both internal and external sources to ensure that you are solidifying your reliability and notability in your draft.
6. Create an Outline
After you've gathered your research sources, build an outline for your page. Here, break your information into digestible sections that can be indexed through the site's table of contents that accompany every page.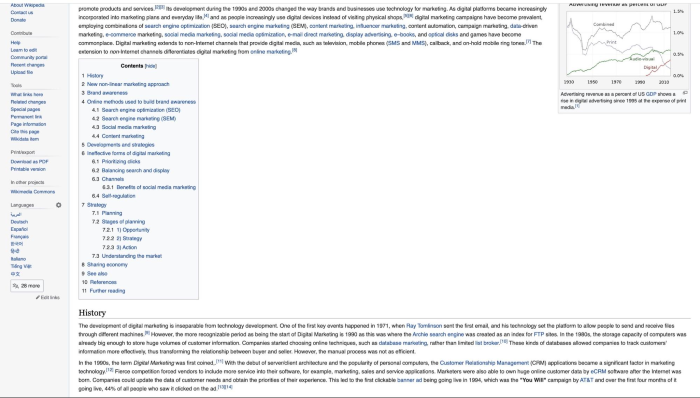 7. Write a Draft of Your Wikipedia Page 
Take your time as you write your Wikipedia page. You want your content to be thorough, thoughtful, and helpful, providing searchers with what they want to know. While Wikipedia pages can do a lot to benefit your marketing efforts, keep in mind that the true intent of the platform is encyclopedic and impartial.
8. Add Citations 
Incorporating citations into your Wikipedia page is vital to your page's success. Citations are the vehicle that drives searchers to trust the information you share on your page.
Before you start creating your page, Wikipedia shares the disclaimer that: "The topic of an article must already be covered in reliable sources that are independent of the subject. These include journals, books, newspapers, magazines, and websites with a reputation for fact-checking. Social media, press releases, or corporate/professional profiles do not qualify."
We've talked a lot about credibility in this blog post—by using reliable citations, you can boost your overall credibility.
9. Submit Your Article for Review 
After you've written and proofed your page, it's time to submit your article to Wikipedia for review. This process can take anywhere from a few days to a few weeks to get the go-ahead from Wikipedia.
As we mentioned earlier, publishing on Wikipedia is notoriously challenging; you may have your page or article rejected a few times for finally gaining approval.
10. Continue Making Improvements 
Once you've completed your page and gained approval, it's not time to rest on your laurels. As your page gains traction on Google, you must conduct regular updates to ensure it provides the most relevant information about your offerings.
Frequently Asked Questions About How to Create a Wikipedia Page 
Should I Build a Wikipedia Page for My Business?
Yes, you should absolutely build a Wikipedia page for your business (or for a client's business). When you build a page, you earn benefits that include a boost in both search and backlinks, increased credibility, and more traffic.
In addition to these benefits, you can anticipate more exposure for your business given the sheer number of users searching Wikipedia daily.
Is Creating a Wikipedia Article Challenging?
It can be, yes. Not only does your page have to adhere to a number of guidelines set by Wikipedia, but you also must write a comprehensive, research-driven article about your topic or business.
How Can I Know If My Wikipedia Page Will Be Published?
If you adhere to the guidelines established by Wikipedia and ensure your content is not duplicative, you have a good chance of getting your page published. However, we will note that the creation of a Wikipedia page takes a lot of work. Essentially, you are creating a well-researched document that details your organization's history, mission, and offerings.
How Long Will My Wikipedia Article Be Under Review Before Publication?
While we wish there were a straightforward answer to this question, publication review time varies from page to page, spanning a couple of days to several weeks.
How to Create a Wikipedia Page: Conclusion 
Whether you're looking to increase traffic to your website, improve your search engine optimization, or simply build credibility, Wikipedia is a great outlet.
Through a number of strategies, marketers can make the user-generated encyclopedia work to their benefit, doing much more than simply providing information to interested parties.
As you begin to learn how to create a Wikipedia page, keep in mind that the process may be complicated. For your page to be approved, you need reliable sources that stack up to imbue credibility in your page.
However, regardless of how long the process takes, the end product will be well worth it.
What strategies have you used for marketing on Wikipedia?
See How My Agency Can Drive Massive Amounts of Traffic to Your Website
Content Marketing – our team creates epic content that will get shared, get links, and attract traffic.
Paid Media – effective paid strategies with clear ROI.
How to Manage Your Online Brand?
You might be asking yourself, "Why do I need to manage my online brand?" It's a valid question, especially if you're not sure what managing your online brand means precisely.
In short, managing your online brand is the process of taking control of how others see you and your business online. This can involve creating and maintaining a strong presence on social media, developing positive reviews and testimonials, and monitoring your web analytics to track progress.
By taking the time to manage your online brand, you can improve your chances of success in today's digital age.
In this article, we'll explore some key reasons why managing your online brand is essential.
What is an online brand, and why do you need one?
Your online brand is the way you are perceived by others online. This includes your website, social media profiles, online reviews, and all other digital real estate that represents you when someone searches for you or your business.
It's important to have one because it helps your potential customers get to know, trust, and like you before they buy anything from you. A strong online brand can also help you attract new customers and grow your business.
It's good to remember that your online brand is the first thing people will see when they search for you, so it's important to make sure it represents you and your business well.
How to manage your online brand for success?
Your online brand is your reputation. It's how people perceive you when they see your name, read your work, or interact with you online.
A strong online brand can help you attract new clients, collaborators, and opportunities. But how do you create and manage your brand for success?
1) Consider what you want your online brand to convey.
Are you an expert in a certain field? A thought leader? A creative visionary?
Once you know what you want your brand to communicate, be consistent in everything you do online.
Use the same name, photo, and bio across all of your social media platforms. Post regularly about topics related to your brand, and make sure the tone of your posts is consistent with the image you're trying to convey.
2) Interact with other people online in a way that reinforces your brand.
When someone mentions you in a post, thank them publicly. If someone leaves a negative comment on one of your posts, don't delete it – instead, respond politely and professionally.
By managing your online brand thoughtfully and proactively, you can set yourself up for success both online and offline.
3) Monitor your web analytics to track your progress.
Use Google Analytics or another web analytics tool to track how people are finding you online and what they're doing on your website. This data can give you insights into what's working well and what needs improvement.
For example, if you see that most of your website visitors are coming from Facebook, you might want to focus on creating more engaging content for that platform.
Or, if you notice that people are spending a lot of time on your blog but not your sales page, you might need to work on driving traffic to your products or services.
4) Make sure your website represents your brand well.
Your website is often the first thing people will see when they search for you online, so it's important to make sure it's up-to-date and represents your brand well.
Update your website regularly with new blog posts, photos, and products. Use attractive visuals, easy-to-navigate menus, and clear calls to action.
If you're not sure how to create a website that represents your brand well, consider working with a web designer or developer.
5) Pay attention to your social media presence.
Social media is a powerful tool for managing your online brand. Use it to connect with your audience, share your work, and promote your products or services.
Be sure to post regularly, interact with others, and use hashtags and keywords that will help people find you. You can also use social media ads to reach a wider audience or promote specific products or services.
6) Monitor your online reputation.
Use Google Alerts or another tool to monitor your online reputation. This will help you stay on top of what people are saying about you online and take action if necessary.
For example, if you see a negative review of your business, you can reach out to the customer directly to try to resolve the issue. Or, if you see someone spreading misinformation about your work, you can correct it.
7) Manage your online brand proactively.
The best way to manage your online brand is to be proactive. Be thoughtful about everything you do online, from the content you post to the way you interact with others. By taking control of your online presence, you can set yourself up for success both professionally and personally.
By following these tips, you can create and manage an online brand that will help you achieve your goals.
The benefits of having a strong online brand
Let's look at a few benefits of having a strong online brand:
1) Stand out from the competition.
With so much noise online, it can be difficult to stand out from the crowd. But if you create a well-defined brand, you'll be better able to cut through the clutter and attract attention.
2) Build trust and credibility.
A strong online brand can help you build trust and credibility with your audience. If people know what to expect from you, they're more likely to trust and respect you.
3) Connect with your audience.
By definition, a brand is a way of differentiating yourself from others. But it's also a way of connecting with your audience on a deeper level. When done well, branding can create an emotional connection between you and your audience.
4) Drive traffic and sales.
A strong online brand can help you drive traffic and sales. If people are familiar with your brand, they're more likely to buy from you. And if they trust and respect you, they're more likely to tell others about you.
5) Increase your visibility.
A well-managed online brand will increase your visibility online. When people search for you or your business, you'll be more likely to show up in the search results. And when people see you frequently in their feeds, you'll be more likely to stay top of mind.
6) Attract media attention.
A strong online brand can help you attract media attention. If you're known for something specific, journalists and bloggers will be more likely to write about you. This can help increase your visibility and reach even further.
7) Enhance your career prospects.
Your online brand can have a big impact on your career prospects. If you're looking for a new job, employers will likely research you online. And if you're an entrepreneur, investors will want to know more about your brand before they invest in your business.
8) Make a positive impact.
Finally, a strong online brand can help you make a positive impact in the world. If you're passionate about something, you can use your platform to raise awareness and advocate for change.
The importance of staying consistent with your branding strategy
As you can see, there are many benefits to having a strong online brand. But it's not enough to just create a brand—you also need to be consistent with your branding strategy.
When it comes to branding, consistency is essential. Your audience needs to know what to expect from you, and they need to see that you're consistent in your messaging and your visuals.
Here are a few pointers if you're not sure how to stay consistent with your branding:
1) Define your brand.
The first step to being consistent with your branding is to define your brand. What do you want people to think of when they see your name or your logo? What do you want your brand to represent?
2) Create guidelines.
Once you've defined your brand, it's time to create guidelines. These guidelines should include everything from your mission statement to the colors and fonts you use in your branding. By having a set of guidelines, you'll be able to ensure that all of your marketing materials are on-brand.
3) Train your team.
If you have a virtual assistant or team, it's important to train them on your branding guidelines. Make sure everyone knows what your brand represents and how they can help you maintain a consistent brand identity.
4) Monitor your brand.
Once you've launched your brand, it's important to monitor it. This means paying attention to how people are reacting to your brand and making sure that you're still presenting yourself in the way you want to be seen.
5) Be prepared to adjust.
Finally, be prepared to adjust your branding strategy as needed. As your business grows and changes, your branding will need to change with it. By being flexible and willing to adjust, you'll be able to ensure that your brand is always relevant.
Wrap Up
A strong online brand is essential for any business or individual. By definition, your online brand is the way you're perceived by others online. And while that may seem like a superficial thing, the reality is that your online brand can have a big impact on your business or career.
If you're not sure how to create a strong online brand, start by defining your brand and creating guidelines. Then, train your team on your branding strategy and monitor your brand over time. And finally, be prepared to adjust as needed.
About:
Oscar is a passionate full-time blogger and a part-time author. In his personal blog OssieRodriguez.com, he writes about software, online influence, and different business models.