How to Run Sponsored App Ad Campaigns
You created an app. Now you just need to drive traffic to it. As a marketer or app creator, you might not know where to start to drive app downloads.
It might not be as hard as you think.
You can start gaining traffic through a sponsored app ad campaign. Wondering what a sponsored ad campaign is and how to run one effectively? Let's cover what you need to do to get started and optimize your chances of success.
This includes how to use a sponsored ad campaign to get traffic directly to your app through major players like the Apple App Store and Google Play. We'll also cover which metrics you'll want to track and how to create compelling app ads to encourage engagement and installs.
Let's get started by explaining precisely what a sponsored app ad campaign is.
What is a Sponsored App Ad Campaign?
Sponsored ads allow you to display adverts for your app the same way you would for any other product. As an advertiser/creator, you pay for these ads, and they're usually marked as "Sponsored" or "Ad," so users can differentiate them from regular apps in the search results.
To explain this further, let's use Apple as an example. When you advertise on the platform, your app ads show at the top of the search page on its online app store. Sponsored ads also appear in other apps.
Depending on the network you're using, there may be some variations in how ads are displayed, and your ads may also appear on more than one platform.
Why You Should Run Sponsored App Ad Campaigns?
There's no doubt about it; developing and launching an app is tough. It takes a lot of time and financing, and that's before you even start to think about the marketing side.
However, regardless of the niche you're in, you'll want to drive installs and interest. That's why you should consider running a sponsored app campaign.
Is it worth your while? Potentially.
No one can say just how well your paid advertising will go and whether it will pay off long term. That said, there are some methods you can use to tip the scales in your favor.
Begin by ensuring your messaging is consistent throughout every stage, from the initial ads right down to the installation.
Also, make sure you understand your audience and the best methods to reach them. You may find it helpful to see which apps are performing best so you know if yours would be a good fit.
Finally, look for opportunities to re-engage and retarget your customers and continuously track your metrics along the way. I'll talk more about the app metrics you should be monitoring later.
Before I move on to the next section, something else you'll want to think about is your company's budget and how far it's likely to take you.
In the United States, it costs an advertiser $2.07 for each iOS app install and $1.72 for each Google Play Android installation, so be sure a paid campaign makes financial sense for your business.
Mobile Vs. Desktop App Ads
Now let's talk about mobile and desktop ads, as these are the two main ways to display your app ads.
With 260 million smartphone users in the United States alone, it makes sense to focus on mobile app ads. You're going to want to catch mobile users while they're on the move, and these are the users who are most likely to install your app.
When you're running mobile ads, these will show in tablets, wearables, mobile and smart devices, and in other apps as promotional adverts. You can also link your Google Ads account to Google Play Developer Account to display ads to app users without the need for retargeting.
Mobile apps are good for personalization and reaching your target audience, while research indicates tablets have a higher conversion rate than desktops.
With desktops, your ads will appear on static devices, like a laptop. This method may not seem like the most obvious way to advertise your app, but you shouldn't ignore them completely.
Some argue to create the most effective sponsored app campaign, you need to run both types to improve your chances of success.
How to Run App Ads in App Stores
The process for running app ads will vary depending on the app stores you're using. You can run these campaigns yourself or ask an agency to run them on your behalf.
Here are some of the most high-profile options and how get started.
Apple App Store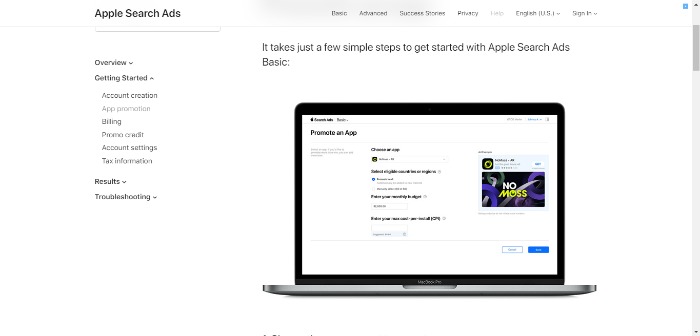 With stores in 175 countries and regions and half a billion users every week, Apple's App Store is the place to be.
To get started advertising your app, you'll have to set up an Apple ads account if you haven't already. You'll need to fill out details like personal information, accept Apple's terms, and provide a payment method.
If you haven't set up an ad before, Apple makes the whole process user-friendly.
Go to the Search ads "Promote an App" page.
Go to your account dashboard. Select the app you're promoting from the list. Apple lets you choose up to 50.
Select your target country and regions.
Decide on your budget. Apple sometimes offers a free $100 to get you started.
Detail your cost per install. Apple states it will set a "max CPI based on what we know about your app and what other developers are willing to pay to reach the same users." However, you can change this.
You're ready to go!
Android App Store (Google Play)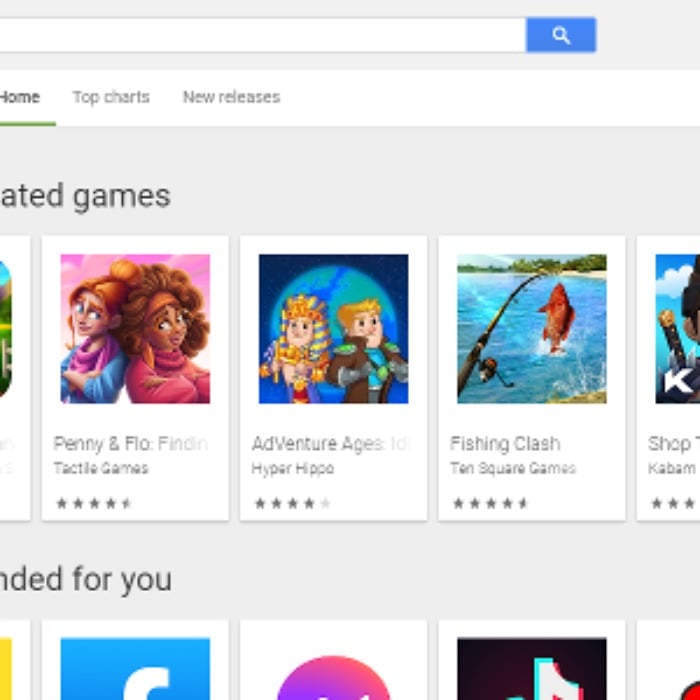 If you want a sponsored ad on Google Play, you can do this by creating an app campaign in Google Ads. Google's app adverts allow you to advertise both Android and iOS apps.
Google will help you out by optimizing your adverts so your target audience sees them, and you won't need to design your ads. Google does this for you by using the material you have in your App store listing.
When you're using Google, your app ads can appear on Play, YouTube, Discovery, and other channels.
Unlike some other sites, Google has quite a lengthy process, so I'll break it down as simply as I can.
Sign up or log in to Google Ads. If you don't already have an account, you can set one up online.
Look out for the page menu. You'll find it on the left. Choose "Campaigns." You'll see a blue button with a white plus sign in the middle. Click on that and then select "New Campaign."
You'll then need to set your campaign goals. In this case, it's going to be "App promotion."
Next, Google will ask you for a campaign subtype. You can choose between "app installs" and "App engagement."
Choose your platform (iOS or Android.)
You'll then see a search field. Here, you add your app's name, package name, and publisher. Your app should then show in a list.
Select your app and press "continue." Google suggests, "You may want to indicate in the name that this is an App campaign." Doing this will make your app campaign easier to find if you need to refer to it later.
Update location or language setting. Be careful when selecting target languages because Google won't translate your adverts for you.
Choose your average daily budget.
Go to "campaign optimization." Here, you can optimize the campaign depending on the user actions most important to you.
Fill out your target bids. You don't need to do this for app install campaigns.
Set your campaign dates.
Choose an ad group name.
Go to "Ad Assets." Include two headline ideas (minimum) and a description idea. You can add up to five.
Tips to Create Effective App Ads
How do you write effective app ads? It helps if you think of them in the same way you would for your other marketing content.
With regular marketing content, you'd:
Craft a compelling headline.
Provide a clear, concise summary detailing your product (app) and its features.
Target your content toward your ideal user.
Use easy-to-understand, everyday language.
Include keywords and a call to action.
You should also consider that ad space is limited, so you want your messaging to be precise and targeted, with the most important information first.
Here are a few more tips for creating an effective app campaign.
Remember, Image is Everything
Images are every bit as important as text if you want to capture mobile users' attention. Choose an image that is in line with your brand and appropriate to your audience. Include branding in the image if you can.
Also, make sure your images are consistent with your overall style and tone, so both blend seamlessly.
One last tip: Always use the recommended image sizes for each platform you're selling on for the best results.
Test and Tweak Your App Ads 
To see what works, you'll need to test different ads to compare results when you start advertising. Consider testing:
image
app description
targeting options
Running A/B campaigns can help you better understand which adverts are resonating best with your audience. Test over time and keep tweaking until you're getting the results you're aiming for.
Keep Your App Ad Objectives in Mind
Most importantly, know what your objectives are. Be clear on what you want your ads to achieve, what you want users to do, and ensure your sponsored app ads convey it clearly. For example, if your goal is to drive free downloads and push paid add-ons later, focus on the features in your free version.
Tracking App Ad Metrics
To understand if your sponsored ad apps campaign delivers the results you want, you'll need to track your ad metrics. If you'd like a refresher, I've covered this subject before. However, you may find there are others you want to focus on, like:
App store conversion rate: This will vary depending on the platform, your category, traffic type, and ad quality.
CPC: Your CPC rate will differ depending on several factors, like your chosen platform and ad placement.
Daily and monthly users: Also known as DAU and MAU, these metrics help you understand how often your customers are revisiting your app.
Return on investment: Are sponsored app campaigns worth the cost? Make sure you include the efforts of testing your ads, the cost per click of your ads, and the cost of developing and marketing your app.
User growth rates: This will help you see if your audience is growing.
App store rank: This metric is essential for seeing if your app ranks for a keyword and its visibility.
Conclusion
It's one thing to build an app, but you may find getting traffic to be a challenge. An effective sponsored app ad campaign can drive traffic and increase installs.
Even if you're new to it, the entire process is user-friendly. With just a few steps, you'll be ready to get going.
To maximize your results, carefully craft your app ads and track your metrics so you can make adjustments. This will allow you to optimize your campaigns and drive results.
Once you've started getting downloads, make sure to encourage your users to leave app reviews and implement app store optimization efforts to keep your audience growing.
Do you run sponsored app campaigns? What strategies helped you the most?
See How My Agency Can Drive Massive Amounts of Traffic to Your Website
SEO – unlock massive amounts of SEO traffic. See real results.
Content Marketing – our team creates epic content that will get shared, get links, and attract traffic.
Paid Media – effective paid strategies with clear ROI.
Best ASO Tips To Boost Your App Search In 2022
You need your application to be really effective in the overpopulated application market. Then, at that point, you will have to drive downloads to endure. So when it's all said and done, you must account for yourself. Get your application the consideration it merits.
The uplifting news, however, is that customers love to download applications – last year, we downloaded in excess of 200 billion applications around the world, and that figure is set to increment to 258 billion every year by 2022 as cell phone reception increments.
Assuming you need to be seen and have your application downloaded by however many clients as could reasonably be expected, then, at that point, you should begin by taking a gander at the application store.
Underneath, we've assembled probably the best application store improvement methods to assist you with creating more downloads in 2021 and then some…
Start with Your Application Name 
The odds are you as of now have an extraordinary name for your application, yet an appropriately advanced application is about significantly more than marking.
Assuming you need to amplify transparency and guarantee you're showing up when clients look for applications like yours, you ought to remember the primary keywords for your application name or title, comparable to how you'd make a title label while improving a site page.
You could begin with your application name so it tends to be plainly recognized, thus it appears on the home screen of gadgets.
Then, at that point, you can add a scramble or vertical bar prior to adding a few pertinent watchwords to your speciality, or even put your application name in quotes as we did with FORE Business Golf Networking.
Urge Users to Leave Reviews 
You could ask for reviews by clients through the means of your site, or through an in-application notice toward the finish of their meeting, yet make sure to restrict the number of pop-ups you execute with the goal that you don't disturb or disappoint your clients, as this could urge them to erase your application.
We'd support all application engineers and entrepreneurs to react to criticism on their applications, as this can further develop client relations and resolve issues in an open arena.
Zero in on Your Application Depiction 
Your application depiction is your principle assemblage of text your landing page content, in a manner of speaking. Utilize a site like KeywordTool.io to discover information on your picked catchphrases to expand your openness. As portrayals are shortened, ensure you remember the main data for the initial three lines of your depiction, and afterwards add things like social confirmation, emoticon, and suggestions to take action to build commitment and downloads.
Incorporate Appealings Screen Captures 
Pictures and recordings won't help your application rank, yet they will expand changes and assist clients with working out whether it's an application they truly need.
There's a little guide in empowering clients toward downloading your application if in any case, they're not going to interface with it, or download and leave a negative survey when they understand it wasn't what was promoted.
Assuming you need to 'tart up' your item page, then, at that point, you can add marking and extra text and data and designs to your recordings and screen capture, yet they ought not to diminish your item.
Pay for App Store or Play Store 
As we have SEO and pay-per-click, you need to work one next to the other (one is a gradual methodology with long haul benefits – the other is a speedy success yet requires an endless spending plan), application store promotions can be utilized to get the message out with regards to your new programming and assist you with positioning at the highest point of query items pages – in front of your opposition and enormous names in the application world.
Keep in mind, you'll need to focus on the right crowd and art an advertisement that will assist you with changing over and that since you're paying for situations, that doesn't mean clients will download or cooperate with your application.
Wrapping Up!
You can employ a group of  App  Store Optimization Services suppliers to benefit a scope of application store improvement administrations, including watchword advancement, resource enhancement, and restriction to guarantee your application is seen by individuals that matter.
We have long periods of involvement in creating and showcasing applications and have assisted different customers with expanding their downloads by infiltrating rewarding and regularly undiscovered business sectors.
Author:
Prachi Gupta likes to write information about Digital Marketing Trends that can help audience to grow their business.