How to Make Evergreen PPC Ads
Marketers often create PPC ads based on the latest trends and one-time deals, but these aren't the only types of paid ads you can create.
Evergreen PPC ads are a must-have addition to your marketing arsenal.
Unlike a seasonal ad, they can run throughout the year, even without edits or updates. Plus, they guarantee your paid ads can generate leads every day with minimal effort on your part.
Below are tips for creating timeless campaigns that could become an important part of your marketing strategy.
Trending Topic vs Evergreen PPC Ads
First, let's cover the difference between an evergreen ad and a non-evergreen ad.
PPC ads that aren't evergreen mostly relate to trends or temporary campaigns.
They might include new information, new tools, or recent trends to make consumers stop and stare. Imagine an ad promoting clothes for the winter season or a cosmetics brand sharing products related to a current beauty trend.
If a brand has a limited-time offer like free shipping or a sale, then a PPC ad could also highlight it at a specific timeframe. It might also target keywords that focus on urgency, such as "Free Shipping If You Order in the Next 24 Hours" or "New Low Price."
In contrast, evergreen content typically focuses on timeless topics. These can range from general information about your brand or noteworthy product features.
Evergreen ads may not seem as striking when compared to ads on trending topics and sales.
Despite this limitation, it does a good job at promoting your business to first-time customers who have never encountered your business before.
Unsurprisingly, many consumers prefer to learn more about the business before considering their purchase decision. Consider the fact that 82% of searchers choose a familiar brand for the first click.
How do you pick keywords for this brand type?
Include brand-related keywords like your businesses' name or target market. Otherwise, your competitors could target your business name and come up on top of the SERPs when people conduct a Google search of your business.
Another tip is to target keywords that are relevant to your products, such as features and benefits. This way, your PPC ads appear when consumers browse for products or services having your products' capabilities.
Why Should You Create Evergreen PPC Ads?
At a glance, seasonal PPC ads may be more timely and relevant. However, there are a lot of perks to creating evergreen ads.
Let's take a look at some of the advantages to keep in mind.
1. Attract Leads Throughout the Year
Evergreen ads can be turned out whenever you want, without requiring any updates.
This means you have leads and conversions pouring in every day. There's no need to have a special event or discount to promote your business; instead, you have a core campaign with a steady and fixed offer.
2. Stay Ahead of the Competition
If you have evergreen PPC ads, you can continuously bid on brand-related keywords. This can prevent competitors from owning or dominating in the SERPs.
On top of this, people may be more likely to visit your website and consume your content. Otherwise, competitors may bid for brand-related keywords or industry-related keywords in their ads and persuade potential leads to visit their website instead.
3. Get More Engagement
Since evergreen content can run throughout the year, it can generate more engagement over time. You can also use the previous results of your evergreen ads to determine which topics or copy are more likely to attract your consumers.
Unlike a seasonal campaign, this ad type may resonate with consumers encountering your brand for the first time.
How to Select Topics for PPC Ads That Won't Get Outdated
At this point, you know the importance of creating evergreen ads, but how can you leverage it for your campaigns? Here are some tips for writing ad copy that won't become outdated.
1. Brand Awareness
A popular evergreen topic is an "About Me" brand awareness PPC campaign that introduces your company. This can include your company's core mission and your target audience.
Nextech AR Solutions' PPC ad for its video conferencing software shows the tool is ideal for virtual conferences, specifically for corporate communications settings. This ad also links to a free consultation and other relevant landing pages.

2. Benefits
Why should people click your ad? Focusing on the benefits your product or service offers can increase clicks to your website. You can also add relevant keywords so your ad has more chances of popping up when customers browse using your targeted keywords.
This PPC ad by Salesforce keeps it short and simple by highlighting its main benefit, connecting with consumers. Rather than site links, it's opted for a downloadable CRM handbook to introduce its solution.

3. Features
Businesses can set themselves apart by highlighting the features of their products or addressing the capabilities of their solutions (such as in the case of SaaS businesses).
Asana's PPC ad emphasizes the main features of its productivity tool, which include fast setup, setting milestones, managing deadlines, creating Gantt charts, and more.

4. Credibility
Consumers are usually wary of clicking ads from brands they don't know. To ease their worries, you can establish credibility by showcasing industry awards or making realistic promises.
In this PPC ad, Consumers Advocate boasts its credibility by stating its reviews are trusted by more than 45 million consumers. It also shows the ways consumers can compare health insurance plans, such as coverage terms.

5. Price
If you have a base price for your services, highlighting the price in the ad copy could work in your favor. This works well if your products or services are affordable or within the usual market price. Since cost is a significant factor for every consumer, accentuating your price could help you stand out against your competitors.
Orbitz PPC ad highlights its rates for car rental, which start at $10 per day. By pointing out the lowest possible price for its car rentals, consumers might be more encouraged to click the ad.

What Not to Include in Your Evergreen PPC Ads
What are the common mistakes to avoid when writing evergreen ads? To boost your chances of success, make sure you avoid these topics:
1. New Slang
Although trendy slang terms could make your social media captions seem more relatable, they can date your content and seem unprofessional when written with evergreen ads.
New slang or trendy terms could also be misunderstood by your target audience.
Consider the phrases like "spill the tea" or "cancel a celebrity." Older people may perceive "spill the tea" as literally spilling tea. Moreover, they probably won't understand what it means to cancel a celebrity in our digital age.
Since slang terms are also unfamiliar to the older demographic, you could potentially dissuade a big portion of your target market or cause a big misunderstanding. On top of this, Google could disapprove of your ads once it detects slang that isn't appropriate.
2. Avoid References to New Businesses or Startups
If you've been recognized by a new business or startup, you could be tempted to mention it in your PPC ad. An award or testimonial from these businesses could boost the credibility of your PPC ad.
Unfortunately, new businesses or startups could quickly fail. In fact, more than 90 percent of startups fail in the first year. Not only could this make your ads seem outdated, but the achievement or reference will seem irrelevant. Stick to references from more established companies or organizations.
3. Avoid References to Online Tools
Software companies usually discuss potential third-party integrations, which can boost the functionalities of their solutions.
Imagine a social media marketing tool that can integrate with your CRM or e-commerce store.
There's nothing wrong with including references to online tools, but it's not ideal for evergreen PPC ads. Since these online tools' features and offerings can easily change, you'll have to regularly check whether the copy is still relevant.
4. Avoid Industry Trends
Industry trends and buzzwords can help your ads stand out from the pack, but avoid using them in your evergreen ads.
Industry trends can change quickly, and buzzwords seem interesting at present but could seem out-of-date just a few months later.
5. Avoid Too Many Exclamation Points
Many PPC ads hope to incite a sense of urgency through limited-time offers or compelling features.
In the process of eliciting a strong sense of urgency, some may add excessive exclamation points to prove their argument. However, exclamation points in multiple rows (!!!) or every phrase (Free shipping! 100 percent Satisfaction Guaranteed! Buy Now!) may seem scammy to consumers and Google.
Don't rely on punctuation to entice customers. Instead, use compelling words and highlight your businesses' strengths to attract clicks.
Tracking the Success of Your PPC Ads
Just like every marketing campaign, you need to monitor metrics to ensure success. To get you on the right path, here are the basic metrics for tracking the results of your evergreen PPC ads:
Clicks: The number of people who clicked on your PPC ad.
Click-through rate (CTR): The total number of clicks on your campaign in a month (or a specified period) divided by the total impressions. For instance, if your ad has 2,000 impressions and 200 clicks, your CTR is 10 percent.
Cost per click (CPC): The amount you pay per click.
Cost per conversion: How much it costs to acquire a real customer who makes a purchase (or is otherwise converted).
Impression share: The number of impressions your ads receive, divided by the total number of impressions your ads got.
Average position: Describes how ads typically rank or the order the ad appears on the page.
Lifetime value: The expected revenue a customer will generate for your business in their lifetime.
Quality score: The estimated quality of your ads and keywords.
Every PPC marketer needs the right tools to generate accurate analytics for their ads. Here's a few for tracking your evergreen PPC ads:
Adgooroo: This tool lets advertisers access knowledge about their competitors' PPC strategies, including ad copy and keywords.
Google Analytics: This free tool lets you track PPC campaign performance, and it also has a premium option for larger businesses.
SEMrush: This tool allows you to find advertising competitors based on the keywords you plan to target. You can also click on a competitor and identify the keywords to target for your PPC campaigns.
3 More Examples of Evergreen PPC Ads
Even if you know the basics, it can be difficult for starters to create a successful PPC ad.
Let's take a look at some more examples of evergreen PPC ads for inspiration.
Uogashi
Sushi restaurant Uogashi launched a PPC ad that offers a glimpse of its authentic products, rare fish sourced from Japan. It also has site extensions to its menu and website, plus a phone number so interested customers can make an order.

Zendesk Sell
This Zendesk PPC ad shows off the product's features like "easy to use" and "quick to deploy." Interested customers can click site extensions to a free trial or more information about its tools.

Walmart
How do you encourage customers to check out your product listing even without a sale?
This Walmart ad for Nintendo Switch Animal Crossing upsells to customers with free 2-day shopping and a pickup discount. For additional savings, you can also check out the weekly ad or deal drop.
Although the Nintendo Switch is not on sale, Walmart makes up for it by offering other information relevant to high-intent customers, such as its pickup discount and store locator.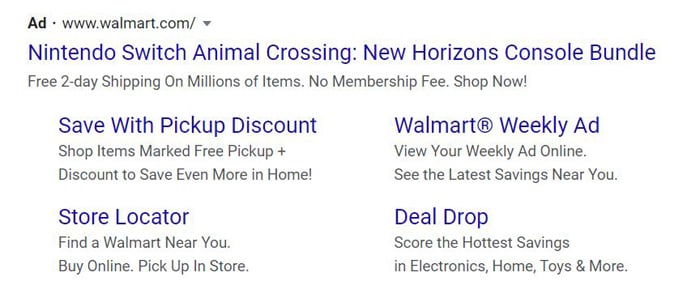 This ad will no longer be relevant when a new Animal Crossing game comes out, but until then, it can bring in relevant traffic from those looking for the current version of the popular game.
Conclusion
Crafting successful evergreen PPC ads isn't rocket science.
You can focus on various topics to promote your brand throughout the year, such as introducing your company or a list of your product's benefits and features.
Don't forget to track the success of your PPC campaigns using different tools and metrics. Also, avoid slang and references to other businesses or tools that can potentially become outdated over time.
Follow these tips, and you could create excellent evergreen ads to run year-round. If you need help with your PPC strategy, feel free to reach out to our team!
What are your strategies for creating evergreen PPC ads for your business?
See How My Agency Can Drive Massive Amounts of Traffic to Your Website
SEO – unlock massive amounts of SEO traffic. See real results.
Content Marketing – our team creates epic content that will get shared, get links, and attract traffic.
Paid Media – effective paid strategies with clear ROI.
The Easy Guide to Facebook Video Ads for Any Business
Social media platforms are focusing more and more on video content. Facebook used to be a place for folks to upload their photos into albums to keep them organized and share what they'd been up to, but with the increase in popularity of TikTok and Instagram Reels, users are now so much more accustomed to scrolling through endless videos designed to make them laugh, cry, or stay informed. With this change in user behavior, it's now more important than ever to be sure you're creating engaging content that cuts through the noise and stands out.
An example of a Facebook video ad. 
Video ads on the Meta Business platform (which reaches Facebook and Instagram) is a great way to do this. Although the ability to churn out video ads regularly was reserved for brands with big budgets in years past, new tools and AI have helped democratize this and now any brand can advertise using high-quality videos without spending much at all.
In this post, I want to talk through some best practices for Facebook video ads and show you some tools you can use to execute those strategies.
Table of contents
Facebook video ads best practices
Follow these Facebook video ad tips to squeeze the most out of your Facebook ad costs.
1. Create videos in all aspect ratios
If you've used Meta Ads recently, you probably know there are tons of different placements your ads can show up on the network. The good news is that to cover this vast list of placements, you only need to come up with three distinct aspect ratios for your video ads:
Having videos in each of these aspect ratios ensures you're eligible to show in all the placements you'd like to.
We'll talk later about how you can make these aspect ratios if you don't have a dedicated creative team, but in the ad creation process, you're able to select different video files to fit into each aspect ratio. Facebook will then automatically serve the creative with the right sizing for each spot to ensure you have the best-looking ads.
Now, while it might not seem like a huge deal to have all three ratios, I think it's actually one of the easiest things you can do to help make sure your ads look good and stand out. In the image above, you can easily see how different an ad will look in the vertical and horizontal placements if you only have a square image. They're not bad, necessarily, but they certainly don't have the high-quality, professional look that most users have become accustomed to in recent years.
🛑 Want to know how your Facebook ads are really performing? Find out with our free Facebook Ads Performance Grader!
2. Be prepared for all sound options 
If you're a Facebook or Instagram user, you've likely visited the platforms in all sorts of scenarios. With full sound while sitting on your couch or in your bed. Maybe you have your headphones in while out in public, or maybe you're even one of those crazy people with their sound up on the subway. But odds are, there have been at least a few instances where you were on those platforms and didn't have the sound on at all. 
For each of these instances, you were bound to see ads and the level of volume you were using likely had an impact on how sticky those ads were for you. Designing your ads to be digestible regardless of a user's sound level is highly important.
Here are a few questions to ask yourself while crafting Facebook video ads sounds:
Do you have an engaging/entertaining voiceover?

Is there music you can choose to fit the mood of the ad?

Do you have subtitles for the voiceover in case someone's sound is off?

Is the voiceover clear and easily understandable even in a loud environment?
3. Get your main message across in the first 3 seconds
No matter what the original purpose was for someone to visit social media, the main point is that they're not there to view your ads. I feel very confident in saying that for the majority of people visiting Facebook or Instagram, they're not there to see what product or service you're selling.
Similar to ads on YouTube, users are pretty easily able to skip and scroll past the ads on Facebook and Instagram. That is, unless you run non-skippable ads, but those are pretty rare. So, you need to make sure you're making a big impact in the first few seconds of your ads…before the remainder of it is skipped. If you do a good job of creating a compelling hook in that short time, you can certainly draw their attention for longer, maybe up to 15-30 seconds, some even longer. But odds are, your views will be short so you need to be front-heavy.
In this time, it's important to get your business name and core brand messaging across so that even if a user does scroll past you, you've at least made that much of an impact. They'll have a higher chance at brand recall later if they've heard your name in that brief intro. This can include text, voiceover, business logos, and more, so be creative, engaging, and entertaining.
4. Blend into the platform aesthetic
In my experience, the best ads on Facebook or Instagram (I'm typically an Instagram user) are ones that blend into the platform aesthetic. The ads that typically entice me the most are the ones I don't really know are ads until I look down to see the Sponsored messaging down at the bottom.
The best way to discover this is to become a user of the platform itself. For Instagram, go to the Explore tab and type in some of your key terms, maybe the same ones you use for search or maybe some terms that mirror the interest or behavior targeting you're using for your campaigns.
See what the grid looks like. What shows up? What brands are there? How are they marketing to people? While you may not want to become just part of the noise, blending in allows you to make a greater impact and feel more natural to the audience. 
For example, I have a renewed interest in landscape photography and am in the market for a new camera. If I were a camera brand (or someone selling camera-adjacent things), either of the two grids above could help give an idea of what my ads can/should look like to blend into the platform. Then, make sure you follow the other best practices above to get your message across.
💡 Ready to improve your Facebook ads? Get 16 effective strategies for Facebook ads to try now!
5. Retarget users who engage with your videos
I might be biased, but one of the biggest mistakes I think advertisers make is not retargeting people who watch their Facebook videos. Sure, they might find their way to seeing you again through prospecting or they may remember you enough to come back to your site, but why would you target people (who you seemingly thought were valuable) once, then not work to target them again? Especially after they are already aware of you?
On the Facebook ads platform, you can make audiences of users who have engaged with your videos in many different ways. Just head to the Facebook ads audience manager and choose Video as your source for an audience.
From there, you can choose how they have interacted with those videos. Did they watch the whole thing? A certain percentage of it? Think about where your value propositions and messaging hits in those videos and be sure to include that in your audience filters.
Next, you can choose the videos you want to retarget people from. Yes, you can select only certain videos if you think they're more impactful, part of a separate campaign, etc.
Lastly, you can choose how long you want to reengage with someone who watched those videos for that amount of time. One error I see is always setting the time frame to the longest possible setting. Now be honest…if you saw a video ad once 180 days ago, do you think you're still a hot prospect for that brand? Probably not. Make sure you keep that in mind when making these audiences. Higher engagers can likely stick around longer, but lower engagers probably should be let free from your retargeting grasp a bit sooner. 
Helpful Facebook video ad tools
Now that we have some best practices out of the way, I want to talk about how to make the Facebook video ad creatives. Not every Facebook video ad has to be done by a hugely expensive creative shop. Some can be done just as well with your own means, and sometimes for free! Here are some of the top Facebook video ad creative resources your business can take advantage of:
Yes, phone cameras are acceptable
A big expensive camera only makes world-changing videos when there's an amazing photographer or videographer behind the lens. For most people, a camera phone will do just fine. In many cases, they'll do better than if you tried to use an expensive camera due to all the ways the tech companies are making them easier to use.
Next time you need to put together a video, take a shot with your phone first. Many times, those videos will turn out great, and will help fit you into the platform aesthetic naturally as much of the content on Facebook and Instagram is also shot on a phone. 
Facebook's cropping tool
Once you have a video, there are options in Facebook ads to adjust your creatives for different sizes.
In the image above, you can see we have a square video that needs cropped to vertical. Granted, this would be a terrible user experience, but if your video does lend itself to this easy cropping, there is an option directly within Facebook to do that for you.
Facebook video builder
If you don't already have any creatives and you need to build something almost from scratch, Facebook also has a video creation tool you can use to put together videos.
You can use existing images combined with Facebook's video ad templates to make a video for your account. There are tons of templates that allow you to control for colors, text, timing, and more. Just lead on the user-friendly builder and you'll end up with a platform-ready Facebook video ad in no time!
Canva
While there are some paid in-platform upgrades, Canva is a great tool to get just about any type of creative made (video or otherwise).
There are countless free templates you can customize to help promote your brand. Canva also includes easy options to convert one theme into a new aspect ratio, helping you to cover all the video sizes as I mentioned above. In short, if you're a novice to video marketing but need to get something done, you should check Canva out.
Create great Facebook video ads today
Facebook and Instagram video ads are a great way to interact with your customer base and are only getting more necessary as other platforms lean into video. It doesn't take any particular expertise or deep pockets to get your Facebook video ads up and running. Just a bit of patience and some guidelines and you're on your way!
When you want to improve your results, follow these Facebook video ad best practices:
Create videos in all aspect ratios
Be prepared for all sound options
Get your main message across in the first 3 seconds
Blend into the platform aesthetic
Retarget users who engage with your videos
How to Make a Click-Worthy YouTube Thumbnail (+Free Tools!)
With millions of videos vying for attention, your YouTube thumbnails serve as the first point of engagement for potential viewers. These seemingly small images carry significant weight in attracting clicks and views.
YouTube thumbnails provide a snapshot of your video content, setting expectations for what viewers can expect. A well-crafted thumbnail not only piques interest but also conveys the essence of the video.
In this article, I'll share everything you need to know about YouTube thumbnails, including tools to create them, tips to keep in mind, and other lessons I've learned from running my own YouTube channel.
Table of contents
What is a YouTube thumbnail?
A YouTube thumbnail serves as a visual snapshot of what a video contains. It appears as a small image next to the title of the video on YouTube's search results page, related videos section, or the recommended videos section.
This image plays a crucial role in attracting potential viewers and encouraging them to click on the video. The design and content of this thumbnail often influence the decision of a viewer to watch the video or not. Therefore, it holds significant importance in the world of YouTube content creation.
YouTube thumbnail size
The best YouTube thumbnail size is 1280×720 pixels. This is an aspect ratio of 16:9. The minimum width you should shoot for is 640 pixels.
You should also shoot for a relatively small file size—under 2MB. YouTube thumbnails can be saved as JPGs, GIFs, or PNGs.
YouTube thumbnail tips
Your YouTube journey begins with a single image—the thumbnail. This seemingly small, but critically important element is the initial gateway for your viewers.
"If people don't click, they don't watch. So, you want to give them something to click," said YouTube star MrBeast.
Here are some tips to create effective YouTube thumbnails.
Make them engaging
Think of your thumbnails as digital hooks to capture your audience's attention. Make them visually striking, vibrant, and engaging.
💕 Want more tips and ideas? We've got 130+ for you! Get the guide >> 130+ of the Best Online Marketing Tips for Generating More Traffic, Leads, & Sales
Be consistent
Building a recognizable brand on YouTube starts with consistency in your thumbnail design. A uniform style helps viewers easily identify your content. In addition to consistency in your thumbnail design, keeping a close eye on others in your field who share your audience is a smart strategy.
Checking out what your competitors are up to can give you helpful clues about how many people click on their stuff. This helps you see how your channel's look, content, titles, and colors stack up, so you can ensure you're putting your best foot forward.
As you can see below, MrBeast's thumbnails are visually striking and attention-grabbing, featuring bold colors, expressive facial expressions, and compelling imagery. He maintains a consistent style in his thumbnails, making them instantly recognizable to his viewers and helping build a strong brand presence on YouTube.
Represent your video accurately
Your thumbnail should provide an honest representation of your video. Misleading thumbnails can lead to viewer frustration and backlash.
Create an emotional impact
It's well known that emotions are contagious. This means that watching someone else have an emotional reaction to something can cause you to have the same reaction.
Humans react to other human faces, and it's an easy trick to get more people to click on your YouTube videos. Humans will naturally assess the emotional state of the face. When their mouth is open, it's usually to show that they are surprised. When someone sees this surprised reaction, they are enticed to see what is so surprising.
🚨 Speaking of emotion…get our free guide >> 135 of the Best Words & Phrases for Marketing with Emotion
Learn and adapt
Continuously analyze your analytics to adapt your content and strategy based on audience feedback and changing trends.
The thumbnail below was my first to go well (in relation to my other videos). The simple title in the thumbnail, the upward arrow, society's current fascination with ChatGPT, the length of the video, me in it—smiling and wearing something that matched the color scheme of the thumbnail. These are things I took note of as potential drivers of success for future videos and thumbnails.
Free YouTube thumbnail makers
Here are a few YouTube thumbnail creation tools to try, including the one I use for all my thumbnails.
1. Fotor
I use an app called Fotor to create my thumbnails. Fotor is a fantastic all-in-one platform that makes thumbnail creation a breeze. It's an easy-to-use photo editing and graphic design tool, available in web, desktop, and mobile versions. It provides a full suite of tools that cover most image editing needs, including face retouching and image-generative AI.
Fotor also includes advanced AI-powered tools such as background remover, image enlarger, and object remover, which make complex edits simple.
I created a super simple video walkthrough where I use it to create a YouTube thumbnail. Check it out here.
2. Canva
Canva is a design tool (with a free option) that can help you create impactful YouTube thumbnails. Simply navigate to the site, choose YouTube thumbnail as your design option, and find an already-created template to customize or create your own design.
Within Canva, you can adjust colors, add your own images, and brand your YouTube thumbnail with your business logo.
3. Visme
Visme is another online design tool that makes it easy to create YouTube thumbnails. Like Canva, Visme has already created templates that you can choose and customize according to your branding.
Simply choose your template, customize it, download it, and you're all set!
Start making effective YouTube thumbnails with ease
Creating a great YouTube thumbnail is only one piece of the puzzle when it comes to effective video marketing on the site. But the right YouTube thumbnail strategy can help you build consistency, attract people to click on your videos, and increase engagement with your content.
12 Holiday Emails for Customers (Templates & Examples!)
How to put your customers into a holiday slumber 😴 :
To our valued customers,
As the end of the year draws near, we'd like to take this opportunity to extend a heartfelt thank you to all of you for your support. Thank you for choosing us and we wish you a wonderful holiday season and happy new year!
Want to send an authentic holiday email this year that your customers will actually want to read? This is your cheat sheet!
Table of contents
How to use these holiday email templates
This post contains both the copy and creative you can use for your holiday customer appreciation emails. These emails are longer and more personalized—great for your most loyal customers or for businesses with a small client base. If you want shorter, more general copy, head on over to my holiday greetings and messages.
The copy is also pasted into some templates I made in Canva, which you can access with a free Canva account!
Here's the link to the templates in Canva.
Holiday customer email tips
In such a short piece of content as this, small details have big effects. Here's how to get it right.
Express gratitude! Customer appreciation is the goal here.
Keep it short and use a conversational tone. This is an e-toast, not a live journal.
Be inclusive of all holidays, and be warm and positive, but not overly hyped—the holidays can be difficult for many people.
Make it visual with creative graphics or a team photo.
Share your growth and achievements to give customers a reason to stay confident in your business. BUT make it about them—the growth you achieved with their support. What you achieved together.
Connect it back to your mission (NOT your value prop).
Focus on the future. Speak to an ongoing relationship, but not through a CTA or sales promotion. Save that for your year-in-review email.
Words & phrases to make your holiday email message authentic
Take a gander through these words and phrases you can use that the other gajillion businesses out there aren't using:
Instead of 'valued customer'
Don't call them valued, make them FEEL valued through your messaging.
Dear customers
To our awesome customers
To our customers near and far, old and new
To all of you
To each and every one of you
To the Baker & Co. family
To the SparkLife community
To you and your families
Dear customers, partners, and your families
Friends
First name (if you have a small list and can MANUALLY do it).
Instead of 'exciting year'
It's been a…
Lively
Rewarding
Exhilarating
Electrifying
Wild
Awesome
Zestful
Refreshing
Bustling
Bright
Spirited
Rousing
Rigorous
….year!
Instead of 'as we approach'
Any "as we." As we approach, enter, wind down, you know them all. How about:
Every year, I/we
If you're like us, you are…
As the saying goes…
One of my favorite quotes is
Ask a question
Whether this email finds you ___ing, ____ing, or ___ing, we hope it finds you well!
As I sit here listening to [unique/meaningful/inclusive song name]
Exactly 11 months ago, we were…..
When we started out this year we _____. Little did we know…
Here at ___ we believe in ____, so…
One of our core values here at ____ is ____.
As I write this email, I'm watching the snow falling outside my window for the first time this year.
As it turns out…
Instead of 'take this opportunity to'
Take THIS opportunity to remove yourselves from the mileu by using phrases like:
Words can't describe our…
We're reaching out to say…
We want you to know that…
We extend our deepest…
It is with pride and joy that we…
Instead of 'thank you for your support'
Nothing wrong with this statement, but make it better with specifics.
Thank you for…
Trusting us with your ____
Using ____ for your ____ needs.
Confidence and loyalty to _____
How much you've [taught us, inspired us, encouraged us, etc..]
Choosing us as your ____ provider
Giving us a reason to come into work each day
Showing up to our events
Your reviews, social shares, votes
Positive vibes, enthusiasm
5 holiday email templates any business can use
To make your life easier, I've compiled some templates that incorporate the tips and words and phrases above. Check'em out.
If you want to You can also customize them in Canva
Template #1—Achievement-focused
To our customers:

Without your enthusiasm and energy, we wouldn't be where we are now.

Thanks to your feedback, we added eight new features to ProductName this year and earned our highest rating on ReviewPlatform yet. And because of your referrals, we helped twice as many small businesses get online this year than last. And because of you, we love our jobs!

Not only are we excited for 2022 with you, but we also have some big goals and big ideas that we can't wait to share. So stay tuned! But for now, enjoy the holiday season!

With many thanks,

The ProductName Team
Use the Canva link above to customize this template.
Template #2—Fun & grateful
To the BusinessName community,

As the saying goes, "Gratitude is like gravy—put it on everything!" So we pour out our thanks to you for choosing BusinessName as your PainPointSolver.

Your patronage, your presence, your reviews and shares—all of this keeps our business alive and makes our line of work a pleasure each day.

We wish you all the best this holiday season and look forward to another great year with you!

With thanks,

All of us here at BusinessName
Use the Canva link above to customize this template.
Looking for more creative ideas? How about these 41 Pre-made Holiday Social Media Posts & Canva Templates.
Template #3—From the owner
To each and every one of you,

As I sit here listening to InclusiveMeaningfulSong, I am reminded of how grateful I am to have you in my circle.

StudioName is rooted in relationships, health, and growth and you are the ones who bring it to life. Every day I am blessed with the new energy, new perspectives, and new friends you bring to our studio each day.

I wish all the blessings returned to you during this holiday season and the year to come. Can't wait to grow with you in 2022!

See you soon,

YourName
Use the Canva link above to customize this template.
Template #4—Mission-centered
To our work out warriors,

Whether the holidays make you happy or sad, giddy or stressed, one thing we can all feel is gratitude.

And that is why we extend our personal thanks to you—for showing up, for trusting us with your health, for your smiling faces, and your feedback.

We are on a mission to make fitness fun and accessible to all and it is dedicated members like you who help us make this possible.

However you're feeling this holiday season, know that we appreciate you and we can't wait to see you next year.

Stay well,

The GymName Team
Use the Canva link above to customize this template.
Template #5—Wrap-up with thank you
So…how do you wrap up a fantastic year in X words? We figured it out:

32,695 orders
200 blog posts
84 five-star reviews
5 new employees
2 awards nominations
1 HUGE thanks…

To YOU!

None of this would be possible without all of your shares, likes, comments, and confidence in our resources. This is what keeps us eager to find new things to teach you each day. You are the lifeblood of BusinessName and together, we're helping more and more people find jobs they love.

Thank you for playing such a pivotal role in our growth. We wish you the best this holiday season and the year to come.

Let's do it all again next year!

 

The BusinessName Team
Use the Canva link above to customize this template.
7 real holiday email examples & what makes them great
Here are a few real holiday customer appreciation email examples with non-generic intro sentences and attractive design. And you may also want to check out these additional customer appreciation ideas!
Patchwork: A poem!
You can have a lot of fun with this one!
Big thanks
Lots of text but once you start, you can't stop.
Visually appealing—although a face would be nice.
Rock Content: Tasteful reminder
This short and sweet holiday email from Rock Content is perfect with:
Friendly and warm messaging acknowledging my hard work this year.
A cute GIF of champaign glasses clanking.
A tasteful reminder of the value it offers at the end.
Hello, Kristen!
✨We are passing by to wish you Happy Holidays!
2022 has been a year full of challenges and achievements. We know you've worked a lot this year. Now, it's time to relax a bit and enjoy the holidays!
We hope you have a great time with friends and family. Enjoy the next few days to recharge your batteries with good times, getting ready to make beautiful things happen in 2023!
Remember that we will always be here to help you deliver high-quality content strategies and enable growth opportunities!
Enjoy the Holiday Season!
🎄🎅🎁☃️❄️
Rock Content Team.
BuildOn: Super-specific
Consider something like this if you're a nonprofit.
Just the right amount of gratitude and inspiration
Visual with smiling face
Shares specific achievements made possible by YOU
This season, we're thankful for your support!
With your help, buildOn has empowered thousands of students and strengthened hundreds of communities across the globe.
In the U.S., tens of thousands of urban students have invested nearly 1.4 million hours of service into transforming their communities and empowering themselves. Today, 674 schools are bringing quality education and a chance out of poverty to 90,000 children and adults in the developing world.
None of this would be possible without you. THANK YOU!
WE: Verrry versatile
WE has some inspo in store for you.
Positive without overdoing it
Conversational and inclusive messaging
Attractive visual, although a face would be nice
Sincere appreciation, could use some specifics
"With the new year comes a sense of renewal: an opportunity to bring out the best in ourselves, moving forward with positivity and purpose. Thank you for being part of the WE Movement this year—whether you've been with us every step of the way or have just joined, we truly appreciate having you in our community.
Together, we change the world."
Office Luv: Faces!
Office Luv nails it.
Actual employee faces!
Short and sweet
No "we'd like to take this opportunity to.."
Later: Future-focused
The thank you section of Later's 2020 December newsletter is one to model after.
Conversational tone, with emojis
Specific thank yous
Future-focused
Has a CTA, but just to Instagram profile

2020 has been full of challenges in the social media world and beyond, and we wanted to take a quick moment to say thank you. <3
Thanks for turning up, reading our emails, joining the conversation, sharing the love on social – you've made all of our days a little brighter this year.
We promise 2021 is going to be bigger and better than ever – so stay tuned for more new blogs, training, and of course, exciting new Later features!
[Stay tuned]
Chiropractor: Super-personalized
Try out something like this if you're a solopreneur.
First name personalization
Inclusive graphic and smiling face
Fun poem
Sense of community
Sincere thanks

Happy Holidays Kristen!
I know by this point everyone is nestled in and hopefully enjoying friends, families, and holiday cheer! Yet I didn't want this season to go by without an official Merry Christmas from our home to yours!
We count you among our friends and thank you from the bottom of our hearts for your dedication to your health and in creating your healthy home and life. It means more to us than you know, so thank you!
Wishing you joy and peace,
Dr. Lizie
Send a holiday email this year that your customers will appreciate
You now have all the words, phrases, tips, and templates you need to send an authentic holiday email message to your customers. You have no excuses!