Best Web Hosting for WordPress
Disclosure: This content is reader-supported, which means if you click on some of our links that we may earn a commission.
Do you want to skip the read and get right to my top picks? The best WordPress website host for most people is Hostinger and Bluehost.
WordPress is what I use to manage my blog and other sites. Millions of visitors read content and interact with my site each month. Without the best WordPress web hosting, there's no way I could deliver a high-performance experience.
It's different from regular hosting in that your provider is only going to host WordPress on the servers you use. This makes it easier to optimize performance and maintain security because there's only one type of software on it.
So, if you're currently using WordPress or planning to use WordPress for your website, you really ought to invest in web hosting that's made for that platform.
And it's extremely affordable.
Which WordPress web hosting provider is the best? Keep reading for reviews of the top providers I trust. The reviews are followed by a brief guide to help you find a host that makes sense with your goals and budget.
#1 – Hostinger Review — The Best for Cheap WordPress Hosting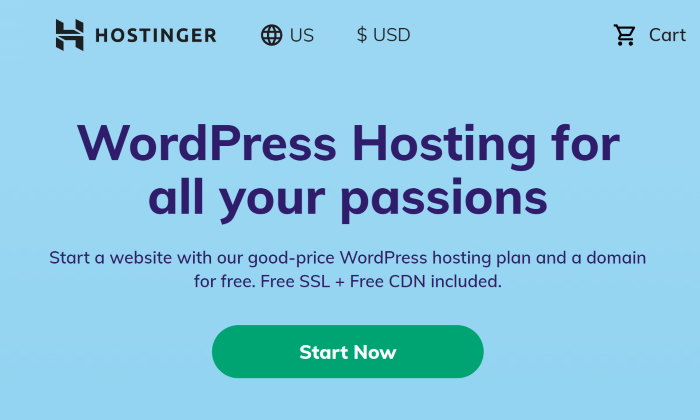 Hostinger offers optimized WordPress hosting for as low as $1.99/month. Even at that rock-bottom pricing, it has the essential package of features and resources necessary to get a WordPress site off the ground and looking sharp.
Everything is easy to set up, even if it is your first time getting hosting or using WordPress.
A four-year contract is required to get the best price. So, there is a little bit of a commitment, but the total price tag of four years at those low rates is still well below a single year with other options.
You also save with the free email account, domain name, CDN, and a free SSL certificate that's super easy to enable. Your site will be faster and more secure with hardly any effort on your part.
Hostinger's entry-level plan is not aimed at developers and the like who need to put a big strain on their site. You get 30 GB of storage, two databases, and weekly backups.
The lack of daily backups might not work for some users, but if you don't need to update your site all the time, a weekly backup is a comforting insurance plan.
At the low price, there's obviously no white-glove customer service, but it is still available 24/7/365. Customers tend to review Hostinger's support very well, even if the response time is slower than you get with a managed plan.
There are going to be upsells in the platform, but there's no catch. It's a really great value because Hostinger hasn't cut costs where it counts.
You get a 99.9 percent uptime guarantee and site speed is great for up to 10,000 visitors each month. If you are just getting started, this is more than enough not to worry.
And the Hostinger really has optimized the WordPress experience. The LightSpeed cache accelerates your site and works well with most popular plugins.
It's not just increased performance—Hostinger provides a helpful suite of tools to get your site looking professional.
One-click WordPress installation, a site setup wizard, and lots of helpful tutorials. You'll be able to take advantage of free WordPress plugins and themes to improve your site at no cost.
Hostinger has ultra-competitive introductory pricing for all of the WordPress hosting plans they offer:
You'll notice the renewal rate is considerably higher than the introductory rate, but that has a lot to do with just how deep of a discount they offer. Don't be thrown by the jump in pricing, the full rate is comparable to other shared WordPress hosting.
At the end of the day, if you are looking for a low-cost hosting plan that's optimized for WordPress, Hostinger is a very good option. It's a no-frills plan that covers all your bases and delivers great performance.
You can sign up and try Hostinger risk-free for 30 days.
#2 – Bluehost Review — The Best for New WordPress Sites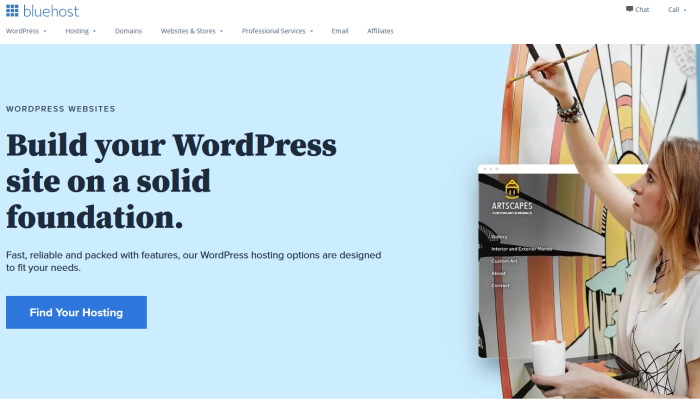 Powering more than 2 million sites across the globe, Bluehost is an industry leader in the web hosting space, especially for WordPress sites. In fact, it's one of the few web hosts that's officially recommended by WordPress.
Bluehost is a great option for anyone building a new website from scratch. When you sign up for hosting, you get a free domain name for a year and WordPress is a one-click install.
Normally a domain name costs $10-15, but your saving time in addition to money. Instead of having to go and register a domain and download WordPress, you can get everything done in a single step.
Plus, the cost of WordPress hosting is about as low as you will find.
WordPress hosting from Bluehost starts at just $2.95/month. You'll have to sign a 3-year contract to get the best deal. If you are always going to need hosting, I say lock in the best discount for as long as possible.
Getting everything set up is really easy. I walk you through the whole process in my post about how to start a WordPress blog.
Trust me when I say you don't need any special skills to start blogging right away.
Navigating around your new WordPress dashboard is fairly straight-forward, but you can reach out to Bluehost support if you have questions. Representatives are available any time of day by phone or live chat.
Lots of the best parts are baked right into the service—a free CDN to boost performance and security and a free SSL certificate is always enabled. You don't have to configure any of it in order to benefit from the faster speeds and safer traffic.
It's easy enough to take advantage of free WordPress themes and find a layout you like. Plus, there are tons of incredible options via the Bluehost WordPress marketplace if you are willing to spend a couple bucks.
Other noteworthy highlights from Bluehost include:
Automatic WordPress updates
Unlimited traffic
50 GB storage
$200 in free marketing credits (Google Ads and Microsoft Advertising)
Securely configure your WordPress login credentials
All of this comes with Bluehost Basic WordPress web hosting. For an entry-level plan, 50 GB of storage is a lot. More than twice as much as you get with other plans.
There are no arbitrary limits about traffic, but if your site starts to impact other sites on the server, they may ask you to upgrade to a higher tier plan:
The Plus and Choice Plus plans let you build as many sites as you want, whereas Basic limits you to just one.
You will also get unlimited storage (within acceptable use limits, of course) and greater server resources with the higher tier plans.
Bluehost has introduced a managed WordPress hosting plan called WP Pro, which starts at $14.99/month with a three-year contract. The introductory rate is very attractive compared to other managed plans, but I think WP Pro has some room to grow.
If you want managed WordPress hosting, I really recommend WP Engine. It costs about the same as Bluehost's WP Pro (after the introductory pricing runs out) and delivers a lot more.
But if this is your first site, you shouldn't even be worried about managed hosting. You'll be fine with shared WordPress hosting. Bluehost will get you set up with everything you need at an affordable price.
Get in touch with Bluehost today.
#3 – WP Engine Review — The Best for Managed WordPress Hosting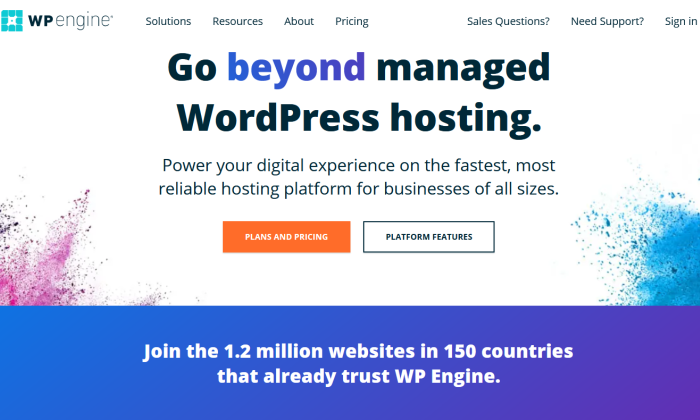 WP Engine is the original managed WordPress hosting provider and still leads the pack in terms of providing concierge service and expert support. The company has also developed a platform full of exclusive tools designed to help you take your WordPress site to the next level.
If you are just getting a small site or blog online, WP Engine is overkill. This is a good option for people with online stores, a bunch of sites, and other complex WordPress hosting needs.
WP Engine allows you to get high-performance sites without having to hire a developer or stress about maintenance.
You'll unlock blazing fast speed, incredible uptime, and best-in-class security without any work on your part.
In addition to optimizing the IT environment, WP Engine will keep the WordPress Core and PHP up to date. The company is constantly monitoring and blocking threats, keeping your sites fast and safe.
WP Engine has a legendary customer service record. The company does not host anything besides WordPress. You are always going to get a rep who knows the platform inside and out and handles relevant issues all day, every day.
With so much taken care of with WP Engine, you have more time to focus on building a great site. 36 premium StudioPress themes are included with every hosting plan.
Normally, that would cost hundreds of dollars, but you are free to experiment and customize these powerful themes as you like.
Some of the other highlights include:
Automatic WordPress updates
Free CDN
Free SSL Certificate
Geotargeted content
Free automated WordPress migrations
Development, staging, and production environments
No other managed WordPress host offers separate dev/staging environments. This is a boon to WordPress developers, as it solves some of the pesky problems associated with one-click staging environments.
Managed WordPress hosting starts at $25/month with a one-year contract. You can also sign up for one month at a time—which some hosting providers don't allow—and it's only $30/month.
Normally, it costs a little more, but the price I'm giving you here includes a discount for being a reader of my blog. So definitely click through the link or remember to use the neilpatel20 coupon to get the savings.
Although WP Engine isn't cheap, there are no skyrocketing rates or hidden charges.
The Startup plan works for one site and comes with 10 GB storage and 50 GB bandwidth, which can handle about 25,000 visitors each month. Upgrading to Growth or Scale plans will let you build more sites and host more traffic.
This is the pricing for the standard WP Engine managed WordPress hosting, but there are two other groups of plans available that follow the Startup, Growth, and Scale format. These are:
Managed Hosting Plus: starting at $28.33/month
Secure Hosting: starting at $44.17/month
Managed Hosting Plus includes automated plugin updates and testing. You get fine-grained control over which plugins are updated and the ability to roll back changes if need be.
Secure Hosting comes with everything included with Plus, as well as an advanced web application firewall and additional protection from hackers. This plan makes sense for large online stores and other sites where visitors are sharing sensitive information.
For most people, the standard WP Engine plan is everything they need and more. This is my top recommendation for managed WordPress hosting, and I am hardly alone in that opinion.
Make WP Engine for your first and last stop for managed WordPress hosting. Sign up for a year today, and get two months free.
#4 – SiteGround Review — The Best Support for Affordable WordPress Hosting
To get the best possible white-glove, rose-petals-on-your-pillow customer service, you have to get a managed WordPress hosting plan. It's an order of magnitude more expensive than shared plans, but you get a level of support that outclasses everything else.
For people that want high quality support, but aren't ready to commit to an expensive managed plan, I suggest checking out SiteGround.
What the company offers is called managed WordPress hosting, but in truth it straddles the gray area between shared and managed WordPress hosting plans. Essentially, you can get a lot of the benefits of managed WordPress hosting at a price that is similar to shared.
SiteGround is officially recommended by WordPress and has consistently outstanding reviews. You don't win two Stevie awards for customer service by accident.
All of their WordPress hosting solutions come with platform-specific support. From assisting with migrations to troubleshooting plugins, SiteGround is ready to help. Customer service is always available via phone, live chat, and tickets.
In addition to solid support, SiteGround takes care of updates, security, and caching configuration that keeps your site fast.
Some of the other features include:
Automated WordPress installation and powerful WordPress starter kit
Free website builder
Free WordPress migrations
Managed security and updates at the server and application level
Performance optimized for WordPress sites
Free SSL certificates
Unlimited free email accounts
SiteGround offers a low introductory rate for all plans, which jumps considerably upon renewal: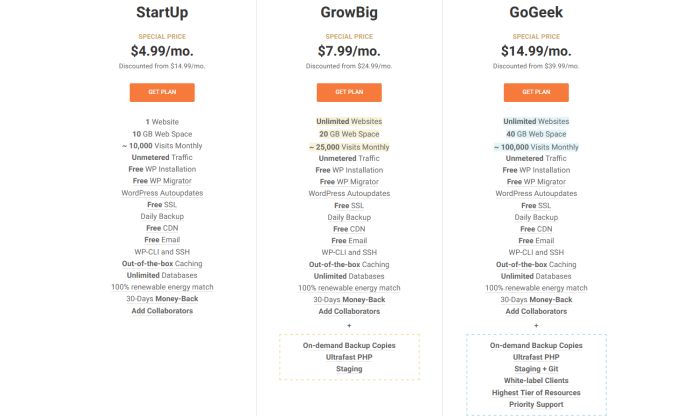 At the discounted price, you aren't going to find a more feature-rich WordPress hosting option with as much support as SiteGround's StartUp plan. Once the discount is over, the price is still competitive, and many people stay to keep the customer service they trust.
The GrowBig and GoGeek plans can hold their own with other managed WordPress hosting plans. You'll get a staging area, on-demand backups, improved caching, and lots more resources to power your site.
During the discount period, the higher-tier plans are an absolute steal. Once the discount is over, however, I'd give WP Engine the clear edge overall.
So if you aren't ready to pull the trigger on a premium managed WordPress hosting plan, but you still want your provider to handle a good amount of the backend legwork, SiteGround StartUp is a good fit.
The company offers a 30-day money back guarantee.
Try SiteGround today risk-free and see just how good their customer support truly is.
#5 – Cloudways Review — The Best for Total Customization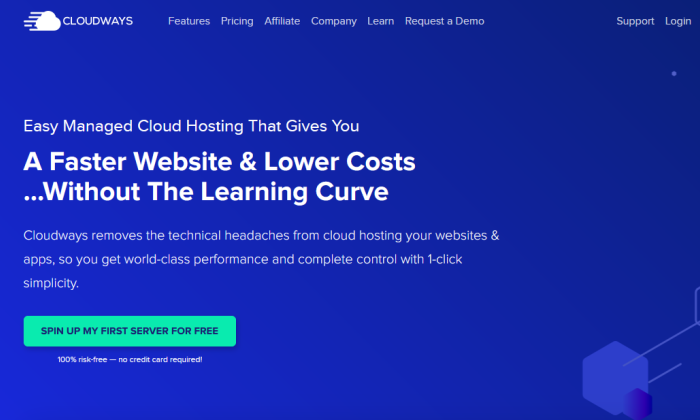 If you've been shopping for WordPress hosting for a bit, you've probably noticed that a lot of providers start to run together after a while. It can be a parade of largely similar options with only slight differences in price, management, or other options.
Cloudways does everything a little bit differently, though—and that could be to your benefit.
This provider's goal is to strike a unique balance between user customization and the stress-free nature of managed WordPress hosting.
It starts with something novel right off the bat. You select the cloud server infrastructure you'd like from five of the top platforms out there:
DigitalOcean
Amazon Web Services
Google Cloud
Vultr
Linode
Each offers at least eight data centers to choose from, sprinkled across North America, Europe, and Asia (with some even having options in Australia, Africa, and South America).
This is just the tip of the iceberg when it comes to customizing your Cloudways package. Each infrastructure option comes with four pre-set pricing packages, but you can easily adjust or reallocate resources after getting signed up (for free).
Plus, all plans are billed monthly for pay-as-you-go pricing, so you only pay for the resources you're actually using and can make plan changes with ease.
There's even an hourly billing option that can come in handy for super short-term site projects and testing endeavors.
Plus, depending on your comfort level with server management, there are a host of ways to fine-tune your hosting experience, including:
One-click backups on demand
Automated backups
One-click application force stop
Varnish cache settings
App web root changes
Supervisord process manager
WP-CLI control over WordPress
Cron job rules and scheduling
You get all of this control, plus deep optimization features for WordPress sites, robust security, and expert support with Cloudways.
Pricing varies greatly based on the server infrastructure you choose, resource levels, and premium options (for DigitalOcean and Vultr). For ease of comparison, here are Cloudways' entry-level plans for DigitalOcean: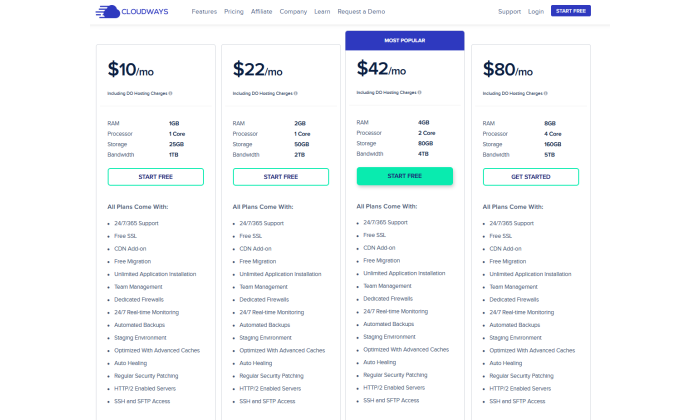 As you can see, you can get started for just $10 per month with no commitment. That gives you more storage and bandwidth than a lot of other base WordPress hosting plans from other providers, while giving you a truly managed hosting experience with extra-fine levels of control on your end as well.
Cloudways isn't for beginners, but if you know enough to handle some server-side maintenance and management, you can really reap all kinds of benefits from this provider. Get everything just the way you want it—without getting a bill that punishes you for customization—by getting started with Cloudways for free.
#6 – DreamHost Review — The Lowest Day One Spend for WordPress Hosting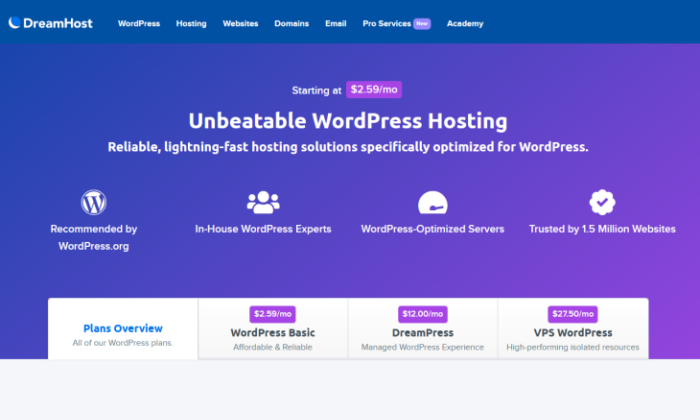 DreamHost, along with SiteGround and Bluehost, is one of the few hosting providers that's officially recommended by WordPress. Unlike the other two providers, DreamHost offers extremely competitive month-to-month rates.
This is really attractive for people who aren't looking to sign onto a long contract in order to get a good price. DreamHost does offer discounts with longer contracts, but you can still access the WordPress Starter plan for $4.99 a month. No contract or long-term commitment.
Another reason DreamHost keeps your day one spend down is that a free domain name is included for the first year. That saves another $10 to $15 right there.
DreamHost also includes domain privacy, which keeps your personal information off the public record. That may cost as much as $15 each year with other hosts.
Bluehost will give you the domain for free, but you don't get as many tools to help you build your site. DreamHost gives you a full website builder.
Get set up quick with more than 200 starter sites built for restaurants, real-estate, fashion, web design, and more. Use the simple drag-and-drop builder to add your content and finishing touches.
DreamHost handles all of the WordPress and security updates and includes automatic daily backups. This is unusual for shared WordPress hosting and saves you the expense of buying a plugin like JetPack to backup your site.
You also get:
50 GB storage
Unmetered bandwidth
Free SSL certificate
24/7 ticket support
Live chat support
Developer access
Free automated WordPress migrations
DreamHost offers a wide range of plans to choose from. In addition to the affordable shared WordPress hosting, the company offers DreamPress, a managed solution, and WordPress hosting on a virtual private server (VPS):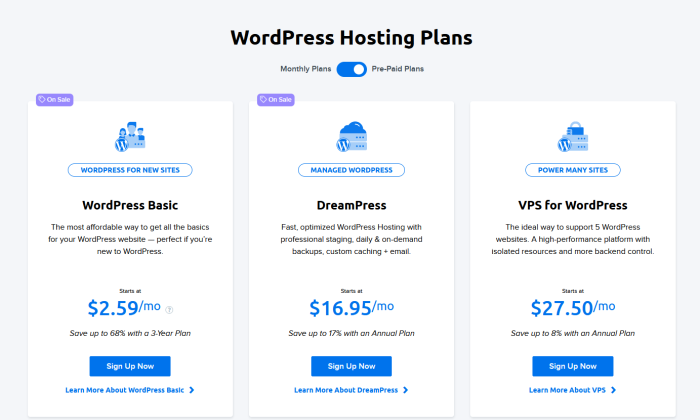 The DreamPress managed hosting solution is a cost-effective no-contract option for people wary of putting down a few hundred dollars to sign up for a traditional plan.
Similarly, the VPS for WordPress plan will work well for people who need more resources and control over their server than a shared plan allows.
The price is competitive across all DreamHost plans, but there's nothing to be anxious about. The company has a 100% uptime guarantee. DreamHost will actually pay you for your troubles if your site goes down unexpectedly.
Plus they offer an unbelievable 97-day money back guarantee. No other host will give you as much time to try their service risk-free.
DreamHost is confident about the quality of service it provides. You can be too.
Get started with DreamHost today for just a few dollars down.
#7 – Nexcess Review — The Best for Budget-Friendly Managed WordPress Hosting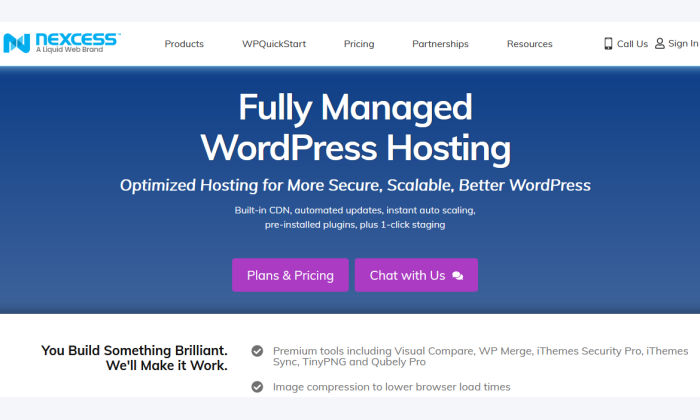 Nexcess has a unique pricing and plan structure that puts managed hosting within reach for businesses which can't justify the spend necessary to get WP Engine.
Plans start as low as $19/month with no contract or $12.67/month if you sign up for a year.
Nexcess is truly managed WordPress hosting. One of my favorite aspects of the service is that every feature they offer comes with every plan.
With SiteGround, another affordable managed hosting solution, you have to upgrade to get site staging and on-demand backups. With Nexcess, on the other hand, you can move up from plan to plan to get more hosting resources, but you never have to upgrade to access capabilities.
Nexcess takes care of a ton of the tedious maintenance through plugin updates and 30-day backups. Just to note, you only get plugin updates with WP Engine's Managed Hosting Plus plan, whereas Nexcess includes it standard.
Some of the other benefits you get with Nexcess managed WordPress hosting are:
Free CDN
Free SSL certificate
Unlimited email accounts
IThemes Security Pro
Visual regression testing
24/7/365 phone, live chat, and email support
I also want to draw attention to the generous hosting resources. The 15 GB of storage that comes with the Nexcess entry-level plan, Spark, is great for the price and the 2 TB of bandwidth is beyond belief. That's four to five times the bandwidth that comes with other WordPress hosting plans that are more expensive.
And if your site consumes more resources than your plan allows, Nexcess will auto-scale it for 24 hours free of charge. That's time to get in front of a positive trend or weather a random traffic spike without an issue.
As I mentioned, Nexcess has a really flexible pricing structure that accommodates small businesses looking for top performance and enterprise businesses that need excellence every minute.
Let's take a quick look at the most affordable options first:
Since every plan has every feature, you really only need to consider the number of sites you want and hosting resources you need.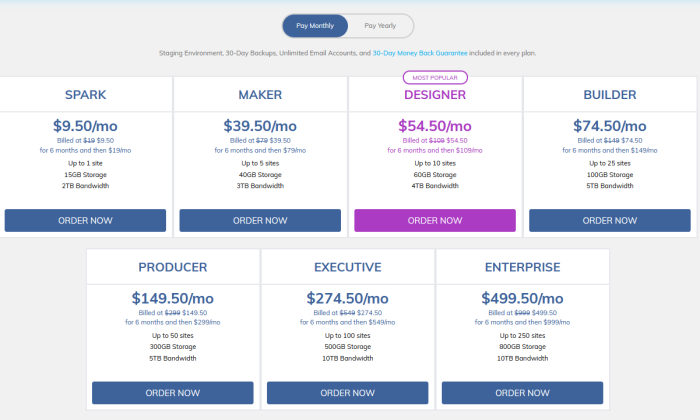 Spark completely outfits one site and comes with everything I've mentioned so far. The Maker plan is good for five sites, increases bandwidth to 3 TB and 40 GB storage. The next plan up, Designer, works for more sites and gives you more storage and greater bandwidth.
In total, there are seven different plans. Whether you have one site or hundreds, Nexcess has a managed WordPress hosting solution to fit your needs.
If you want managed WordPress hosting at a low price, Nexcess Spark is your choice. And, you will be able to stick with the company as you grow.
You won't get all the WordPress tools that come with WP Engine, but you get serious hosting resources and a platform that's been optimized for WordPress. Don't worry about speed, security, or uptime with Nexcess.
Get set up with Nexcess hosting today for less than $13/month. The Spark plan has a free trial, so you can test out the platform risk-free.
#8 – A2 Hosting Review — The Best for Moving an Existing Site to Better Hosting
Lots of providers offer "free migrations" to help you move your WordPress site over from your old hosting situation. What this means in reality is that you can use a plugin that automates a lot of the process.
It's not too bad, but A2 Hosting has an actual team of humans dedicated to making the switch.
The result is a stress-free and problem-free transfer. Your site is in a better place now with incredibly fast servers, a top-rated customer support staff, and phenomenal pricing.
A2 is going to work whether you want shared hosting optimized for WordPress or a managed plan that's more hands-off. The account migration is free either way, but you can pick from a lot of different options.
Looking at the shared WordPress hosting plans, it's remarkable how much is included:
100 GB storage
Free SSL certificates
Virus scanning and hack defense,
Ecommerce integrations,
Cloudflare free CDN compatibility
Unlimited email accounts
24/7/365 email, live chat, phone, and ticket support
Yes, I'm talking about the Basic shared WordPress hosting plan from A2. The 100 GB storage is way more than you get with other plans. And unlimited free email? Usually you don't get more than a couple free accounts, if any, with shared hosting plans.
So if you are looking to move your site to a more feature and resource-rich platform, but you don't want to commit to managed hosting, A2 is a very attractive option.
The Basic plan is good for a single site. Upgrading to get additional sites and resources remains cost-effective higher-tier A2 plans:
One of the benefits of upgrading to Turbo Boost or Turbo Max hosting plans is the increased performance. You'll be able to handle up to nine times as much traffic with A2 Turbo Servers, and your site speed will be up to 20 times faster.
A2 managed WordPress hosting starts at $10.99/month with a three year contract. It's got a lot to recommend to it, but the renewal price puts it well over solutions like WP Engine.
At the end of the day, A2's managed WordPress hosting just isn't as convenient out-of-the-box as plans with WP Engine or Nexcess. With A2, you'll have to use plugins like Jetpack to accomplish a lot of maintenance that is just handled for you by the other vendors.
You also don't get a free domain name, but if you are trying to move your site, you've already crossed that bridge. There is no reason whatsoever to stay with subpar hosting. A2 will make the transition completely stress free for as low as $2.49/month.
Give A2 Hosting a call today and get onboard with a quality host.
What I Looked at to Find the Best WordPress Web Hosting
Before you can find the best WordPress hosting plan for your site, you must know what to look for as you're shopping around.
Since I've been using WordPress blogs as a major part of my business for many years, I've had to use and evaluate multiple web hosting options.
Now you can launch a WordPress site with any web host, but in this post I've focused on providers that offer WordPress web hosting. Unlike general hosting, which can support any type of site, the plans I am looking at only work for WordPress sites.
The upside is that servers for these hosting plans are configured perfectly for WordPress. Everything about the backend IT environment has been optimized for WordPress in ways that wouldn't work if there were other types of software. This boosts performance and minimizes crashes.
If you want a hosting solution that works for WordPress and other types of sites, I recommend checking out the overall best web hosting services.
If you know that you just want hosting for WordPress, keep reading. I'll walk you through the major criteria you should evaluate in order to find the option that suits you best.
Shared vs. Managed WordPress Hosting
If you want the most affordable option, go with shared WordPress hosting. It's got all the benefits of WordPress-specific hosting at a very low price.
With shared WordPress hosting, you'll still have to do the maintenance and updates in order to keep the site running great.
The good news is that the user interface for maintaining your WordPress is designed for just that. It's going to be way easier than working with something meant for all-purpose hosting.
If you don't want to handle the backend maintenance of your site, then you want a managed WordPress hosting plan.
Your hosting provider will take care of the IT legwork that goes into making your site fast, secure, and easy to use, including:
Automated daily backups
Easy on-demand backups
WordPress Core Updates
Built-in staging area to test sites
Malware scanning and removal
Security updates and patches
Premium 24/7 support
Instead of fussing with plugins to accomplish all of this, your teams are free to spend more time creating killer content.
Understandably, managed WordPress hosting plans are more expensive. For some companies, there's a lot of value in having someone else manage their WordPress. Spending a little more each month on hosting might mean not having to hire a developer.
Plus the customer service that comes with managed WordPress hosting is a cut above. The ability to connect with an expert 24/7 minimizes serious problems and eliminates the need for an in-house WordPress guru.
WP Engine, the original managed WordPress hosting provider, continues to satisfy their customers with prompt and comprehensive service. People are more than happy to pay a premium for the peace of mind and high-performance.
Here's the thing. There used to be a clear dividing line between managed WordPress plans and everything else. Now there is more of a spectrum of services available.
In one sense, this means you need to be aware that "managed" doesn't mean the same thing for every hosting provider.
If you see managed WordPress hosting for something like $10/month, double-check that you are getting everything you expect.
How do they define premium WordPress customer support? Also know that the price might be a low introductory rate that could jump on renewal.
The upside is that it's not black or white. You can get less expensive managed WordPress plans. They might not be as full-bodied as WP Engine, but you can still get some of the essential maintenance off your plate.
Traffic Volume
How much traffic does your website get? For new sites, how much traffic are you expecting?
The answer to this question will definitely have an impact on the type of WordPress hosting solution that's right for you.
A site that has 5,000 visitors per month should be on a different plan than sites with 50,000 visitors per month. Plans that can accommodate 100,000 visitors per month won't necessarily be suitable for sites with millions of monthly visitors.
Some hosting providers give you approximate numbers for the amount of traffic each of their plans supports. SiteGround, for example, gives an approximate number for the suitable number of monthly visitors each plan can handle: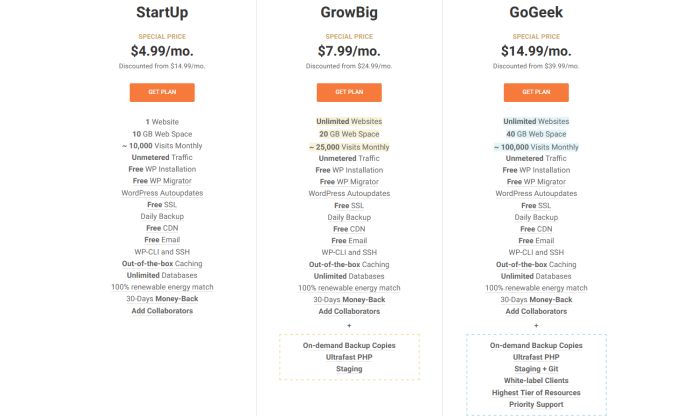 This is pretty straight forward, but what about the shared hosting options that offer "unlimited traffic" or "unmetered bandwidth"?
Shared WordPress hosting from Bluehost, Hostinger, Dreamhost, and A2 Hosting doesn't set any hard and fast limits on traffic.
It's not truly unlimited though, because there are the physical limits of the shared server. If your site gets too much traffic, it will strain resources like CPU and memory usage, which will cause problems for every site on the shared server.
Dreamhost Basic, for example, starts at less than $3/month and comes with "unlimited traffic." You will never get an overage charge if you have too much traffic, but Dreamhost may ask you to upgrade or restrict your site out of courtesy to the other tenants on the shared server.
So shared WordPress hosting is good for small sites, but it may not be enough to power larger, high-traffic sites. If your Dreamhost Basic plan is not enough, you might want to look at one of Dreamhost's other options: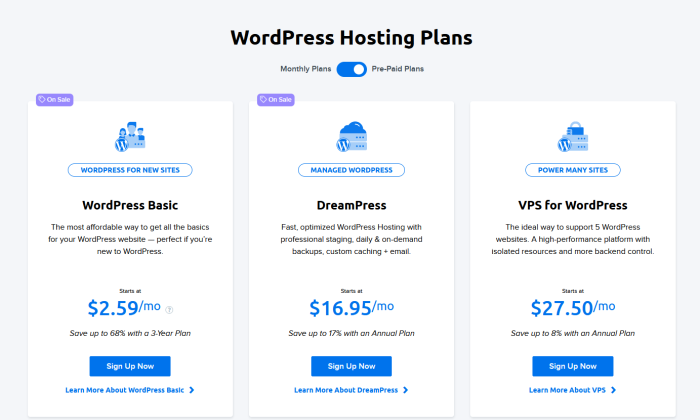 You could opt for a DreamPress plan, which is managed WordPress hosting and more resources. There are three tiers of DreamPress plans, with the top tier built for approximately one million visitors per month.
Alternatively, you could upgrade to VPS for WordPress, which is hosted on a virtual private server. This isolates your site from others on the same server, which gives you more control and your own dedicated resources.
Unlike shared hosting, VPS hosting will not be impacted by traffic spikes on other sites.
VPS WordPress hosting can be a good option if you are extremely comfortable with managing your WordPress backend. If not, I would find a shared or managed plan that fits with your expected traffic.
Speed and Uptime
By getting WordPress specific hosting, you are already guaranteeing better performance than you are likely to get anywhere else.
So what separates the better from the incredible?
SiteGround, Dreamhost, and WP Engine have WordPress specific caching tools that boost site speed. Caching creates a static version of your site and serves it to visitors, which cuts down on the work your server has to do to respond to requests.
Normally, you'd have to install a caching plugin to do this, but most WordPress hosts build this functionality right in.
Another thing to look for is a content delivery network (CDN), which is included for free with some of the plans I've reviewed. A CDN stores images, pages, and other assets across a network of servers distributed around the globe.
Having a CDN will boost speed and make your site more resilient–a single point hardware failure won't jeopardize your site because so much of the content is distributed.
Nexcess, SiteGround, Bluehost, and WP Engine include a CDN with every WordPress hosting plan they offer.
Caching is one of the best ways to optimize your WordPress because it delivers information
Spoiler: you don't have to worry too much about uptime if you pick one of the options I reviewed. They all have phenomenal uptime.
Hostinger, for example, guarantees 99.9 percent uptime for their Single WordPress hosting plan, which starts at $1.59/month. A2 Hosting also provides a 99.9 percent uptime commitment for every plan.
One thing to be aware of, with regards to speed and uptime, is that your site's performance hinges on how well your site is managed. Even with the best hosting environment and configuration, a faulty broken plugin can have a huge negative impact.
The question here is do you want to invest the time and resources to develop in-house WordPress experience, or pay more for a managed plan?
Support
Like everything good on the internet, WordPress sites have their bad days. When something goes wrong, how quickly can you resolve the problem?
Getting timely and quality support is important, especially for users that aren't jazzed about getting into the WordPress backend to fix issues.
One of the benefits of WordPress hosting is that customer service reps really understand plugins, themes, and other common site issues. With non-specific hosting, there is no guarantee the repr is going to knowledgable about WordPress.
You may notice that all of the options on my list include some version of 24/7 support.
But you want to pay attention to the quality and availability of support. Do you get to make support requests via live chat or waiting for email responses. How quick is that email response?
For the shared WordPress hosting plans, A2 Hosting and SiteGround had some of the best customer service reviews.
A2 offers chat, email, phone, and ticket support from hand-selected expert technicians. Any time you have a problem, you are going to get knowledgeable support quickly.
On top of that, A2 provides free site migrations, which is a huge time-saver if you already have a WordPress site and want better hosting.
SiteGround has a similar range of support as A2 and is able to address most issues in under five minutes. Lightning-fast resolution is going to save you a lot of frustration and money.
When it comes to managed plans, WP Engine is in a class of its own. WP Engine techs don't handle anything other than WordPress, and they are true experts of their domain.
Plus, WP Engine knows that support is one of the major reasons its customers stay. You can always count on the company's reps to go the extra mile to ensure everything is working perfectly.
Summary
If you're running a WordPress website, you should definitely consider a hosting plan that's optimized for WordPress.
Which plan is the best? It depends on what you're looking for. The recommendations listed above will definitely be the best place for you to start your search. Here they are, just to recap:
For new sites, I recommend Bluehost. You get a free domain name included with your hosting, and the platform is very welcoming for first-timers.
If you aren't looking to sign a long contract to get up and running, DreamHost offers your best month-to-month pricing. For a few bucks and no commitment, you can get set up on one of the fastest, most dependable WordPress hosting platforms.
Another good option for people on a budget is Hostinger. You'll have to sign up for a long contract to get the best price, but there isn't a lower-cost option I trust. I mean 99.9 percent uptime for 10,000 visitors at less than $2 a month? That's phenomenal.
Looking at the managed WordPress hosting plans, WP Engine is the clear overall winner. No platform comes with more tools and customer support.
However, if you want managed-level support and total control over your resources and setup, look no further than Cloudways. They offer a unique blend of customization and managed care that no one else can match.
If the price of a managed plan like WP Engine is putting you off, take a look at Nexcess. The entry-level managed hosting plan, Spark, is very reasonable and includes more server resources than any other plan I looked at.
Another good "lite" managed hosting solution is SiteGround. The entry-level plan there, StartUp, is a good midway point between shared and managed WordPress hosting. You will get some of the essential features you expect with a managed plan, but at a price that's comparable to shared hosting.
What do you use for WordPress hosting?
See How My Agency Can Drive Massive Amounts of Traffic to Your Website
SEO – unlock massive amounts of SEO traffic. See real results.
Content Marketing – our team creates epic content that will get shared, get links, and attract traffic.
Paid Media – effective paid strategies with clear ROI.
7 Best Email Drip Tools for Your WordPress Campaigns
And that completes our list of some of the best email drip tools you use to send personalized, automated messages to your customers with complete ease. If you're looking for a free option that still comes with plenty of useful email automation features, we suggest trying out the AWeber tool. On the other hand, if you're looking for a more comprehensive set of options that will allow you to create some advanced automation emails and even use the live chat feature, then ActiveCampaign might be your best bet. Of course, which tool you will go for depends on your specific marketing goals and overall budget, so be sure to check out the features and pricing info of each tool carefully before you make your final pick.
Best 13 Square Apps for Small Business Payment Processing
Square (NYSE: SQ), the easy-to-use credit card processing system, is gaining significant traction among small businesses due to its simplicity and effectiveness. Its standout feature is being feature-rich, offering a range of tools and services, including Square apps, that many other Point of Sale (POS) systems lack.
Also, unlike many competitors, Square does not charge monthly fees, a factor that greatly appeals to budget-conscious small business owners. This affordability, combined with its comprehensive functionality, makes Square a preferred choice in the POS market.
From market stall owners to major corporations like Starbucks, a diverse array of businesses across various sizes and industries are adopting Square's mobile credit card processing application.
Its versatility allows it to cater to different business needs, simplifying payment processes for both small-scale entrepreneurs and larger enterprises. The widespread usage of Square illustrates its adaptability and effectiveness in addressing the payment processing needs of a broad spectrum of businesses.
Square's POS system is designed to integrate smoothly with many popular apps, enhancing overall business operations. This interoperability is a key advantage, as it allows businesses to customize their setup according to their specific needs.
To fully leverage the capabilities of Square, we will explore the top Square apps that are tailored for small businesses. These apps, carefully selected for their utility and compatibility with Square, can significantly enhance the payment processing experience, contributing to more efficient and streamlined business operations.
Our Methodology: Criteria for Selecting the Best Square Apps
In guiding small business owners in their selection of Square apps for payment processing, we have organized our criteria based on their importance, with each criterion rated on a scale from 1 to 10 (10 being the most important). The criteria are listed in descending order of importance.
Security and Compliance (10/10)
Ensuring the highest levels of security and compliance with industry regulations is crucial due to the sensitive nature of payment processing.
Ease of Integration and Compatibility (9/10)
An app that integrates smoothly with existing systems and is compatible with various devices and platforms is essential for seamless business operations.
Customer Support and Reliability (8/10)
Reliable customer support and consistent app performance are vital for uninterrupted payment processing.
Transaction Fees and Pricing Structure (8/10)
Cost-effectiveness is key. Choose apps with clear, competitive pricing and transparent transaction fees.
User Interface and Experience (7/10)
An intuitive and user-friendly interface simplifies payment processing and minimizes the need for extensive training.
Feature Set and Customization (7/10)
Look for apps offering a robust set of features and customization options that cater to your specific business needs.
Data Analytics and Reporting (7/10)
Access to detailed data analytics and reporting tools is essential for informed business decisions and financial management.
Multi-Channel Sales Support (6/10)
For businesses operating both online and offline, an app that supports multiple sales channels is beneficial for unified payment processing.
Scalability and Future-Proofing (6/10)
Select an app that can adapt and grow with your business, accommodating increased transaction volumes and new payment technologies.
Reviews and User Feedback (5/10)
User reviews and feedback provide insights into the app's real-world performance and reliability, offering valuable perspectives for decision-making.
By prioritizing these criteria, we aim to assist small business owners and entrepreneurs in making well-informed choices for their payment processing solutions, focusing on factors that significantly impact operational efficiency and financial health.
Check Out These Square Apps
ShipStation
Save your business significant amounts of time shipping products by syncing your Square account with ShipStation. The app will create labels and connect you to the leading shipping carriers.
SumAll
Analyze your business's marketing efforts with greater depth and comprehension by combining your Square data with your social media analytics, online advertising and email campaigns with the help of the SumAll app.
Weebly
If your business has not yet got a website, it's time to market your products or services to a global audience by creating a stylish website. The Weebly app helps businesses produce a beautiful and easy-to-navigate online store. Sync the Weebly app with Square to grow your sales on one convenient platform.
Fresh KDS
Fresh KDS is a Square-compatible kitchen display system which can be used in place of or combined with kitchen ticket printers. By seamlessly integrating with an iPad Square Register, the Fresh KDS app allows you to display your orders in real time.
Intrakr Inventory
Intrakr Inventory is an online inventory management system, which is designed for small businesses. The systems can work hand-in-hand with Square, providing real-time notifications about products, namely when they are getting low and need to be stocked back up.
IFTT
By downloading If This, Then That (IFTTT) you will streamline everyday business tasks by connecting your Square account with other services, such as your email, Google Drive and Evernote.
Intuit QuickBooks Online
Harmonize Intuit QuickBooks Online with Square and have your accounting and bookkeeping needs taken care of. The app also enables you to track expenses and sales.
Wix Stores
The Wix Stores app allows you to build, manage and promote an eye-catching online store. You can choose a stunning template and customize the site, so it represents your unique business. Wix gives you all the tools you'll need to manage your ecommerce store and sell online. Sync Wix with Square and you can enjoy easy online payment processing.
Shopventory
Sync the Shopventory app with Square to benefit from advanced inventory management. Through intelligent sales reporting, you will be able to get a closer grip on the profit margins of your business, across a certain category, item or period of time.
Zoho Books
Benefit from streamlining business processes, automating workflows and generating quick and simple reports about sale performance by syncing Zoho Books to your Square account.
WooCommerce
WooCommerce is a free ecommerce plugin for WordPress that allows you to sell anything. The plugin integrates seamlessly with WordPress. By downloading the WooCommerce app onto your smartphone, you can keep your finger on the pulse of your online shop. By syncing Square with WooCommerce, you can take Square payments on your WooCommerce store. You can harmonize inventory changes for both online and offline sales.
Jobber
Sync the cloud-based Jobber app with Square for powerful scheduling, simple customer management and online invoicing. The Jobber app helps you to get paid faster – a desirable achievement of every small business.
Shopseen
Manage your product listings across all your channels with the Shopseen app. The app can be harmonized with Square Point of Sale and Square Online Store and even your social media platforms to centralize your marketing campaigns.
Square Apps for Small Business Payment Processing
Explore the top Square apps that seamlessly integrate with Square Point of Sale to enhance your small business operations. This comparison table provides a quick overview of the key features offered by each app.
| App Name | Key Features |
| --- | --- |
| ShipStation | Time-saving shipping, label creation |
| SumAll | In-depth business analytics |
| Weebly | Easy-to-navigate online store creation |
| Fresh KDS | Real-time kitchen display system |
| Intrakr Inventory | Online inventory management |
| IFTTT | Streamlined tasks through automated connections |
| QuickBooks Online | Accounting, bookkeeping, expense tracking |
| Wix Stores | Eye-catching online store creation |
| Shopventory | Advanced inventory management |
| Zoho Books | Business process streamlining, automated reports |
| WooCommerce | Ecommerce plugin for WordPress, online sales |
| Jobber | Scheduling, customer management, online invoicing |
| Shopseen | Centralized product listings across channels |
Key Considerations for Selecting Square Apps
When selecting Square apps to integrate with Square Point of Sale, it's essential to consider various factors to enhance your small business efficiency. Here are key considerations for making informed decisions:
Integration Compatibility
Business Analytics
Online Store Creation
Inventory Management
Automation and Streamlining
Accounting and Bookkeeping
Scheduling and Invoicing
Integration Compatibility
Ensure that the chosen app seamlessly integrates with Square Point of Sale to create a unified and efficient payment processing system. Compatibility is crucial for smooth operations.
Business Analytics
Prioritize apps that offer comprehensive analytics tools to provide valuable insights into your business performance. Analytics can aid in making informed decisions and optimizing your business strategy.
Online Store Creation
If your business requires an online presence, choose apps that simplify the creation and management of online stores. Integration with Square Point of Sale should extend to your online platform for a cohesive customer experience.
Inventory Management
Opt for apps that offer advanced inventory management features. Efficient inventory control is essential for preventing stockouts, managing stock levels, and ensuring a smooth supply chain process.
Automation and Streamlining
Look for apps that automate tasks and streamline various business processes. Automation can significantly improve operational efficiency, allowing you to focus on core business activities.
Accounting and Bookkeeping
Consider apps that facilitate accounting, bookkeeping, and expense tracking. Integration with accounting tools ensures accurate financial records and simplifies the overall financial management process.
Scheduling and Invoicing
If your business involves appointments or services, select apps that offer scheduling, customer management, and online invoicing capabilities. These features contribute to a seamless customer experience.
To leverage these benefits, it's crucial to download the e Square Point of Sale app. This free app transforms your mobile device into a versatile payment processor, allowing you to accept payments anytime, anywhere.
The funds processed through the Square Point of Sale app are deposited into your account within a maximum of two business days. This integration provides a robust foundation for managing payments and optimizing your business operations.
Image: Squareup.com
---
8 Best Writing Assistant Software for WordPress (Compared)
Are you looking for the best writing assistant software for WordPress?
Writing assistant software uses artificial intelligence (AI) to help users improve their creative process. This can help you produce more polished and professional writing for your WordPress blog.
In this article, we have handpicked some of the best writing assistant software that you can use to improve the content on your WordPress site.
Why Use Writing Assistant Software in WordPress?
Using writing assistant software on your WordPress website can help you find and correct grammatical errors and spelling mistakes, which can make your writing more clear and concise.
The software can even provide feedback on the writing style and tone of your blog posts, helping you to improve your writing skills over time.
Plus, you can also brainstorm new ideas for articles, product descriptions, and copywriting using your writing assistant software.
For example, if you want to write a product description for gardening equipment that you are selling in your online store, then you can use the writing assistant to create a simple draft, make your writing easier to read, optimize it for specific keywords, and more.
Using this software can also improve your website visibility by helping you optimize your WordPress blog for search SEO, increase readability, and check your content for plagiarism.
That being said, let's take a look at some of the best writing assistant software for WordPress.
All in One SEO for WordPress is the best WordPress SEO plugin that can also be used as a writing assistant.
The plugin comes with a powerful keyword research tool that can help you find the right keywords to target in your content.
AIOSEO encourages authors to improve their writing by providing suggestions to use active voice, insert transition words, distribute subheadings better, and hit a specific Flesch reading score.
It is the best writing assistant that comes with a built-in content analysis tool that analyzes your blog posts for keyword density, readability, and title tags.
The plugin also comes with a headline analyzer tool that helps you write SEO headlines to drive more traffic to your website.
This tool checks the word balance, sentiment, power words, and emotional words used in the heading to help rank your blog post higher.
Pros
The plugin allows you to generate AI titles and meta descriptions for your WordPress posts.
All in One SEO helps you optimize your content for both SEO and readability.
It comes with a schema markup feature for content improvement.
It lets you add a title, description, and image for your Facebook and Twitter accounts.
All in One SEO comes with a Chrome extension that lets you evaluate your content's SEO on the front end.
Cons
Its schema markup feature is only available in the paid plan.
Why we recommend using All in One SEO: All in One SEO is the best AI writing assistant on the market because it allows you to improve the overall content quality directly in the block editor. It helps you target the right keywords and improve your site's SEO.
Plus, it also offers other features like HTML sitemaps, redirects, social media integrations, and a broken link checker. These features make it the perfect choice if you want a writing assistant tool designed specifically for search engines.
Semrush offers a complete suite of SEO tools that help you improve your search engine rankings. It comes with an SEO Writing Assistant that provides real-time SEO suggestions for your content to improve the overall SEO score.
With Semrush's writing assistant, you can see your content's readability and make it more natural sounding, identify text that needs to be rewritten, and also get an estimate of the ideal content length.
It also recommends keywords, adds alt attributes to images, finds and fixes broken links, and even provides suggestions to avoid keyword stuffing.
Pros
The SEO writing assistant comes with a plagiarism checker.
You can easily integrate Semrush's writing assistant with WordPress using a free plugin. For detailed instructions, see our tutorial on how to use the SEO writing assistant in WordPress.
It is the best keyword research tool on the market.
Semrush helps you optimize the article headline for SEO.
Semrush's other features include competitor analysis, site auditing, domain analysis, social media management, topic research, traffic analytics, and much more.
Cons
Semrush's paid plan can be expensive for small businesses.
It has a learning curve and can be a bit difficult to use for beginners.
Why we recommend using Semrush SEO Writing Assistant: We recommend using this tool if you are looking for a powerful writing assistant that prioritizes SEO and helps increase your website's rankings.
Rytr is another AI writing assistant software that allows you to easily create high-quality content for your WordPress site.
It comes with over 40+ templates that can be used to make content for blog posts, product descriptions, social media posts, and more.
This software can easily be integrated with popular website builders like WordPress using an API.
It even optimizes your content for SEO using its powerful text editor, which automatically fixes, rephrases, and improves the sentences that you write.
Pros
It comes with a built-in plagiarism and grammar checker.
Rytr has keyword research and SERP analysis features for improving content for SEO.
It comes with a Chrome extension and can also integrate with platforms like Semrush.
Rytr has a chat mode that can be used to interact with AI in a more natural way to brainstorm content ideas and receive feedback.
Cons
Rytr is not an ideal choice if you want to generate long-form content, as it starts creating repetitive sentences for longer blog posts.
Its user interface is a bit clunky and can use some improvement.
Why we recommend using Rytr: Overall, Rytr has all of the features that you'll need to boost your efficiency. The tool allows you to easily create SEO-optimized, clear, and natural-sounding content for your WordPress blog.
It also offers a free plan that lets you generate 10k characters per month, and even its paid plan is affordable.
Writesonic is an AI-powered writing assistant tool that can be used by writers, eCommerce stores, marketing teams, and entrepreneurs.
This copywriting tool comes with over 100+ templates that you can use to create content for articles, blog posts, ads, social media posts, and product descriptions.
If you have a WooCommerce store, then you can also use Writesonic to create AI chatbots that can interact with your customers.
Pros
Writesonic can create content in around 25 languages.
It comes with a built-in plagiarism and grammar checker.
Writesonic has a voice-your-text command feature.
The software has expander and shortener features that can be used to add more details or shorten your content to improve quality.
It can integrate with popular platforms like Zapier, Surfer SEO, and Semrush.
Cons
It can be difficult to maintain the tone and style of your content when using the tool.
It does not offer a free plan for users.
It only allows you to have a limited number of users on your Writesonic account.
Why we recommend using Writesonic: Writesonic is the perfect choice if you are a blogger who wants to generate more content or if you have a WooCommerce store, as the tool lets you create AI chat interfaces, images, and content easily.
Jasper (formerly known as Jarvis) is another popular tool used for AI text generation.
It comes with a library of over 50+ templates that can be used to create articles, social media content, ads, landing page text, emails, video scripts, and artwork.
The tool even provides conferences, courses, and training to help new users learn how to use the AI-based writing assistant tool.
Pros
It comes with a built-in content editor.
Jasper offers a variety of features, including spell-checking, grammar-checking, and style suggestions.
It comes with a content rewriter that improves the readability, clarity, and SEO of your content.
Jasper offers a Chrome extension and can integrate with Surfer SEO and Grammarly.
Cons
Jasper does not have a free plan and only offers a 7-day free trial.
It struggles with creating long-form content
Jasper is a bit expensive compared to other tools on this list, as its pricing plan starts at $49/per month.
Why we recommend using Jasper: Jasper is an ideal choice for businesses and marketers as it can help create effective marketing content like ad copy, email copy, and landing page copy. It can also improve marketing campaigns by ensuring that the right messages are communicated to the right audience.
Frase is a great AI writing software that can help improve your content creation process.
It allows you to research your target keywords by analyzing the top search results for them. It can even create content briefs for the top results related to a specific keyword and provide some ideas for your content.
Pros
It offers a content analysis tool that provides suggestions and feedback for content improvement.
It has a long-form editor that lets you write content.
Frase optimizes your content for SEO using natural language processing (NLP).
It tracks your content performance using a Google Search Console integration.
Cons
The tool does not offer any live chat support.
You cannot use the Frase AI writer without installing the Frase SEO addon.
It does not offer a free trial.
Why we recommend using Frase: Frase is a great choice for bloggers or content marketers who want to increase their content visibility. With its Google Search Console integration, Frase helps you rank well and even shows you content decay warnings.
Copy.ai is another popular writing assistant tool that can help you create content for blog posts, emails, sales copy, product descriptions, social media, and more.
It can create content in 25+ languages and comes with more than 90 copywriting tools to improve your content quality. It can also rewrite your existing content to improve its clarity, readability, and SEO.
Pros
It has an intuitive user interface.
Copy.ai comes with built-in features like a grammar-checker and paraphrasing tools.
It offers a meta description generator, slogan generator, and content idea generator.
Cons
Copy.ai can sometimes produce incorrect information and needs a lot of fact-checking.
It's difficult to create a long-form copy.
It takes a bit longer to generate content using Copy.ai compared to other tools on this list.
Why we recommend using Copy.ai: Copy.ai is a good choice for salespeople and larger teams as its paid plan offers unlimited words, unlimited projects, and 5 user seats for a single account.
Grammarly is the best writing assistant software for language correction. This tool can be used to detect and correct grammatical, spelling, and tonal errors. Using its Chrome extension, you can edit your content directly from the WordPress content editor.
Other than that, the tool also offers suggestions for improving the clarity of your writing, such as breaking up long sentences and using simpler language.
Pros
It comes with features like plagiarism detection, sentence rephrasing, vocabulary suggestions, and more.
Grammarly has a Chrome extension and can also integrate with WordPress, Microsoft Word, Google Docs, and Gmail.
Cons
The free version of Grammarly has very limited features.
It can occasionally overlook mistakes or make inaccurate corrections in your content.
Why we recommend using Grammarly: Overall, Grammarly is an ideal choice for content creators as it helps write engaging blog posts. If your native language is not English, then you should also try out Grammarly, as it helps learners improve their writing and grammar skills.
What Is the Best Writing Assistant Software for WordPress?
In our expert opinion, All in One SEO is the best writing assistant software as it is a complete package that can help you improve your content quality and SEO.
Alternatively, you can opt for the Semrush SEO Writing Assistant, as it also focuses on your site's SEO and improves your website rankings.
Similarly, if you have a small business, then Jasper is a good choice because it can be used to create articles, social media content, ads, landing page text, emails, and more. It can even help improve marketing campaigns.
Alternatively, if you want to create an AI chatbot for your online store, then we recommend using Writesonic.
Frequently Asked Questions About Writing Assistant Software
If you still have any questions about using writing assistant software in WordPress, then we will answer them here.
What is writing assistant software for WordPress?
Writing assistant software can help you write better content for your WordPress website.
This software can optimize your content for search engines, check for plagiarism, identify grammatical mistakes, and proofread your work. This can help you create more professional and polished content for your WordPress blog.
What are the benefits of using writing assistant software for WordPress?
There are many benefits of using writing assistant software for WordPress, including:
The software can help you write content faster and more efficiently.
It helps produce higher-quality content by catching errors and suggesting improvements.
It can save you time by eliminating the need for manual proofreading.
Writing assistant software often provides suggestions for improving your writing style, such as using better vocabulary or more concise and effective sentences.
Best WordPress Guides for Writing Blog Posts
If you are looking for more ways to write and improve your WordPress blog posts, then you can check out the following guides:
If you liked this article, then please subscribe to our YouTube Channel for WordPress video tutorials. You can also find us on Twitter and Facebook.