15 Best Remote Writing Jobs & Where to Find Them in 2023
If you're a writer, or aspiring writer, and wondering exactly what kind of remote writing jobs are out there, you're in luck. 
In this article, we're covering 15 of the best remote writing job types, including what each position does and the skills you'll need to land one. You'll also learn the best place to find remote writing jobs and tips to help you get hired, and more.
Let's get started.
15 Best Remote Writing Jobs
Copywriter
Email Content Writer
Ebook Writer
Technical Writer
Product Description Writer
Website Page Content Writer
SEO Content Writing
Ghost Writing
Journalism
White Paper Writing
Social Media Content Writer
Magazine Writing
Real Estate Writing
Video Script Writing
Resume Writing
1. Copywriter
Copywriting involves creating written content that aims to persuade and influence readers to take a particular action. Businesses hire copywriters to help increase conversions through written copy on websites, sales pages, email, and more. 
Copywriting is a learned skill that takes time, dedication, and practice – but it pays really well. Want to learn more? Read how to become a copywriter from home.
2. Email Content Writer
Is creating engaging and effective email marketing content something you're good at? An email content writer job might be perfect for you. Email content writing is a form of copywriting to nurture leads, promote sales and products, and engage email subscribers. 
This is a skilled position that requires knowledge of email marketing, copywriting, and general marketing skills.
3. Ebook Writer
Want to get paid to write ebooks? This remote writing job is in high demand. Ebook types can range from creative writing and stories, series books, and long-form educational content or lead magnets. 
Companies hire ebook writers to create informative and engaging content that can be used for marketing and lead generation purposes or establish authority in their field.
You can also make money by writing and selling your own ebooks.
4. Technical Writer
A technical writer is a professional writer who creates technical documentation and content, such as user manuals, instruction guides, and software documentation. 
They research and gather technical information, format and organize it, and write clear and concise documentation that is easy to understand for a target audience. To be a technical writer, you'll need to be tech-savvy in your field and have great attention to detail.
5. Product Description Writer
In the ecommerce industry, product description writers are in high demand. Product description writers write product descriptions that help explain the features and benefits of a product in a persuasive way to encourage customers to purchase, while also highlighting the most important information about the product.
To succeed in this position, you'll need great writing and communication skills, persuasive copywriting skills, and great attention to detail.
6. Website Page Content Writer
A website page content writer is someone who is responsible for the written content for various pages on a website. As a website writer, you can expect to write many different types of content from articles to About pages, product descriptions, sales pages, and more. Learn more about how to earn extra money as a content writer here.
7. SEO Content Writing
SEO content writers write for the web – web search engines, that is. An SEO writer helps boost a company's rankings in search engines by writing content that is optimized for search. SEO is a learned skill, and you can learn more about the different types of SEO here.
8. Ghostwriting
A ghostwriter is someone who writes content for publication without credit to themselves. Instead, the credit and author attribution go to whoever the content is written for. This is a popular type of content writing. Some of the biggest bloggers you know today use ghostwriters to help them keep up their content production strategies. 
9. Journalist
Journalism is news-style writing on many types of newsworthy topics. From politics to pop culture, the journalism field is alive, well, and remote journalism jobs are in high demand. 
To be a journalist, you'll need excellent written communication skills, research skills, interviewing skills, and the ability to consistently meet tight deadlines. 
10. White Paper Writing
White papers are deeply researched in-depth reports on a specific topic within an industry. 
They can be technical in nature and provide detailed information, analysis, and solutions to specific problems or challenges in the specific industry. 
To be a white paper writer, you'll need excellent research skills, writing skills, analytical skills, and a very high attention to detail. 
11. Social Media Content Writer
A social media content writer writes content for… you guessed it: social media. As a social media content writer, you can expect to write long-form posts, short posts and photo captions, and even scripts for videos, Reels, or TikToks. 
There are even social media content generator tools that can help you strategize content, come up with topic ideas, or make your content more persuasive and effective.
12. Magazine Writing
As a magazine writer, you may write themed or random magazine articles, themed or random columns, or even interviews. You can find magazine writers in just about every niche you can think of – because there are magazines in just about every niche you can think of. 
Magazine content writing is similar to web content and journalism style writing, and it typically pays very well. 
13. Real Estate Writing
A real estate writer writes various types of content for the real estate industry. From blogs and articles to interviews, press releases, and magazine content, there are a lot of potential niches for real estate writers. And, of course, you can't forget property listing descriptions. 
If you love real estate, check out these other real estate business ideas. 
14. Video Scriptwriting
As a video scriptwriter, you may write scripts for YouTube videos, educational videos, video course content, or even videos for social media like TikTok and Facebook/Instagram reels. 
A scriptwriter writes the script dialogue, set changes, and makes a plan for any visual or audio elements that can be added to the video to make it better. Other tasks might include keyword research and topic ideation.
15. Resume Writing
A resume writer re-writes resumes (or writes new ones) to help job seekers better position themselves to be hired by prospective employers. 
Skills that you'll need to become a resume writer include strong knowledge of the job market and what hiring managers and recruiters are looking for, excellent formatting skills, and the ability to sum up a job seeker's experience into a short yet effective resume.
Where to Find Remote Writing Jobs
You can find remote writing jobs on just about every online job board that you can think of. 
However, we recommend FlexJobs for a few reasons: 
FlexJobs is one of the biggest remote job boards on the internet today, featuring remote work, flexible jobs, and freelancing jobs all-in-one.
Jobs on FlexJobs are vetted and screened to weed out spammers and scammers.
They offer many benefits to job seekers like one-on-one career coaching, resume reviews, and even mock interviews.
Read our full FlexJobs review or go ahead and sign up for FlexJobs here to start your remote writing jobs search today.
Tips for Landing a Remote Writing Job
Need help landing a remote writing job? Here are the top 5 tips to help you stand out in your field and land the remote writing job of your dreams. 
Build a Strong Portfolio: it can be hard (almost impossible) to land a great remote writing job without a portfolio. Start writing content in your desired field and publishing it on your own niche website, on a Medium profile, or even better: on LinkedIn where you'll stand out to employers.
Network: Reach out to fellow writers and industry professionals on LinkedIn and Twitter. You can also join writing groups in your niche to network further.
Research Potential Employers: Personalize your resume and cover letters by researching potential employers. You can even learn their brand voice and style and provide them with a sample piece that matches.
Spend Time Honing Your Skills: You know what they say (and it's true): practice makes perfect. If you're a total beginner, your first pieces aren't going to be great. There's no way around it. But the only way to get better as a writer is to practice, and I know this from personal experience!
Be Flexible: Remote writing jobs are in high demand, but they're also highly competitive. Keep your options open, and don't put all your eggs in one basket, so to speak. Apply to several jobs and be willing to adapt. 
Conclusion
If you're hoping to make it as a writer, there are plenty of remote writing jobs to be found. 
And the good news is that even if you can't find the perfect remote writing job for you, you can still make money as a writer in many other ways. 
In fact, this website has hundreds of articles dedicated to making money online, and a large portion of those articles are dedicated to blogging and niche websites… which are another great way to make money remotely as a writer.
10 best pet gifts that dogs and cats will love (and their owners, too)
ByAmanda Saintina
Sunday, December 3, 2023 6:19PM
As a participant in multiple affiliate marketing programs, Localish will earn a commission for certain purchases. See full disclaimer below*
Our pets are companions we hold near and dear to our hearts. Chances are, you or someone you know refers to their dog as their fur baby or cherishes their cats. Our pets keep us company and provide unconditional love, which is why they should be celebrated. Finding gifts for your four-legged friend can be difficult (especially if they're picky), which is why we have your back. From holiday boxes full of toys and treats to functional gifts that will make pet care easy, there is something for any pet owner.
Best Gifts for Cats and Dogs
Goody Box Holiday Dog Toys & Treats
I love this Goody Box of Holiday Dog Toys and Treats because you get more value for a lower price. The toys are a great way to bond with your pet and try out popular holiday-themed treats before you commit to buying the full-size product. It also comes in two different sizes for small and large dogs.
Goody Box Holiday Cat Toys & Treats
This holiday-themed Goody Box has a great selection of tasty treats for your feline fur baby. I love that you get a lot of value for your money. The box includes: a penguin plush toy; a pack of 10 bouncy, holiday-colored spring toys; a foldable play tunnel; and delicious treats from Temptations and Hartz Delectables. Plus, all three toys include catnip, which is a nice treat.  
Merry Makings 12-Day Cat Toy Advent Calendar
This cat toy advent calendar is sure to make your cat feel special this month with plush toys filled with catnip. We love the variety of items available in this calendar in different shapes, sizes, and colors to keep your feline friend engaged.
Frisco Flip Sequin Naughty/Nice List Dog & Cat Hoodie
Is your four-legged friend naughty or nice? If you love dressing up your pet this is the perfect hoodie to keep them in festive fashion.
K&H Pet Products Cat & Dog Bed Warmer
My pup loves curling up under the sunny spots near my window. If your pet does the same, a bed warmer will be the perfect gift to keep them cozy this winter. This bed warmer comes in sizes ranging from small to giant and can be easily placed in any pet bed.
Best Gifts for Pet Lovers
Leaving your pets at home can be stressful, especially if you have an anxious pup or a pup that likes to get into trouble. This 360-degree dog camera is Amazon's choice for pet cameras and a pet owner favorite. This camera rotates to keep your dog in view at all times, so you can be home even when you're not.
'Tell Your Dog I Said Hi' T-Shirt
For the person who loves your fur baby more than you, lol. I love this T-shirt because it is lighthearted and something a friend or pet lover would appreciate.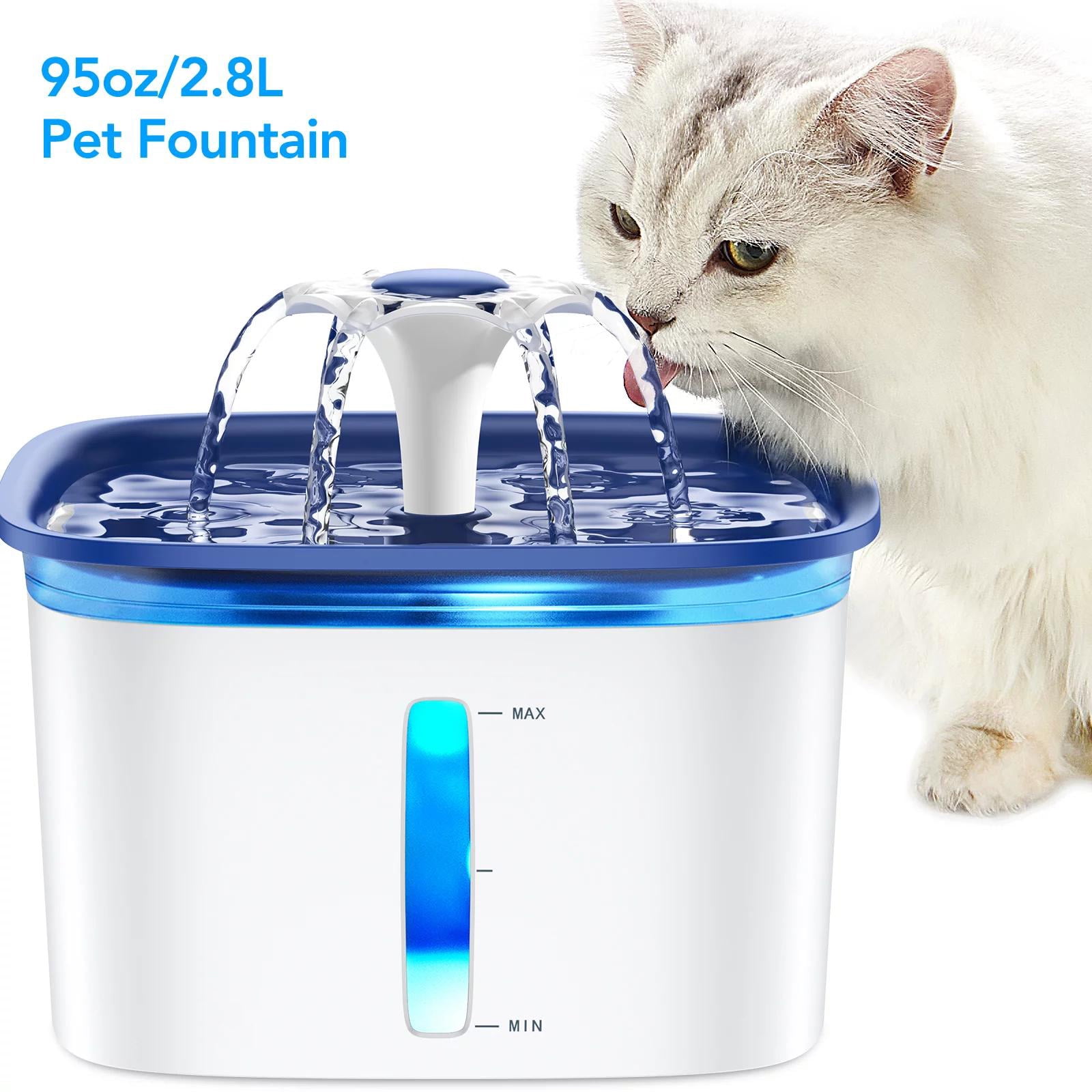 2.8L Pet Fountain with Smart Pump
It can be hard to keep your pet interested in their drinking bowl or even make sure they are getting the hydration they need. This pet fountain has two different flows: a flower waterfall (similar to a faucet) and a gentle fountain. This is perfect to keep your pets hydrated and engaged.
Anavia Personalized Pet Portrait Necklace
This sentimental gift is a #1 best seller on Amazon. A personalized gift can mean the world to the person receiving it. What I love about this necklace is the unique sketch style of the portrait and how it can be used as a keepsake for a friend who may have lost a pet.
ROVERLUND Airline-Compliant Pet Carrier
These carriers make life easier for jet-setting pet owners. These carriers are stylish and come in six different colors, but that's not even the best part about this bag. They have a leak-proof bottom, so you won't have to worry about any accidents, and the shoulder strap turns into a durable leash for your pup.
*By clicking on the featured links, visitors will leave Localish.com and be directed to third-party e-commerce sites that operate under different terms and privacy policies. Although we are sharing our personal opinions of these products with you, Localish is not endorsing these products. It has not performed product safety testing on any of these products, did not manufacture them, is not selling or distributing them, and is not making any representations about the safety or caliber of these products. Prices and availability are subject to change from the date of publication.
The AI Video Industry Disruptor
In a world where generative artificial intelligence (AI) is the talk of the town, you can't afford to overlook the revolutionary role it's playing in our lives. From large language models (LLMs) being used to draft blog posts and diffusion models for image generation to AI coding assistants for code generation, the productivity potential that generative AI unlocks is staggering. If you are looking to know how to invest in Synthesia, this is the right place for you!
This piece will shine a spotlight on Synthesia, its stocks, investment options, and how to make the most out of this tool.
How to invest in Synthesia stocks: Navigating the basics
Investing in the stocks of cutting-edge technology companies like Synthesia can be an attractive proposition for many investors. However, the process and availability of investing in such companies, especially those that are not publicly listed, can be complex. 
Here's a guide to help you navigate the potential avenues for investing in Synthesia.
Step 1: Understanding the company's status
Synthesia is a private company, which means its shares are not available on public stock exchanges. Investing in private companies is typically more challenging than investing in public companies due to limited availability and higher investment minimums.
Synthesia has raised significant capital through Series A, B, and C funding rounds from notable investors. These rounds have contributed to its high valuation and growth but are generally not open to individual retail investors.
If you're curious about the cost of using Synthesia, make sure to check out our in-depth guide on "Is Synthesia Free to Use?" for valuable insights.
Step 2: Explore avenues for investment
Before investing, take a look at the wide range of investment avenues available to you:
Venture capital funds:

One indirect way to invest in Synthesia is through venture capital funds that hold Synthesia in their portfolio. Investors can look for venture capital firms that have backed Synthesia, like Kleiner Perkins, Accel, or GV, and explore investment opportunities in those funds.

Secondary market platforms:

Platforms like Forge Global or EquityZen provide a marketplace for buying and selling shares of private companies. However, these transactions often require significant minimum investments and are typically available to accredited investors.

Direct private investment:

For high-net-worth individuals or institutional investors, direct private investments in Synthesia might be a possibility. This would generally involve directly contacting the company or participating in future funding rounds, subject to the company's approval and investment terms.

Initial public offering (IPO) watch:

Keep an eye on Synthesia's public announcements for any potential IPO. An IPO would allow public investors to buy stock in Synthesia through stock exchanges. However, as of now, there is no public information about an impending IPO.
Step 3: Assess eligibility and requirements
Determine if you meet the criteria for an accredited investor, as many such investment opportunities are limited to accredited investors due to regulatory requirements.
Understand the minimum investment requirements, which can be significantly higher for private companies compared to public stocks.
Step 4: Consult financial experts
Before proceeding, consult with financial advisors, especially those experienced in private equity or venture capital investments. They can provide personalized advice based on your financial situation and investment goals.
Step 5: Monitor your investment
Keep track of Synthesia's business progress, market trends, and any public announcements, especially regarding future funding rounds or a potential IPO.
Additionally, if you're interested in exploring AI-driven creativity, our guide on Deep Dream Generator provides five valuable tips for creating stunning images.
Considerations before investing
Risk assessment:

Investing in Synthesia carries a different risk profile compared to investing in other companies. Understanding these risks is crucial, including the lack of liquidity and the long-term nature of such investments.

Due diligence:

Conduct thorough due diligence on Synthesia's business model, market potential, financial health, and growth prospects. This information may be limited compared to publicly traded companies.

Investment horizon:

These investments often come with a longer investment horizon. Assess whether you are comfortable with tying up your capital for an extended period, as it may take years to realize returns from these investments.

Diversification:

Evaluate how an investment in Synthesia fits into your overall investment portfolio. Diversification is a key risk management strategy, and it's important to consider how this private equity investment aligns with your other assets.

Exit strategies:

Understand the potential exit strategies for your investment. Private equity investments typically involve strategies like mergers and acquisitions (M&A), IPOs, or secondary sales. Familiarize yourself with these options and their associated timelines.
For a more comprehensive evaluation of Synthesia's capabilities, we recommend reading our detailed Synthesia AI review.
Investing in Synthesia's services: An alternate approach
An alternative approach to investing in Synthesia is by availing its services. Take a look at the various ways through which you can make the most out of this AI tool:
1. Creating commercial videos for brands
One lucrative revenue stream with Synthesia is leveraging its video creation capabilities to produce commercial or explainer videos for brands. Businesses often require visually engaging content to promote their products or services. 
As a Synthesia user, you can offer your video production services on freelancing platforms, catering to companies in need of high-quality videos for marketing campaigns or internal use. By delivering professional and compelling videos, you can establish a steady client base and earn income from your creative video production services.
2. Affiliate marketing with AI videos
Another innovative approach to generating revenue with Synthesia is by creating AI-generated videos optimized for affiliate marketing. Instead of relying solely on ad revenue from platforms like YouTube, you can leverage the power of Synthesia to craft engaging and informative videos. Within these videos, strategically embed affiliate links in the video descriptions. 
By promoting products or services through these links, such as those available on e-commerce platforms like Amazon, you have the potential to earn commissions for every sale generated through your affiliate marketing efforts. This revenue stream diversifies your income sources and capitalizes on the popularity of video content in affiliate marketing.
Unlock the mesmerizing world of AI-generated artistry and unleash your creativity with a brushstroke of innovation by exploring our curated list of cutting-edge AI art tools.
3. Comparison and review videos
Synthesia can also be employed to produce valuable comparison and review videos, further expanding your potential revenue streams. For instance, you can create videos that compare two or more products or services within a specific niche, such as "MailChimp vs. SendinBlue" in the email marketing sector. 
In these videos, you can provide insightful analysis and recommendations. To monetize this content, include affiliate links for all the products or services discussed in the video description. This approach allows you to earn commissions regardless of the viewer's choice, as they might click on any of the provided affiliate links based on their preferences. 
By delivering informative and unbiased comparisons, you can attract a dedicated audience interested in making informed purchasing decisions.
4. Targeted content creation
An effective strategy for generating revenue with Synthesia involves conducting thorough research to understand the specific queries and comparisons that people are actively searching for online. 
Armed with this valuable insight, you can create Synthesia videos that directly address these queries or comparative analyses. Within these videos, strategically embed relevant affiliate links that align with the content's focus. 
Looking for alternatives to Synthesia? Explore our article on five AI video editors for quick and professional video editing solutions.
Conclusion
Investing in Synthesia presents a unique opportunity to participate in the growth of the AI video industry. However, like any investment, it comes with its own set of risks. By conducting thorough due diligence and seeking professional advice, investors can make an informed decision.
5+ High-Earning High-Ticket Affiliate Marketing Programs
Plus, How I earn full-time income on part-time hoursContinue reading on ILLUMINATION »

Source link