10 Great Testimonial Examples From Landing Pages
Landing pages help drive traffic, increase conversions, and improve SEO. However, not all landing pages are effective. If your landing pages aren't producing results, the issue might not be your copy or your product—it might be because you aren't using testimonials efficiently.
Below, we'll look at ten different landing page testimonial examples and discuss why they work and how they build trust. First, let's cover why they matter so much for brands.
Why Should You Include Testimonials on Your Landing Page?
The primary purpose of a landing page is to convert visitors and move them through your sales funnel. Ideally, you'll have fantastic copy to convince customers you can solve their problems.
However, consumers don't trust brands—they trust other people. According to the Edelman Trust Barometer Special Report, only one-third of consumers trust brands to do the best they can for their customers and the world at large.
Who do they trust? Other consumers. In fact, 92 percent of consumers report they trust word-of-mouth marketing more than any other type of marketing.
Testimonials on landing pages can also help:
increase relevance by mentioning specific pain points the customer is facing
drive conversions, as consumers who read testimonials, are 58 percent more likely to convert
showcase important features in an easy-to-read format
establish use cases that might not be highlighted in marketing copy
10 Testimonial Examples Used on Landing Pages
Including testimonials on a landing page is a powerful way to increase trust, drive clicks, and overcome objections. How those testimonials are formatted, however, can drastically impact how well they reach those goals.
The testimonial examples below showcase a few of the most effective ways to successfully use testimonials based on the audience and landing page type.
1. Blue Apron Uses Changing Testimonials
Blue Apron, an at-home meal kit company, leverages the power of testimonials on its pricing page in a unique way. The testimonials are plain text with no images. However, they still stand out.
Here's the first testimonial on the page: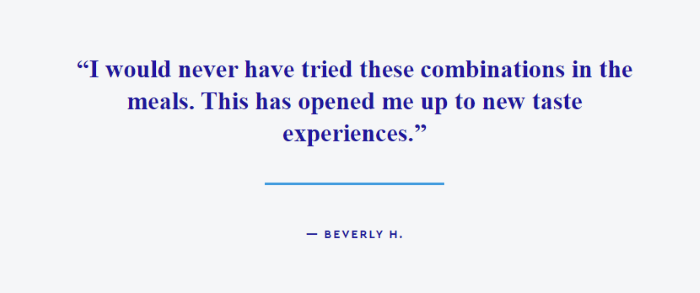 It highlights the novelty of the meal kits, which encourages users who might think they'll get bored. A few seconds later, the testimonial changes to this one:

This testimonial focuses on how healthy the meals are, which is ideal for customers worried about their health. By changing the testimonials every few seconds, Blue Apron can show a variety of reviews to potentially address different consumers' pain points. The change is also visually appealing, which grabs viewers' attention.
2. Business-Software.com Offers Authorative Testimonials
Business-Software.com is dedicated to providing buyers and vendors with incredibly detailed reviews of popular business technology. On their landing page about Salesforce, a popular sales and marketing tool, they use a testimonial to highlight one of their reports.
In addition to being visually appealing due to bright colors and clean icons, the testimonial is powerful for another way because it's from a recognizable, authoritative person in the field: James White of Active Spectrum.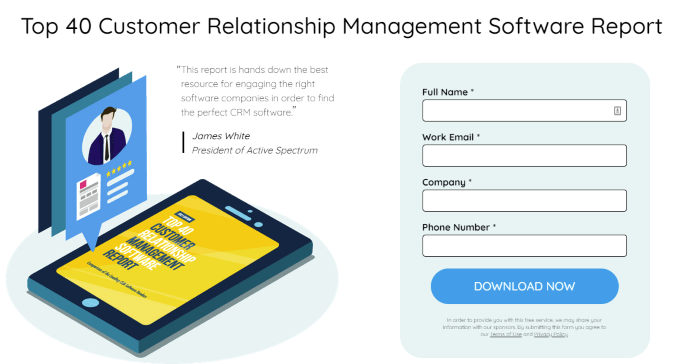 Using a testimonial from an authority figure helps establish trust. People often assume if someone in a position of authority likes a product, service, or piece of work, there's a good chance we will too.
Putting the review next to a download form is also an interesting strategy. Most brands use testimonials to drive sales, not leads. However, this can be effective at enticing leads by encouraging them to fill out forms.
3. MarketerHire Increases Trust
MarketerHire is a company dedicated to connecting companies and marketers. The testimonials MarketHire features on their site specifically show how they help address pain points.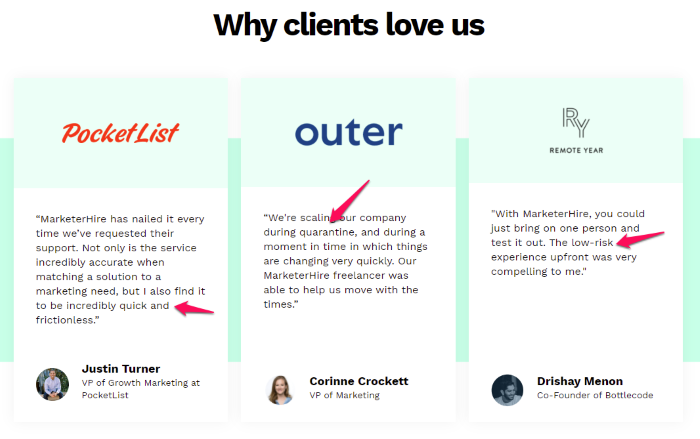 These testimonials address concerns about how difficult the service may be to use, worries about hiring during difficult times, and anxiety about trying a service like MarketerHire in general. Knowing other users have similar pain points and found MarketerHire to be an effective solution can establish trust.
The images of each testimonial provider and their name and position also help readers trust that these reviews are real and accurate. The images and logos are also eye-catching and invite scrollers to have a closer look.
4. InseevInteractive Offers More Testimonials Without Taking up More Space
If a few testimonials are good, a lot of testimonials should be great, right? That's not entirely true.
If you want to include testimonials on your landing page, just be sure to not include too many. Going over-board with the testimonial examples can overwhelm your leads and they could move with your competitor.
InseevInteractive, a marketing company, found a way around this challenge by installing buttons that allowed visitors to see more testimonials or read long-form case studies.

This testimonial example leverages the power of social proof while keeping customers who are ready to convert on task. If a customer needs a bit more information, they can easily click to read more.
As powerful as testimonials are, it's crucial not to pull people out of your sales funnel with distracting elements. This testimonial example walks that fine line perfectly.
5. Teamwork Includes Eye-Catching Trust Signals
Teamwork is a project management tool designed to grow with businesses, making it ideal for small businesses and startups. However, there are dozens of similar tools on the market. Where do they stand out?
One factor that differentiates them is their use of testimonials
Teamwork features two testimonial sections on their landing page. The first includes an image of the person and a short review:

This testimonial example stands out because of the trust symbols Teamwork uses under Donna's review. These showcase the tool as a reliable, award-winning tool. They are also bright and grab the eye as users scroll down.
Then, further down the page, they include more testimonials from Twitter.

Sharing Tweets, which can be verified if readers want to do some extra legwork, establishes trust in the brand. Teamwork also uses the buttons on either side of the Tweets, which allow users to scroll through more testimonials if they so choose.
Offering more testimonials without overwhelming a whole page with them is powerful because it shows a wide range of people like your product. It gives prospects a chance to find a review that addresses their concerns.
6. Topic Uses an Eye-Catching Design
Topic is an AI-powered content tool designed to help brands create better quality content fast. They leverage the power of testimonials by including a ton of testimonials on their landing page: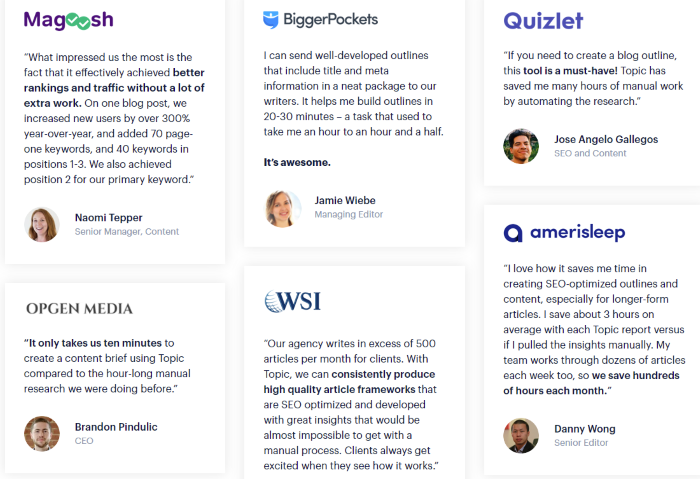 These testimonials stand out due to the careful attention to design. Each review includes the image, full name, and position of the reviewer, which can establish trust and give the section a clean, professional look.
Each review is split up into cards to keep them organized and easy to read. The logos and small profile images are visually appealing and draw the eye to each review.
This testimonial example is powerful for several reasons: the design is on point, the reviews are eye-catching, and they leverage several other strategies, like using authoritative reviewers and including images.
7. Booker Adds Five Stars to Grab Attention
The vast majority of internet users don't read; they skim. Booker, a business management platform for beauty companies, found a way to capture scanners' attention while also leveraging the power of testimonials.
They use several testimonial examples to highlight what people love about their software on their business management landing page.
In addition to the companies' names and short testimonials, they include icons and star ratings.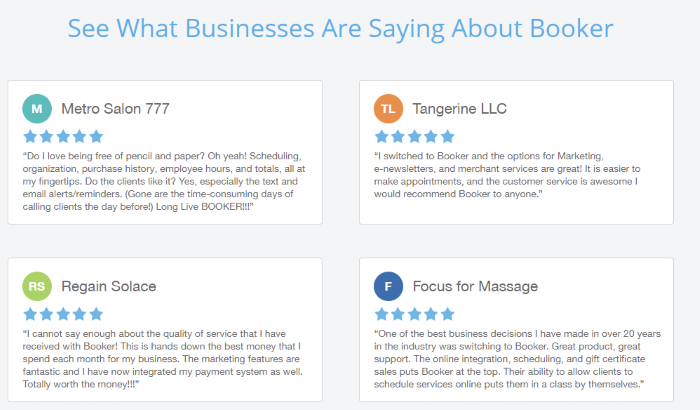 The five-stars allow users just scrolling by to easily see what reviewers think of Booker without having to stop and read the entire review.
This testimonial format strikes the perfect balance between trust by offering longer written testimonials and giving users the information they need at a glance by including the five-star rating.
8. Display User's Testimonials on Different Landing Pages
Keap is a CRM designed for small businesses that want to leverage automation in their sales processes. They offer several landing pages for each feature, including CRM, automation, reporting, and analytics.
Each landing page includes several testimonials where current customers share what they love best about Keap. However, they don't use the same testimonials on each page.
For example, on their automation landing page, each testimonial mentions how Keap's automation features help save the users' time.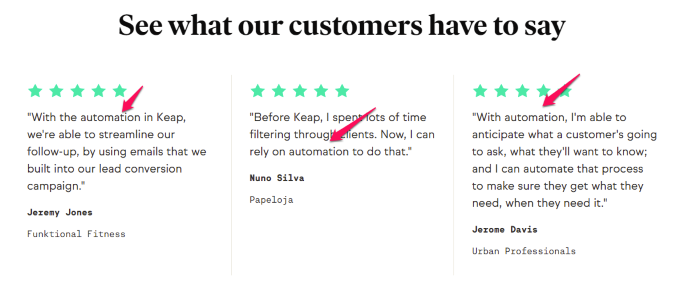 Like Booker, they include five-star icons, which grabs attention and allows people scanning the page to see how much the tool is loved.
By offering different reviews on each page, Keap provides relevant testimonials to each customer persona.
9. Salesflare Uses Pictures to Increase Trust
Salesflare is a powerful CRM designed specifically to help B2B businesses grow. The brand uses a simple landing page to drive conversions by offering a picture of the platform, an icon-rich features list, and several testimonials.
Unlike other testimonials, which are often several lines long, Salesflare keeps it simple by using one or two lines for each testimonial. They also include profile pictures, full names, and the the name of the company that completed the review.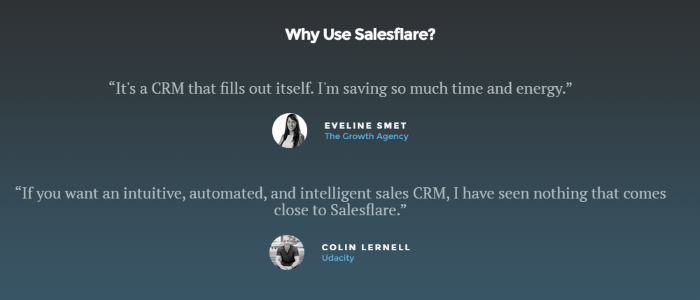 In some cases, using longer testimonials might be more effective. However, on this page, Salesflare relies on the images and brand names to increase trust and grab readers' attention.
10. Lattice Combines Testimonial Types for a Powerful Punch
Lattice is an HR management platform used by some of the biggest brands in the world. Their testimonial section packs a big punch by using three different testimonial types, all in one easy-to-view section.
First, they list the names of big brands they work with, including Reddit, Slack, and Asana. Knowing those well-established brands use this tool helps inspire trust—they obviously aren't new to the industry.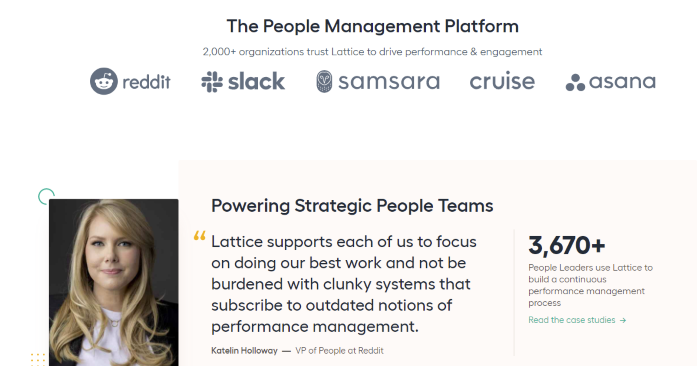 The next section offers an individual review from a reputable source: the VP of People of Reddit. Knowing she trusts Lattice may help readers feel confident it's a trustworthy solution. They also include an image, which shows her face and helps viewers connect with the review with the human who gave it.
Finally, on the right side, they offer a link to read case studies and list how many people use their company.
Lattice's testimonial section works incredibly well because it includes a lot of information and several forms of testimonials but keeps the design sleek and easy to read.
Conclusion
Many brands don't effectively use testimonials on landing pages, if they use them at all. The testimonial examples above serve as inspiration for using testimonials on your own landing pages.
Keep in mind that testimonials don't work in a vacuum; they should only be one aspect of your digital marketing strategy. For example, you may benefit from beefing up your social media strategy, carrying out marketing campaigns, publishing blog posts that help users find your business organically, and analyze/fix any SEO issues.
If this sounds overwhelming and you need help developing or improving your marketing strategies, reach out. Our agency is happy to help in whatever capacity you need.
Do you use testimonials on your landing pages? What impact have they had on your conversions?
See How My Agency Can Drive Massive Amounts of Traffic to Your Website
SEO – unlock massive amounts of SEO traffic. See real results.
Content Marketing – our team creates epic content that will get shared, get links, and attract traffic.
Paid Media – effective paid strategies with clear ROI.
Advocate | DigitalMarketer
Happy customers love to share their experience, but sometimes they need some encouragement to do so. The cool thing is, once they do, they become even more loyal to your brand.
So, at this stage of the Customer Value Journey, ask people to share their positive experience with your brand by writing a review or sharing a social media post.
Once you get to stage seven, the Customer Value Journey is going to get a whole lot easier for you. This stage is all about learning your customer's experience, and building up your testimonial database. 
The most important part of this step is asking these four questions. 
What Was Your Life Like Before Finding Our Solutions? What Challenges Were You Facing That Caused You to Consider Us? 
These questions are great not only because it gives you some really good stories, but because it gives you some insight on how you can provide similar prospects with that AHA moment. Understanding the average day of your clients is important in reflecting on your Customer Value Journey, and helps you understand what really set you apart from your competitors.
What Key Features Had the Biggest and/or Fastest Impact?
Not only is this going to get you to really specific stories, you will understand the specific things you provided that gave the biggest impact. The answers to these questions will not only give you great insight and testimonials, it will provide you with ideas for new lead magnets. This part is a new Entry Point Offer goldmine! 
What Has Been the Impact or Results in Your Life or Business Since Using Our Product or Service? 
This is a fairly broad question, and that's why we put it after the others. You will have already gotten all of the specifics out of the way with #1 & #2. But when you ask this question, this is where you get the most valuable stories. You can use this part as testimonials, as an order form, as a sales page, this part is testimonial gold. 
If You Were Asked to Justify this Purchase to Your Boss or a Friend, What Would You Say? 
This is our favorite question by far. If you had to go back in time and justify this purchase, what would you say? I promise you what we're going to find is a lot of great ideas for the jobs that your product or service has done. You'll get a lot of great ideas for your core message canvas. This question is about backfilling all of the assets that you may not have. Here you're going directly to the customer who are already happy, and using their justifications to help you sell to new customers. 
Hopefully you now understand just how valuable the Advocate stage could be, as well as the key questions you need to ask to get your customers talking. Here's how it works for our example companies.
When it comes to fashion we all love to show off our outfits. So a good example for Hazel & Hems would be to have customers write reviews for a discount code or points towards their next purchase. 
Better yet, follow up with the customers to ask them to share and tag themselves wearing the items in a social media post and providing them with something valuable as a reward.
For Cyrus & Clark Media, hopping on zoom meetings or a streaming service for live talks about them and their business could generate valuable awareness for them, and a live case study for the agency. They can use the questions Ryan provided during this lesson to conduct the interview.
Drive Conversions and Generate Engagement With Instacart Promotions
Through deals and coupons, Instacart has saved consumers more than $700 million in 2022. As we dive into 2023, the leading grocery technology company in North America has big plans to help consumers save even more while also helping CPGs generate sales. Instacart recently announced an advertising solution that helps both sellers and consumers called Instacart Promotions. This exciting feature is designed to help drive conversions, boost sales, and generate overall engagement on the app.
Interested in this feature and how it can help your business on Instacart? Read on as we dive into everything you need to know about this ad solution including benefits, how to get started, and more.
What are Instacart Promotions?
Instacart Promotions is an advertising feature that's now available to all brand partners, including emerging brands, within their open beta program. Promotions give CPGs the opportunity to offer new deal structures, promotions, and incentives with Instacart Ad campaigns. With this feature in place, consumers will have access to more promotions, coupons, and deals that are tailored to them within the Instacart Marketplace.
"With the launch of our new Instacart Promotions, all of our brand partners now have the ability to set up coupons and promotions that can drive meaningful business results while also passing on more savings opportunities to consumers. We're proud to continue expanding our portfolio with additional self-service capabilities, ad formats that drive results, and measurement that brands need to understand the true impact of their campaigns on Instacart."
– Ali Miller, VP of Ads Product at Instacart
How Do Instacart Promotions Work?
Promotions, now available in Ads Manager, gives consumers the ability to discover more promotions and savings opportunities within the Instacart app. These promotions now show up directly on product item cards before checkout for easy accessibility. Promotions allow advertisers to customize their campaigns to sync with their goals and objectives whether that be driving sales, building baskets, or boosting trials.
Instacart shared a recent example of a brand successfully utilizing Promotions… 
Athletic Brewing, General Mills, Sola Company, and Wells Enterprises (maker of Halo Top) are strengthening campaign performance by pairing Instacart Promotions with ad formats such as Sponsored Product and Display. Instacart Promotions include two new flexible and customizable structures: Coupons ("buy X units, save $Y") and Stock Up & Save ("Spend $X, Save $Y"). 
According to Instacart, in the coming months, the company "will work to further enhance the new offering with new deal structures such as Free Gifts and Buy One, Get One ("BOGO"). The new deal structures will help brand partners run "Free Sample" programs that can win new customers and serve personalized discounts for different customer segments, such as "new to brand" and "new to category."  
Instacart Promotions Benefits
Deliver Value and Savings to Consumers
With Instacart Promotions, you have the opportunity to deliver value and savings that will have consumers coming back for more. With this savings feature, your brand can stand out among the competition and offer a variety of deals to shoppers ie: "Buy X units, Save $Y".
Hot tip: Ensure you are selecting products for your promotion that are well-stocked and widely available.  
Tailor Your Campaigns to Specific Objectives
With a variety of savings options available, your brand can structure deals to fit specific business goals and objectives. 
Hot tip: If you're looking to drive visibility and awareness, try pairing promotions with Sponsored Product campaigns. 
Access Real-Time Performance Insights 
The Promotions beta program is live and can be accessed within Instacart Ads Manager. Within Ads Manager, advertisers can access real-time insights to maximize performance and adjust campaigns as needed.
Hot tip: Make sure your budget matches your discount and objectives.
"As an advertiser, Instacart's unique offering to self-manage promotions is so exciting! Historically, making adjustments to offer values and other promotion parameters was a more manual process, but now we'll be able to easily make optimizations in real-time based on redemption performance."
– Emily Choate, Senior Specialist, Marketplace Search at Tinuiti
Interested in Instacart Promotions?
With Instacart Promotions, you have the opportunity to reach new customers, build bigger baskets, and drive sales. Interested in testing out the beta program or looking to get started with advertising on the app? Drop us a line – we'd love to help elevate your CPG brand on Instacart.
(Re)Introducing your favorite Optimizely products!
It's important to us that you, our valued customers and partners, can identify with the tools you use daily. 
In that pursuit, Optimizely set out to simplify the way we talk about our product suite. That starts, first and foremost, with the words we use to refer to the technology.  
So, we've taken a hard look at everything in our portfolio, and are thrilled to introduce new names we believe are more practical, more consistent, and better representative of the technology we all know and love.  
You may have seen some of these names initially at Opticon 2022 as well as on our website. In the spirit of transparency, the team here at Optimizely wanted to make sure you had full visibility into the complete list of new names, as well as understand the context (and rationale) behind the changes. 
So, without further ado… 
Which names changed? 
Some, but not all. For your ongoing reference, below is a complete list of Optimizely products, with previous terminology you may be familiar with in the first column, and (if applicable) the new name in the second column.  
| | | |
| --- | --- | --- |
| Used to be…  | Is now (or is still)…  | Meaning…  |
| DXP  | | A fully-composable solution designed to support the orchestration, monetization, and experimentation of any type of digital experience — all from a single, open and extensible platform.  |
| Content Cloud  | | A best-in-class system for building dynamic websites and helping digital teams deliver rich, secure and personalized experiences.  |
| Welcome  | | An industry-leading and user-friendly platform helping marketing teams plan campaigns, collaborate on tasks, and author content.  |
| DAM  | | A modern storage tool helping teams of any size manage, track, and repurpose marketing and brand assets (with support for all file types).  |
| Content Recs  | | AI-powered and real-time recommendations to serve the unique interests of each visitor and personalize every experience.  |
| B2B Commerce  | | A templatized and easy-to-deploy platform designed to help manufacturers and distributors drive efficiency, increase revenue and create easy buying experiences that retain customers.  |
| Commerce Cloud  | | A complete platform for digital commerce and content management to build dynamic experiences that accelerate revenue and keep customers coming back for more.  |
| PIM  | | A dedicated tool to help you set up your product inventory and manage catalogs of any size or scale.  |
| Product Recs  | | Machine-learning algorithms optimized for commerce to deliver personalized product recommendations in real-time.  |
| Web  | | An industry-leading experimentation tool allowing you to run A/B and multi-variant tests on any channel or device with an internet connection.  |
| Full Stack  | | A comprehensive experimentation platform allowing you to manage features, deploy safer tests, and roll out new releases – all in one place.  |
| Personalization  | Optimizely Personalization  | An add-on to core experimentation products, allowing teams to create/segment audiences based on past behavior and deliver more relevant experiences.  |
| Program Management  | Optimizely Program Management  | An add-on to core experimentation products, allowing teams to manage the end-to-end lifecycle of an experiment.  |
| ODP  | | A centralized hub to harmonize data across your digital experience tools, providing one-click integrations, AI-assisted guidance for campaigns, and unified customer profiles.  |
So, why the change? 
 It boils down to three guiding principles:  
Uniformity:

Create a naming convention that can be applied across the board, for all products, to drive consistency

 

Simplicity:

Use terms that are both practical and concise, ensuring the names are something that everyone can understand and identify with 

 

Completeness:

Develop a framework that showcases the full and complimentary nature of all the products and solutions within the Optimizely suite

 
 As the Optimizely portfolio comes together as a complete, unified platform, it's important that our names reflect this, as well as support our 3 key solutions (i.e. orchestrate amazing content experiences, monetize every digital experience, and experiment across all touchpoints).  
Other questions? We've got you covered.
Q: Why have you made these product name changes? 
We wanted to simplify how we talk about our portfolio. The renaming applies a naming convention that is both practical and concise.  
Q: Do the new product name changes affect the products I own? 
No, there is no impact to product functionality or capabilities.  
Q: Do the new product name changes affect who is my Customer Success Manager or Account Manager?  
No, there are no changes to your Customer Success Manager or Account Manager. 
Q: Do the new product name changes affect the ownership of the company?  
No, ownership of the company has not changed. We have only made changes to the Product Names. 
Q: Have any contact details changed that I need to be aware of?  
Only contact details for former Welcome customers has changed. These are the new contact details you should be aware of: Optimizely, Inc.| 119 5th Ave | 7th Floor | New York, NY 10003 USA. Phone: +1 603 594 0249 | www.optimizely.com 
Q: Where can I send any follow up questions I might have?  
If you have any questions about the Product Names, please contact your Customer Success Manager or Account Manager.