How to Create the Most Effective Facebook Business Page
With 1.82 billion daily active users, Facebook is one of the most powerful social media outlets in the world.
Seventeen percent of Facebook users say following brands or businesses is their main reason for using the app, and 78 percent of Americans say they've discovered products on Facebook.
Facebook offers businesses new ways to connect with their audience, promote and sell products, and improve online visibility for their brand. The addition of shopping features such as Facebook Marketplace can also be leveraged by businesses to improve online conversions.
With over 140 million business accounts on Facebook, you may think competition is high. However, the right tactics and execution can help you create a Facebook Business Page that drives new revenue for your business.
Let's review how to create Facebook business pages that increase your engagement, clicks, and revenue.
What Is a Facebook Business Page?
A Facebook Business Page is a stand-alone page that allows you to promote your business on one of the world's biggest social platforms.
Facebook Business Pages are different from personal pages because they represent a business or brand, rather than an individual. This means the content on your Facebook Business Page needs to be brand-focused and professional.
A Facebook Business Page will let you share content, respond to customers, have conversations with your followers, and promote products within your feed.
You can also invite other people to manage your Facebook Business Page including any partners or outside agencies you may be working with.
Facebook Business Pages can also run paid Facebook ads to further promote your brand and products.
Here is a peek at our Facebook Business Page.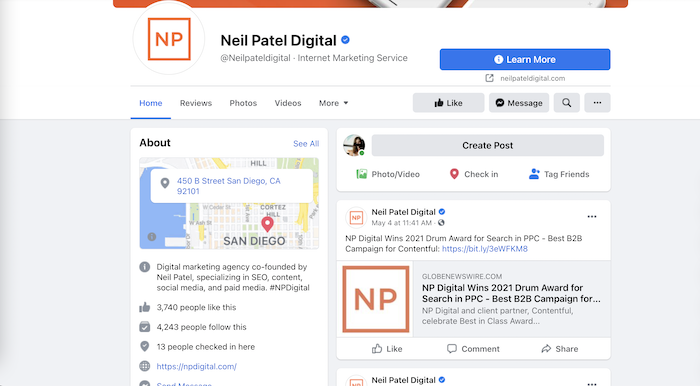 As you can see, it includes features a personal page doesn't have, such as a "learn more" button, map, and a Like button.
Why Should You Create a Facebook Business Page?
When you create a Facebook Business Page you are helping people find your business and learn more about what you offer.
Your business page also helps you build an online community and better service your customers. Once you're set up, your followers can interact with you and ask questions about your products and services in real-time, which is a great way to improve your brand integrity.
Once you create a Facebook Business Page, you'll be able to get started with Facebook Advertising, which can help you reach 2.14 billion potential customers.
Facebook business tools such as Page Insights and analytics can help you better understand your audience needs and create better customer experiences.
You can also create events, book appointments, hire staff, and sell products directly through your Facebook Business Page.
Facebook Business Pages are free to set up, meaning there is no upfront investment to get your business listed.
With 74 percent of Facebook users visiting the site at least once daily and spending an average of 38 minutes per day, creating a Facebook Business Page can be a great way to improve your organic reach online.
Steps to Create a Great Facebook Business Page
To create a great Facebook Business Page, you need to analyze everything, from your profile picture and cover photos to Facebook ads, target audience, and media planning (types of posts and when it's time to post).
Here is a six-step guide to creating your Facebook Business Page.
1. Login or Sign-up to Facebook
First, you need to log in or join Facebook. You can create your Facebook page from your personal page if you prefer, or you can create an entirely new account for your Facebook business page.
Once you're logged in, go to facebook.com/pages/create.
Select the type of page you want to create, either a business/brand or community/public figure, and then click Get Started.
Here, you'll be asked to supply some basic information.
The basic information you can add includes:
Page name: Which should be your business or brand name.
Business category: One or two words to describe your business. Facebook will give you options once you start typing. If your business falls under more than one category, try to pick the one your customers will associate with your business.
Description: A brief description of what you do, services you offer, and the purpose of your Facebook Business Page.
From there, click Continue. Moving forward indicates you have accepted Facebook's Pages, Groups and Events Policies so familiarize yourself with these if you haven't already.
2. Upload Cover Photo and Profile Picture
Your cover photo and profile picture are the main visual assets of your Facebook Business Page.
Many businesses use their logo for their profile picture, but you can choose any photo that represents your business and branding.
When choosing a profile picture, be sure to adhere to Facebook's sizing guidelines to ensure your photo does not get cropped.
You'll also want to add a cover photo when you create your Facebook Business Page. Your cover photo should be visually exciting and representative of your business and branding. Refer to the sizing guidelines for cover photo sizing.
Once you complete this step, your page will be automatically published.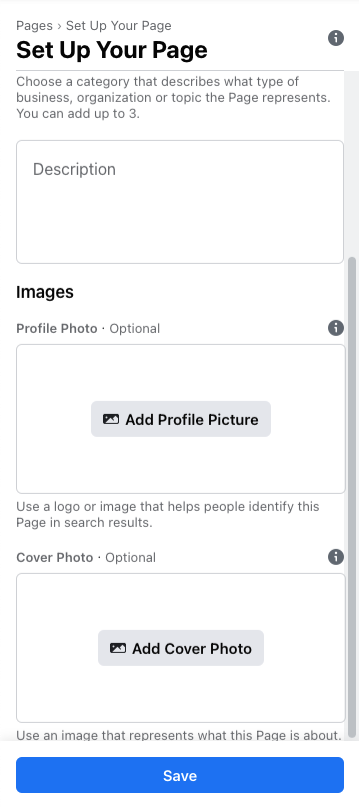 3. Enter Your Business Information
Now that you have the skeleton of your page setup, it's time to start adding content.
Your Facebook Business Page contains basic information about your business that you'll need to fill in. This includes:
Description (About): Your About description should be designed to drive leads. Keep it short and use four to five sentences about your business that engage audiences as soon as they hit your page.
Contact: Share how your followers can contact your business if they have questions or concerns. This can include your phone number or email.
Location: Where you are located. If you don't have a physical storefront, you can simply input your city and state.
Hours of operation: The hours you are open for business or available for customer communications.
Username: This is a unique username used in your Facebook interactions. This should be @ followed by your business name. Don't get too creative here or it can make it difficult for your customers to find your business.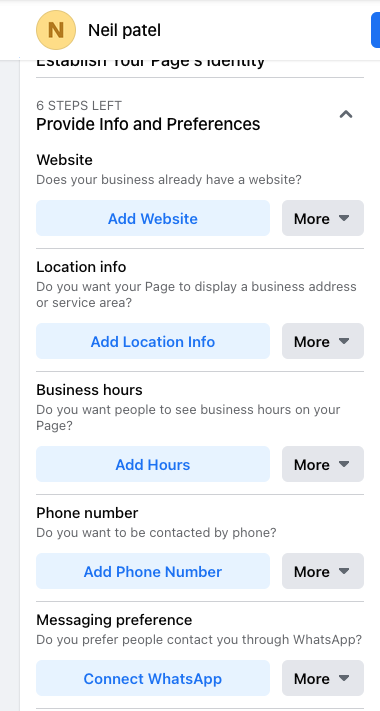 4. Add a CTA Button to Your Page
Now that you have all of your general business information set up, it's time to build your conversion funnels.
A CTA button is featured at the top right-hand of every Facebook Business Page, just below the cover photo.
It's important to choose a relevant CTA to ensure you are directing your audience to the most pertinent actions.
For example, if you are a physiotherapy clinic looking to book more clients, your CTA button may say Book Now.
If you are an e-commerce business looking to sell products, then you may want to choose a CTA button that says Shop Now.
To edit your CTA button, click "+ Add a Button."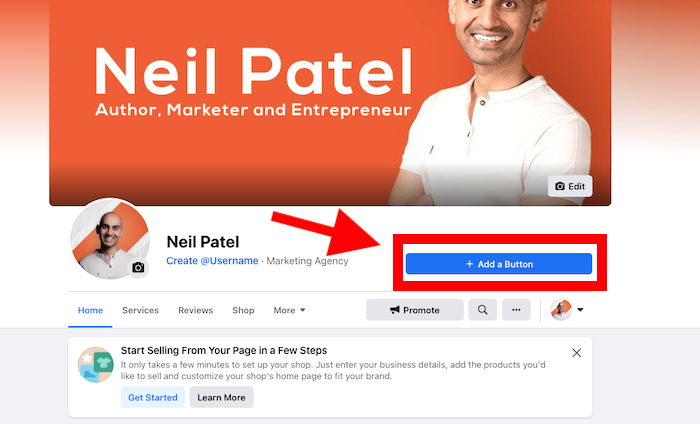 From there, Facebook will give you a list of actions that your CTA could encourage. These include Start an Order, Book Now, Contact Us, and more. Choose your action and follow the steps given to complete your CTA button.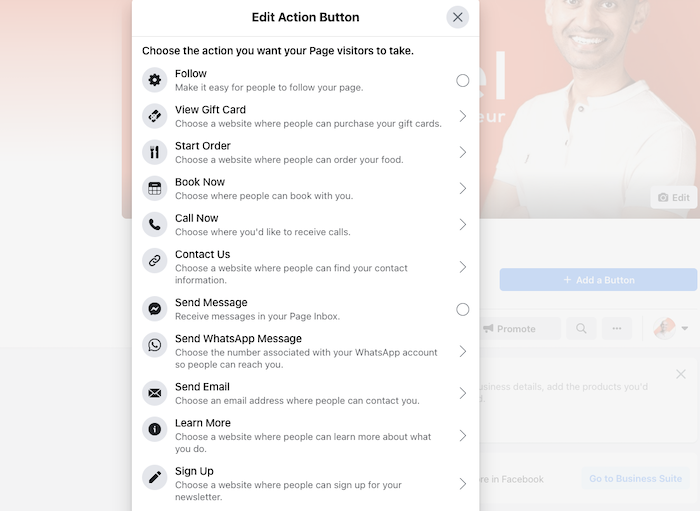 If you don't choose a custom CTA here, Facebook will automatically create a Contact Us button for your page.
5. Publish Your First Post
Before you invite people to your Facebook Business Page, you should make a post so there is content for them to view.
Your first post can be a welcome post that explains who you are and what you do, or it can be something aimed at user-generated content (UGC) to get visitors engaged with your Facebook Business Page right away.
For example, a contest or giveaway can be a great way to drive immediate traffic. You can also promote sales or discounts to encourage your audience to browse and purchase your products.
Whatever you post, be sure to get creative and focus on maximizing audience engagement.
6. Invite Your Audience
Your Facebook Business Page is now ready to get traffic, so you can start inviting your audience to follow your page.
If you used your personal Facebook account to set up your page, you will be prompted to invite your Facebook friends. This group is usually a good base for your Facebook Business Page, so invite as many of your personal friends as you feel appropriate.
You can invite followers by clicking on the three dots "…" below your CTA button and clicking Invite Friends.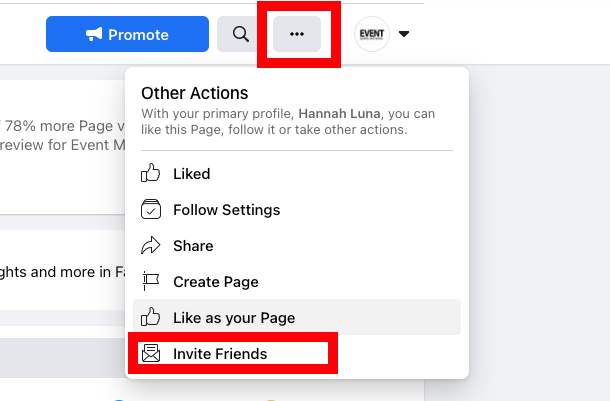 You can also use other channels to drive traffic to your Facebook Business page, such as your website, social media accounts, email marketing, and paid advertising campaigns.
How to Track the Success of Your FB Business Page
Now that you've created your Facebook Business Page, you'll want to know how it performs and continuously optimize it to get better results.
There are many ways to track the success of your Facebook Business Page. Here are a few metrics you can track with Facebook Insights.
Engagement: Facebook uses an algorithm to show posts in your followers' News Feeds. Posts that have higher engagement are seen as more popular and relevant, so they are more likely to show up. This means you want more likes, comments, and engagements on your posts to increase your reach. Pay attention to posts that perform well and find ways to mimic that engagement to ensure your Facebook Business Page is successful.
Reach: Reach refers to the number of people who see your content on Facebook. To see this, click on the Reach tab on your Facebook Insights page. Track and analyze your Reach regularly to learn what your audience likes and doesn't like to better inform your post decisions.
Impressions: Impressions measure the number of times your post was seen, even if it was seen multiple times by a single user. You can find this in Facebook Insights by switching Reach to Impressions. Impressions can show you how viral your posts are and how likely they are to continuously impact your customers. Remember, it often takes a customer hearing about your brand seven times before they'll convert to a customer.
Page likes and follows: Page Likes refer to the number of people that follow your Facebook Business Page. You can see this number on your Business Page homepage or through Facebook Insights under the Likes tab. While Page Likes are often considered a vanity metric, they are important to track the growth of your audience. If you find your page is plateauing and your Likes are not growing, it may be time to reevaluate your digital marketing strategy.
How to Create a Facebook Business Page
Summary of How to Create a Facebook Business Page
Log in or sign-up to Facebook

You can use a personal account or set up a new one for your business.

Upload a cover photo and profile picture

These should represent your branding and adhere to Facebook's sizing guidelines.

Enter your business information

This includes opening hours, contact information, location, your About section, and more.

Add a CTA button to your page

Use a CTA to drive the most conversions for your business.

Publish your first post

This should be engaging and immediately draw users into your business.

Invite your audience

Start with your personal friends' list and then use your other digital channels to grow your audience.
Conclusion
Creating a Facebook Business Page is a great way to improve your revenue and grow your business online.
Once you've got everything set up, consider Facebook advertising campaigns alongside your organic content to boost audience engagement.
From there, it's all about nurturing your audience, delivering relevant, engaging content, and staying true to your brand.
How have you found success when growing your Facebook Business Page?
See How My Agency Can Drive Massive Amounts of Traffic to Your Website
SEO – unlock massive amounts of SEO traffic. See real results.
Content Marketing – our team creates epic content that will get shared, get links, and attract traffic.
Paid Media – effective paid strategies with clear ROI.
Former Myanmar colonel who once served as information minister gets 10-year prison term for sedition
BANGKOK (AP) — A former high-profile Myanmar army officer who had served as information minister and presidential spokesperson in a previous military-backed government has been convicted of sedition and incitement, a legal official said Thursday. He was sentenced to 10 years in prison.
Ye Htut, a 64-year old retired lieutenant colonel, is the latest in a series of people arrested and jailed for writing Facebook posts that allegedly spreading false or inflammatory news. Once infrequently prosecuted, there has been a deluge of such legal actions since the army seized power from the elected government of Aung San Suu Kyi in February 2021.
He was arrested in late October after a military officer from the Yangon Regional Military Command reportedly filed a change against him, around the time when some senior military officers were purged on other charges, including corruption. He was convicted on Wednesday, according to the official familiar with the legal proceedings who insisted on anonymity for fear of being punished by the authorities.
Ye Htut had been the spokesperson from 2013 to 2016 for President Thein Sein in a military-backed government and also information minister from 2014 to 2016.
After leaving the government in 2016, Ye Htut took on the role of a political commentator and wrote books and posted articles on Facebook. For a time, he was a visiting senior research fellow at the ISEAS-Yusof Ishak Institute, a center for Southeast Asia studies in Singapore.
After the army's 2021 takeover, he often posted short personal vignettes and travel essays on Facebook in which he made allusions that were generally recognized to be critical of Myanmar's current military rulers.
The army's takeover triggered mass public protests that the military and police responded to with lethal force, triggering armed resistance and violence that has escalated into a civil war.
The official familiar with the court proceedings against Ye Htut told The Associated Press that he was sentenced by a court in Yangon's Insein prison to seven years for sedition and three years for incitement. Ye Htut was accused on the basis of his posts on his Facebook account, and did not hire a lawyer to represent him at his trial, the official said.
The sedition charge makes disrupting or hindering the work of defense services personnel or government employees punishable by up to seven years in prison. The incitement charge makes it a crime to publish or circulate comments that cause fear, spread false news, agitate directly or indirectly for criminal offences against a government employee — an offense punishable by up to three years in prison.
However, a statement from the Ministry of Legal Affairs said he had been charged under a different sedition statute. There was no explanation for the discrepancy.
According to detailed lists compiled by the Assistance Association for Political Prisoners, a watchdog group based in Thailand, 4,204 civilians have died in Myanmar in the military government's crackdown on opponents and at least 25,474 people have been arrested.
Top CIA agent shared pro-Palestinian to Facebook after Hamas attack: report
A high-ranking CIA official boldly shared multiple pro-Palestinian images on her Facebook page just two weeks after Hamas launched its bloody surprise attack on Israel — while President Biden was touring the Jewish state to pledge the US's allegiance to the nation.
The CIA's associate deputy director for analysis changed her cover photo on Oct. 21 to a shot of a man wearing a Palestinian flag around his neck and waving a larger flag, the Financial Times reported.
The image — taken in 2015 during a surge in the long-stemming conflict — has been used in various news stories and pieces criticizing Israel's role in the violence.
The CIA agent also shared a selfie with a superimposed "Free Palestine" sticker, similar to those being plastered on businesses and public spaces across the nation by protesters calling for a cease-fire.
The Financial Times did not name the official after the intelligence agency expressed concern for her safety.
"The officer is a career analyst with extensive background in all aspects of the Middle East and this post [of the Palestinian flag] was not intended to express a position on the conflict," a person familiar with the situation told the outlet.
The individual added that the sticker image was initially posted years before the most recent crisis between the two nations and emphasized that the CIA official's Facebook account was also peppered with posts taking a stand against antisemitism.
The latest post of the man waving the flag, however, was shared as Biden shook hands with Israeli leaders on their own soil in a show of support for the Jewish state in its conflict with the terrorist group.
Biden has staunchly voiced support for the US ally since the Oct. 7 surprise attack that killed more than 1,300 people, making the CIA agent's posts in dissent an unusual move.
In her role, the associate deputy director is one of three people, including the deputy CIA director, responsible for approving all analyses disseminated inside the agency.
She had also previously overseen the production of the President's Daily Brief, the highly classified compilation of intelligence that is presented to the president most days, the Financial Times said.
"CIA officers are committed to analytic objectivity, which is at the core of what we do as an agency. CIA officers may have personal views, but this does not lessen their — or CIA's — commitment to unbiased analysis," the CIA said in a statement to the outlet.
---
Follow along with The Post's live blog for the latest on Hamas' attack on Israel
---
Neither the Office of the Director of National Intelligence nor the White House responded to The Post's request for comment.
All of the official's pro-Palestinian images and other, unrelated posts have since been deleted, the outlet reported.
The report comes as CIA Director William Burns arrived in Qatar, where he was due to meet with his Israeli and Egyptian counterparts and the Gulf state's prime minister to discuss the possibility of extending the pause in fighting between Israeli forces and Hamas terrorists in the Gaza Strip for a second time.
Israel and Hamas agreed Monday to an additional two-day pause in fighting, meaning combat would likely resume Thursday morning Israel time if no additional halt is brokered.
Both sides agreed to release a portion of its hostages under the arrangement.
More than 14,000 Palestinians in Gaza, including many women and children, have been killed in the conflict, according to data from the Hamas-controlled Ministry of Health.
Lee Hsien Yang faces damages for defamation against two Singapore ministers over Ridout Road rentals
SINGAPORE — The High Court in Singapore has directed Lee Hsien Yang to pay damages to ministers K. Shanmugam and Vivian Balakrishnan for defamatory statements made in Facebook comments regarding their rental of black-and-white bungalows on Ridout Road.
The court issued a default judgment favouring the two ministers after Lee – the youngest son of Singapore's founding prime minister Lee Kuan Yew and brother of current Prime Minister Lee Hsien Loong – failed to address the defamation lawsuits brought against him. Lee had, among other claims, insinuated that the ministers engaged in corrupt practices and received preferential treatment from the Singapore Land Authority for their bungalow rentals.
The exact amount of damages will be evaluated in a subsequent hearing.
Restricted from spreading defamatory claims against ministers
Not only did Justice Goh Yi Han grant the default judgment on 2 November, but he also imposed an injunction to prohibit Lee from further circulating false and defamatory allegations.
In a released written judgment on Monday (27 November), the judge highlighted "strong reasons" to believe that Lee might persist in making defamatory statements again, noting his refusal to remove the contentious Facebook post on 23 July, despite receiving a letter of demand from the ministers on 27 July.
Among other things, Lee stated in the post that "two ministers have leased state-owned mansions from the agency that one of them controls, felling trees and getting state-sponsored renovations."
A report released by the Corrupt Practices Investigation Bureau in June concluded that no wrongdoing or preferential treatment had occurred concerning the two ministers. However, Lee continued referencing this post and the ongoing lawsuits, drawing attention to his remarks under legal scrutiny.
Justice Goh emphasised that the ministers met the prerequisites for a default judgment against Lee. The suits, separately filed by Shanmugam, the Law and Home Affairs Minister, and Dr Balakrishnan, the Foreign Affairs Minister, were initiated in early August.
He failed to respond within 21 days
Lee and his wife, Lee Suet Fern, had left Singapore in July 2022, after declining to attend a police interview for potentially giving false evidence in judicial proceedings over the late Lee Kuan Yew's will.
His absence from Singapore prompted the court to permit Shanmugam and Dr Balakrishnan to serve him legal documents via Facebook Messenger in mid-September. Despite no requirement for proof that Lee saw these documents, his subsequent social media post on 16 September confirmed his awareness of the served legal papers.
Although Lee had the opportunity to respond within 21 days, he chose not to do so. Additionally, the judge noted the novelty of the ministers' request for an injunction during this legal process, highlighting updated court rules allowing such measures since April 2022.
Justice Goh clarified that despite the claimants' application for an injunction, the court needed independent validation for its appropriateness, considering its potentially severe impact on the defendant. He reiterated being satisfied with the circumstances and granted the injunction, given the continued accessibility of the contentious Facebook post.
Lee acknowledges court order and removes allegations from Facebook
Following the court's decision, Lee acknowledged the court order on 10 November and removed the statements in question from his Facebook page.
In the judgment, Justice Goh noted that there were substantial grounds to anticipate Lee's repetition of the "defamatory allegations by continuing to draw attention to them and/or publish further defamatory allegations against the claimants."
The judge mentioned that if Lee had contested the ministers' claims, there could have been grounds for a legally enforceable case under defamation law.
According to Justice Goh, a reasonable reader would interpret Lee's Facebook post as insinuating that the People's Action Party's trust had been squandered due to the ministers' alleged corrupt conduct, from which they gained personally.
While Shanmugam and Dr Balakrishnan were not explicitly named, the post made it evident that it referred to them, and these posts remained accessible to the public, as noted by the judge.
Justice Goh pointed out that by choosing not to respond to the lawsuits, Lee prevented the court from considering any opposing evidence related to the claims.
Do you have a story tip? Email: [email protected].
You can also follow us on Facebook, Instagram, TikTok and Twitter. Also check out our Southeast Asia, Food, and Gaming channels on YouTube.