Mark Zuckerberg: Facebook boss urges tighter regulation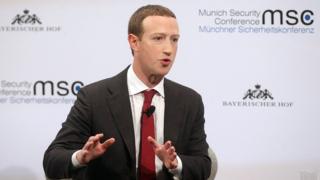 Facebook boss Mark Zuckerberg has called for more regulation of harmful online content, saying it was not for companies like his to decide what counts as legitimate free speech.
Citing China, Mr Zuckerberg also warned excessive control risked stifling individual expression.
He was speaking at the Munich Security Conference in Germany.
Social media giants like Facebook are under increasing pressure to stop the spread of false information.
Facebook in particular has been criticised for its policy on political advertising.
The company launched new policies for political advertising in the US in 2018 and globally the following year. These rules require political ads to display who had paid for them, and a copy of the ad is kept in a publicly-searchable database for seven years.
But this week Facebook said it would not include sponsored political posts by social media stars in its database. Posts by politicians are not are not always fact-checked as part of the company's free speech policy either.
At the conference he said he supported regulation.
"We don't want private companies making so many decisions about how to balance social equities without any more democratic process," he said.
The Facebook founder urged governments to come up with a new regulatory system for social media, suggesting it should be a mix of existing rules for telecoms and media companies.
"In the absence of that kind of regulation we will continue doing our best," he said.
"But I actually think on a lot of these questions that are trying to balance different social equities it is not just about coming up with the right answer, it is about coming up with an answer that society thinks is legitimate."
Mr Zuckerberg also admitted Facebook had been slow to recognise the development of co-ordinated online "information campaigns" by state actors like Russia.
He added that malevolent actors are also becoming better at covering their tracks by masking the IP addresses of users.
To tackle this, Mr Zuckerberg said Facebook had a team of 35,000 people reviewing content and security on the platform. With assistance from AI, he said more than a million fake accounts are deleted every day.
"Our budget [for content review] is bigger today than the whole revenue of the company when we went public in 2012, when we had a billion users," he said.
During his time in Europe, Zuckerberg is expected to meet politicians in Munich and Brussels to discuss data practices, regulation and tax reform.
Despite public backlash over issues like political advertising, Facebook says the number of users on its family of apps – Facebook, Messenger, Whatsapp and Instagram – continues to grow.
Earlier this month, Whatsapp announced that it is used by two billion people worldwide, more than a quarter of the world's population.
Is This the Real Reason Google, Amazon, Facebook and Microsoft Are Having Layoffs?
Are 51,000 people losing their jobs because their employers want to shift the balance of power? Is the current wave of big-tech layoffs really intended as a way of weakening tech employees' confidence and gaining a stronger negotiating position for their employers? That's what several tech industry …

Source link
Fake Facebook profile leaves Nelson auctioneer stressed and worried
Martin De Ruyter/Stuff
Lipscombe Auction House owner Warwick Savage with a fake Facebook account using his name he is trying to get taken down.
Auctioneer Warwick Savage didn't have a personal Facebook profile.
But someone pretending to be him set one up, and that person, or persons stole his identity and amassed 1500 friend by Friday – the vast majority of whom were none the wiser the man on the screen was not who they thought he was.
The profile first came to the attention of the Nelson auctioneer late last week, when a friend of his stepdaughter's commented that she had accepted Savage's friend request: "and she said 'he doesn't have a Facebook page. He doesn't have a Facebook profile'. So all of a sudden it came to the forefront."
What was bizarre about the fake profile is how sophisticated it was: few of Savage's close friends twigged when sent a friend request.
READ MORE:
* Auction house owner defends decision to sell Nazi memorabilia
* Nazi flags and badges sold at Nelson auction despite protests
* Nazi memorabilia auction plan in Nelson sparks concern

The photos had been taken off the website of his business, Lipscombe Auction House, and the posts, promoting auctions, appeared legitimate. Lipscombe Auction House has a genuine Facebook page for the business and the fake and genuine pages looked similar.
On Friday after queries from Stuff meta removed the Facebook page for "for violating our policies".
A spokesperson said it was "committed to safeguarding the integrity of our services, and worked hard to protect our community from fake accounts and other inauthentic behaviour."
It continued to invest in AI to improve its enforcement and strengthen its review systems it said.
Savage was happy the page had finally been removed but frustrated it had taken so long for it to have occurred.
Savage had reported the profile to the police, who referred him to Netsafe. Multiple friends also wrote to Facebook asking for the page to be removed, only to receive the message that "ultimately, we decided not to take the profile down".
"We take action on profiles that pose a danger to other people or that are harmful to the community," the Facebook Support message read.
Savage said there should be more accountability from social media.
The profile appeared to have been uploaded on November 26, 2022, but the majority of the account activity had been this year, Savage said.
Several people who accepted his friend requests were Nelson City councillors, and other well known people in Nelson.
Before the media got involved Savage said there hadn't appeared to be much interest from Facebook in doing anything about it.
"And I think it would be a huge worry for anybody. Because basically, they've stolen my identity."
Savage said he was "obviously" concerned about reputational damage. But he was also concerned about having his business targeted.
"It all looks very harmless at the moment, but why would a person bother creating this to not have an end objective? Are messages going out to people there who are friends that aren't nice messages?"
The situation has left him feeling "stressed", he said, and particularly worried about the possibility of the person using his name posting something nasty.
"I don't want to be going around trying to defend myself and Lipscombe's to 1000 people," he said.
George Santos, Who Falsely Claimed His Grandparents Fled Hitler, Reportedly Joked About Killing "Jews and Blacks"
One of George Santos's biggest and most offensive lies was the one he told, on multiple occasions, about having grandparents who'd had to run for their lives during the Holocaust. In 2021, the then candidate claimed in a campaign video that his "grandparents survived the Holocaust." Several months later, he told the Jewish News Syndicate: "I'm very proud of my grandparents' story," which he said included "fleeing Hitler." Perhaps laying the groundwork for his explanation in the event he got caught in this specific fabrication, he told Fox News Digital in February: "For a lot of people who are descendants of World War II refugees or survivors of the Holocaust, a lot of names and paperwork were changed in name of survival."
Like so many things that have come out of Santos's mouth, the one about his grandparents and the Holocaust does not, in fact, appear to be true, as multiple genealogy records indicate his grandparents were born in Brazil and, according to one genealogist who spoke to CNN, "There's no sign of Jewish and/or Ukrainian heritage and no indication of name changes along the way." Perhaps another sign that Santos does not have family members who were hunted by Adolf Hitler? His alleged willingness to joke about Hitler killing Jews, and Black people too.
Patch reports that in March 2011, Santos commented on a Facebook photo shared by a friend showing "someone making what appears to be a military salute with the caption 'something like Hitler'." Commenting below, Santos allegedly wrote: "hiiiiiiiiiiiiiiiiiiiigh hiiiiiiiiiiiitlerrrrrrrrrrr (hight hitler) lolololololololololololol sombody kill her!! the jews and black mostly lolllolol!!! Dum." A former friend told the outlet they recalled seeing the offensive comment, took a screenshot and sent it along. Patch says it also "verified through another former friend, Gregory Morey-Parker, that the original Facebook post under which Santos wrote the Hitler comment existed." Presumably that will not be the case for very long. Morey-Parker, who was also once roommates with Santos, also told Patch that the newly sworn-in congressman would regularly make offensive jokes, typically about paying the bill for meals, "but he brushed it off saying he was Jewish. He'd always say that it was okay for him to make those jokes because he was Jewish," Morey-Parker recalled. (Santos has copped to the fact that he is not actually Jewish, by insisting he never said he was. "I never claimed to be Jewish," he said in an interview with the New York Post shortly after many of his lies initially came to light. "I am Catholic. Because I learned my maternal family had a Jewish background I said I was 'Jew-ish.'")
In an email, Santos's attorney claimed to Patch that the comment was somehow fake, writing: "the Facebook comment that you reference…is completely false, absolutely disgusting — There is absolutely nothing to talk about."