Mark Zuckerberg: Facebook boss urges tighter regulation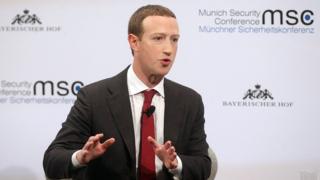 Facebook boss Mark Zuckerberg has called for more regulation of harmful online content, saying it was not for companies like his to decide what counts as legitimate free speech.
Citing China, Mr Zuckerberg also warned excessive control risked stifling individual expression.
He was speaking at the Munich Security Conference in Germany.
Social media giants like Facebook are under increasing pressure to stop the spread of false information.
Facebook in particular has been criticised for its policy on political advertising.
The company launched new policies for political advertising in the US in 2018 and globally the following year. These rules require political ads to display who had paid for them, and a copy of the ad is kept in a publicly-searchable database for seven years.
But this week Facebook said it would not include sponsored political posts by social media stars in its database. Posts by politicians are not are not always fact-checked as part of the company's free speech policy either.
At the conference he said he supported regulation.
"We don't want private companies making so many decisions about how to balance social equities without any more democratic process," he said.
The Facebook founder urged governments to come up with a new regulatory system for social media, suggesting it should be a mix of existing rules for telecoms and media companies.
"In the absence of that kind of regulation we will continue doing our best," he said.
"But I actually think on a lot of these questions that are trying to balance different social equities it is not just about coming up with the right answer, it is about coming up with an answer that society thinks is legitimate."
Mr Zuckerberg also admitted Facebook had been slow to recognise the development of co-ordinated online "information campaigns" by state actors like Russia.
He added that malevolent actors are also becoming better at covering their tracks by masking the IP addresses of users.
To tackle this, Mr Zuckerberg said Facebook had a team of 35,000 people reviewing content and security on the platform. With assistance from AI, he said more than a million fake accounts are deleted every day.
"Our budget [for content review] is bigger today than the whole revenue of the company when we went public in 2012, when we had a billion users," he said.
During his time in Europe, Zuckerberg is expected to meet politicians in Munich and Brussels to discuss data practices, regulation and tax reform.
Despite public backlash over issues like political advertising, Facebook says the number of users on its family of apps – Facebook, Messenger, Whatsapp and Instagram – continues to grow.
Earlier this month, Whatsapp announced that it is used by two billion people worldwide, more than a quarter of the world's population.
5 Effective Ways to Run Facebook Ads A/B Tests
Facebook Ads A/B Tests or split tests help them try different versions of ads with various campaign elements. This process helps them arrive at the best version for the organization's target. 
A/B Tests offer a vast pool of resources to try out various versions. You may get caught up and lose your way to arriving at the best version in a limited time. To better understand this topic you can read the Facebook ad testing guide. Here are five effective ways to run Facebook Ads A/B Tests-
1) Start with the minimal number of variables
This approach will help you analyze the impact of a variable much better. The lesser the variables, the better will be the relevant results and more conclusive. Once you have various versions, you will need to run them through the A/B Significance Test to determine if the test results are valid.
2) The second way is to select the correct structure. 
There are two structures in A/B tests. One is a single ad test, and the other is multiple single variation ad sets. All the variations will go under one ad set in the first structure. Each variation will be under a separate ad set in the second one. Out of the two, the second one works out to be better and gives better results.
3) Use of spreadsheets is important to stay organized. 
These spreadsheets help collect and analyze data to get meaningful insights and arrive at data-backed decisions.
4) Do target advertising and set realistic time goals. 
One approach is to choose an entirely new set of audiences. Also, the data pool should be vast and not the same as some existing campaigns. The reason for choosing a different audience is that Facebook may mix up your ads and give contaminated output. 
Another approach to choosing the right audience is to pick geography. It works better, especially when you have business in a particular region.   
It's also essential to set a realistic timeline for your testing. Facebook suggests one should run a test for at least four days, but you can choose to run the test for up to 30 days.   
5) Set an ideal budget. 
The concept of a perfect budget is subjective. But, you can fix it yourself, or Facebook can do that for you based on your testing data. A large part of the test budget is spent on avoiding audience duplication. If the same audience sees variations, it could affect the test results.
Besides these top five effective ideas, you will need to take a few more action points to make the testing process efficient. Make sure you put the website's domain link and not the landing page link in the ad, as that doesn't look good. Put appropriate Call To Action Button, such as 'Learn More,' 'Buy Now,' etc. It's also important to see how your ad is coming across on various electronic gadgets- mobile, tablets, etc.
Another strategy that works is trying to engage the customer. You may add social engagement buttons such as 'Like' or 'Comment.' Use high-resolution images as they work better with the customers. Low-quality, highly edited images are often not liked and trusted by the consumers.
You can learn more about the audience behavior patterns with A/B test results. Conducting these tests on Facebook streamlines the entire process and makes it smooth for you. With the test results, advertisers and marketers can work on the creatives they need to utilize.
To sum it up, you can run an effective A/B test campaign within the specified budget. You don't need to spend massive amounts to get your advertisement right. You'll make the correct assumptions about the performance of variations with a good understanding of business and consumers.