How to Block Bots From Coming to Your Website: Tools & Tips
If you have a website, you need to know what bots are and how they can find your site, as well as what they can do (either intentionally or indirectly) to cause frustration to your online marketing efforts. Blocking bots may be a necessity to protect your site's speed, users, and security.
Let's talk about what bots are and how you can put up some defenses to start protecting your website.
What Are Bots, and How Can They Be Bad?
Before we dive into the details of what they can do and how you can stop them, we need to take a step back and explore what a bot is.
A bot is a software script that performs a data task over and over again. It's that repetition and data interaction that makes them a fellow member of the online world we interact with.
Some of the other names you hear bots associated with help explain what bots are and how they work. Think of terms like spiders, crawlers, or web bots.
Are They All Bad?
There are a couple of misconceptions we can set aside right away.
Even though the term is short for robots, bots are not robots in the form of metal, gears, and computers. They are bits of script, as we discussed, that run continuously over the data of websites or other online platforms.
Also, they are not necessarily maliciously driven by a hacker or person with ill intent. Sometimes they're neutral or even useful, such as bots used by search engines to index websites.
How Do Bots Work?
As we mentioned above, bots are generally bits of software script that repeat a task over and over again. An outside person, either friend or foe, may deploy these to accomplish a specific task.
However, bots are getting "smarter," so to speak, and some are created with artificial intelligence (AI) or machine learning technology. Some examples of these are chatbots for e-commerce that brands can use to learn from human interaction and deliver a better customer
service experience for their audience.
Here's an example of an e-commerce chatbot on the ModCloth website: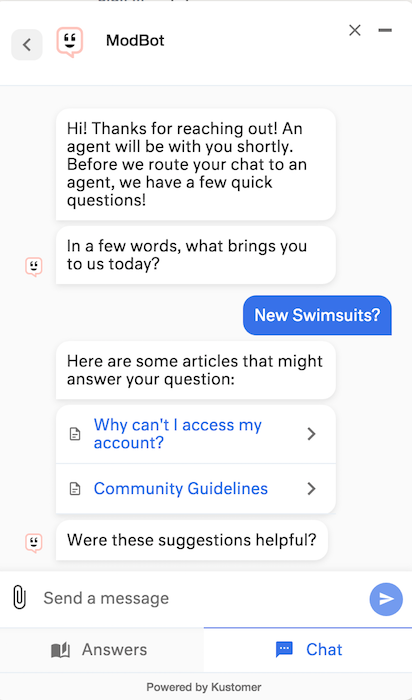 What Do Bots Do?
As we've said, bots can be useful, such as indexing for a search engine or improving customer experiences.
They can also be malicious and cause trouble for your website or other web presence. Some bots are intended to crawl websites and steal data like passwords, identifiable information, or personal data. They can also deploy malicious attacks on websites, computers, and other places. Some get sophisticated, unfurling a series of steps to cause chaos for another user or organization.
They can also be used to surge interactions online. This may come in the form of flooding a page or forum with comments, driving up purchases or popularity of something to stir up interest, bumping up social media interaction to improve views, or other ways to "game the system."
These are often the ways you may start to see bot activity on your website.
How Can You Tell If Your Website Has Bot Traffic?
Do you need to block bots on your website? Here are some signs and how to check.
Red Flags You May Need to Block Bots
There are some signs that bots have been to your website, and those may be the first place to start. Here are a few to look for:
excess commenting in your blog or other pages
comments that don't seem readable or human-generated
comments with excessive linking or obvious spam
excessively or suddenly high bounce rates on a particular page
a sudden surge of sign-ups for your newsletter or other forms
email sign-ups that don't seem human-generated
log-in attempts from unknown sources
any other activity that appears fishy
Where Can You Check to Block Bots?
If you have a gut reaction that you need a bot blocker, you can do a deeper dive to determine whether bots are a problem for your website and whether it's worth investing time to block bots.
Here are a few places to explore:
Google Analytics to investigate traffic on your site
A service like Copyscape to check if your content was plagiarized somewhere else
your web server logs to learn more about where people are coming from
10 Steps to Block Bots From Coming to Your Website
Trying to block bots from coming to your website can feel a little like trying to put up an invisible shield around your site to ward off invaders.
While it's not quite so fanciful, taking steps to keep bots from invading and causing chaos on your website is about being proactive and putting processes into place ahead of any problems.
It starts with understanding the enemy, removing any current problems, and then preparing for future attacks. Here are some steps you can take:
1. Identify the Weight of the Problem
If you're reading this far, you probably have some concerns about bots and want to know more about how to block website bots. Before jumping in, though, it's always good to consider what's happening on your website.
Are you having a significant problem with bots, or are you just noticing some increased activity?
Further, consider what the impact has been or could be on your online marketing efforts. As we mentioned above, some bots are good, and some are bad. Some are just neutral.
For instance, you might have a bump in activity on your website on a given day or a given page for no apparent reason. You can't link them to a specific marketing campaign that promoted that page and caused a spike. The surge in activity may have come from a bot.
If the surge was short-lived and you haven't seen any other issues, it may be worth looking into but may not warrant extreme or rushed reactions.
On the other hand, if you've found your e-commerce site was hacked, or if parts of your website have been infected and are no longer functioning properly, you probably want to act quickly to batten up the hatches and clean up your website. If that's the case, you may want to jump to the later steps here and start taking immediate action.
2. Understand the Source
Once you realize that web bots have been bothering your website, you'll need to go on a bit of an investigation to find out where they're coming from.
I listed above some places that can help you explore whether bots are attacking your website. They can also help you figure out the origin of those bots.
For example, in Google Analytics, your web server access logs, or any log-in attempt emails, you may be able to see data related to those visiting your site. You can check for a pattern or a series of the same IP address repeatedly.
3. Make a Plan
Now it's time to decide what to do.
If you've already suffered an attack, you'll need to take steps to clean up the problem and patch any vulnerabilities in your site to avoid further problems.
If you've been seeing bot activity but haven't been attacked, you should focus your plan on looking for vulnerabilities that could be exploited in the future and tighten them up now.
4. Stay Up to Date
Keep your website and all its integrations up to date with the latest releases. Whichever website CRM provider you use, ensure you're staying current with that platform's releases. For instance, if you use WordPress, you need to ensure that your theme and plugins have the latest updates.
Staying up to date has its advantages. First, bots may use older versions to gain access. Further, platforms are motivated to provide secure products to their customers. The latest updates may come with increased security features and bot blocker options.
5. Add CAPTCHA Tools
One way to block bots from interacting with parts of your websites (such as sign-ups, contact pages, and purchase options) is to ensure that only humans can perform those actions.
CAPTCHA forces the user to perform a challenge or other action to prove they're not a bot. Unless a bot has the correct action written into their script, they won't finish this task and move on.
Here is an example of a CAPTCHA you've probably seen before: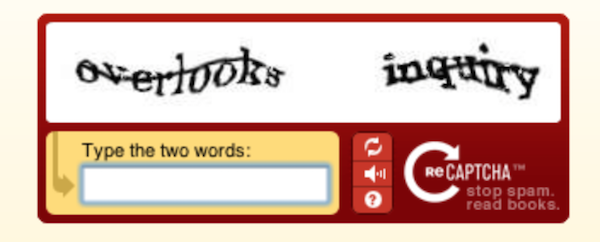 6. Check Your APIs and Other Connections
Especially if your website is a few years old, you may have installed many API integrations and other connections to other web platforms. If you've permitted that integration to connect with and share data with your website, APIs could be an area of vulnerability.
Conduct an audit of every API, plugin, connection, or other integration:
Do you use them all? Remove the obsolete ones.
Are you using the latest versions? If not, update them.
Are you using quality products? If they don't have security measures in place, consider replacing them.
If you have questions, reach out to the platform owner and make sure they are secure.
7. Block Older Browser Versions
This is not foolproof, but another way to close up some ways bots can access your website is by blocking older versions of browsers from accessing your website. You might achieve this by requiring users to use new versions of browsers to view your website.
TechRepublic encourages using this method as most human users will be forced to update to a newer browser version.
This requires accessing and updating the .htaccess file of your website, so unless you are experienced with coding, we recommend engaging with a web developer for this.
8. Patch It
If you're struggling to stay up to date with the bots coming to your website or feel like the problem may be bigger than you want to control, you can turn to a professional to start digging deeper into bots that may be heading to your website.
If you notice a specific bot that keeps arriving at your website and causing problems, such as offensive comments or attempts to gain unauthorized access, you can block that IP address from gaining access to your website in the future.
Many web hosts, such as GoDaddy, provide detailed information about how to accomplish this task. However, you should know that this is only a patch. It can stop a rather insidious attack in its tracks, but many hackers or malicious bot launchers have ways of coming in from other IP addresses, so the solution may not hold long-term.
Also, Hubspot reminds us that blocking an IP address means blocking all access from any person or bot from that IP address, so weigh the pros and cons before making a decision.
9. Keep Up With It
For a long-term solution, you may choose to pay for a bot blocker service. Although there are many different options, they all promise you a bit of peace of mind as their integrated solution stays on your website, comparing visitors with their information to watch for and alert you of any problems. A few options include:
DataDome
Cloudflare
Radware Bot Manager
ClickGUARD
Google ReCAPTCHA
10. Ongoing Monitoring
Bot blocking isn't a one-and-done situation. You will need to continue to monitor your website for any problems.
You can watch for any of the problems discussed above and take steps to close up any holes. You may want to add this to your calendar to check in monthly or quarterly.
You can also keep an ear out for public data breaches. If you hear of any wide-scale attacks, take a look at your website and look for signs of any bot activity.
Conclusion
As AI in marketing continues to grow, our discussion of blocking bots, as well as adding them to our marketing stack, will likely increase as well. Bots can be helpful in our digital work and can support our digital marketing strategy.
They can also be malicious and attack your website at any time. The best way to block bots is to stay vigilant and keep your web presence up to date and cleaned up.
Don't let vulnerabilities like outdated plugins or open access ports linger, inviting opportunistic bots. Monitor as you go and consider hiring an outside third party if the problem or the risks start getting bigger than you want to handle.
What's the first step you're going to take to block bots?
See How My Agency Can Drive Massive Amounts of Traffic to Your Website
SEO – unlock massive amounts of SEO traffic. See real results.
Content Marketing – our team creates epic content that will get shared, get links, and attract traffic.
Paid Media – effective paid strategies with clear ROI.
Top YouTube Videos, Shorts, And Ads of 2022
Examining YouTube's list of the top trending videos and top Shorts of 2022, as well as the YouTube Ads Leaderboard: 2022 year-end-wrap-up can teach content marketers, content creators, and digital advertisers some important lessons that they can apply in 2023.
But, it helps if you have a secret decoder ring to decipher why there are three lists – and why each one uses a different methodology to come up with the rankings.
YouTube unveiled its first list of the 10 most-watched YouTube videos back in December 2010. Unfortunately, that list taught many marketers that "view count" was the only metric that mattered.
But, I got my secret decoder ring back in October 2012, when YouTube started adjusting the ranking of videos in YouTube search results to reward engaging videos that kept viewers watching.
In other words, YouTube replaced "view count" with "watch time."
This was a significant shift, because "watch time" gives you a sense of what content viewers actually watch, as opposed to videos that they click on and then abandon.
In December 2012, YouTube shifted from unveiling its 10 "most-watched" videos of the year to unveiling its "top trending videos," based on time spent watching, sharing, commenting, liking, and other factors.
In other words, "watch time" and "engagements" were now the metrics that mattered.
Today, YouTube's algorithm rewards "viewer satisfaction."
In other words, YouTube doesn't pay attention to videos; it pays attention to viewers.
So, rather than trying to make videos that'll make an algorithm happy, focus on making videos that make your viewers happy.
This brings us to YouTube's lists of "trending videos" and "top Shorts" for 2022.
To learn important lessons that can be applied in 2023, we need to realize that YouTube's discovery system uses both absolute and relative watch time as signals when deciding audience engagement.
Ultimately, YouTube wants both short and long videos to succeed, so relative watch time is more important for short videos, and absolute watch time is more important for longer videos.
Top 7 Trending Videos Of 2022
1. "So Long Nerds" By Technoblade (6:32 long, 88.3 million Views, 10.2 million engagements)
In this moving tribute, the father of beloved Minecraft creator Technoblade reads a farewell letter from his son.
The gamer lost his battle with cancer in June, but his legacy remains on YouTube.
2. "Watch The Uncensored Moment Will Smith Smacks Chris Rock On Stage At The Oscars, Drops F-bomb" By Guardian News (1:24 long, 104 million Views, and 1.8 million engagements)
It was the smack heard 'round the world: Academy Award winner Will Smith went off-script and slapped Chris Rock, live on-stage, at the film industry's most prestigious event.
3. "Hi, I'm Dream" By Dream (5:42 long, 48.5 million Views, and 4.7 million engagements)
Dream's ingenuity within Minecraft has led him to become a top creator with a devoted fanbase.
But no one knew what he looked like IRL, until now.
Lose yourself in this epic Super Bowl halftime show packed with some of the biggest artists in hip-hop history: Dr. Dre, Snoop, Eminem, Mary J. Blige, Kendrick Lama, and 50 Cent.
5. "I Built Willy Wonka's Chocolate Factory!" By Mrbeast (17:01 long, 132 million Views, and 5.1 million engagements)
In a "Willy Wonka" inspired warehouse, MrBeast challenges contestants to traverse a chocolate river, climb a candy wall, compete in confection-themed games, and indulge in their sweetest fantasies.
6. "Pranks Destroy Scam Callers- Glitterbomb Payback" By Mark Rober (26:41 long, 55.9 million Views, and 2.2 million engagements).
Engineer Mark Rober exacts dazzling revenge on a scam call center in the latest version of his glitterbomb series.
7. "Being Not Straight" By Jaiden Animations (15:22 long, 17.8 million Views, and 1.7 million engagements)
In this coming-out video, Jaiden Animations depicts a personal journey from adolescence to adulthood, sharing how they discovered their sexual identity along the way.
Top 7 Shorts Of 2022
1. "Diver Cracks Egg At 45 Ft Deep #Shorts" By Shangerdanger (0:56 long, 251 million Views, and 12.3 million engagements)
The ocean floor is a mysterious place. It's full of unknown sea creatures, strange plants, and…chicken eggs?!
Join Shangerdanger as he cracks up the internet and dives egg-first into the blue depths.
2. "Sarah Trust Challenges" By Hingaflips (0:31 long, 142 million Views, and 6.5 million engagements)
Better than parkour? This is Trampwall: an epic sport where acrobats defy gravity and leap off a wall, onto a trampoline, to pull off mind-blowing aerial stunts.
3. "Come With Me To Shave My Fluffy Dog! #Doggrooming #Grooming #Goldendoodle" By Brodie That Dood (0:52 long, 108 million Views, and 6.8 million engagements)
For years, his long fluffy fur has made Brodie one of the most iconic dogs on YouTube. So, the heartbreak was real when it was decided that he needed a close trim.
4. "Dave and Busters Bet Me 1000 Tickets I Couldn't Do This…" By Chris Ivan (0:59 long, 83.6 million Views, and 6.3 million engagements).
No one does trick shots like creator Chris Ivan. In this Short, he attempts to land a plunger on a Dave & Buster's sign.
The prize? 1,000 tickets … if he can pull it off.
5. "That Gap Between Your Car Seat and Center Console" By Jay & Sharon (0:58 long, 182 million Views, and 6.4 million engagements)
We've all lost something in the dreaded gap between the car seat and the center console.
In this comedic sketch, creators Jay & Sharon show us what's really going on down there.
6. "Welcome To The Stomach #Shorts" By Adrian Bliss (0:34 long, 118 million Views, and 7.0 million engagements)
In this bite-sized skit, witty creator Adrian Bliss brings to life all the characters trying to gain entrance – and party in – his space-limited stomach.
7. "This Magic Trick Explained (America's Got Talent)" By Zack D. Films (0:34 long, 97.4 million Views, and 5.6 million engagements).
How did he do it? The judges of "America's Got Talent" were confounded by this magic trick.
But not internet-sleuth Zack D., who unveils its clever secret.
Top 7 YouTube Ads Of 2022
Meanwhile, YouTube uses an entirely different methodology to determine the top YouTube ad for its 2022 year-end wrap-up Leaderboard. This makes sense.
The top ads are generally the ones with the biggest budgets, which drive up view counts, but not always engagements.
1. "Amazon's Big Game Commercial: Mind Reader" By Amazon (1:31 long, 69.7 million Views, and 25,700 engagements)
The creative agency for this ad was Lucky Generals and the media agency was IPG – Rufus.
The ad's description asks, "Is Alexa reading minds a good idea? No. No, it is not."
2. "Welcome To Clan Capital! Clash Of Clans New Update!" By Clash Of Clans (1:20 long, 52.9 million Views, and 212,000 engagements)
The creative agency was Psyop, and the media agency was in-house.
The ad's description says,
"Welcome to the ultimate clan destination! A place where you and your clan can BUILD and BATTLE together! A place called CLAN CAPITAL!"
3. "Goal Of The Century X BTS | Yet To Come (Hyundai Ver.) Official Music Video" By Hyundaiworldwide (4:08 long, 40.5 million Views, and 886,000 engagements)
The ad's description says,
"Our 'Goal of the Century' can't be achieved by one individual alone, but we can achieve it if we all join forces and unite.

Just like football players come together as a team to score goals, we aim to use the power of football to go forward together in pursuit of the greatest goal – 'A united world for sustainability.'"
4. "Harry Potter 20th Anniversary: Return To Hogwarts | Official Trailer | HBO Max" By HBO Max (1:58 long, 27.3 million Views, and 739,000 engagements)
The creative agency was in-house, and the media agency was Hearts & Science.
The ad's description says,
"Harry Potter 20th Anniversary: Return to Hogwarts invites fans on a magical first-person journey through one of the most beloved film franchises of all time as it reunites Daniel Radcliffe, Rupert Grint, Emma Watson, and other esteemed cast members and filmmakers across all eight Harry Potter films for the first time to celebrate the anniversary of the franchise's first film, Harry Potter and the Sorcerer's Stone."
5. "Introducing iPhone 14 Pro | Apple" by Apple (4:20 long, 23.8 million views, and 571,000 engagements)
The ad's description asks, "What lies beyond a traditional smartphone? Let's find out. This is iPhone 14 Pro."
6. All of Us Are Dead | Official Trailer | Netflix" by Netflix (2:35 long, 22.6 million views, and 518,000 engagements)
The creative agency was The Refinery, and the media agency was in-house. The ad's description says,
"All of us will die. There is no hope." The school turned into a bloody battleground and our friends into worst enemies. Who will make it out alive?"
7. Sally's Seashells (Extended) | Big Game Commercial 2022" by Squarespace (1:07 long, 21.6 million views, and 67,600 engagements)
The media agency was in-house. The ad's description says,
"See everything that Sally sells in this extended cut of our 2022 Big Game commercial. Starring Zendaya as Sally and narrated by andré 3000."
Most Important Lesson That Marketers Can Apply In 2023
Looking back at YouTube's lists of top trending videos, top Shorts, and top ads for 2022, there is a meta-lesson that marketers can learn: one size does not fit all.
Different metrics matter when measuring different types of video, and different types of ads are better for different marketing objectives.
Or, as the British say, "There are horses for courses."
Now, that's a lesson that all of us can apply in 2023, and beyond.
More resources:
---
Featured Image: /Shutterstock
Meta Reinstates Trump to Facebook & Instagram
Meta announced that the suspension of former president Trump from Facebook and Instagram will be lifted within a few weeks, with "guardrails" in place to discourage repeat offenses.
2021 Suspension of Trump
Meta indefinitely suspended the account of then-president Trump after he praised the people who engaged in anti-government violence that ended in several deaths.
The suspension was reviewed by the Meta Oversight Board who concluded that the indefinite suspension was inconsistent with rules in place for dealing with policy violations.
"…it was not appropriate for Facebook to impose the indeterminate and standardless penalty of indefinite suspension. Facebook's normal penalties include removing the violating content, imposing a time-bound period of suspension, or permanently disabling the page and account.

The Board insists that Facebook review this matter to determine and justify a proportionate response that is consistent with the rules that are applied to other users of its platform."
Facebook responded to the board that the suspension will last for two years beginning on January 7, 2021 after which the suspension would be reconsidered.
The indefinite suspension remained in place until the announcement that it will be lifted in the weeks following January 25, 2022, just over two years after the suspension.
Why the Suspension of Trump was Lifted
The review of the suspension was timed for two years after the imposition of the original suspension on January 7, 2021. This was by agreement with the Oversight Board.
Meta undertook a review of whether Trump continued to pose a risk to public safety and decided that enough had changed to lower the risk.
The explanation of the decision indicated that multiple factors were considered:
"To assess whether the serious risk to public safety that existed in January 2021 has sufficiently receded, we have evaluated the current environment according to our Crisis Policy Protocol, which included looking at the conduct of the US 2022 midterm elections, and expert assessments on the current security environment.

Our determination is that the risk has sufficiently receded, and that we should therefore adhere to the two-year timeline we set out.

As such, we will be reinstating Mr. Trump's Facebook and Instagram accounts in the coming weeks. However, we are doing so with new guardrails in place to deter repeat offenses."
Facebook Public Figure Penalty Guardrails
Meta published updated policies, Restricting accounts by public figures during civil unrest, that describe the new protocols for dealing with public figures who violate Meta guidelines.
The updated rules apply to both Facebook and Instagram.
The new policies outline tiered penalties increasing in severity depending on the content violations.
Meta explained that the goal of the penalties were to deter violations of their policies.
The penalties last from one to thirty days to as long as two years for especially egregious violations.
Three factors will be considered to determine the severity of the penalty:
"The severity of the violation and the public figure's history on Facebook or Instagram, including current and past violations.
The public figure's potential influence over, and relationship to, the individuals engaged in violence.
The severity of the violence and any related physical harm."

 
Heightened Penalties
Public figures who return after a suspension will face heightened penalties, including disabling the account of any public figure that fails to respond to repeated warnings.
Meta's rules targets QAnon content and outlines specific measures they will take that will limit the reach of penalized public figures.
That means anyone who is following the restricted account of a public figure will not see content posted to those accounts, plus the removal of reshare buttons.
"Our updated protocol also addresses content that does not violate our Community Standards but that contributes to the sort of risk that materialized on January 6, such as content that delegitimizes an upcoming election or is related to QAnon.

We may limit the distribution of such posts, and for repeated instances, may temporarily restrict access to our advertising tools.

This step would mean that content would remain visible on Mr. Trump's account but would not be distributed in people's Feeds, even if they follow Mr. Trump.

We may also remove the reshare button from such posts, and may stop them being recommended or run as ads."
Response to Reinstatement of Trump
Facebook's announcement stated that they expect to be criticized but that the decision was guided by guidelines set down by the Oversight Board.
The response on social media was predictably passionate, with congressman Adam Schiff characterizing the reinstatement as Facebook having "caved."
Others accused Facebook of having no rules or procedures even though Meta's decision was based on rules and procedures.
Many of the top tweets commenting on the Trump reinstatement commented that Facebook's decision was based on greed while others lamented the lack of consequences from Trump's action, even though he was punished with a two year suspension.
Read Meta's Announcement:
Ending Suspension of Trump's Accounts With New Guardrails to Deter Repeat Offenses
Wayback Machine: 5 Alternatives To Try
Much of the web is ephemeral.
Web pages exist until they don't. The content on them exists until it's updated – and then it's gone.
Unless you go digging in an archive.
Archiving the web is important for cultural and anthropological research. It's also helpful for business reasons, like competitive analysis. It can even help document or monitor political processes.
Your particular reason for seeking archived content might determine which service works best.
The Wayback Machine is the most commonly known archive.
The Internet Archive is a nonprofit organization, and the Wayback Machine is the web version of its archive, containing an absolutely massive amount of data.
You can request that it save a webpage in its current state, as well as make use of tools, like an API.
As huge as the Wayback Machine archive is, it's likely not 100% complete. If you're having trouble finding something specific or wondering if there are alternatives with more features, these alternatives might help.
I won't be going over paid SaaS subscriptions, as I don't consider a paid service a true alternative to a free one provided by a nonprofit.
Let's go!
1. The Memento Project
Memento is an exceptional alternative to the Wayback Machine because it aggregates several different sources, including the Wayback Machine itself.
On the website, you can access archives from several sources by using the Time Travel tool.
This is the first distinction that makes Memento so cool, and it includes some of the other archives on this list, too. That means it's a customizable experience and likely one of the most complete.
Memento's other distinct feature is the Chrome extension that allows you to select the date on which you'd like to view your current page. This brings the tool to where you're browsing instead of making you put a URL into a form.
You can also create a snapshot of a page and generate a link to it that won't break. This is particularly useful for citation.
If you're concerned a page might disappear, or the content might get updated, but you want to use the information, creating one of these links ensures that people will be able to see your original source.
2. Archive.today
Archive.today is another "snapshot" tool. It allows you to save a link to a page as it currently exists.
Following the link will send users to an unalterable version of the page.
It also features some relatively advanced search queries you can perform on domains and URLs to find snapshots that have been saved with the tool.
This tool also features a Chrome extension as well as an Android app.
Searches on Memento can include results from Archive.today.
3. WebCite
WebCite has powerful applications for authors, journalists, academics, and publishers.
It offers a variety of ways to build and present the archived pages and the URLs.
Unfortunately, at the time of publishing, it doesn't appear to be taking new requests. But you can still access already archived pages. When and if it starts accepting requests again, it's a very useful tool for that.
Its most powerful feature for authors and publishers is the ability to upload a manuscript directly to the website.
The tool will scan every link in an uploaded manuscript and automatically create archives of each of the pages linked to as they currently exist. This saves a lot of time if you've used a lot of website citations.
If you've created content that you want people to be able to create snapshots of, then you can add a specific WebCite link to your page that users can click on. This embeds archive functionality into your page, saving users time if they decide to use your work as a citation.
4. GitHub
GitHub is a development and collaboration platform that also prioritizes public projects and open-source code.
It documents and archives open-source code and programs, and is searchable by other archives such as the Wayback Machine.
But, if you're looking for something related to code or software development, it might be easier to go straight to GitHub instead of using another archive service.
While it does have paid business plans, GitHub is free for the average user. It even offers 15GB of storage and some computing power in its cloud developer environment for free for your personal use.
5. Country-Specific Web Archives
Several countries run their own web archives.
These can be particularly helpful alternatives to the Wayback Machine if you're looking for a website highly relevant to a specific location, or the culture of a country.
More focused archives might have more complete information if you're having trouble finding it elsewhere, although again, I want to mention that the first alternative in this list, Memento, pulls from several different country-specific archives.
I should also note that many archives specific to a country, region, educational institution, or individual library are partnered with Archive-it, a service provider built by The Internet Archive (makers of the Wayback Machine).
They curate specific collections based on relevance, but all Archive-it partners leverage the same source: The Internet Archive.
These are a few of the country-specific web archives:
Conclusion
When you're looking for alternatives to the Wayback Machine, you might not realize that a great many of them, in part or in whole, are powered by the same archive.
But there are other services out there you can use. Some have more helpful features, depending on what your goals are.
This isn't an exhaustive list of alternative tools, but it's most of the easily accessible tools for the average user.
Others require monthly payments, and some are free to academic and legal institutions, but not to individual users.
I chose to focus on the best of the tools that you could go and use right now with no fuss.
More resources:
---
Featured Image: Studio Romantic/Shutterstock