5 Steps for Using Paid Internet Advertising to Drive Conversions
Paid advertising is a great way to guide more traffic to your site and increase business, but it can become expensive quickly — especially if you aren't careful. How do you make sure you are getting the most out of your paid ads?
A few weeks ago, I was talking to a business owner in my community. They recently started an aggressive Google AdWords campaign that was working, sort of. They getting tons of new leads, but the leads were for services they didn't offer! The problem was their campain was way too broad, and they were paying tons of cash for useless leads.
Don't let that happen to you. Here are five simple things you can do to make sure you are getting the most for your paid ad dollars.
1. Understand (and Use) Long Tail Keywords
Longtail keywords are keywords that are several words long. Rather than targeting "plumber," you might target "emergency plumber near me" or "plumber to unblock a drain." These are critical because they are more likely to match the words searchers use and they also indicate the searcher is ready to hire or buy.
Ubersuggest is a great resource for discovering keywords in your industry.
When using Ubersuggest, remember that you aren't necessarily looking for the highest-traffic keywords. You are looking for the words your customers use to look for you.
Be on the lookout for long-tail keywords that are longer, more specific keywords that make up the majority of search-driven traffic.
Here's a simple system you can use:
Step #1: Enter Your Head Keyword and Click "Search"

Step #2: Click "Keyword Ideas" in the Left Sidebar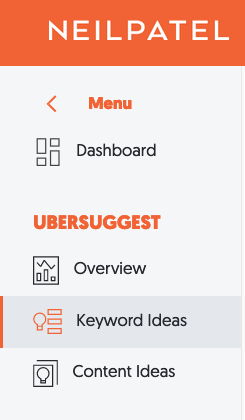 Step #3: Analyze the Results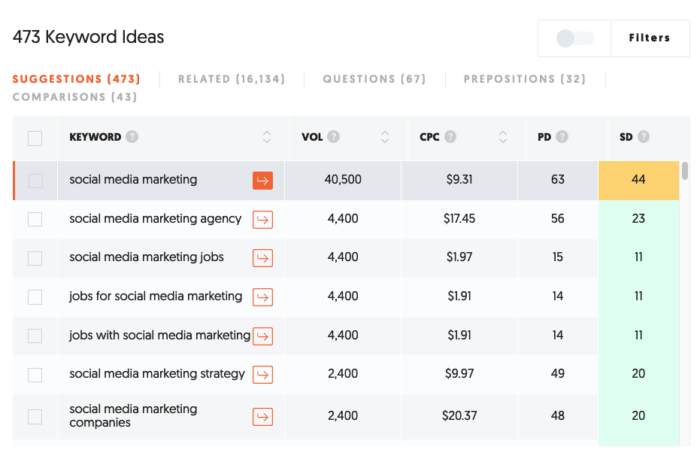 In the example above, the term "social media marketing" is considered a "head" keyword, which means it is searched for very frequently. The much less popular term "social media marketing strategy" receives fewer searches, but indicates the searcher is looking for something more specfic.
You might go even further and try something like "the best social media marketing strategy."
To find even more keywords, click the "Related" tab next to "Suggestions."
For this particular keyword, doing so gives you nearly 16,000 more keywords, the majority of which are long-tail. For example, here's what you see as you scroll down the results: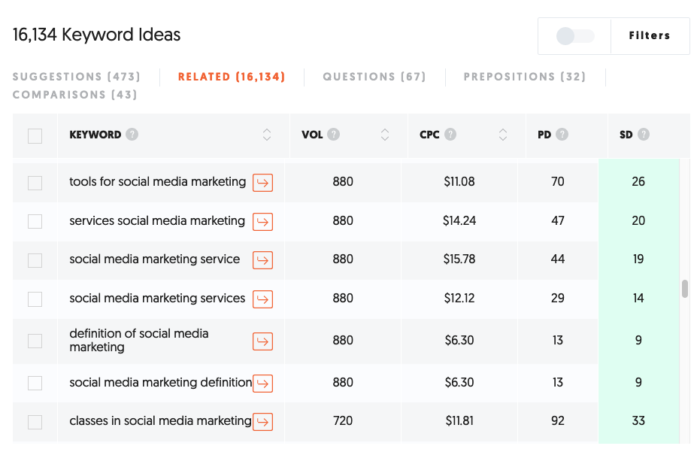 Once you find a long-tail keyword that piques your interest, click on it for a better idea of your competitors, both for paid ads and organic search.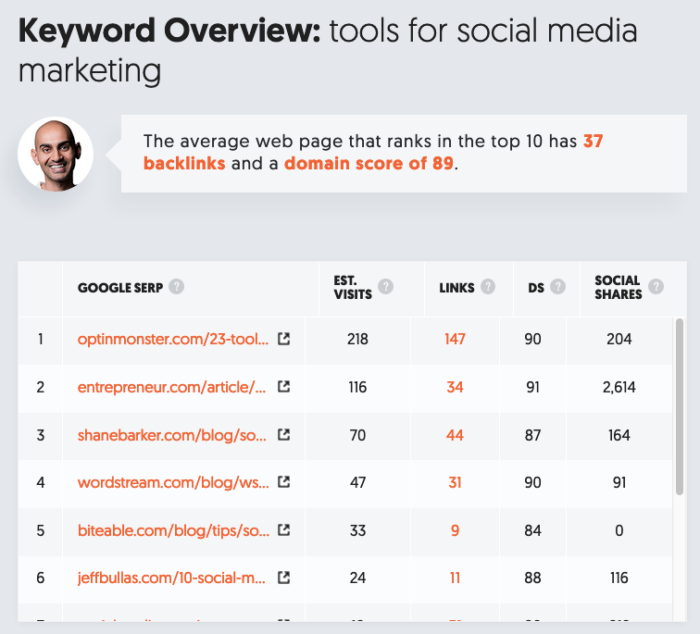 The big mistake that many first-time marketers make with SEO or pay-per-click advertising is choosing the wrong keywords.
When you purchase head keywords like "social media marketing," you will spend significantly more money and reduce your ROI dramatically.
The key that you have to remember is you get a lot more bang for your buck by targeting a large number of lower-traffic terms than by targeting a small number of higher-traffic terms.
Finally, the best source of keywords can come from your own website. Consider using a survey tool like Qualaroo to find out what your customers are looking for or why they decided to do business with you (after checkout for example). The language they use can be very effective ad copy for internet advertisements.
2. Understand the Different Types of Paid Ads
There are a lot of places to buy ads and each platform has its own strengths and weaknesses. Before getting started, you should understand the major types of paid advertising as well as their pros and cons.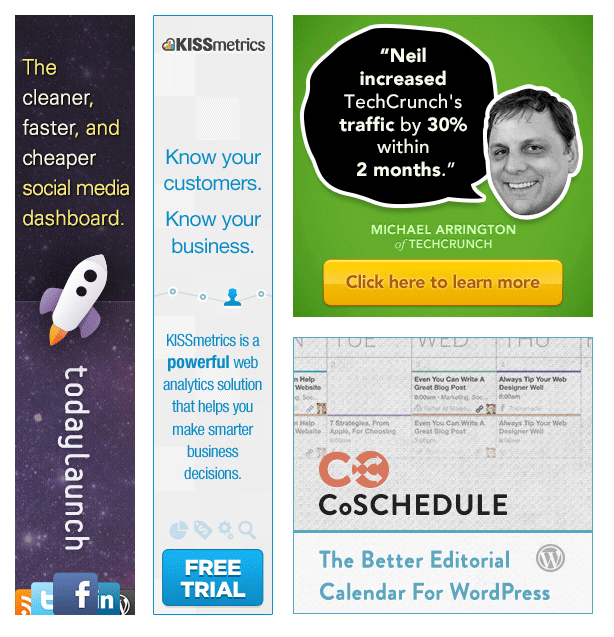 Display Ads or Banner Ads
Banner ads immediately come to mind when we think about online advertising because they stand out. They are very common and come in a variety of sizes. These ads can be effective, but they tend to target customers who are not actively looking for something new.
For example, a person may be reading a newspaper article and not be interested in a new social media course. Display ads can be successful, but they need to be used properly. Display ads can be purchased using a pay-per-click model or they simply can be displayed for a certain length of time.

Text ads are the type you usually see on the primary Google search page. These ads generally are less expensive than display ads and target customers that actually are looking for something specific. They can be very effective but depend heavily on good keyword research and A/B testing (a topic we will discuss later in this post).
Here are a few of the places you should try listing your ads, though there certainly are many others:
Google Ads
Google Ads (previously Google AdWords) are an obvious choice for many businesses. They offer display and text ads in association with highly targeted keywords. AdWords are a clear choice for any campaign.
Bonus Tip: Your Google Adwords ads will produce a better return on investment the longer you use Adwords. Google rewards long-term customers with better "quality scores".
Bing or Yahoo
Bing and Yahoo both offer alternative ad platforms that work similarly to Google's. They combine display and text ads with targeted search terms. Some brands find that, while these options bring less traffic, the overall ROI is a bit better.
Social Media Ads
Social media advertising has grown enormously in popularity over the last few years. These ads combine text and display elements and are targeted based on user preferences, demographics, and location. Depending on your business type, Facebook, LinkedIn, Instagram, and TikTok are valid options to consider.
BuySellAds or Direct Buy
BuySellAds.com is a great place to go to find additional display ad opportunities. These usually allow you to "rent" space on a site or a blog for a fixed cost. Additional opportunities like this can exist if you contact some of your favorite bloggers directly.
Can't decide between Facebook or Google (two popular options)? Then check out this video for some guidance:
Start by trying several of these options and use hard data to make final decisions about where you want to put your money. Rely on hard data, not guesses, to understand what platforms provide the best return.
3. Track Your Paid Ad Results
If you aren't able to see how each of your ads is performing, then you shouldn't be buying paid advertising at all. The beautiful thing about online advertising is that you get the opportunity to track everything. Google Analytics is an absolute must when it comes to online ad buying. This analytics package is free and easy to install.
Once you have it set up, you should become very familiar with Google Analytics Custom Campaigns. These options allow you to create a customized URL for each ad that will help you see overall performance for all of your advertising. Using Google Analytics in this way will give you a single dashboard for comparing all of your advertising campaigns.
4. Create a Landing Page
It is important to send incoming visitors to a unique page (called a landing page) on your website, rather than your homepage. This may seem counter-intuitive, but there are three very good reasons for using this strategy:
Landing pages allow you to customize your message for incoming visitors. This means that you can continue the message you started with your ads, which creates a more cohesive experience.
Custom landing pages allow you to push visitors toward specific actions, such as downloading a free ebook. (Displaying traditional navigation may distract your visitors.)
Landing pages make tracking your visits very easy. This is especially important.
When you combine this strategy with easy funnel-tracking tools, you quickly can gain a lot of information about how to reach and sell to your new visitors.
In some cases, you can create a single landing page for an entire ad campaign. In other cases, you may want to create a specific landing page for each keyword that you purchase.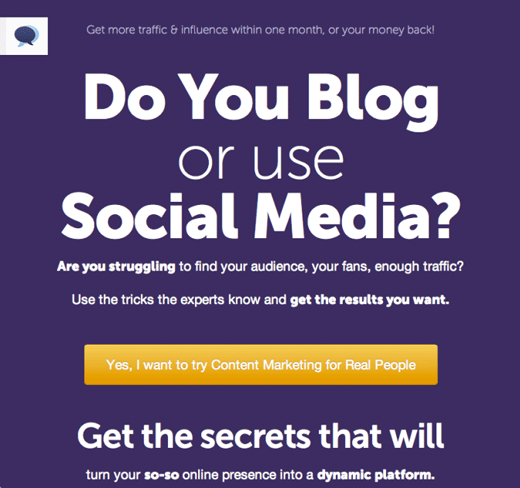 This landing page helps us track who comes to the page and exactly how effective our ads are.
It is important to remember to block your custom landing pages from search engines. This can be done with a simple edit to your "robots.txt" file. This is an important step that will make your ad tracking more reliable. If you allow Google and Bing to send non-paid visitors to your page, you may get a false sense of how your page is performing.
Here are two more tips to create high-converting landing pages.
Create a Call to Action
Once you have a visitor on your landing page, how do you convert them into a lead or a customer? Every page you send them to should have a clear call to action. Think about this one carefully, because it's the difference between a sale and wasted money.
I like to decide what the "number one" desired outcome for each page is before I design a landing page. Simply ask yourself, "What do I want them to do the most?" Then create the page accordingly.

A good call to action will tell your visitors exactly what you want them to do.
Everything on your page should push your visitors toward the action you want them to take. Without considering this, you're throwing money away.
Use A/B Testing
You may have launched your page, but you aren't done yet. Small tweaks and adjustments can make a huge difference in your overall conversion rate. If you've followed the tips above, you should have the proper landing page and conversion tracking to make this task very easy.
A/B testing is being scientific about testing which methods work best. When you go about A/B testing, it is important that you make only a single, testable, change each time. For example, you could test the effectiveness of your page's headline or button placement, but not both at the same time.
By testing a single change, you will be able to see conclusive results about what works best. A/B testing is an ongoing process, too, so don't stop. Keep testing and modifying your page. You might be surprised at what it does to your overall conversion rate.
5. Review Your Paid Ad Results Regularly
Whatever you do, don't look at your results every day. This practice can lead to hasty changes based on incomplete data. It is best to wait so that your analytics have time to accumulate accurate trends and information. Then determine a set time period for reviewing your statistics and making changes. It might be monthly, it might be weekly. Checking monthly is a good plan for picking up broad shifts.
Consider setting up spreadsheets to track your statistics. It's easier to pick up on trends and understand what you're seeing when you dig into your analytics to pull out the numbers for your spreadsheet.

Use simple spreadsheets to track your incoming ad traffic.
Be prepared to kill keywords that are under-performing. Remember, conversion rates are your most important statistics, not clicks. Clicks just waste money if they aren't driving leads or sales.
In paid advertising, the longer you run your ads, the better your rates and quality score will become. This will be true particularly if you rely heavily on good A/B testing and are constantly refining your ad buy.
5 Steps to Getting Started with Paid Ads
Time needed: 6 minutes.
Not sure how to get started with paid ads? Here's five steps to make sure you don't waste your investment.
Understand (and Use) Long Tail Keywords

Long tail keywords are less competitive and mimic the way people search.

 Understand the Different Types of Paid Ads

Each type of ad has different costs, audiences, and reaches. Understand the difference so you don't waste ad spend!

Track Your Paid Ad Results

If you aren't able to see how each of your ads is performing, then you shouldn't be buying paid advertising at all. T

Create a Landing Page

Landing pages help drive conversions and make it easier to track. Don't forget to add a CTA and use A/B testing.

Review Your Paid Ad Results Regularly

Check your results weekly or monthly to make sure your ads are driving results, not just clicks.
Conclusion
Paid ads are not a get-rich-quick scheme. Don't expect to be finished in a week or two. Give your ads time and finesse your plan to get the best results. Cumulative trends and information will give you a clearer picture of which ads actually convert.
Start by setting a small budget, and increase it as you gain confidence. If you need help getting started, feel free to reach out to my team. We can help create an advertising plan that works for your business.
Are you considering adding paid ads to your online advertising strategy? What is holding you back?
See How My Agency Can Drive Massive Amounts of Traffic to Your Website
SEO – unlock massive amounts of SEO traffic. See real results.
Content Marketing – our team creates epic content that will get shared, get links, and attract traffic.
Paid Media – effective paid strategies with clear ROI.
Email Marketing Trends 2023: Predictions by the Industry Stalwarts

Every year, we see new trends entering the world of email marketing.

Source link
5 Simple Things You Can Do To Improve the Content Experience for Readers
Who doesn't like to have a good experience consuming content?
I know I do. And isn't that what we – as both a consumer of content and a marketer of content – all want?
What if you create such a good experience that your audience doesn't even realize it's an "experience?" Here's a helpful mish-mash of easy-to-do things to make that possible.
1. Write with an inclusive heart
There's nothing worse than being in a conversation with someone who constantly talks about themselves. Check your text to see how often you write the words – I, me, we, and us. Now, count how often the word "you" is used. If the first-person uses are disproportionate to the second-person uses, edit to delete many first-person references and add more "you" to the text.
You want to let your audience know they are included in the conversation. I like this tip shared in Take Binary Bias Out of Your Content Conversations by Content Marketing World speaker Ruth Carter: Go through your text and replace exclusionary terms such as he/him and she/her with they/them pronouns.
Go through your text and replace exclusionary terms such as he/him and she/her with they/them pronouns, says @rbcarter via @Brandlovellc @CMIContent. #WritingTips Click To Tweet
2. Make your content shine brighter with an AI assist
Content published online should look different than the research papers and essays you wrote in school. While you should adhere to grammar rules and follow a style guide as best as possible, you also should prioritize readability. That requires scannable and easily digestible text – headings, bulleted text, short sentences, brief paragraphs, etc.
Use a text-polishing aid such as Hemingway Editor (free and paid versions) to cut the dead weight from your writing. Here's how its color-coded review system works and the improvements to make:
Yellow – lengthy, complex sentences, and common errors

Fix: Shorten or split sentences.

Red – dense and complicated text

Fix: Remove hurdles and keep your readers on a simpler path.

Pink – lengthy words that could be shortened

Fix: Scroll the mouse over the problematic word to identify potential substitutes.

Blue – adverbs and weakening phrases

Fix: Delete them or find a better way to convey the thought.

Green – passive voice

Fix: Rewrite for active voice.
Grammarly's paid version works well, too. The premium version includes an AI-powered writing assistant, readability reports, a plagiarism checker, citation suggestions, and more than 400 additional grammar checks.
In the image below, Grammarly suggests a way to rephrase the sentence from:
"It is not good enough any longer to simply produce content "like a media company would".
To:
"It is no longer good enough to produce content "as a media company would".
Much cleaner, right?
3. Ask questions
See what I did with the intro (and here)? I posed questions to try to engage with you. When someone asks a question – even in writing – the person hearing (or reading) it is likely to pause for a split second to consider their answer. The reader's role changes from a passive participant to an active one. Using this technique also can encourage your readers to interact with the author, maybe in the form of an answer in the comments.
4. Include links
Many content marketers include internal and external links in their text for their SEO value. But you also should add links to help your readers. Consider including links to help a reader who wants to learn more about the topic. You can do this in a couple of ways:
You can link the descriptive text in the article to content relevant to those words (as I did in this bullet point)
You can list the headlines of related articles as a standalone feature (see the gray box labeled Handpicked Related Content at the end of this article).
Add links to guide readers to more information on a topic – not just for SEO purposes says @Brandlovellc via @CMIContent. #WritingTips Click To Tweet
You also can include on-page links or bookmarks in the beginning (a table of contents, of sorts) in longer pieces to help the reader more quickly access the content they seek to help you learn more about a topic. This helps the reader and keeps visitors on your website longer.
5. Don't forget the 'invisible' text
Alt text is often an afterthought – if you think about it all. Yet, it's essential to have a great content experience for people who use text-to-speech readers. Though it doesn't take too much time, I find that customizing the image description content instead of relying on the default technology works better for audience understanding.
First, ask if a listener would miss something if they didn't have the image explained. If they wouldn't, the image is decorative and probably doesn't need alt text. You publish it for aesthetic reasons, such as to break up a text-heavy page. Or it may repeat information already appearing in the text (like I did in the Hemingway and Grammarly examples above).
If the listener would miss out if the image weren't explained well, it is informative and requires alt text. General guidelines indicate up to 125 characters (including spaces) work best for alt text. That's a short sentence or two to convey the image's message. Don't forget to include punctuation.
General guidelines indicate up to 125 characters (including spaces) work best for alt text, says @Brandlovellc via @CMIContent. Click To Tweet
For both decorative and informative images, include the photo credits, permissions, and copyright information, in the caption section.
For example, if I were writing an article about Best Dogs for Families, I would include an image of a mini Bernedoodle as an example because they make great family pets. Let's use this image of my adorable puppy, Henri, and I'll show you both a good and bad example of alt text.
An almost useless alt-text version: "An image showing a dog."
It wastes valuable characters with the phrase "an image showing."
Use the available characters for a more descriptive alt text: "Author's tri-colored (brown, white, black, grey wavy hair), merle mini Bernedoodle, Henri, lying on green grass."
It's more descriptive, and I only used 112 characters, including spaces.
Want to learn more? Alexa Heinrich, an award-winning social media strategist, has a helpful article on writing effective image descriptions called The Art of Alt Text. @A11yAwareness on Twitter is also a great resource for accessibility tips.
Improve your content and better the experience
Do any of these suggestions feel too hard to execute? I hope not. They don't need a bigger budget to execute. They don't need a lengthy approval process to implement. And they don't demand much more time in production.
They just need you to remember to execute them the next time you write (and the time after that, and the time after that, and the … well, you get the idea.)
If you have an easy-to-implement tip to improve the content experience, please leave it in the comments. I may include it in a future update.
All tools mentioned in the article are identified by the author. If you have a tool to suggest, please feel free to add it in the comments.
If you have an idea for an original article you'd like to share with the CMI audience, you could get it published on the site. First, read our 
blogging guidelines
 and write or adjust your draft accordingly. Then submit the post for consideration following the process outlined in the guidelines.
In appreciation for guest contributors' work, we're offering free registration to one paid 
event
 or free enrollment in 
Content Marketing University
 to anyone who gets two new posts accepted and published on the CMI site in 2023.
HANDPICKED RELATED CONTENT:
Cover image by Joseph Kalinowski/Content Marketing Institute
The Ultimate Guide to Product Marketing in 2023
Product marketing is essential, even if you only sell one or two products at your organization.