How Much Do Bing Ads Cost?
If you're here, you must be wondering "how much do Bing ads cost?"
You're smart to focus on Bing and other search engines instead of just Google ads.
According to Statista, Bing has 1.03 billion unique global visitors per month. In addition, 38 percent of Bing users had an annual income of $100,000 or more.
Not only is the search engine installed in billions of devices, but the platform is also appealing to a significant number of high-income earners.
In this article, we'll share everything you need to know about Bing ads.
Factors Affecting the Cost of Bing Ads
Microsoft Advertising provides pay-per-click (PPC) ads for Bing–but how much do Bing ads cost?
Well, it depends. Advertisers only pay when a potential lead clicks on their ad.
Because of this, you need to assess your budget in terms of cost-per-click (CPC) and the number of clicks.
Let's say you want a PPC ad to get 100 clicks per day. Every click has a maximum CPC of $0.50. To determine your possible daily cost, multiply $0.50 by 100—$50 per day.
If you want to change your budget, make the necessary adjustments on the Microsoft Advertising platform.
There are two budget types in the Bing ad platform:
Daily: Targeted daily limit for PPC ad spend (actual amount could be a bit higher or lower).
Shared: Lets you set up multiple campaigns with a shared budget.
Microsoft's daily budget types let you estimate the amount you may spend on advertising per month using the following formula:
If you change your daily ad spend, use this formula to figure out the monthly cost:
Although PPC spend could surpass the estimated monthly limit, Microsoft Advertising will refund the excess cost at the end of the month.
Types of Bing Ads
Now that we've looked at Bing ad costs, let's take a look at the different types of Bing Ads you can create.
Expanded Text Ads
This type of ad is usually found in search results. The title allows three headlines of up to 30 characters each, and text including up to two descriptions of up to 90 characters each.
Here's how it looks:

Dynamic Search Ads
These appear on relevant search queries related to your website. There's no need to manage bids, maintain keyword lists, and customize ad titles.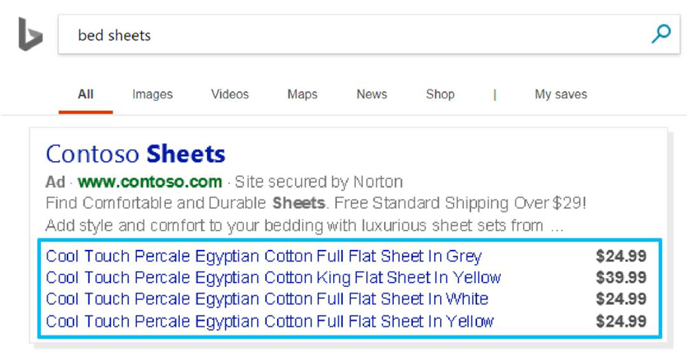 Product Ads
Product ads include product images, prices, promotional text, and seller information.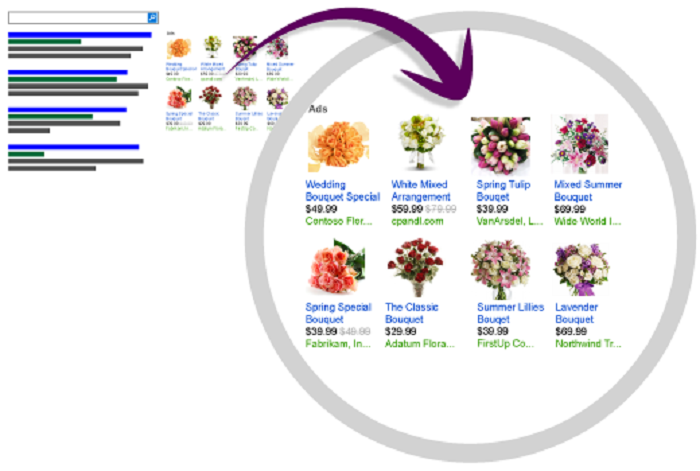 Microsoft Audience Ads
These ads enable businesses to collect non-search traffic through contextual and strategic placements. They can be placed in an article or page content to provide additional avenues for brands to communicate with visitors.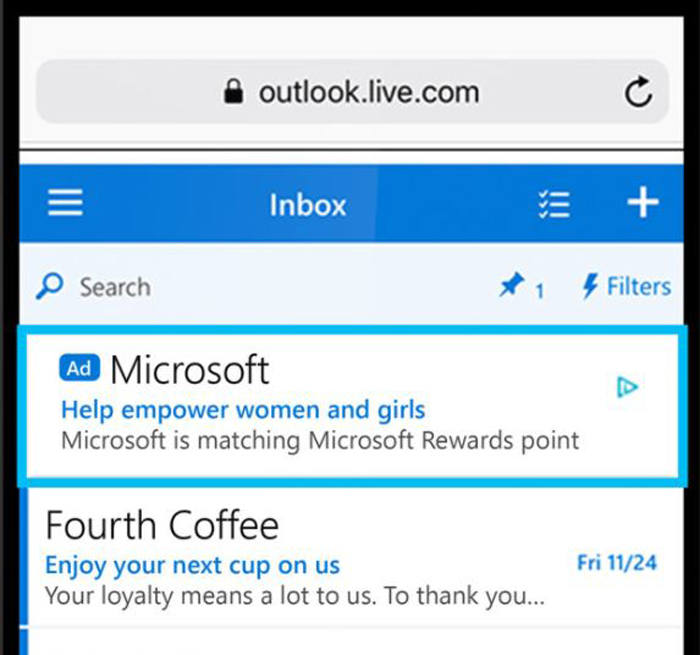 Microsoft Advertising in Bing Smart Search
Smart Search results showcase a preview of your landing page.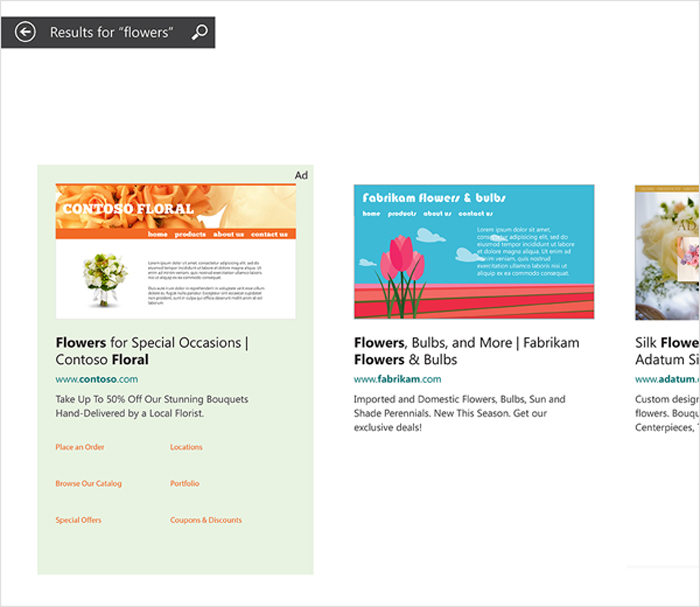 App Install Ads
These look like regular text ads but have direct links to your app store, leading you to a post from which you can download the advertised app.
Responsive Search Ads
These ads eliminate the need to identify ideal headlines and ad descriptions. All you need to do is list 15 headlines and four descriptions; then, Microsoft Advertising determines the best combinations.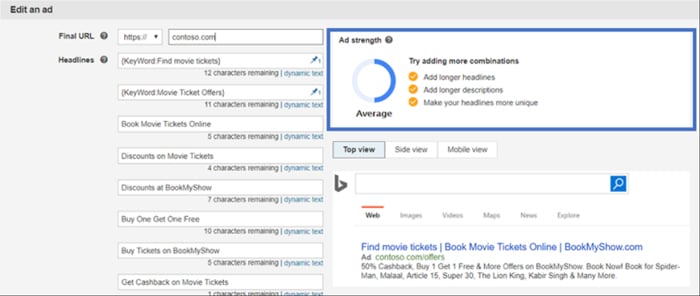 Bidding Strategy
Microsoft Advertising has several bidding strategies to help ensure your money is well-spent based on clicks, conversions, and searches.
Consider the following ways this platform can manage your bids:
Enhanced CPC: This is the default way to manage bids in your campaigns. To get started, select your ad group and keyword bids. Then, Microsoft Advertising modifies bids in real-time to potentially boost conversions.
Maximize Clicks: This lets you achieve the most clicks possible based on your specified budget.
Maximize Conversions: True to its name, this enables Bing to set bids and gain as many conversions as possible based on your budget. You can set a maximum CPC, so you don't have to pay more than a specific amount for a click.
Target Cost Per Acquisition (CPA): You can set a 30-day target CPA, and Microsoft Advertising will automate bids. In this strategy, keyword bids are optimized based on ad schedule, device, and location.
Target Return on Ad Spend (ROAS): This metric allows you to set a budget with a target 30-day average ROAS. Once it's specified, Microsoft Advertising enables users to bid in real-time to attain this average.
Manual CPC: Manual CPC lets you manage your keyword bids and ad groups.
Bing Ad Metrics
Once you set up a campaign, you'll find several performance metrics based on your keywords.
Here are the key performance metrics in Microsoft Advertising:
Estimated Monthly Clicks: number of times people are expected to click your ads per month based on your budget, targeting, and keywords
Estimated Monthly Impressions: number of times people should see your ads in a month based on your budget, targeting, and keywords
Estimated Monthly Spend: estimated cost of the ad group per month
Estimated Average Position: placement of the ad in the search results, such as top, side, or bottom
There are also other common metrics that you can use to measure an ad's performance and your ROI.
Impressions: the number of times your PPC ads were featured on the Bing SERPs
Conversions: number of clicks on PPC campaign ads
Conversion Rate: percentage of visitors who clicked your website upon viewing the ad
Cost Per Action (CPA): average cost of conversion from your PPC campaign ad
Average CPC: total paid for all clicks divided by the total number of clicks
Total Ad Spend: total spent on all clicks
Return on Ad Spend: total revenue generated from PPC ads divided by the total amount spent on this channel
Average Position: the average position of the PPC ad on the Bing SERPs
CTR: average rate of clicks on your PPC ads
Revenue total revenue generated from conversions
Bing Ads Cost Per Industry
Bing may not be as popular as Google, but it often has great results anyway.
Users may experience higher CTRs and conversion rates at lower CPCs and CPAs.
A WordStream study suggests the average CTR for Bing across all industries is around 2.83 percent. B2B services have an even higher CTR at 3.01 percent, making this worth investigating if that's your type of business.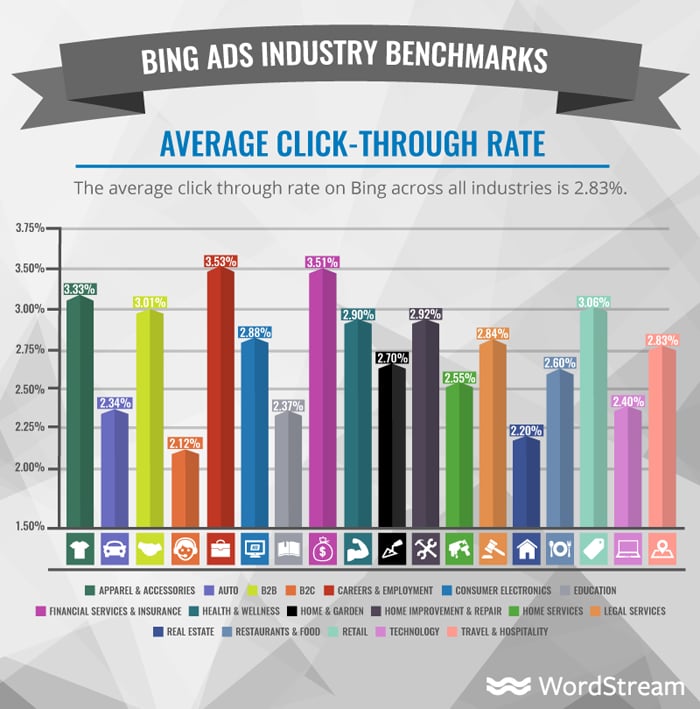 Then, there's CPC. Bing's average cost per click is $1.54—33 percent lower than Google Ads.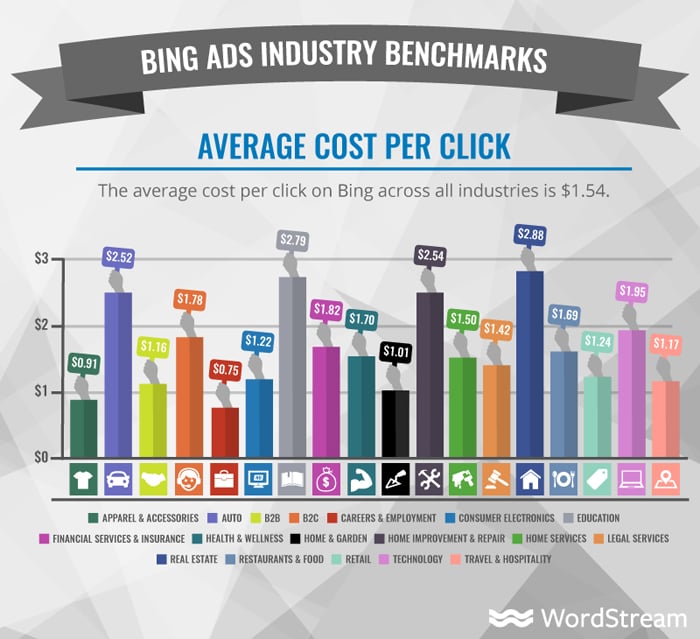 Of course, you want to get people to convert. Bing's conversion rate is an average of 2.94 percent, with varying industries experiencing conversion rates between about 1.58 and 6.81 percent.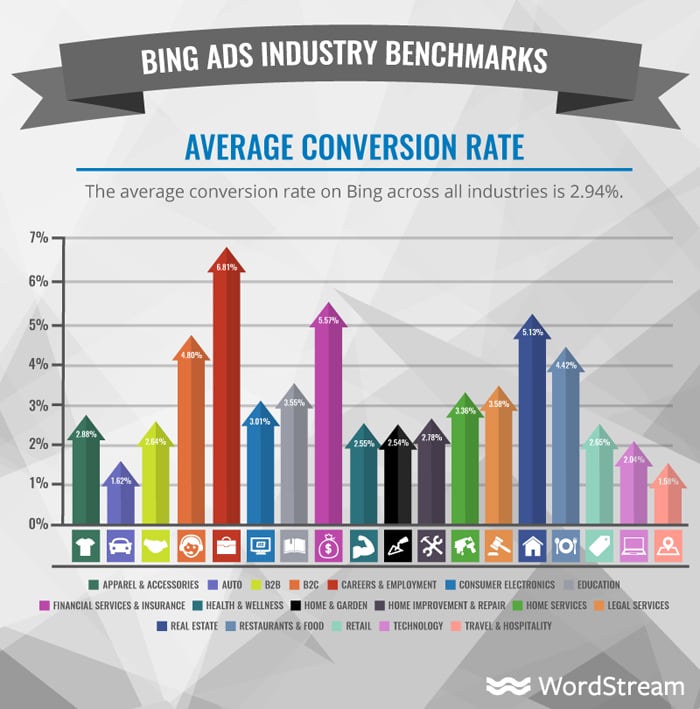 Bing's average CPA across industries is $41.44.
Small businesses on a tight budget may be delighted to learn the average CPA is 30 percent lower than the AdWords customers' average. Industries that enjoy a low CPA include home services ($21.68), careers and employment ($23.71), and apparel and accessories ($25.16).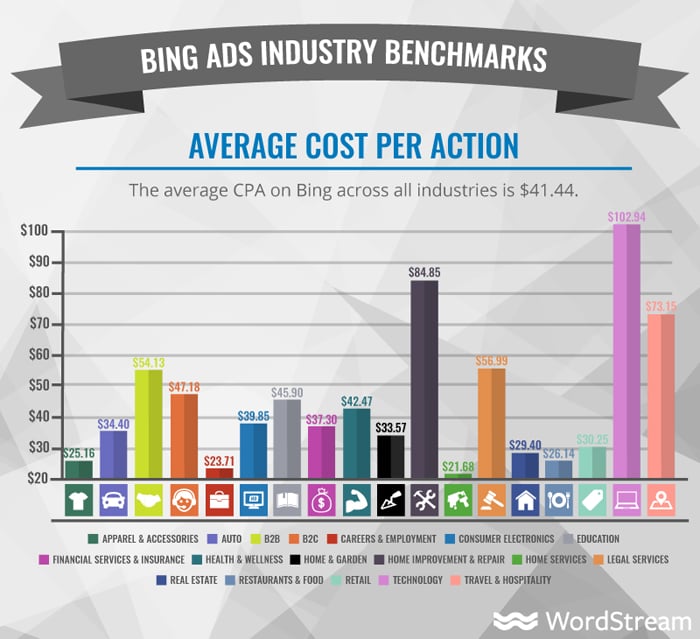 These numbers prove Bing is an ideal platform for launching PPC ads. Marketers can expect stronger performance and better results by leveraging Bing for their paid search campaigns.
What Affects Bing Ad Spend?
How much do Bing ads cost? How much money should you allot for PPC campaigns? There are a few variables that could impact your budget.
Here are some of the factors to consider.
Account Size
Account size is determined by the number of ad groups, keywords, and campaigns in your account. Big companies with multiple PPC campaigns need larger budgets to keep multiple ads running.
Geographical Area
Location is another crucial factor impacting your PPC budget. Places with bigger populations may require higher CPCs, meaning larger budgets.
Industry
As we've mentioned previously, niche or industry could impact your cost per click.
According to a WordStream study, the lowest CPCs for Bing include careers and employment ($0.75), as well as apparel and accessories ($0.91). Costs are higher for other industries such as real estate ($2.88), education ($2.79), and automotive ($2.52). Moreover, you may have to pay more to target competitive keywords.
On average, CPC is slightly lower on Bing than on Google AdWords. However, it's better to understand the average CPCs in your industry so you can plan accordingly.
Duration and Holidays
Since Bing advertising has a daily budget, a longer campaign duration means higher costs. Fortunately, you can modify the maximum amount you can spend each day so you don't overspend.
When planning your campaign's duration, take note of holidays, as these may impact the campaign's cost. For instance, the fourth quarter of the year has a ton of holidays, so it may not be an ideal time for B2Bs to spend extra money on ads.
To maximize your ad spend, consider the ideal time for clicks and conversions of your past PPC campaigns. Scheduling your campaigns at the best times may ensure your money will be well-spent.
Audience Size
Your audience size impacts your campaign budget. A large audience could result in hundreds of clicks, but if the people clicking aren't your ideal buyers, that's money going to waste. Use data from your clicks to determine if you need to change your tactics.
Conclusion
So how much do Bing Ads cost? As you now know, it depends on which ad types you use, how long you run your campaign, and how well your CPC performs on your PPC ads.
While Bing is a lesser-known search engine, it can also help you improve your PPC campaigns.
If you plan ahead and keep an eye on your data, you could enjoy clicks and conversions at lower prices than other search engines.
If setting up your ad campaigns on Bing sounds daunting, we can assist you!
What successes have you had when advertising on Bing?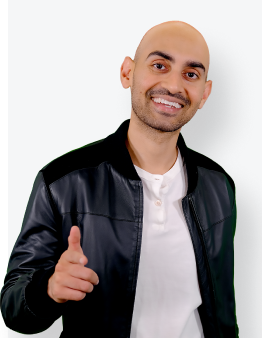 See How My Agency Can Drive Massive Amounts of Traffic to Your Website
SEO – unlock massive amounts of SEO traffic. See real results.
Content Marketing – our team creates epic content that will get shared, get links, and attract traffic.
Paid Media – effective paid strategies with clear ROI.
3 Smart Bidding Strategies To Help You Get the Most Out of Your Google Ads
Now that we've officially settled into the new year, it's important to reiterate that among the most effective ways to promote your business are Google Ads. Not only do Google Ads increase your brand visibility, but they also make it easier for you to sell your services and products while generating more traffic to your website.
The thing about Google Ads, though, is that setting up (and running) a Google Ads campaign isn't easy – in fact, it's pretty beginner-unfriendly and time-consuming. And yet, statistically speaking, no platform does what Google Ads can do when it comes to audience engagement and outreach. Therefore, it will be beneficial to learn about and adopt some smart bidding strategies that can help you get the most out of your Google Ads.
To that end, let's check out a few different bidding strategies you can put behind your Google Ads campaigns, how these strategies can maximize the results of your Google Ads, and the biggest benefits of each strategy.
Smart bidding in Google Ads: what does it mean, anyway?
Before we cover the bidding strategies that can get the most out of your Google Ads, let's define what smart bidding means. Basically, it lets Google Ads optimize your bids for you. That doesn't mean that Google replaces you when you leverage smart bidding, but it does let you free up time otherwise spent on keeping track of the when, how, and how much when bidding on keywords.
The bidding market is simply too big – and changing too rapidly – for any one person to keep constant tabs on it. There are more than 5.5 billion searches that Google handles every day, and most of those searches are subject to behind-the-scenes auctions that determine which ads display based on certain searches, all in a particular order.
That's where smart bidding strategies come in: they're a type of automated bidding strategy to generate more conversions and bring in more money, increasing your profits and cash flow. Smart bidding is your way of letting Google Ads know what your goals are (a greater number of conversions, a goal cost per conversion, more revenue, or a better ROAS), after which Google checks what it's got on file for your current conversion data and then applies that data to the signals it gets from its auctions.
Types of smart bidding strategies
Now that you know what smart bidding in Google Ads is and why it's important, let's cover the best smart bidding strategies you can use to your advantage.
Maximize your conversions
The goal of this strategy is pretty straightforward: maximize your conversions and get the most out of your budget's allocation toward said conversions. Your conversions, be they a form submission, a customer transaction, or a simple phone call, are something valuable that you want to track and, of course, maximize.
The bottom line here is simply generating the greatest possible number of conversions for your budget. This strategy can potentially become costly, so remember to keep an eye on your cost-per-click and how well your spending is staying inside your budget.
If you want to be extra vigilant about keeping conversion costs in a comfy range, you can define a CPA goal for your maximize conversions strategy (assuming you've got this feature available).
Target cost per acquisition
The purpose behind this strategy is to meet or surpass your cost-per-acquisition objective that's tied to your daily budget. When it comes to this strategy, it's important to determine what your cost-per-acquisition goal is for the strategy you're pursuing.
In most cases, your target cost per acquisition goal will be similar to the 30-day average you've set for your Google Ads campaign. Even if this isn't going to be your end-all-be-all CPA goal, you'll want to use this as a starting point.
You'll have lots of success by simply leveraging target cost per acquisition on a campaign-by-campaign basis, but you can take this one step further by creating a single tCPA bid strategy that you share between every single one of your campaigns. This makes the most sense when running campaigns with identical CPA objectives. That's because you'll be engaging with a bidding strategy that's fortified with a lot of aggregate data from which Google's algorithm can draw, subsequently endowing all of your campaigns with some much-needed experience.
Maximize clicks
As its name implies, this strategy centers around ad optimization to gain as many clicks as possible based on your budget. We recommend using the maximize clicks strategy if you're trying to drive more traffic to your website. The best part? Getting this strategy off the ground is about as easy as it gets.
All you need to do to get started with maximizing clicks is settle on a maximum cost-per-click that you then earmark. Once that's done, you can decide how much money you want to shell out every time you pay for a bid. You don't actually even need to specify an amount per bid since Google will modify your bids for you to maximize your clicks automatically.
Picture this: you've got a website you're running and want to drive more traffic to it. You decide to set your maximum bid per click at $2.5. Google looks at your ad, adjusts it to $3, and automatically starts driving more clicks per ad (and more traffic to your site), all without ever going over the budget you set for your Google Ads campaign.
Conclusion
If you've been using manual bidding until now, you probably can't help but admit that you spend way too much time wrangling with it. There are plenty of other things you'd rather be – and should be – spending your time on. Plus, bids change so quickly that trying to keep up with them manually isn't even worth it anymore.
Thankfully, you've now got a better grasp on automated and smart bidding after having read through this article, and you're aware of some important options you have when it comes to strategies for automated bidding. Now's a good time to explore even more Google Ads bidding strategies and see which ones make the most sense when it comes to your unique and long-term business objectives. Settle on a strategy and then give it a whirl – you'll only know whether a strategy is right for you after you've tested it time and time again. Good luck!
Is Twitter Still a Thing for Content Marketers in 2023?
The world survived the first three months of Elon Musk's Twitter takeover.
But what are marketers doing now? Did your brand follow the shift Dennis Shiao made for his personal brand? As he recently shared, he switched his primary platform from Twitter to LinkedIn after the 2022 ownership change. (He still uses Twitter but posts less frequently.)
Are those brands that altered their strategy after the new ownership maintaining that plan? What impact do Twitter's service changes (think Twitter Blue subscriptions) have?
We took those questions to the marketing community. No big surprise? Most still use Twitter. But from there, their responses vary from doing nothing to moving away from the platform.
Lowest points
At the beginning of the Elon era, more than 500 big-name advertisers stopped buying from the platform. Some (like Amazon and Apple) resumed their buys before the end of 2022. Brand accounts' organic activity seems similar.
In November, Emplifi research found a 26% dip in organic posting behavior by U.S. and Canadian brands the week following a significant spike in the negative sentiment of an Elon tweet. But that drop in posting wasn't a one-time thing.
Kyle Wong, chief strategy officer at Emplifi, shares a longer analysis of well-known fast-food brands. When comparing December 2021 to December 2022 activity, the brands posted 74% less, and December was the least active month of 2022.
Fast-food brands posted 74% less on @Twitter in December 2022 than they did in December 2021, according to @emplifi_io analysis via @AnnGynn @CMIContent. Click To Tweet
When Emplifi analyzed brand accounts across industries (2,330 from U.S. and Canada and 6,991 elsewhere in the world), their weekly Twitter activity also fell to low points in November and December. But by the end of the year, their activity was inching up.
"While the percentage of brands posting weekly is on the rise once again, the number is still lower than the consistent posting seen in earlier months," Kyle says.
Quiet-quitting Twitter
Lacey Reichwald, marketing manager at Aha Media Group, says the company has been quiet-quitting Twitter for two months, simply monitoring and posting the occasional link. "It seems like the turmoil has settled down, but the overall impact of Twitter for brands has not recovered," she says.
@ahamediagroup quietly quit @Twitter for two months and saw their follower count go up, says Lacey Reichwald via @AnnGynn @CMIContent. Click To Tweet
She points to their firm's experience as a potential explanation. Though they haven't been posting, their follower count has gone up, and many of those new follower accounts don't seem relevant to their topic or botty. At the same time, Aha Media saw engagement and follows from active accounts in the customer segment drop.
Blue bonus
One change at Twitter has piqued some brands' interest in the platform, says Dan Gray, CEO of Vendry, a platform for helping companies find agency partners to help them scale.
"Now that getting a blue checkmark is as easy as paying a monthly fee, brands are seeing this as an opportunity to build thought leadership quickly," he says.
Though it remains to be seen if that strategy is viable in the long term, some companies, particularly those in the SaaS and tech space, are reallocating resources to energize their previously dormant accounts.
Automatic verification for @TwitterBlue subscribers led some brands to renew their interest in the platform, says Dan Gray of Vendry via @AnnGynn @CMIContent. Click To Tweet
These reenergized accounts also are seeing an increase in followers, though Dan says it's difficult to tell if it's an effect of the blue checkmark or their renewed emphasis on content. "Engagement is definitely up, and clients and agencies have both noted the algorithm seems to be favoring their content more," he says.
New horizon
Faizan Fahim, marketing manager at Breeze, is focused on the future. They're producing videos for small screens as part of their Twitter strategy. "We are guessing soon Elon Musk is going to turn Twitter into TikTok/YouTube to create more buzz," he says. "We would get the first moving advantage in our niche."
He's not the only one who thinks video is Twitter's next bet. Bradley Thompson, director of marketing at DigiHype Media and marketing professor at Conestoga College, thinks video content will be the next big thing. Until then, text remains king.
"The approach is the same, which is a focus on creating and sharing high-quality content relevant to the industry," Bradley says. "Until Twitter comes out with drastically new features, then marketing and managing brands on Twitter will remain the same.
James Coulter, digital marketing director at Sole Strategies, says, "Twitter definitely still has a space in the game. The question is can they keep it, or will they be phased out in favor of a more reliable platform."
Interestingly given the thoughts of Faizan and Bradley, James sees businesses turning to video as they limit their reliance on Twitter and diversify their social media platforms. They are now willing to invest in the resource-intensive format given the exploding popularity of TikTok, Instagram Reels, and other short-form video content.
"We've seen a really big push on getting vendors to help curate video content with the help of staff. Requesting so much media requires building a new (social media) infrastructure, but once the expectations and deliverables are in place, it quickly becomes engrained in the weekly workflow," James says.
What now
"We are waiting to see what happens before making any strong decisions," says Baruch Labunski, CEO at Rank Secure. But they aren't sitting idly by. "We've moved a lot of our social media efforts to other platforms while some of these things iron themselves out."
What is your brand doing with Twitter? Are you stepping up, stepping out, or standing still? I'd love to know. Please share in the comments.
Want more content marketing tips, insights, and examples?
Subscribe
 to workday or weekly emails from CMI.
HANDPICKED RELATED CONTENT:
Cover image by Joseph Kalinowski/Content Marketing Institute
45 Free Content Writing Tools to Love [for Writing, Editing & Content Creation]
Creating content isn't always a walk in the park. (In fact, it can sometimes feel more like trying to swim against the current.)
While other parts of business and marketing are becoming increasingly automated, content creation is still a very manual job. (more…)