7 strategier för försäljning på Memorial Day
Memorial Day means many things to many people. At its heart, it's a day to commemorate the brave American soldiers who died fighting for this country. For many, the Memorial Day weekend also marks the start of summer and a chance to grab a deal in the annual holiday shopping event.
The shopping event is no longer the preserve of brick-and-mortar stores. Research by Namogoo shows e-commerce fashion sales soared over Memorial Day 2020, up 380 percent compared to the year before. Conversions increased by 335 percent, too.
These kinds of figures don't happen by magic, however. Marketing plays a crucial role in your store's success.
That's why I'm going to show seven strategies to send your Memorial Day sales soaring.
7 Tips for E-Commerce Memorial Day Sales
A record-breaking Memorial Day doesn't happen by luck. By using one or several of the following tips, you give your store a better chance of getting noticed, winning new customers, and having a great weekend.
1. Run a Paid Ad Campaign Showcasing Your Sales
Succeeding over the Memorial Day weekend is all about standing out. Big brands may do this with television commercials or billboards. Smaller brands often stick to social media. I recommend combining the two via a paid ad campaign on social media.
While few brands can afford to go all out on a TV ad, many e-commerce brands can afford a short paid ad campaign, especially if it's optimized for conversions.
There are two crucial factors you need to get right: The channel you advertise on and the creative you use.
I recommend sticking to Facebook or Google for your paid ads. These platforms offer the greatest reach and the best targeting tools to help make sure your paid media budget goes the furthest.
When it comes to ad creative, it's all about standing out. Using red, white, and blue, and an American flag are a given. But also consider including summer-related imagery that so many consumers relate to the holiday.
It's essential to remember that, unlike Independence Day, this is a day of remembrance. Keep your tone respectful of the fallen and their loved ones, even if you're focusing on summer fun. This ad from My Mind's Eye does a great job of finding this balance: It's eye-catching, positive, and still reminds viewers of the reason for the holiday.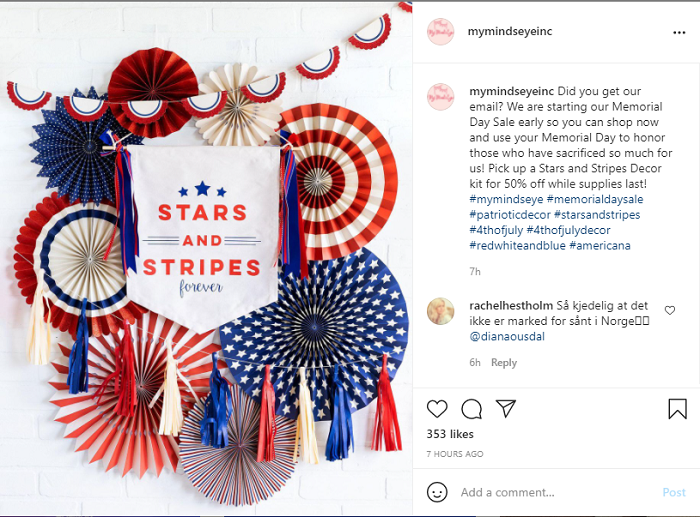 Use Memorial Day hashtags on social media platforms, but be careful about the kind of content you post. Some people may be using these hashtags to search for information around the holiday itself and may be offended by overly promotional material.
2. Tease Your Sales on Social Media Without Revealing What They Are Until Memorial Day
Teasing your Memorial Day sales on social media is a fantastic way to drum up anticipation and build a potential customer base well before the big day. By running it on social channels, you have the chance to pick up thousands of new users who have never shopped with you before.
Get your social media calendar in place well ahead of the holiday. The more time you have to post, the more anticipation you can build. This is as true for your email marketing campaign as it is for your social media posts.
Till exempel, The Pampered Iggy—an artist who makes outfits for Italian Greyhounds—teases their upcoming Memorial Day sales in this simple but effective image: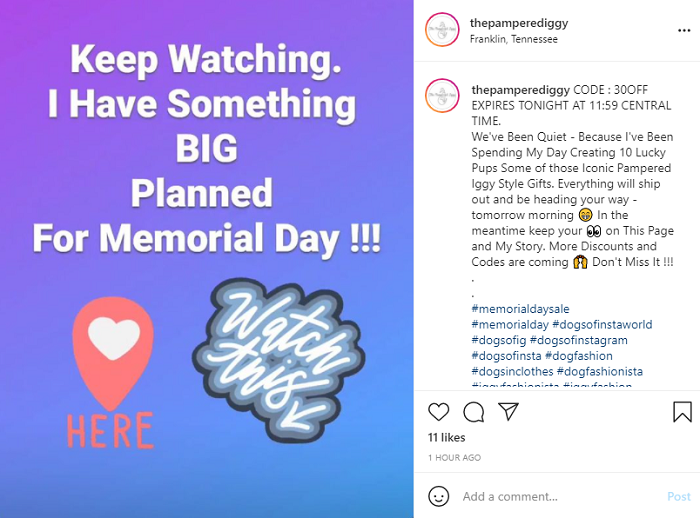 3. Run a Flash Sale
Unlike the winter holiday shopping season, Memorial Day sales last for a couple of days at most. This makes it ripe for flash sales.
These sales typically come with substantial discounts and are all about encouraging consumers to make impulse purchases. They're also a great way to grab some press attention and make sure customers visit your store over your competitors.
Focusing on your new summer products is the best strategy here. Many consumers wait until Memorial Day weekend to make their spring and summer purchases, so they're on the lookout for this season's items. Make the discounts too good to avoid.
Getting the word out about your sales will be just as important. Consider using a paid ad campaign as I described above to promote your sales, but don't forget about your email list or social media followers.
4. Sell Winter Items at a Deep Discount
Everyone loves a discount, especially on Memorial Day. Price drops between 20 percent and 90 percent are common. There's no better time to get rid of leftover winter items while attracting new customers than to sell them cheap.
These sales can run alongside your standard Memorial Day sales events, or they can stand on their own. It all depends on what products you stock for summer. Brands that tend to do well during the summer months may prefer to emphasize their new line of products. On the other hand, winter sports stores may just want to make their steep discounts the center of attention.
5. Honor Veterans and Their Families
Memorial Day is a day of remembrance for fallen soldiers. This is why it's essential to stay positive but not too celebratory about the unofficial start of summer.
Richard Levick, chairman and CEO of LEVICK, says:
Remembrance and relaxation both play important roles in our lives, but they should occupy separate spheres…When brands forget to respect that separation, and when executives who don't understand the true meaning of Memorial Day are in control of a company's marketing and social media outreach, insensitive—even offensive—things happen.
In particular, he recommends against potentially exploitative imagery of military funeral services, families in mourning, and so forth. Many companies juxtapose these images with messages of "FLASH SALE!" and "Happy Memorial Day!" which can ruffle feathers.
Not all veterans and families want to hear "thank you for your service" on Memorial Day and want the day focused on those who have been lost. That said, honoring veterans, active duty military, and their families can be done tastefully and well, without drawing focus away from the meaning of the day—chances are many of them have lost someone in the line of duty.
There are many ways you can honor veterans and active service people. One option is to give them early or preferential access to your sale. Another is to offer them discounts or special offers. You could even give away small items as gifts.
But a particularly special thing you can do to show your understanding and gratitude? Donate a portion of your proceeds from your Memorial Day sale to a charity supporting the families of fallen soldiers, like the Tragedy Assistance Program for Survivors (TAPS) or the Children of Fallen Patriots Foundation. Mention this plan in your Memorial Day marketing materials, but keep the focus on those who need the help, not how awesome you are for doing this.
6. Contact Websites Running Sales Roundups to Get Your Store Featured
The Memorial Day weekend is a fantastic source of content for new publications, many of which include roundups of all the best sales. It's not an accident when brands get included in these roundups. More often than not, it's the result of a lot of outreach work.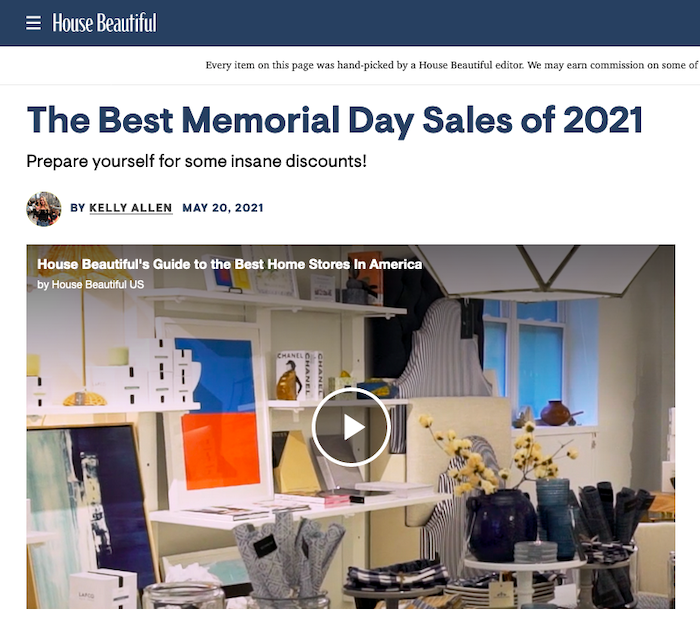 Start by finding publications in your industry that have produced Memorial Day roundups in the past. If they did a roundup last year, there's a good chance it will be on the editorial calendar this year.
You can also target bigger, broader publications that aren't necessarily tied to one industry. Here are just a few websites that have created Memorial Day sales roundups in the past:
Next, draft an email to send to each of these publications. Personalize it a bit, but you can keep the bulk of it the same. Highlight what you have on sale over the Memorial Day weekend, the kind of discounts customers should expect, and why your deal is better than your competitors.
7. Set Up a Virtual Event With a Live Sale Segment
You don't have to have a brick-and-mortar store to run a live sales event.
There are even some pretty significant benefits stores can realize by running virtual sales events. They are way more accessible for one. You'll be able to accommodate significantly more attendees (which means more customers), and they'll be able to tune in from anywhere in the world, too.
It will also be much cheaper to run a virtual sales event than an in-person one. Webinar software and a high-quality camera will cost a few hundred bucks at the most. That's pretty much all you need. It will be much cheaper for customers who don't have to travel to your store, too, meaning more money to spend on the sale.
You'll want to make your sales event as fun and inclusive as possible. To this end, make sure to run games and activities and not just showcase your products. You could even run giveaways and competitions to give away some of your newest products for free.
Make sure that you devote a good chunk of time to your sales products, though. The whole point of running this kind of event is to increase sales, so it makes sense to spend at least the latter half of the event modeling your new clothing range or showing your new products in action.
After the pandemic, you may be facing more competition than usual when it comes to online events. It will pay to get the word out early and promote your virtual event as much as possible. Social media, email campaigns, and your website are all great places to start.
Memorial Day Sales FAQ
Which channels should I run paid ads on?
Facebook, Instagram, and Google are three of the best platforms to run paid ad campaigns on this Memorial Day weekend.
How long should my flash sale last?
It can last as little as a few hours, but don't let it go on for longer than the weekend.
How can I avoid looking like I'm cashing in on an important holiday?
You can incorporate both summer and solemnity. Don't overdo it on the joy, but keep the message positive. Consider donating proceeds to relevant organizations.
What should I include in my outreach email to publications?
Keep your email as short as possible, but try to stand out. State how much consumers can save, what products are on sale, and any other essential details.
Which platform should I choose for my virtual event?
Facebook or Zoom are two popular platforms that are relatively inexpensive (if not free) and stable to run events on.
Conclusion: How to Increase Memorial Day Sales
Memorial Day weekend is one of the biggest shopping events on the calendar. You can't just launch a sale and expect customers to turn up, however, especially if you're an e-commerce store.
Running ads, making the most of social media, and reaching out to online publications are vital to get the word out. Making sure your sale strikes the right tone with customers will be key to increasing conversions.
But don't stop there. The best e-commerce stores use the Memorial Day weekend as a jumping-off point and do everything they can to keep holiday sales high after the Memorial Day spike.
Which tactics are you going to use this Memorial Day?
Se hur min byrå kan köra Massiv Mängder av trafik till din webbplats
Innehållsmarknadsföring – vårt team skapar episkt innehåll som kommer att delas, få länkar och locka trafik.
Betald media – effektiva betalda strategier med tydlig ROI.
How to Use AI Writing Software in Your Content Process [Sponsored]
Provided by Writer
Stop! Hopefully, you read yesterday's post, 6 Tips for Writing Content That Drives an Immediate Response. (If you haven't had a chance, I recommend taking a look before you continue reading.)
Great! Now we can get to the good part. That article you read was drafted by AI writing technology – specifically, CoWrite by Writer. My objective was to put AI writing to the test, then share a first-hand account of the experience. Below, you'll find a complete breakdown of every step of my process, from drafting the initial copy to editing and preparing it for final publication.
I needed to choose a topic for the article to get the ball rolling. At this point, my primary concern was finding the proper focus, so the piece would resonate with the CMI audience and meet the criteria provided to me by CMI's editorial team. The quality of the resulting draft would be my top concern later in the process, but I just kept it in the back of my mind for now.
After some back-and-forth with the editor, we settled on an idea we both felt would be relevant for the CMI audience: "# Tips for Writing Content That Drives an Immediate Response.
Assuming CoWrite would be able to work with this title and topic, I knew the number of tips included in the article would inform how my first draft would be written. So, I kicked things off by inputting the necessary details into our outline generator.
Step 1. Outlining the article
The setup
My first step was to confirm the appropriate inputs for accurate outline generation. This can vary, depending on which AI writing tools you're working with; but for CoWrite, specifically, I needed to provide:
The proposed title (required): 6 tips for writing content that drives an immediate response
SEO keywords (optional): content, immediate response, writing content
CTA (optional): left blank
I submitted the inputs and anxiously waited to see if AI could accommodate my needs or whether I'd have to go back to CMI to workshop a different idea.
The AI output
Below is exactly what I received back:
The Importance of Driving an Immediate Response
Tip #1: Write a Compelling Headline
Tip #2: Write to a Specific Person
Tip #3: Make it Easy to Read
Tip #4: Use Active Voice
Tip #5: Use Power Words
Tip #6: Create a Sense of Urgency
Slutsats
I recognized it might need some fine-tuning, but at least it confirmed that AI was capable of delivering a draft on the topic I chose. I shared the outline with CMI before moving forward.
My revisions
I used this original outline to create the first draft. Yet later in my process, I decided the AI-generated copy for Tip #5 (Use Power Words) wasn't the right fit for an audience of experienced marketers. So I returned to the outline generator, reentered the prompts, and requested an expanded set of tips.
One of the additional tips (Add Visual Interest) seemed much more contextually relevant. So, I was able to replace the problematic tip and continue working on the article without having to start all over from scratch.
Curious how effective AI content generation is these days? Take a look behind the scenes of an article written with CoWrite from @Get_Writer. #sponsored Klicka för att tweeta
Step 2: Adding key discussion points  
The setup
The next step was to identify the tips I'd use to support the discussion in each section of the article. No additional inputs were needed here, as I could carry over the tips generated by AI for the initial outline.
At this point, I did take note of the time (2:15 pm), so I could gauge how long it might take to complete the process from here.
The AI output
CoWrite provided multiple tips I could select and apply to each section or modify as needed. In the image below, you can see the options supplied for Tip #3 and how the interface enables writers to reorder key points or add their own.
My revisions
At this point, I could have taken the opportunity to work in some specific stats, quotes, or talking points of my own. However, I wanted to see what the drafted article would look like with minimal intervention. Knowing I could always revisit this step and generate a new draft, I moved on without adding further input.
In retrospect, it might have been helpful to have CoWrite add specific stats and examples at this stage. Since I knew both would strengthen the final article, it would have saved valuable time and effort to rely on AI rather than having to add those details manually at the end.
Step 3. Creating a draft
The setup
After reviewing the key points, I was ready to create a first draft. Again, there were no new inputs needed at this stage – as part of its workflow for writing an article draft, CoWrite simply leveraged the information supplied in the outline.
The AI output
The AI writing tool automatically generated a draft, along with a quality score and a series of improvement suggestions. As you can see in the screenshot below, the objective feedback I received was as follows:
Overall score: 85

The score reflects the number of suggestions compared to the overall length of the article.

Suggestions: 38

This counts up the number of suggested changes related to punctuation, writing style, clarity, and more. Note that I used Writer's default style guide here, though the AI can also be configured to work with other style guides.

Grade level: 9.0

This score is based on the Flesch-Kincaid readability formula.
My revisions (objective)
Objectively, I accepted the quality score as proof that AI produced a good foundation. Yet I also felt it necessary to read through the article myself so that I could form a subjective opinion on its quality.
I worked through all the suggestions – most of which were related to style or clarity (per Writer's style guide). While I did get a laugh when it recommended changing "immediate" to "instant" ("use simple words" is listed right under Tip #3, after all), I couldn't bring myself to make that change.
To complete the initial editing phase, I accepted the remaining suggestions. I also took note of a few things that stood out:
All of the section headlines were written in title case. They needed to be changed to sentence case.
Passive voice was commonly used throughout the article.
In the bulleted sections, the style guide didn't like the use of capital letters following a colon (unless the next word was a proper noun).
Based on my time stamps, it took me about 20 minutes to address the suggestions sufficiently to move the article into the next phase.
My revisions (subjective)
After working through the low-hanging fruit – grammatical and stylistic errors – I read the article thoroughly to determine how much rewriting might need to be done.
Here, I focused on percentages – was I 50% of the way there? 70%? 90%?! Yet, I also kept in mind the stated intention of this exercise: to keep the article as close as possible to the AI-generated draft while still meeting everyone's standards (CMIs, yours, and mine).
My conclusion was that the AI-generated draft got me about 75% of the way to achieving that goal without requiring any fundamental intervention on my part. But I did have a few thoughts about what would help bring the article into better alignment with the editorial guidelines I received from CMI:
In contrast to many of the CMI articles I reviewed for my reference, the AI-generated draft seemed to lack a clear voice or personality. In retrospect, this isn't surprising. But, to really make the article my own, I would need to invest much more time manually refining the copy.
While, on the whole, the draft might have lacked a strong "author" personality, there were still passages where CoWrite varied its writing style and approach to make the content more engaging.
Some sections contained repetitive phrasing or sentences that didn't really add anything useful to the conversation. Most of the time, I simply removed those passages, though I used Writer's ReWrite feature (currently in beta) to simplify or enrich some redundant phrases.
The most challenging requirement was the need to include specific examples and links to relevant source materials. While CoWrite did provide an example of active vs. passive voice, it just wasn't the right fit for this article. As noted earlier, I would have saved myself some work if I had better leveraged the "key points" step.
The tips varied widely in the amount of content supplied and how it was presented. For example, the explanation provided for the third bullet under Tip #3 ("Make it easy to read") was (ironically) too "short and simple" to be helpful, so I had to expand it to provide better value.
Step 4. Editing and revising the article
After writing and editing both articles (the AI-written one and the one you are currently reading), I sent them to CMI for feedback. As you might expect, both required some minor revisions and restructuring on my part before the editorial team moved it into their process for final editing and production.
But there was still one larger piece of feedback to reconcile: The AI-written article needed more sophistication and advanced recommendations to really benefit the CMI audience.
That feedback prompted me to swap out Tip #5 (as referenced earlier) and do some rewriting to strengthen certain points. It also explains my earlier note acknowledging I could have done more during the outline and key points stages to produce a stronger draft.
It's worth noting that the latest wave of AI content generation technology provides the ability to train AI based on your content. Using that functionality, I could have provided customized input (sample pieces of content) and received an output that was better aligned with the CMI audience's needs. I would have explored this option if I had not been up against a deadline.
The latest wave of AI content generation technology provides the ability to train AI based on your content, says @ryanejohnston #sponsored. Klicka för att tweeta
As someone who has not written an article for a third-party publication in quite some time, CoWrite saved me a lot of time and frustration. The initial process of going from title and topic to actual first draft was incredibly quick and efficient, and I spent zero time staring at a blank piece of paper, wondering what to write.
As expected, the heavier lift came during the editing process after I had the first draft. I tracked it as taking from 2:15 pm to 4:37 pm to manage (with some Slack and snack breaks mixed in). A coworker gave it a second round of edits, which brings my estimate up to about 2.5 hours of editing before sharing that draft with CMI.
Addressing the feedback I received from CMI tacked on an additional 45 minutes of editing and rewriting before I submitted the updated draft. Going from title to submitted draft in under 4 hours is a big win, considering how rusty I am at writing.
There are a few tips that I'd provide anyone looking to get started with AI-generated content:
Start with a strong topic that you feel confident writing about – with or without AI
Consider all the elements that need to go into a great article and incorporate them into your process (stats, quotes, etc.)
Think like an editor when working with AI writing, and you'll get great results.
Now it's time for the real question: My dear reader, what did du think of the article you read prior to this one? What were your initial thoughts, and what are your thoughts now, having read all the details on how it came together? Do share them in the comments!
About Writer

Writer is the leading AI writing platform for teams. Writer empowers GTM leaders to build a consistent brand across every customer touchpoint. Automated language generation and writing suggestions make it possible for teams to accelerate content, align with their brand, and empower more writers across all types of content and communications.
Writer recently launched CoWrite, which helps you produce high-quality, on-brand first drafts in a fraction of the time, using AI that is custom-trained on your best content. You can learn more about CoWrite on our product page: CoWrite.